Macedonia 1-2 Spain 2018 World Cup Group G qualifier: Report, goals, action
Spain made life hard for themselves despite a two goal advantage heading into the second half, as their constant assault on Macedonia's goal was nearly undone by their opponents' counter attacks.
Macedonia 1-2 Spain: match report
Spain made life difficult for themselves against a Macedonia side that offered little for a large chunk of the game in King Philip II Arena in Skopje on Sunday night.
As expected, Spain set out their stall early by holding over 70% of possession through the opening quarter of an hour. It would remain at or above that mark throughout the game. It also meant that once David Silva's half-blocked strike after 15 minutes rolled beyond Dimitrievski, the home side's task in getting back into the game grew close to impossible.
They remained compact in defense but rarely, if ever, troubled Spain's defenders as the visitors continued to tap lightly on the door without ever truly getting too obnoxious for the hosts.
On 27 minutes, it looked like the score could be anything when Isco danced free down the right and squared to a completely unmarked Diego Costa just a couple of yards from goal as he finished for one of the easiest goals of his career. A tap-in that looked like it might be the prequel to something bigger that Spain had up their sleeve. But it never came.
The second half carried on much like the first half had played out. Spain could not find that third goal to give themselves some breathing room. The wind was taken from their sails along with any hope of an easy run-in when Pandev played Ristovski through before he left Ramos in his wake and blasted beyond David de Gea to leave Spain with a nervy last 23 minutes.
It was Macedonia who seemed to be in the ascendency at that point but the game was getting more open than they might have liked. Spain's poor finishing and lack of precision in their attack was hurting them and helping Maceodnia as they could, and needed to, push forward in search of more without Spain being able to kill off the game.
It ended 2-1 with a late penalty shout for the home side being waved away as Nestorovski felt like he was caught by Ramos in the penalty area as he drove towards goal. It would have been harsh and somewhat undeserved for Spain to drop points in a game they dominated for much of and the referee waved away the home side's appeals.
Still, Lopetegui has problems to solve ahead of Italy in September or a more clinical side will pick them apart at the back when they decide it's time to switch off.
Macedonia v Spain live stream online: latest news
90'+3' GAME OVER! Spain win 2-1. Far from comfortable but they get the job done in Macedonia. 
90'+3' Ristevski gets a yellow for a foul on Isco. Clahsed with the Real Madrid attacker as he went around him. Last chance for Spain now to get three. Time is up. 
90'+2'  Saul replaces Andres Iniesta.
90'+1'  Macedonia want a penalty. Ball over the top to Nestorovski. Ramos thinks about headering it but can't and then he sticks a leg out. Nestorovski kind of half stumbles and then shoots wide. Would have been a very, very harsh penalty. 
90'  Spain pushing for a third goal. Nothing doing so far but coming close. Spirovski down now and needs time to recover. Looks like cramp. Play continues after he is taken care of.
88'  Ramos with the free-kick. The wall, yet again, serves its purpose. spain on the attack again with Isco. Corner.
87'  Costa has his legs taken from under him by Sikov. The defender is booked for his troubles.
86'  Macedonia break to the delight and excitement of fans in the King Philip II but De Gea gathers as they put it into the box. 
85'  Costa drives one low and hard at Dimitrievski but the keeper gets down and saves well.
84' Trichkovski replaces Mojsov.
82'  Koke whips it in and Pique meets it with his head. It goes just wide.
80'  Combo between Iniesta, and Pedro results in a lovely through ball to the Chelsea winger. He crosses but Macedonia get it out for a corner.
Eder makes it 3-0 to Italy.
77' Elmas dives into a tackle on Koke and gets booked along with giving away a free.
77'  Alioski hits it but the wall serves its purpose and Spain clear. Not comfortable for Spain anymore.
76'  Spirovski is fouled by Busquets. The spanish midfielder pushes into the Macedonian and the referee buys the fall. Well'earned free-kick but Spanish players not convinced. Dangerous position now for Macedonia.
74' Trajkovski replaces Tosevski.
 73'   Koke replaces Thiago. 
71' Jordi Alba booked now. He fouls Tosevski and is booked for his complaints to the referee after the fact.
70'  Macedonia attack comes to nothing as Tosevski's cross is too long and De Gea waves it off. 
68' Pedro replaces Silva as Lopetegui looks to take advantage of Macedonia's new found adventurous side.
67' Silva booked now for a but of a chop on a Macedonian player. He's not happy either.
66'  GOAL! And that's the goal of the game too. Ristovski breaks free, leaving Ramos in his wake before absolutely rifles one beyond De Gea. No chance for the keeper. Lovely lay-off by Pandev too.
65' Mojsov booked for pulling Costa back after fouling him prior to that aswell.
64'  Silva sets up Costa again but this time his volley flies up into the air and eventually comes back down out of play.
62'  Spirovski takes Iniesta down from the back. A frustrated foul. 
61'  Iniesta puts it on a plate for Pique but he heads over. You've probably heard it before and not believed it but it seemed like he had TOO much time there.
60'  costa launches one to the back post. Silva takes it down, shimmies to his right then comes back on his left before he zips another one across the box. Macedonia concede a corner as they manage to get it away. 
59'  Silva zips one across the edge of the square. Macedonia scramble it away. Spain looking dangerous again.
58'  Foul by Nestorovski as he launches himself at Isco. 
Italy now 2-0 up thanks to Belotti.
56'  Free to Macedonia in a dangerous position but it's lofted out over the endline. Very poor. 
54'  Macedonia break again but they are really struggling to create anything once they get into the attacking third.
53'  Isco to Alba on the left. Alba back to Isco in the centre does not have the same success. Macedonia clear.
51'  Thiago a little over eager in search of the ball. Macedonia take a quick free but Alioski's cross is blocked. Spain on the move again.
50'  Silva with a through ball for Costa and he looks to be pulled back. He didn't go down and the referee waves it off but that was close. Could have been a penalty.
49'  Ramos gets caught in possession and kicks it to Alioski. Maceodnia get a corner that De Gea punches clear.
47'  Pandev breaks and gets a rush of blood to the head. He has a strike that goes well wide. Disappointing for the captain.
No changes at the half for either side.
46'  Second half is go for launch! 2-0 Spain. Can Macedonia do anything in this half to trouble their opponents.
Lopetegui needs to protect the five players on yellows now for the Italy game. Group G hinges on that tie.
David Silva has scored six goals in his last six Spanish games. It's younger that man is getting!
In other news, Italy are ahead against Liechenstein through Lucas Insigne. It took them 35 minutes to open the scoring. It is all as you were in Group G.
Spain with nine shots in total to Macedonia's one.
Half-time in Skopje. 2-0 to Spain who are looking comfortable, and if I'm being honest, a little bored. 
45'  Spain attack again after Maceodnia's own assault breaks down. Isco gets it inside the box, cuts inside and firs low and to Dimitrievski's right but the keeper is there waiting for it as it tries to roll beyond him. Isco disappointed with his effort.
43'  Silva thinks about having a shot outside the boc box but the ball won't sit down for him. He sends it out to Carvajal but his cross is headered clear. Nestorovski is fouled by Thiago. He's asking the ref how many times he needs to be foule dbefore someone is held accountable.
41'  Costa rolls it back to Alba, who is on the overlap. Alba cross to Isco with a pullback and the Real Madrid midfielder misses with his strike. The move deserved a goal but Isco could not apply the finish.
40'  Quick update on possession. spain have increased their shares in the ball. Now with 77%.
40'   Iniesta to Silva but there was a breakdown in communication somewhere because Silva's chipped ball over the top is not within 10 yards of a Spanish teammate. 
38'  More potent possession from Spain. Silva has a shot that is blocked and Carvajal wins them a corner. 
37'  Isco coughs it up as they try to break and the ball gets dropped over the top to Nestorovski. He is offside and couldn't reach it in any case but probably Macedonia's best spell in a game they have been utterly outplayed.
36'  Nestorovski fouled by Pique and he wants a card. None given and no free either but they win a corner. It comes to nothing.
36'  Another good attack by Spain. Silva out on the left. He gets it to Alba who squares it and Iniesta's shot with the left is booked.
34'  Pandev fouls Busquets as the Barcelona midfielder tries to shield the ball form him. A word for the ref gets Pandev a booking. 
32'  An almost perfet counter from Macedonia. Nestorovski to Pandev and he lays it off to Ristovski but his shot goes wide. Their besy effort. Up the other end and Isco dances through a couple of tackles and has a crack. Dimitrievski equal to it.
That's five in five for Costa.
27' Isco gets the ball out on the right and crosses to Costa. He is unmarked at the edge of the six-yard box and buries it. No chance. Spain up 2-0 now and cruising. Macedonia need to come out of their shell and that will cause them even more problems.
26'  Decent spell of possession ended by way of a poor Carvajal cross. Chances are few and far between. A little bit of a stalemate so far.
25'  Silva plays one through to Costa but Dimitrievski is out quick to smother it. Costa was close.
24'  Ramos lucky not to be booked. He is a yellow away from missing the Italy game. 
22'  Spain enjoying 74% of possession after 22 minutes. 
21'  Isco has a crack! Always rising but he had little other choice. Macedonia are very well organised. 
19'  Costa wins a corner for Spain. He pushes Nestorovski after the defender grabs a handful of his jersey.
17'  Spain taking back control now. Really difficult task for Macedonia.
Silva has opened the scoring in all four of Spain's last international games. He is playing some incredible football at this moment in his career.
15' David Silva scores for Spain. iniesta scoops it over the top to Alba and he cuts it back to Silva. The Man City phenom turns and shots. It was half blocked but they all count.
14'  Thiago wants a free but none given. Pitch looks like it's cutting up already. This style of game does not suit Spain as they can't get into a rythym and break down Macedonia by sheer repitition.
12'  Isco whips one across that is not dealt with well by Macedonia. A half clearance goes flying up into the air. Carvajal fouls Ristevski and anothe restart. Fitful start.
11' it looked to have been an arm to the face the Barcelona took. Referee gave a free but Pandev didn't know what it was for. Accidental.
10'  Pandev fouls Busquets.
9'  Macedonia putting plenty of pressure on Spain. Ramos overplays a touch and they win it back before Spain win a loose ball and get it back to De Gea. He is forced to play a dangerous ball out which Ristovski wins but he did so with his hand. That's not allowed.
8'  Isco gets it behind enemy lines and pings one across the box. No spanish players there to get anything on it and it makes its way all the way across the box.
8'  Alioski wins it back off Carvajal after the play was switched to his side but his pass in search of Pandev was poor. Spain building again.
6'  Macedonia fans are fired up for this one. Cheering on throws and tackles like they were goals!
5'  Alioski whips in a free but Pandev's touch lets him down. Carvajal clears.
4'  Ramos turn now to be whistled by the ref. He puts a boot up high on Pandev and gives away a free. 
3'  Iniesta clips one out wide to Silva, who turns it back towards goal. Dimitrievski gathers. 
3'  Carvajal wins a corner as Tosevski slides in and takes it off his toe.
2'  Reall, really compact Macedonia side here. Spain with the ball and they are allowing them have it so far. 
1'  Ramos fouled early on by Nestorovski, which is met by plenty of boos from the home crowd.
1'  We are underway in Skopje.
Pandev and Ramos exchange handshakes as we get ready for kick-off.
Busquets says the players have to be careful, "Several players are in a risky situation, but we're only thinking about winning the match. If the result is positive and we can win without yellow cards, all the better for the following game against Italy. What's important is tomorrow's match, not thinking about Italy."
Spain have six players one booking away in Costa, Ramos, Busquets, Vitolo, Piqué and Thiago. A yellow card against Macedonia would see them miss the game against Italy! 
 Tonight's venue - minus the goals in the middle of the field.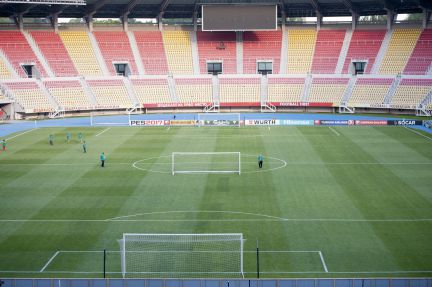 could Lopetegui be trying to replicate a 4-3-3 that Real Madrid play in order to get the best out of Isco. He has been that good that altering tactics to suit him would not be an entirely ridiculous idea.
Spain and Italy are top of Group G. They play each other in September in a game that will surely go a long way to deciding the standings. Even the slightest of slip-ups by either country will mess up their chances of direct qualification.
You can't help but think that De Gea and the Spanish team are throwing out cliches as they spoke before the game. They are heavy favourites and won 4-0 last time the teams played. "It's a trick match, the have a very good national side, they come out in counter attacks and are a dangerous team especially at home and I am sure it will be a complicated game," De Gea said before this one. Colombia troubled Spain on the counter but it will be a tough task for Macedonia to have the same effect when they try a similar tactic tonight.
Expect to see plenty of Alba and Carvajal on the left and right tonigh as they will be tasked with providing width and defensive stability for the away side.
Spain have a really deep squad and are really good in so many positions but they have so many creative midfielders that it must be an almost impossible task for Julen Lopetegui. Koke is the odd man out tonight but if they are struggling in the centre to create for Costa, surely Asensio of Vitolo will be off the bench to offer a threat from out wide.
Pandev adds to his 83 caps for his country. He has score 27 goals in those games!
Macedonia team news: Dimitrievski; Sikov, Mojsov, Ristevski; Ristovski, Tosevski, Stjepanovic, Spirovski, Alioski; Pandev, Nestorovski.
Spain's footballers held a minute's silence for Ignacio Echeverría in their sporting centre at training on Thursday morning. He was a victim of the London terror attacks and was a reisdent of Las Rozas in Madrid where they announced two days of moruning after his death.
To hazard a guess at the formation, it might be a 4-3-2-1 with Thiago and Silva behind Costa but with Thiago dropping into midfield when Spain are defending to make it a 4-4-1-1. All the width will have to be provided by Alba and Carvajal.
Silva says Spain are doing their talking on the field, "Everything is going in the right direction. Things are working, I think you can see it on the playing field."
Interesting that Lopetegui picks Costa over Morata. He was excellent against Colombia when introduced and will feel very hard done by. The young striker just can't catch a break.
Lopetegui starts Costa instead of Morata. He also drops Koke and replaces him with Isco and Illarremandi for Buseuqtes. Carvajal starts in place of Azpilicueta and Ramos starts instead of Nacho.
Spain team news is in: De Gea, Carvajal, Pique, Ramos, Alba, Busquets, Isco, Iniesta, Thiago, Silva, Costa.
Julen Lopetegui is more than likely going to replace Pepe Reina with David de Gea tonight. The Napoli shot-stopper was poor against Colombia and De Gea will regain his number one shirt. He gives them such asolidity at the back. Will also be interesting to see what happens at right and left back. Azpilicueta started the game at right-back and was excellent and Jordi Alba was left-back. 
David Silva has opened the scoring in Spain's last three international games.
Pique was whistled during the Colombia game and is the subhject of plenty os scorn from Real Madrid fans and some of their players when they play. They seem to have a running battle but when they join up on Spanish duty, Pique and Ramos are best buds!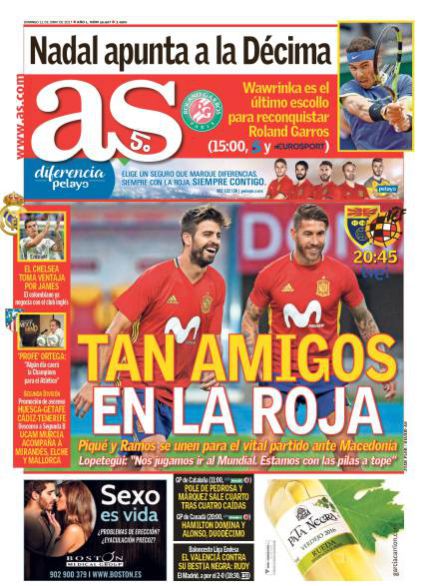 The last time these two teams met, Spain won 4-0 with goals from Darko Velkovski (OG), Vitolo, Nacho and Aduriz. Just priot to that though, they gave Italy a good firght when before being beaten 3-2.
With just under two and a half hours to go until kick-off in Skopje, here's a reminder of how and where to watch Macedonia v Spain.
It's a day of significance for Spanish sport over in France, too, as Rafa Nadal takes on Switzerland's Stanislas Wawrinka in the final of tennis's French Open. You can follow all the action with Rob as Nadal seeks a 10th Roland Garros title. 
Group G standings ahed of tonight's games: 


Macedonia v Spain preview from the Balkan state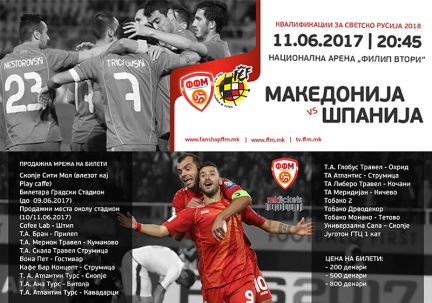 Macedonia v Spain live stream online: preview
Julen Lopetegui's Spain go into this evening's qualifier sitting top of Group G, level on points with Italy but with a superior goal difference. With Italy simultaneously kicking off at home against home to bottom-of-the-group Liechtenstein tonight, it is vital that La Roja make sure they gain a big win In Skopje. Both teams posted identical scorelines when they met their respective rivals back in November – Vitolo, Monreal and Aduriz found the net as Spain beat Macedonia 4-0 in Granada. Lopetegui knows his team must gain a similar result, or a better one, in Skopje to maintain that goal average before they face Italy in Madrid in Matchday 7 at the start of September.
Six players one card away from suspension
Ensuring the team boosts their goal difference won't be the only thing on Spain's minds ahead of that forthcoming clash with Italy. Six first team regulars are one booking away from suspension and could potentially miss the Italy game is they go into Polish ref Pawel Gil's notebook this evening – Piqué, Ramos, Busquets, Thiago, Vitolo and Diego Costa are teetering on the border of a one-match suspension. Lopetegui is taking nothing for granted, saying on the eve of the game that he is expecting "a very demanding game in which we will be pushed to our limits".
Macedonia, lying second from bottom in the group with three points from one win (they beat Liechtenstein 0-3 in March) have no chance of being at Russia 2018. The team, coached by Igor Angelovski, have never made the finals – but came close to making the play-offs for the 98 finals in France, ending just three points away from third place in their group. In the FIFA/Coca Cola rankings they slipped down three places to 136th but obviously they'd like to improve their position in the standings and if possible, finish above Albania. There were still tickets available for the match on the eve of the game but Angelovski has made a plea for support from the public, some have already prepared a giant tifo to unfurl before kick-off while cut-down ticket prices ranging from four to 15 euros, will hopefully ensure the 33,000-seater stadium is close to full capacity.
Palermo striker Aleksandar Trajkovski promised that Macedonia "would go all out to make things difficult for Spain" and added that in their favour, they have had enough time to prepare well for the game. "We'll be playing against one of the best teams in the world, we've nothing to lose", said coach Angelovski.
Macedonia team news
Igor Angelovski's troops warmed up for Spain's visit with a friendly against Turkey last weekend. There was much expectation that promising midfielder Jani Atanasov might make his senior debut but the teenager remained on the bench and it seems unlikely he will he handed his first cap against Spain although you never know. Otherwise, Macedonia will be at full strength
Man to watch: Ilija Nestorovski. Any chances that Macedonia get in front of David de Gea's goal will surely involve the 27-year-old centre-forward – a classic penalty area predator who has a killer instinct and can finish with either foot or with his head. As well as scoring goals, Nestogol is also a bit handy at setting them up for his team mates. An intelligent forward, blessed with good technique and a keen reading of the game.
Spain team news
Lopetegui is expected to field his strongest XI as Spain have to win by a bigger margin as possible. The coach is a little worried that Macedonia will play a highly defensive game which is why he could field his most creative midfield with Iniesta, Silva and Isco looking for ways to pierce the hosts' rearguard. Asier Illarramendi was handed his debut in Wednesday's 2-2 friendly draw against Colombia which served as a warm-up for this game but he will likely watch from the bench. Azpilicueta, who has been superb all season for Chelsea and started against Colombia could lose his place as Dani Carvajal and Sergio Ramos return. It remains to be seen whether Diego Costa or Álvaro Morata will start up front – Morata was superb against Colombia which could persuade the coach into starting with him.
Man to watch: Álvaro Morata. Morata has looked like a man on a mission during the season just gone. The striker has a point to prove as he looked to carve out a regular place in the Real Madrid attack and he looked sharp whenever he came off the bench, scoring 15 and setting up four in the league alone. He replaced Iago Aspas 10 minutes into the second half against Colombia and spared Spain's blushes with a great finish to level the score with just minutes left to play. A gifted finisher with either foot, superb in the air, Morata is a striker who times his runs into the box with Swiss precision. Whether he starts or comes on to mop up, he will be one of the players to keep an eye on tonight.
---
Macedonia v Spain: possible line-ups
Macedonia: Dimirievski; Ristevski, Mojsov, Shikov, Ristovski; Hasani, Stjepanovic, Spirovski; Alioski, Pandev, Nestorovski,
Spain: De Gea; Carvajal, Piqué, Ramos, Jordi Alba; Busquets, Thiago, Iniesta, Silva, Vitolo, Morata.
Macedonia v Spain: live stream betting odds
The bookies are anticipating lots of goals with more or less even odds for a result of more than three goals. A 2-1 home win is currently at 71/1 while Sergio Ramos is 13/1 to open the scoring. Aleksandar Trajkovski is at 15/1 to have the final word and score the last goal of the match and Álvaro Morata is 13/1 to score a hat trick.
Bet on Macedonia v Spain's 2018 World Cup qualifier now