Cleveland Cavaliers - Golden State Warriors NBA Finals 2017: Report, action, Warriors win
The Golden State Warriors took care of business on their return to California to wrap up their second NBA Finals win in three years.Final NBA: Cavs vs Warriors, juego 2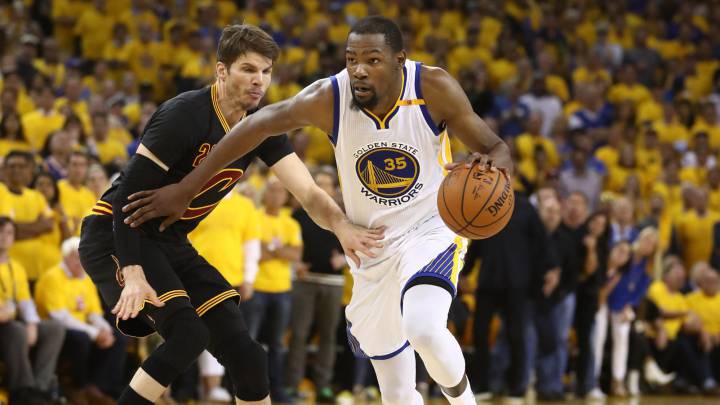 Cleveland Cavaliers 120 - 129 Golden State Warriors: Game recap
Kevin Durant scored 39 points and the Golden State Warriors won their fifth NBA title Monday, ripping Cleveland 129-120 to capture the NBA Finals for the second time in three seasons.
Golden State took the best-of-seven series 4-1, reclaiming the throne they lost to the Cavaliers a year ago. The Warriors completed a 16-1 playoff run, the best post-season win percentage in NBA history.
Cleveland Cavaliers - Golden State Warriors: live stream online build-up
GAME OVER! The Warriors beat the Cavaliers 129-120 to win the NBA Finals 4-1. No repeat of last year.
14 point game! Has to be game over. Cavaliers aren't even fouling. 
Curry hits a three with 42 seconds remaining. 
Airball for Kyrie as he tries a three.
Curry misses a three and Irving tries to break fast. He loses his handle and it's Warriors ball.
13 point game. Impossible?
Draymond Green with an alley-oop for Iguodala. 
JR Smith lands a huge three and is fouled. 
Klay Thompson now with a two as the shot clock expires.
A really tough task now for the Cavs. 
Curry responds to a LeBron lay-up with his own. And he scores again after a irving miss. 14 point lead.
Forces the Cavaliers into a timeout.
Durant again. 12 point lead.
he just hit another huge two. 10 point lead back in tact. 
Curry with two. 10 point lead is restored.
LeBron throws one down. Eight point lead for the Warriors.
Curry with a ni-look pass to Iguodala and he puts it down. Lead is back to 10!
Korver hits a three. Six point game.
10 point game. He hits both free throws.
Draymond Green gets fouled as he battles for a rebound.
Durant with another three.
Iguodala with a three!
Air ball by Korver. 
Durant hits a three and their lead is back to five.
James goes up against Durant and wins the battle. He gets two. 
Curry nearly gives it away but recovers and can't get it to Livingston quick enough. Third quarter ends.
McCaw againb after Jefferson with two free throws.
McCaw tries one but misses. He gets a second chance and he puts that one down.
Kyle Korver can't get his three away before the clock expires.
Steph hits one of the two. Lead is back to six.
Steph Curry steals it from a Derron Williams pass. He is foule dby JR Smith as he grabs him around the waist.
Derron Williams sees a three-pointer go in and out! Close. 
Kyrie is out as he gets massaged on his back.
Kyrie fouled. He hits the two. Five point game.
Here we go. After Cavaliers time-out.
Durant with a three. Cavaliers getting a little too close for comfort. Durant able to push it out to seven again.
LeBron drives and scores two with a foul! Five point game as LeBron misses the free throw.
Thompson shoots two again. He lands both. Eight point game. Klay with another foul.
Durant on Jefferson with three fouls. Not a good idea. He turns him and drops it off to Iguodala. 
Irving fouls Steph. Curry hits the first. And the second.
They've got it down to five now.
Cavs with four in a row. They still trail by seven. 
Pachulia with two fouls in a row. Eight point game now after a LeBron lays one in and gets fouled too.
Pachulia with another foul.
It starts with a Klay three. 
Second half starts. 
Although we've said that before.
Warriors with 10 fouls in that half. Cavaliers with 14. Richard Jefferson and Iman SHumpert are the only ones with three. 
HALFTIME! Warriors enjoy an 11-point lead.
17 point lead. 1:09 left in the second quarter.
irving with a three but Steph launched it the length of the court for Durant. 15 point lead is restored.
Durant with a block and another two for the Warriors. 
They don't seem to have cooled off though. Iguodala with two. 
Really long delay after that. Warriors were definitely building up to something there. They might have been able to put the game out of the Cavs' lreahc if they continued there! 
Technicals for West, JR Smith and Thompson too. (I think).
LeBron and Durant jawing! 
More of this! There will be technicals handed out. 
David West wins a rebound and Kyrie Irving tries to win it back but West spins it around him. Tristan THompson came in to relax everything but we almost have a fight. JR Smith involed a little bit too.
Durant with a three to give the Warriors a 15 point lead.
J.R Smith scores a three. Then Draymond sinks a corner three to match it. GS up by 12.
Draymond throws it down. Kyrie missed the lay-up. Then they cough it up again and Curry throws down two. Tritan Thompson jumps into him and he has a potential three point play.
Irving is coming back in as Durant takes the free throw that he sinks.
Durant fouled. Warriors now with a potential 15-2 run. 
Warriors 12-2 run.
irving refused treatment on his right knee after the foul by McCaw earlier but he has finally succumbed to the pain. He is getting it taped. Must be restricting him somewhat.
LeBron travels and the Oracle Arena is really lively now.
Okay, the Warriors take the lead with 6 minutes left in the second. The Oracle Arena is back in it. Durant with the 3. 
Draymond Green fouls Thompson. Two coming up.
Durant with a triple. One point game now with the Cavs in the lead!
David West with a two on the second attempt..
Now Iguodala misses a wide-open three.
Jefferson misses a three. 
Time-out for the Warriors. Expect Steph to reappear sooner rather than later.
The Cavs have managed to quieten the Oracle Arena. 
Three turnovers for Durant so far. 
Durant has the ball tipped by LeBron and he gives it up. LeBron throws it down. Really sloppy by the Warriors.
Second quarter starts!
Seven fouls by the Warriors and nine for the Cavaliers in that quarter.
Irving tries to buy a foul now and jumps into McCaw when he shoots but McCaw steps away and Irving nails the shot. It was a two in actual fact.
Irving fouled by McCaw. His knee seems to be troubling him. He is not moving entirely freely. Should be able to run it off. Irving nails the two free throws.
Without LeBron, the Warriors go ahead.
Korver misses a three. LeBron James is off the court and we will get the chance to see how the Cavs do without him. 
All sorts of fouling going on. LeBron wants one and doesn't get it then McCaw is almost grabbed on the fastbreak. Quick game. Don't envy the referees tonight.
Korver with two fouls as Steph tries a three and jumps into Korver.
LeBron has missed 13 free throws in this series.
He misses both of them.
Williams misses a three. LeBron wins the rebound and misses. Then Jefferson throws it down. Up the other end and LeBron wins the rebound again. Then he is fouled and has the chance to give the Cavaliers a seven-point lead.
Livingston throws down a two and then one. Korver caught a piece of his hand. 
Kyrie takes McCaw in a one-on-one. 
Air ball by LeBron! Thompson wins the rebound and drops it in.
Two points now. Steph with another lay-up. Curry has seven now to match Draymon and Durant's efforts so far.
Steph steals it from LeBron and he makes his way up the other end and lays it up. Four-point game.
Okay, Pachulia goes out. 
LeBron with a three. the Cavs up by eight.
Pachulia with an offensive foul as LeBron sets his feet. 
Cavs will have to stop Durant driving to the rim like that. Easy lay-up.
Time-out by the Warriors.
Kyrie lays up and then from the restart Durant throws it to LeBron. He scores too. Cavs lead by four!
LeBron drive and floats on in and is fouled. It's nine a piece early. 
Love with his second foul as him and Pachulia fight for a rebound. He gets taken out. 
LeBron fouls Durant. That was tough. 
Warriors are so afraid of giving up a 3-1 lead that they have exploded out of the traps! 
Warriors win it back and Love fouls Green as he tries to take it to the basket. Fans are really in this one early.
Draymond drains a three....
Kyrie with an early foul on Steph. Imagine if it was Kyrie who got in foul trouble after all the talk about Draymond and his discipline.
Game on! Cavs win the tip.
The Oracle Arena is loud.
Stars from Hamilton singing the national anthem and the harmonies are just delightful...
The problem for the Cavs is they need to come out fast and aggressive to keep the crowd out of this one but they also need to keep a little bit in the tank for the third and fourth quarter.
The calm before the storm. Where nobody knows what is going to happen and gets worried that their prediction might not come through.
The Cavaliers are +6 in the series when LeBron's on the floor and -31 when he is not. Swing player!
Cavs' GM David Griffin says they are best when the chips are down. LeBron doesn't like it though. "I don't like it. It causes too much stress, man."
Locked in.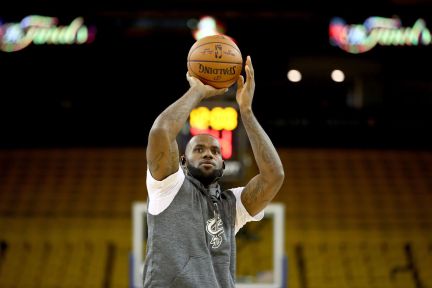 The last team to force a game six in the NBa Finals after falling behind 3-0 was the Seattle SuperSonics. They would eventually be beaten by the Bulls 4-2 in the series though.
LeBron improves dramatically when he is facing elimination from the NBA Finals. 


On Five ThirtyEight, they still give the Warriors a 98% chance of winning the NBA Finals. 
What we do know about tonight is that the Cavs are capable of beating the Warriors. The problem is keeping that up for the next three games without letting the Warriors get a sniff. The Warriors had two days to recover and are at home tonight. There is little to suggest that they can't score 120 points tonight. As I keep saying, the Cavs need to be exceptional, the Warriors just need to be themselves.
That's one way to defend him.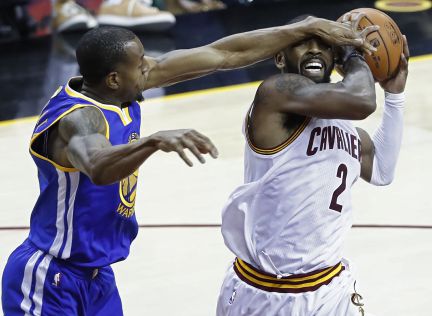 LeBron said in 2015 that he would never be the underdog! In a weird way, despite being 3-1 down, there is still an expectation on the Cavs to do something tonight! It's far from a given. 
Another thing to watch for tonight, and something we all will be, is how Kyrie follows up hight lights-out performance the last day. Steve Kerr says of Klay Thompson, the man who will be guarding him tonight that "One of our coaches said he's like the yellow lab who just keeps chasing the ball like all day. He doesn't think, he just chases Kyrie all day. And then he gets an open shot and he just shoots all day. That's Klay. That's perfect. I think he's been brilliant. But Kyrie has been amazing and he's hitting a lot of tough shots."
Tonight's projected starters:
Golden State Warriors: Stephen Curry, Klay Thompson, Kevin Durant, Draymond Green and Zaza Pachulia 
Clevaland Cavaliers: Kyrie Irving, J.R. Smith, LeBron James, Kevin Love and Tristan Thompson
Don't forget to get yourself prepped for Game 5 with a perusal of our match preview...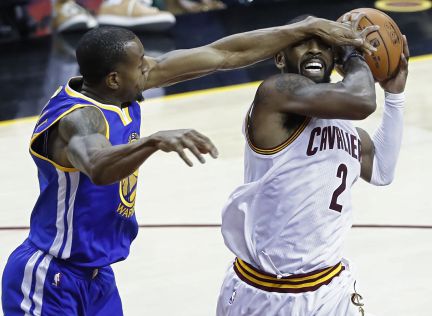 It's match point number two for Golden State after Cleveland kept themselves in the series with this win in Game 4 on Friday night...
Cleveland Cavaliers - Golden State Warriors: preview
In a series that looked done and dusted, the Cavaliers came back from the dead and trounced the Golden State Warriors for their first win in the series. As it stands, the Warriors still need just one game to end it and claim their second NBA Finals victory in three years and reclaim their crown as the cream of the NBA crop as they travel back to California and lay in wait for the Cavaliers.
The Warriors famously fluffed their chances last year when they allowed the Cavaliers come back from a 3-1 series deficit to win 4-3 in the best of seven showdown. The Warriors were not as good then as they are now but there have to be at least a couple of doubts creeping into Warriors' minds given the trauma they suffered last year when they became the laughing stock of the league and American sports in general after their collapse.
Cleveland Cavaliers
LeBron James hit a triple doube in Game 4 but it was Kyrie Irving and his 40 points that helped the Cavs over the line. We have come to accept LeBron's 31-point 10 rebound, 11 assist night as normal. They just needed help from one of their other big guns with Irving's name being thrown around as the possible fly in the Warriors ointment.
He exploded on Friday night and said after the game that a Draymond Green quote was what got the Cavaliers fired up for the game.
Green said, "You know, we obviously won it here [in Cleveland] before. It's a great feeling, winning on somebody else's floor, celebrating on their floor, celebrating in their locker room, quieting their crowd. As an athlete, one of the best feelings is going into enemy territory and just silencing their crowd. So it'll be a great feeling."
Irving said the "chatter" coming from the Warriors' corner was what helped the team to focus and take Game 4, "You give us a day in between, and we were ready to come out. Especially me, because that taste wouldn't have been the same if we would have lost tonight and they would have celebrated on our home floor. So I'll just leave that at that."
Many people suggested that the Cav had to be spectacular while the Warriors just needed to be themselves. They scored 137 points on Friday, which is the most points in an NBA Finals game in 30 years. Can they do that again in a game on the road? They're going to have to if they have any hope of keeping this series alive.
Golden State Warriors
We no longer have the chance to see the Warriors sweep through the entire playoffs. They were the first team to win their opening 15 postseason games and must now reboot after a long weekend as they make their way out west in an effort to put this series to bed before murmurs of a Cleveland comeback start to get so loud that they threaten to drown out the noise the Warriors have been making on the court.
In order to do that, the Warriors are going to have to do something they never did in the playoffs this far this year; rebound after a loss. They played 41 games at home in the regular season and lost just five game at the Oracle Arena all season.
Kevin Durant is still the hot favourite to win the series MVP award but he needs help and he needs to continue to offer everything he has on both sides of the ball.
Steph Curry had just 14 points on Friday night, a postseason low this year. He has only failed to score 20 or less in one other game. That was against the Trail Blazers when he hit 19 in Game 2 of the first round.
The Warriors probably won't be upstaged again to the degree we saw on Friday night but they need a more complete performance on Monday and if they can't figure out a way to beat the Cavs, it might be a case of their opponents figuring out, finally, how to beat them. We won't hold our breath on that though.