Sweden 0 - 0 England: U21 Euros: As it happened, match report
England and Sweden saw out a goal-less draw in the opening match of the 2017 Under 21 European Championships, with Jordan Pickford saving a penalty.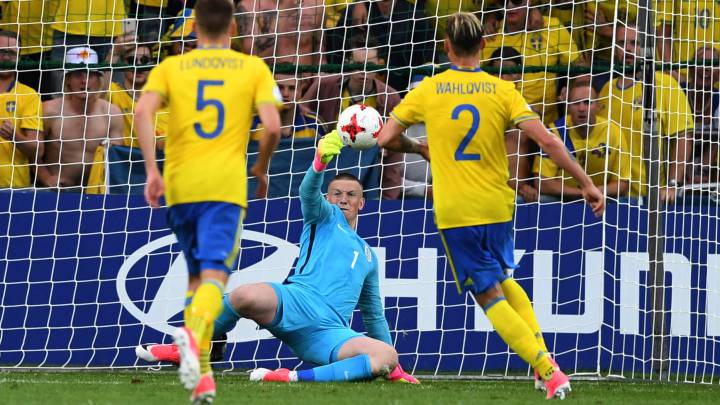 England U21 0 - 0 Sweden U21: match report
Jordan Pickford was the hero in Kielce, as the Everton 'keeper saved a second-half penalty to salvage a draw for England in the opening match of the 2017 European Championships. Sweden, the tournament holders, narrowly edged the encounter, but Linus Walhqvist's lack of incision from the penalty spot cost the Scandinavians a winning start to their title defence.
Aidy Boothroyd's side did not display the guile of their U20 peers, who lifted the World Cup in Korea earlier in June. Speculative passes to Tammy Abraham were the order of the day.
In a stadium packed with travelling Swedish fans, England started the match with swagger. Yet they could not convert the early pressure in to a clear-cut chance. Abraham, playing as a lone striker with support from Baker, Redmond, and Murphy, skewed a half-chance over the bar from a corner after ten minutes. The forward, who scored 26 goals on loan at Bristol City last season, probed the Swedish defence with his gung-ho directness.
Pawel Cibicki, playing in attack for Sweden, squandered the best chance of the half after 27 minutes. The 23 year old leant back at the crucial moment when meeting a cut-back, and sent the ball flying over from close range. As German referee Tobias Stieler blew the half-time whistle, the match was shaping up to be a classic tournament opener; cagey and turgid, with both sides more focused on avoiding defeat than pressing for a win.
The match opened up after the break as tired legs left space to exploit. Cibicki rattled the bar for Sweden, before Ben Chilwell did the same for England. Kristoffer Olsson, wearing the captain's armband for Sweden, was an understated yet constant menace in midfield.
With ten minutes to go, the ball spun towards Linus Wahlqvist, just inside the box. Chilwell slid in to deflect the ball away from him. He did so, making contact with the ball before following through in to the player. Stieler pointed to the spot, a harsh decision. Walhqvist hauled himself up and placed the ball down, 12 yards out. His run up was casual, befitting of the cheeky 'Panenka' that followed it. But Pickford was not to be deceived. The recent arrival on Merseyside stuck his right palm to keep the score level.
The match ambled towards full time. It was hard not to speculate as to the difference that Rashford, Alli, and Sterling would have made. England showed sparks of promise, but were generally labored and unimaginative. They could not break down an astute Sweden side. Boothroyd's team will have to invigorate their game if they are to progress far in Poland.
England U21 0 - 0 Sweden U21: as it happened
90'+3' Full time.
90'+3' Abraham and Cajtoft clash heads battling to meet Redmond's cross to the far post. That should be that.
90'+2' Cibicki is given space on the edge of the box. Frantic pointing among the England defenders leads to Chalobah closing him down, and his shot flies over.
90' Three minutes of added time.
90' Abraham finds space on the left, but his cross his well overcooked. Baker commits a foul as he attempts to salvage the ball.
88' Pickford nearly commits a clanger. Walhqvist floats a cross in to the back post, and with the rain teeming down, Pickford fails to claim it. Luckily for him, Chambers is alert and puts himself between the ball and Strandberg.
88' Abraham looks dead on his feet. Boothroyd strangely reluctant to make changes.
87' Olsson pumps the ball in to the box from a set-piece near the half-way line. Larsson is climbing all over Holgate, and England win the foul.
86' The match has settled down after that penalty miss, which was the culmination of a frenetic period.
85' Sweden sub: Tankovic replaces Tibbling.
84' Curious to see Wahlqvist, Sweden's right-back, taking the penalty. He certainly took it like a right-back.
81' Pickford saves! Wahlqvist tried to dink it down the middle, but Pickford denies him with a strong right palm, before gathering the follow-up effort from Strandberg.
80' Chilwell slides in on Wahlqvist and wins the ball, but the referee points to the spot. Wahlqvist to take.
80' Penalty to Sweden!
79' Abraham looks increasingly leggy and isolated. He's working hard, but is feeding off scraps.
76' Tibbling nods a Wahlqvist cross towards the far corner, but Chambers leaps to clear it away. Sweden are pressing once again, but the English defence, well organised, is equal to it.
73' Sweden sub: Mrabti replaces Fransson.
71' Ward-Prowse takes the free-kick, and forces Cajtoft in to a smart save at his near post. Superb technique from the England captain to get the ball over the wall and back down again. Up at the other end, Holgate executes a perfectly-timed tackle to dispossess Strandberg. The match is opening up.
70' England sub: Gray replaces Murphy (about ten minutes later than he should have done).
70' Sustained English possession and pressure culminates in Baker drawing a foul on the edge of the box. A dangerous area.
67' Chilwell hits the bar! Abraham can't get the ball under his control in the six-yard box, and it comes out to the left-back. He hits it first time from 30 yards, and a deflection takes it beyond Cajtoft. The ball skims off the top of the bar with the 'keeper well beaten.
65' Oooft, Strandberg is set free by Fransson, and his left-footed piledriver kisses the side netting on its way out for a goal kick. Pickford had it covered at his near post, but Sweden strolled through the English defence as if it were an evening walk on a promenade.
63' Sweden are increasingly controlling the midfield battle, with England looking to break using the pace of Abraham, Redmond, and Murphy. An England substitution can't be far off... They need a fresh injection of energy.
61' Chilwell gets his head down and gallops in to space on the left. His teasing cross is headed behind, with Murphy lurking at the far post. From the corner, Ward-Prowse fizzes a low ball to meet the forward run of Lewis Baker, but he scoops the ball over with his right foot. Nice invention, but not quite enough incision.
59' Sweden sub: Strandberg replaces Engvall.
57' Sweden rattle the bar! A neat passing move culminates in Cibicki curling a shot from the left. It dips, but not quite enough. With Pickford flailing, it bounces off the top of the woodwork and clear.
54' I feel a tad smug now, as Pickford picks out Chilwell with an unerring 50 yard pass.
53' A deflected shot bounces through to Pickford, and he looks to launch a quick attack. His flat pass to Abraham is cut out by a yellow shirt. Nice idea, mind. The new Everton man isn't afraid to mix up his distribution.
51' Abraham meets Ward-Prose's corner, but big Alfie Mawson wrestled Wahlqvist to the ground at the near post, and Sweden are given a free-kick.
50' Oooh, Baker chips a cross in from the left, and Redmond's glancing header takes it away from the Swedish defence. Abraham is close, but can't re-adjust his body in time to poke a toe at it.
49' Walhqvist has an over-zealous nibble at Chilwell's ankle. The Leicester man wanted a yellow card, but has to make do with a free-kick.
46' Walhqvist surges forward, playing a neat one-two with Cibicki. But the right-back is adjudged to have fouled Chilwell as he played the ball back to Pickford.
46' Off we go in the second half. It's finely poised.
The teams are striding back out. No changes at the break.
Some silky one-touch stuff from the Swedish subs during the half time break. Although there doesn't appear to be any ear-flicking as a punishment for letting the ball drop to the ground, as is custom in England.
Kristoffer Olsson has done a nice job of 'knitting things together' for Sweden. Technically, he's very adept, and one for Ward-Prowse and Chalobah to keep a close eye on.
Tammy Abraham comes close to rounding the Swedish goalkeeper in the first half...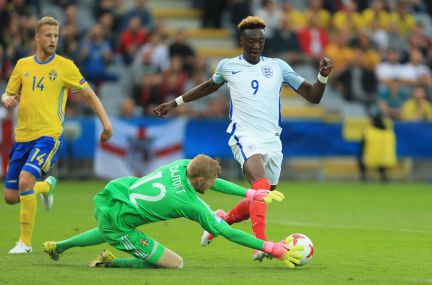 England are edging the match in terms of possession, enjoying 54% to Sweden's 46%.
46' Half time. Stieler calls time on a tight first half.
45' An acrobatic effort from Abraham flies over the bar. Mawson flicked on Holgate's long throw, and Abraham contorted his body in order to shoot towards goal. Good improvisation, but the execution was just out. As an aside, it appears that Holgate has a Delapian ability to hurl a ball half way to Warsaw.
43' Ward-Prowse shapes to deliver a free-kick in to the box, but instead, he plays a quick ball down the line to Murphy. His low cross is well cleared by Dagerstaal.
41' Lewis Baker drops deep to pick up the ball, and effortlessly switches on to his left foot to spray a pass to Chilwell. The Leicester defender's cross is overhit, and it soars out of play.
40' This has been a typical 'opening game' so far - fairly cagey, with both teams still looking to find their feet.
39' Olsson has the ball at his feet on the edge of the box, and shimmies to set up a left-footed shot for himself. The Swedish captain did well to create a yard of space, but his effort is wild.
37' Murphy collects the ball from Holgate - the pair are linking up well - and tries to swivel away from Lundqvist. His touch is too heavy, and the ball runs out for a goal kick. Murphy is generally deployed from the left wing at club level, allowing him to cut in and shoot. A swap with with Redmond may freshen things up for England.
34' Jacob Murphy lets fly from 25 yards. His shot his fierce, but swirls inches over the bar. He wasn't far from a spectacular opening goal.
32' Mason Holgate is seeing plenty of the ball on the right flank. Like John Stones a few years before him, he trod the transfer path from Barnsley to Everton.
30' Watching this, it is hard not to lament the absence of Rashford, Sterling, and the rest of the eligible crop who are not involved. England are missing that incisive presence in the final third.
27' Cibicki goes close for Sweden. England never really cleared an Olsson free-kick, and after several phases of play, Tibbling dashed to the byline and cuts the ball back to the ponytail-wearing Cibicki. He leant back, and fired over from close range. Sweden have had the better of things in the last five minutes.
23' Superb hold-up plat by Abraham allows Redmond to set Chilwell free down the left flank. He crossed to a dangerous area, but with the ball swinging away from goal, Abraham is unable to finish off the move he started.
21' Lewis Baker has not got in to the game yet. He's floating around in the 'number 10' role, but under close atttention from Hallberg, he's struggling to find the pockets of space he needs to operate. 
20' Pickford is superb with the ball at his feet. Under pressure, he finds Chalobah rather than launching the ball long, and England are able to launch another phase of play.
18' Mawson clears a low cross, before giving his team-mates a rollocking for allowing the cross to come in. Holgate appears to be bearing the brunt of the Swansea defender's frustration. Mawson captained Barnsley at the age of just 21, and those leadership qualities are evident.
15' Tammy Abraham comes very close to an opener. Rushing on to a Holgate pass, and with the 'keeper to beat, Cajoft just manages to nip the ball away from his feet. Murphy and Redmond recycle possession, but it comes to an end when Ward-Prowse slips, causing his cross-field pass to sail out of play.
13' Sweden recover from that shaky start, and settle in to a spell of possession. They're very neat in possession: neat passes, seamless control, constant movement.
10' Ward-Prowse curls a corner in to Tammy Abraham. The Chelsea striker hooks the ball over from six yards out. A half chance, but a chance nonetheless. You feel that England should convert this early pressure in to a goal.
6' England appear to have line up in a 4-3-3 formation, with Baker, Ward-Prowse, and Chalobah behind Redmond, Abraham, and Murphy. It's Murphy who threatens, making it to the byline before cutting the ball back in to the six-yard box. From the subsequent corner, Chalobah's header is sliced clear. England keep up the pressure. A fine start from Boothroyd's boys.
5' Sweden foray forward for the first time. Lundqvist strides forward from left-back and chips a through ball to Cibicki. Amid calls for offside, Pickford dashes out and claims the ball.
4' England have made the more assured start. Mawson and Chambers are striking the ball around nicely at the back, and Josh Murphy is fouled in the centre of the park. Ward-Prowse's delivery is typically devilish, but Sweden manage to nod clear.
2' Mason Holgates swings a deep cross towards Tammy Abraham, but it flies over his peroxide blonde head.
1' Chalobah gives Sweden captain Kristoffer Olson an early 'reducer'. Olsson takes a while to get to his feet, but he's fine to continue. The free-kick comes to nothing.
1' Sweden get the 2017 Under 21 European Championship up and running.
Tobias Stieler, from Germany, is the referee.
A rousing, belted-out rendition of the Swedish national anthem. England will feel like the away side here.
The teams are out in to the rain, here come the anthems...
There'll be a greasy surface for this opening clash...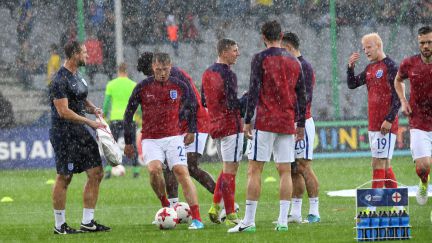 Among the bouncing throng of yellow-and-blue Swedish fans, a Grimsby town flag. Good effort.
For all of the latest transfer chat, head over to our transfer-market live feed. Enter and ye shall find all of the most imporant rumours, updates, and done-deals.
A reminded that Jordan Pickford, in nets for the Three Lions, is the most expensive English goalkeeper in history. He joined Everton from Sunderland for around €30m.
Several members of this England squad were part of the group that won the Toulon Tournament last year. In fact, Lewis Baker finished as the top-scorer with four goals. Grealish, Woodrow, and Redmond each bagged two.
Gustav Engvall will lead the line for Sweden. The 21 year old is on the books of Bristol City, whom he joined last summer. Yet he only managed two appearances for City before joining Djurgårdens IF on loan. Interestingly, it was England's number 9, Tammy Abraham, who rendered Engvall surplus to requirements at Ashton Gate.
The Kielce Stadium, which holds 15,500 giddy spectators, was a happy hunting ground for Poland in 2009. They edged San Marino, 10-0, in a 2010 World Cup qualifier. A young Robert Lewandowski was among the scorers.
Most expected to see Leicester's Demerai Gray start on the left wing. Instead, it's Norwich man Jacob Murphy. Murphy, along with his identical twin Josh, both featured regularly for The Canaries last season, having come of age out on loan at Coventry and MK Dons respectively.
No start for 18-year-old starlet Joel Asoro for Sweden. But don't discount the possibility of the Sunderland man making an impact from the bench. I also wouldn´t discout the possiblity of him leaving Wearside in the near future, but that's a riveting chat for another day...
Sweden XI: Sweden XI: Cajtoft; Wahlqvist, Lundqvist, Dagerstal, Larsson; Tibbling, Hallberg, Olsson, Fransson; Engvall, Cibicki.
The omisson of Arsenal's Rob Holding is mildly surprising, given his strong end to the season for Arsenal. That said, his Gunners team-mate Callum Chambers is that little bit more experienced. He was part of a Middlesbrough defence that was strong, despite their relegation from the Premier League. It was in front of goal that Boro had problems.
England subs: Stephens, Gray, Targett, Gunn (gk), Swift, Holding, Hause, Iorfa, Hughes, Grealish, Mitchell (gk), Woodrow.
TEAM NEWS! England XI: Pickford; Holgate, Chambers, Mawson, Chilwell; Ward-Prowse, Baker, Chalobah, Murphy; Redmond, Abraham.
England only managed to chalk up one victory in the 2015 European Championships. Ironically, it was against Sweden, who went on to win the tournament.
Looking for a quick, user friendly guide on how & where to watch the U-21 opener between Sweden and England?