Asensio hat-trick helps Spain to opening win over Macedonia
Real Madrid star Marco Asensio shone along with the rest of the Spanish youngsters as they showed no mercy to debutants Macedonia in the Uefa U21 championships.England vs Spain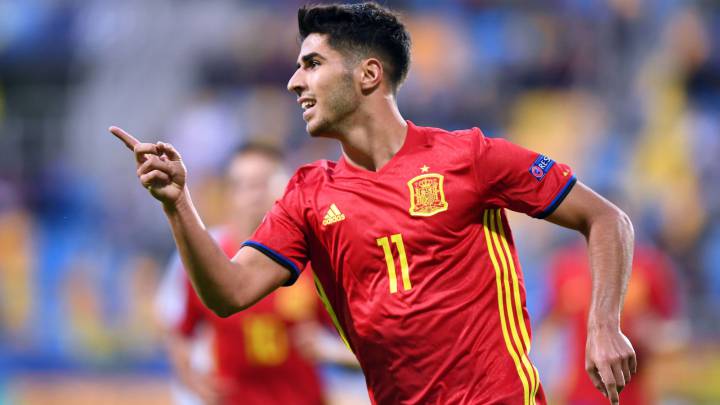 Spain under 21s started their 2017 UEFA European Under-21 Championships with a group game against Macedonia, who were appearing in the finals of a major football tournament for the first time at any age group.
Spain U21 vs FYR Macedonia U21: match report
Coming into this tournament the Spaniards were seen as one of the favourites, and tonight's opening fixture will have done nothing to dampen those views. In fact, with such a sound performance from the entire team, a few golden moments, and depth from the bench clear with their cameos, expectations are only likely to rise.
Madrid's Asensio stars in five goal win
It was Real Madrid's Marco Asensio who will get a lot of the attention, and understandably so. His hat-trick and overall level of play showed that he would not have looked out of place in the senior squad during their recent outings. But it was his Madrid neighbour, Saúl Niguez, that opened the goal proceedings, and in some style. With only 10 minutes on the clock, and no real clear chances to speak off as both sides found their feet, Valencia's Jose Gayá, who was a valuable outlet all night, sent in a cross from deep on the left which found the Atleti midfielder in space in the middle of the penalty area. But as the ball was just behind him, some acrobatics were called for and he executed it perfectly.
Bicycle kick Saúl, super-strike Asensio
With an early goal cushion Spain could have been forgiven for sitting back a little and taking some of the early pace out of the game. But this didn't transpire. Macedonia were a big part to play in what was a very fluid and enjoyable first half. As the Red Lions pushed, Spain were able to break with Milan's Deulofeu but the move died and Spain seemed to slow up the play. Asensio, though, had other ideas. With nothing appearing to be on he hit a sweet right-footed drive which flew from outside the left side of the area to the postage stamp of Aleksovski's goal. Two excellent goals and the game was just 16 minutes old.
Macedonia impressed but Spain's class showed
Although Macedonia did impress throughout - especially the likes of David Babunski and Enis Bardhi - their true threats to Kepa's goal were few and far between. Despite this they had 18 shots compared with Spain's 10 and could quite possibly surprise Portugal or Serbia if taken too lightly in their other games. And even at two down, nobody was writing them off tonight. But that changed when captain on the night slotted home a penalty shortly before half-time after a Egzon Bejtulai handball in the area.
The second half played out much as expected and two further goals from Asensio added a gloss to a very professional performance. Next up, Portugal.
Post match quotes:
"We felt for almost 60 minutes we were equal with an opponent like Spain" - Blagoja Milevski
"What made the difference was their individual quality. We tried to stay faithful to our style of play - staying high and pressing the ball - but it's not easy. in a couple of weeks." - David Balbunski
"It was great to get a win, but we now have to focus on the second game against Portugal, it's going to be tough" - Hector Bellerín
Spain U21 vs FYR Macedonia U21 live online: as it happened
90'+3'  And that's that! The final whistle blows and Spain put a comfortable 5-0 win onto the board. The headlines will be taken by Real Madrid's Marco Asensio, for his tasty hat-trick but the whole team deserve massive plaudits. A job very well done.
90'  The foul count has certainly risen in the second half as Macedonia seem to want to leave some mark on their more illustrious opponents. The game maintains a 'it's been over for a while' feel
87'  More smart play from Gayá as he tries to trick his way to delivering a dangerous ball. Ceballos then takes it up and is just inches from playing in a fantastic chance.
85'  More controlled possession from the four-time champions as the commentator calls out most of the player names from back to front. Again the release ball is wide left as Gayá scampers forward. Cross dealt with.
83'  Mr Lechner could probably blow his whistle now. As a contest this game is long gone. But goal difference may come into play so Spain will continue look for more.
81'  Llorente hits a raking cross-field pass to the ever-adventurous Gayá but his cross comes to nothing.
81' MOM (I think) Asensio goes off to some applause and La Real's Oyarzabal steps on
80'  Spain happy to keep the ball around the middle of the park. White shirts less encouraged to chase and close.
76'  Iñaki Williams fed by Llorente into space down the right. He mixes lightening pace with some twinkle toes to work an opening for Gaya on the left but his ball in is cleared by Demiri.
75'  Macedonia's creative players are not being given a second on the ball as soon as they get close to the Spanish defence. 
73' Sandro goes off and Iñaki Williams (previously linked with a move to Liverpool) on
The pass into the feet of Sandro seemed the better option but what do I know. As he ran towards goal the defenders backed off (possibly expecting the pass) and his left foot did the damage. 
72' GOOOAAALLLL!!! Asensio grabs a hat-trick in the opening game!
68'  For anyone who has watched Spain's national team over the passed decade-plus this game is starting to look all too familiar. Control, but with a youthful zest.
67'  Aleksovski is quickly off his line to sweep up as Asensio was played into the open space in front of the Macedonia area.
65'  Ceballos again involved in a lovely move from Spain as they take it upfield as a group and only a stretched leg stops his ball splitting the defence wide open.
63'  Ceballos quickly into the action as Spain intercept a Macedonia passing move and break. Bellerin joins the break but is smothered as he reaches the danger area.
61' Sub for Spain: Deulofeu hands armband to Saúl and trotts off to be replaced by the very promising Betis player, Ceballos.
59'  Dangerous ball in from Bejtulai on the right but it's cleared well by Bellerin. The new boys are certainly getting more of the play in the final third as Spain possibly start thinking about the next game.
56'  A couple of chances for Macedonia as they look to get something, even just a consolation, from this game. First Nikolov strikes then Babunski. Still 4-0 though
Gooooaaaaalll!! And it's Asensio again. Skinning the defender on the left inside the area and then drilling home past Aleksovski. Game, if it wasn't before, over!
53'  Turn and shot from Denis, just over.
52'  Lovely run from Asensio - he's not just a stand-in-the-middle creative genius - gliding down the left. His ball across in front of Aleksovski is delicious but no one can get on the end of it.
51'  A few niggly fouls take up the minutes as some shape is looked for in this second half.
48'  48'  Sandro fouled by Bardhi and then Radeski is flagged for offside. Macedonia need to push on now but another goal for Spain and they can kiss any points goodbye.
Note half time subs: Angelov and Markoski off for Gjorgjev and Elmas
47'  Macedonia then get forward well and the ball played into the area is headed just wide by Zajkov
46'  We're underway and almost immediately Spain create a great chance. A better final pass from Sandro, when it looked easier to make it right, let's Macedonia off the hook.
OK, The teams are back out. Let's see how this turns out...
Even his celebrations are calm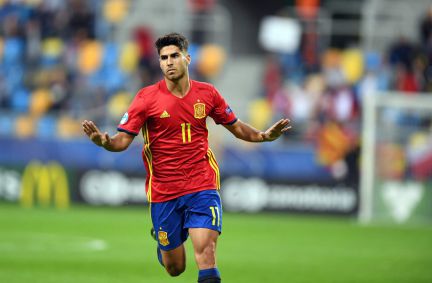 Just six minutes later, as Macedonia were trying to get themselves sorted again, a goal out of nothing. Whereas coach Milevski may have some questions to ask his defenders about the marking of the first, he'll struggle to criticise his players for Asensio's second. The threat, from a Deulofeu run, had been cleared. Spain were recycling the ball but nothing looked on when the Madrid player let fly. It's just one of those you sit back and applaud. No wonder fans of Los Blancos are feeling so positive about their club's future.
This is how it looked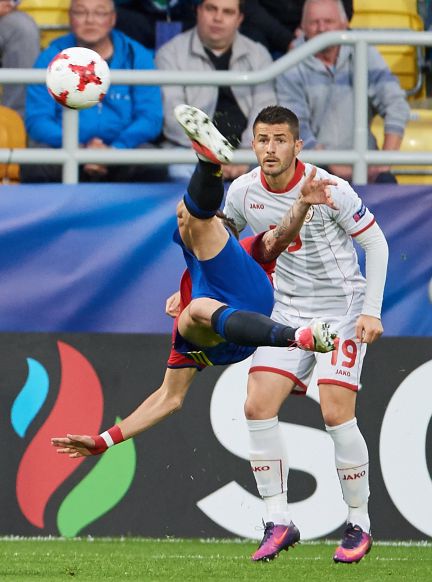 The first 10 minutes felt fairly balanced with both sides clearly wanting to play it from feet to feet and involve their creative talent as quickly as possible. There had been few clear chances but then up stepped Atlético Madrid's Saúl. From Jose Gaya's ball in from deep on the left, the unmarked Saúl threw himself up and caught the bicycle kick sweetly. Although almost straight at Aleksovski, it was the power that took it past the surprised keeper.
Half-time. That peep brings a decent 45 minutes of football to an end. As the 22 players head down the tunnel for a refreshment and tactical chat, let's have a look back on the half.
45'  Smart save from Kepa as Bardhi drives a slider off the outside of his right boot. It looked like it was sneaking in the far post so the push away was key.
43'  Ohhh! The ball falls loose in a crowded area just outside the Spanish area and Babunski is first to react. His right footed curl caresses the outside of the post as Kepa scrambled across. Nearly.
41'  Vallejo, Denis Suárez, Llorente..holding the ball well under pressure as Macedonia look for errors.
38'  Corner to Macedonia taken short. Eventually worked into Babunski who plays a lovely ball into Radeski in the area but back to goal and can't make anything happen. Bardhi then looks to create but the young Spaniards are more than just creative sparks; that's a tight unit working hard at the back.
36'  Macedonia still looking to play some neat football in the third quarter of the pitch (not fair to say the final third) but that third goal has immediately given the reds a chance to pause and pass. Let's see if they look for more control and possession deeper and invite their opponents on.
Captain Gerard Deulofeu steps up and...scores!! Slides it right as Aleksovski throws himself the other way. Three up with 10 to play in the first half.
34'  Penalty to Spain!! 
33'  The game has settled down for a few minutes with not a lot happening
28'  Almost another for La Rojito. A break with Saúl at the helm through the centre. Gayá gets played in wide on the left and his ball in gets punched out by Aleksovski but only to the feet of Asensio. The Madrid man's instinctive shot is blocked over the bar by Aleksovski as he gets back to his feet. 
25'  Babunski shows great skill as he drifts past two Spanish defenders taking him into the area, slips the ball to Markoski on his right but the shot is snuffed out.
24'  Great ball in from Deulofeu on the right skips right through the six-yard box but Sandro can't direct it in.
23'  Another attempt for Macedonia, this time Bardhi managing to test Kepa but it bounces into his waiting arms.
21'  Radeski gets a header away after a swung in cross from the right but it's well wide.
19'  Macedonia must be wondering what has happened. It all started quite balanced and two goals from the top drawer have changed the whole perspective of this match.
16'  Asensio again with a chance. He works a little space and drives from a similar space outside the area but this time with his left. The closing defender takes the pace off the shot and it squirms just wide of Aleksovski's left hand post.
Another belter!! Asensio picks up the pieces of that last break and puts his right foot through the ball when nothing looked on. From outside the left side of the area the ball flies in the top right angle of the goal. Stunning strike!
13'  Macedonia build through Babunski but the ball is won back and Deulofeu breaks. He gets around Aleksovski in goal but the covering Velkovski blocks.
12'  This is already looking like it could be a very enjoyable encounter. Macedonia keen to play as much as Spain.
GOOLAAAAAZO!!! Saúl with an overhead kick breaks the deadlock. It's as though that small threat from Macedonia reminded the favourites to step it up and they did. Neat passing, Asensio controlling, building, moving. ball was played out to the left and lifted in to the mixer. Saúl's technique was lovely although Aleksovski will be disappointed not to have blocked it.
8'  Spain sitting off the two central defenders of Macedonia who knock it between themselves a few times as if playing for time. But that's not the feeling you get from these finals' debutants. Quickly the ball is moved through the middle to the feet of Babunski who strikes. Nice build up.
6'  The whites of Macedonia having  a brief spell of possession, Babunski trying to conduct from the centre. It ends with a wild shot from Nikolov.
5'  Good pressure on Bellerin by Markoski on the left forcing the Arsenal full back to clear out.
3'  Saúl runs towards goal from just inside  the Macedonia half and decides to pull the trigger from around 25 yards. It bounces safely wide. First attack in the bag for Spain.
2' Early card for Meré as he slides in unnecessarily. Silly.
1'  Spain immediately get onto the ball and hold onto it for the first minute until it falls loose on the halfway line and it's hoofed forward for Macedonia. Offside called. 
  We're off!
Gjoko Zajkov and Darko Velkoski were solid during the qualifying with defence being the crux of their table-topping finish. How will they deal with this Spanish side? It's time to find out...
 Spanish fans now...hummed beautifully.
Macedonia anthem proudly pumped out by players and fans alike. Just look at that New Sun of Freedom flag too. They'll not get knocked down later.
Not long to go now, the teams are coming out of the tunnel. Just a reminder that a talented Portugal side now sit top of Group B with their 2-0 win over Serbia. Top spot needed to guarantee progressing.
With more focus on Sandro tonight (you saw the news about his move to the Premier League, didn't you?), it's worth noting that the striker hasn't played a part in the qualifying games. 14 goals for Málaga in the league seemed to have caught the eye of both Celades and Koeman...oh, and Simeone too.
Keep an eye on David Babunski for the debutants. Likely to provide the creative spark as number 10 he can draw on the experience he picked up coming through the Barça youth and B teams. He's now strutting his stuff at Yokohama F. Marinos. (Want to know what the F stands for?)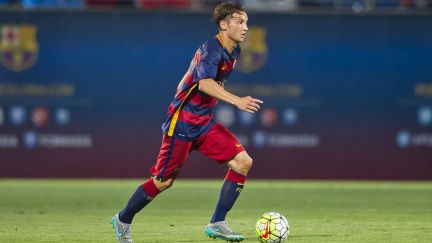 Expect Macedonia to start with a 4-2-3-1 formation but, if things go as expected, that is likely to corsetina backwards into a flatter five in front of the defensive line.
Our resident expert on the English national team has just suggested that this Spanish U21 side could hold their own against the Three Lions' full side. Including the depth on the bench. Options available to Celades if  he wants to change things include: Ceballos, Iñaki Williams and Mayoral
Macedonia XI: Aleksovski; Bejtulai, Velkovski, Zajkov, Demiri; Nikolov, Bardhi; Markoski, Babunski, Radeski; Angelov.
Spain XI: Kepa Arrizabalaga; Bellerín, Meré, Vallejo, Gayá; Llorente, Saúl, Denis; Asensio, Sandro, Deulofeu.
An hour till kick-off in Gdynia as Portugal U21s double their advantage in the other game in this group. Bruno Fernandes with the goal just before the 90th minute.
Málaga's Sandro is expected to lead the line for the young Spaniards but news reaching us is that he will not be playing in LaLiga next season. Everton appear to have him sown up with previous favourites for his signature, Atlético, missing out due to their continued sanctions. Read all about it here.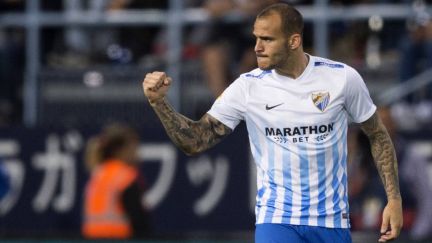 Talking of sunshine...some of the Spanish squad have been commenting in the last couple of days about preferring the weather in Poland to that of their homeland. Strange you may say...but at 40 degrees in the Madrid shade, we get their point! 
As we said in the preview, this is the first time that Macedonia have reached the finals of a major competition at any age group. That means we get to see the big shiny sun flag when the anthems play in less than two hours. It's called 'The New Sun of Freedom' for those interested. Just look at it...but not for too long!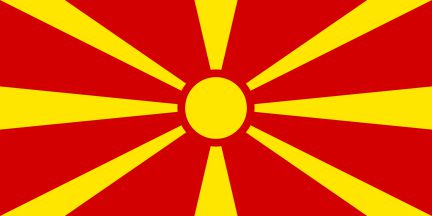 It's half time in the other Group B game between Portugal and Serbia. Goncalo Guedes put the Portuguese ahead on the 37th minute and that's how it's stayed.
These two sides have met twice before with La Rojita (the little red one) winning both, an aggregate of 5-0.
The man in charge tonight is Harald Lechner from Austria who has been a full international for Fifa since 2010...and turns 35 in a couple of weeks.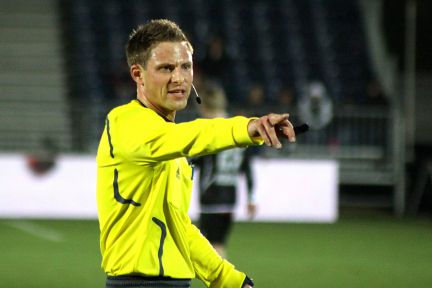 Ahead of tonight's game, Spain's coach Albert Celades has said that Macedonia have a "magnificent team and magnificent players" and that "this match will demand the very best of us." I think he'll still be quietly confident of success once he glances around the dressing room. Did you know he likes pool?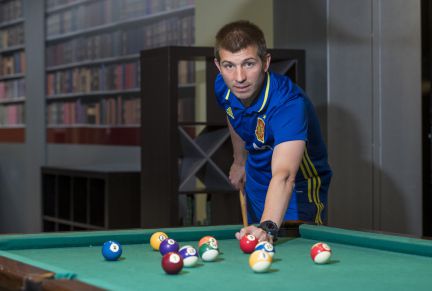 Two 'ones to watch' this evening: For Spain, Atlético's energetic, go-to midfielder Saúl Ñíguez. And for Macedonia, the creative spark of Yokohama's Babunski. You heard it here first.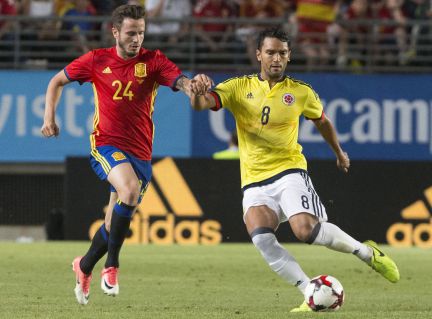 Searching frantically for somewhere to catch Spain's uber-talented young stars play? Sit back, put your feet up and relax. Here's the where-and-when on this evening's game.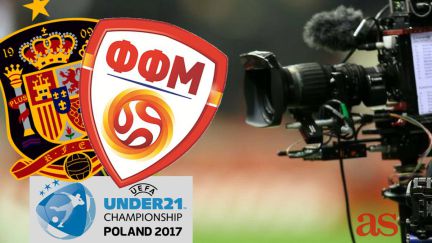 Spain U21 vs FYR Macedonia U21: preview
The hotly fancied Spanish side, who have won this tournament four times, get their under-21 campaign underway against debutants Macedonia featuring some talented individuals. But where other national sides have had to scoop up their young stars for the senior squad, Spain's strength in depth, and policy to give importance to all categories of competition, means nothing less than three points will be expected.
Spain U21 team news
The Spanish youngsters come into this tournament with high hopes of walking away with the trophy. With a squad that includes Real Madrid's Marco Asensio, Barcelona's Denis Suárez, Milan's Gerard Deulofeu, Málaga's Sandro, Arsenal's Hector Bellerin and Atlético's Saúl Niguez (the list goes on) there is no doubt that other teams will be wary of the threat they pose.
Manager Albert Celades will be delighted that he has so much talent to choose from - some of these players could have been part of the full national squad - so the question will be who he picks and how he structures the team to get the job done against Macedonia. Real Madrid returner Borja Mayoral could be a big threat through the tournament to finish off the quality delivery that will be in abundance.
FYR Macedonia U21 team news
History made for Macedonia. This is the first time any national age group has made international finals. And not many will give them much hope of starting their campaign off with three points but Spain will be wise not to take them too lightly. They finished top of their qualifying group - only losing one game along the way - leaving France among others behind them.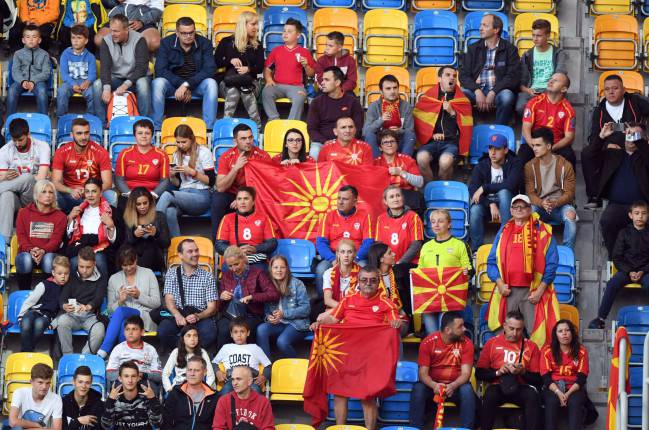 The Red Lions manager, Blagoja Milevski, has built the team on a solid defence (they've conceded just one goal in their last seven games) and will aim to keep the attacking talent of Spain at bay and nick something at the other end. Keep an eye out for Enis Bardi. For Ujpest Dozsa in the Hungarian top-flight he scored 12 goals in 29 games, the third best in the division last season.
---
Spain U21 vs FYR Macedonia U21: betting odds
If you feel like adding some more interest to the game why not have a little flutter on a FYR Macedonia win. 16/1 at the time of writing, but remember not to bet more than you can afford to lose. It's 16/1 for a reason!
Follow the live coverage match of U-21 European Championships between: Serbia-Spain
Line-ups

Albert Celades
4-3-3

Blagoja Milevski
4-2-3-1
23

Filip Pivkovski

13

Filip Ilic

20

Tihomir Kostadinov

16

Petar Petkovski

12

Damjan Siskovski

3

Jovan Popzlatanov

11

Daniel Avramovski

6

Aleksa Amanovic

21

Mevlan Murati