Slovakia 1-2 England: UEFA Euro U-21 match report
England turned the game on its head after going down 1-0 in the first half and give themselves a massive chance of qualifying for the next stage of the Euros.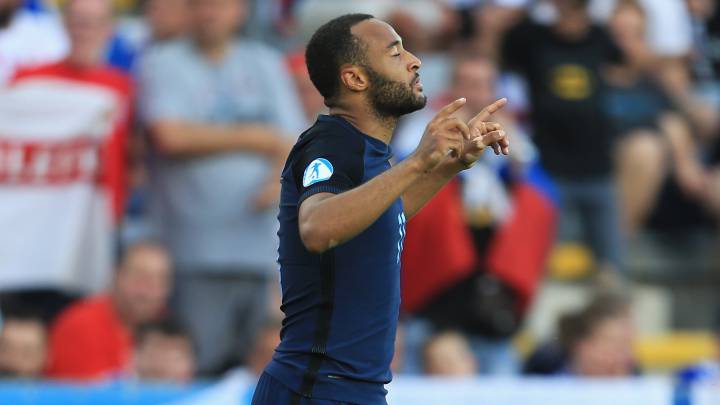 Slovakia 1-2 England: match report
England kept their Euro under-21 dream alive on Monday night as they beat Slovakia in Poland despite falling behind in the first half.
Slovakia enjoyed much of the opening exchanges and dominated the ball with little of not in an attacking sense from England. While the Slovaks were winning in that battle, they were struggling to figure out how they wanted to attack England too.
90'+4' Game over! England with a comeback win to keep their Euros alive!
90'+4' Woodrow is booked for grabbing Lobotka's leg as he tries to take a free kick.
90'+3'  England get a corner eventually as Ward-Prowse really takes his time over this one.
90'+2'  Murphy wants a free as Haraslin bundles him over. Goal kick.
89'  Slovakia building well down the left but Benes gives it away cheaply with a poor touch.
89'  Slovakia with another handball penalty shout. Nothing doing. 
87'  Ball comes in from the free. Looks dangerous but England get it away. Corner. Rusnak eyes it up.
86' Murphy is booked for pulling back Haraslin. 
85'  Nervy few momtns in the box but England get it away. Slovakia get it back Haraslin with another cross that is too close to Pickford.
84'  Slovakia committing everyone (almost!) forward. 
83'  Better that time but Safranko knows nothing about it and it hits his foot and goes wide.
82'  Haraslin, the sub with a cross that goes over everyone's head. Poor delivery. Slovakia still in possession though.
81'  Abraham lays it off to Gray and continues his run. He has the chance to thread it back through to Abraham but goes it alone and gets dispossessed. Wrong option and Abraham lets him know.
79' Demarai Gray comes on for John Swift.
77'  It was actually Ninaj with the elbow and replay suggest it most certainly was an elbow to the face.
76'  Skriniar and Abraham do battle for the ball again. Abraham down grabbing his throat as it looks like he got an elbow? Bit of arrgy-bargy now as the ref calms things down. He didn't give a free though. 
75'  Getting desperate now for Slovakia. Corner.
74'  Chipped ball out wide nearly makes it to the substitute Haraslin. He can't reach but gives a thumbs up. Good idea!
73' Haraslin replaces Mihalik.
72'  Rusnak gets toppled over outside the box but ref says there was no free. Up the other end and Swift has a shot that tests Chovan. If anything England look more like scoring a third.
70'  Skriniar bulldozes Abraham out of the way in search of the ball. Free to England.
69'  Ball out wide to Mihalik has too much on it and goes out for a throw. Slovakia struggling to get anything going but are enjoying slightly more possession lately.
67'  Benes lobs one into the box but England fine with Slovakia's attack now. 
Slovakia roll the dice with a double change. Zrelak is of for Safranko and Benes is on for Chrien.
65' Mazan is booked as Murphy picks it up and breaks.
64'  Slovakia want a penalty. Mihalik kicks the ball against Murphy but the referee waves it away.
63'  One way to not force it Chrien drives a shot wide.
62'  Rusnak with a corner. England manage to get it away but Slovakia trying to force the issue now.
60' Long searching ball by Ward-Prowse. He finds Redmond, who cuts in an drives towards goal. It takes a deflection off Lobotka and beats Chovan.
57'  Bero tries to go through three England defenders. Mawson gets in front of him and Bero fouls. 
56'  Mihalik plays it central to Bero, who flicks it up and hits a left-footed strike on the volley. Goes wide but Pickford rushed over to it in case it snuck in.
55'  Rusnak gets the ball in with a cross but Pickford gathers.
54'  Slovakia trying to keep a hold of it now. England do well to put them under pressure.
52'  Redmond plays Baker through and he looks for Abraham inside. Slovakia scramble it away. Form more purposeful from England in this half and a lot more dangerous. Murphy with a shot that Chovan gets behind and saves.
50' Alfie Mawson goal! Cross comes in that Slovakia don't deal with. Murphy clips it in and Mawson gets a foot to it. Chovan saves buyt Mawson pokes home the leveller.
49'  Swift plays it to Redmond, who cuts inside and fires a rasper with his right. Chovan saves.
48'  They take the free and Chilwell gets it down the left. Cross but Skriniar heads clear. All England in the possession stakes.
47'  Zrelak crashes into Chilwell after he headers the ball clear. Free to England. 
46'  England starting well but Calobah tries a ball inside and it rolls straight to Chovan.
46'  Back in action!
 Jacob Murphy replaces Mason Holgate. That's it for changes at the half, it looks like.
Back out on the field.
Swift has had plenty of chances but rarely found Abraham. Maybe that's Abraham's problem too but it is England's problem, for sure.
Certainly an improvement by England in the latter stages of that half but you still have to wonder where a goal, let alone two, will come from.
45'  Ward-Prowse with a free that he strikes well. Saved by Covan and touched over the bar. Corner, that comes to nothing, is how the half ends.
42'  Abraham goes down in the penalty are grabbing his foot. Referee not giving a penalty. Looked close but the ref was well positioned.
41'  Same again for England. No imagination in this side. Ball stolen from them again as they try to figure out a way to attack.
40'  Swift with a ball into the box. Chovan saves.
39'  Ward-Prowse clips it forward towards Abraham who is just a fraction offside. England definitely picking it up here. A goal before the half would set it up nicely for the second 45.
38'  England with good possession outside the box as they throw it around. It turns out to be sterile though as Holgate tries to go around Ninaj and he fouls him when he can't. 
36'  Swift with another shot. He tries to curl it up and over Chovan but he can't get enough bend on it. 
35'  Redmond with a cross that Swift meetsa with his head but can't get enough on. Slovakia clear again but England really picking it up. They need to win this one.
34'  Pickford launches an attack with a quick kick-out. Skriniar and Abraham in chase but it rolls out for a restart. 
33'  A little more urgency from England now. Still nothing happening in the penalty area. 
32'  Swift lines it up. Swings it in and it's cleared. 
31'  Dangerous cross arrives in from Chalobah. Headed out for a corner by Slovakia. 
30'  Slovakia looking dangerous again. They have all the possession but can't break through this time.
27'  Ward-Prowse with a really frustrated tackle on Bero.
Pick might be upset that he couldn't do better there. He seemed poorly positioned and let the ball loop over him. He jumped too soon too.
24' GOAL! Slovakia take the lead. Rusnak's corner meets the head of Chrien and he glances it beyond Pickford. 
22'  Skriniar very keen to play it out from the back. 
20'  Ward-Prowse up on Rusnka's back and the ball goes out of play. Throw to England. The Slovakian is not happy with the ref. 
19'  Lovely ball by Swift to Chilwell, who strides up the line. His chipped pass towards the six-yard box is headed clear by Ninaj. Corner to England.
18'  Zrelak and Chambers have a bit of a wrestling match. Ref says the Slovakian player was the first one to foul. Some old school grappling going on!
17'  Ball looking for Redmond across the field from Holgate is too long. Redmond tells his teammate to keep it down. He's not happy with it.
16'  Rusnak plays it back to Valjent, and his cross looks good, but England clear. 
15'  Ball in over the top to Abraham who tires to steal a yard but he strays offside.
14'  England taking control now.
13'  Another nasty one. Lobotka catches Redmond's ankle from behind. Stands right on top of him. No yellow. He's lucky.
12' Bero booked for a foul on Chalobah. Takes him out of it as he took a took and moved beyond him.
11' Another chance by Holgate this time as John Swift starts to influence things in the middle. Chovan gets behind it but fumbles. It falls kindly to him and gathers it again.
11' Chalobah has a shot from outside the box, well outside the box, but it's always drifting wide. Might have made a better decision on that occasion.
10' Rusnak gets a little bit impatient and launches a pass from the right halfway line. Floats beyond everyone and out for a restart.
9' Holgate twists and turns but Mazan has his eye on him and gets a poke on the ball. Throw. England yet to mount anything other than a mediocre attack.
8' Valjent offers width on the right and gets it but his cross is low and poor. Chambers clears for a throw. Slovakia build again. Rusnak has been lively so far.
7' Bero gets it out on the left and plays it inside by Slovakia coughing it up easily too. No form of coherence in their attack just yet either. 
Greath Southgate in attendance and keeping an eye on progress.
5' Skriniar again moves forward and tries an ambitious pass but way off again. This time along the ground but the same result.
4'  Quite a scattered start. Slovakia putting plnty of pressure on England and they're not doing well in dealing with it. Coughing the ball up as they move into midfield.
3'  Decent move by England ends up with John Swift. He strikes with his right by Chovan is equal to it.
2' Skriniar tries a long ball in search of Mihalik but it's far too long.
1' Not a great start for Cahmbers. He gets turns over in the air by Zrelak and lands on his shoulder. Reall sore one but he's back up!
1' Game on! 
And now Nad Tatrou sa blýska - Lightning over the Tatras - blares over the speakers. A rousing rendition. Plenty of Slovakia fans is right.
God Save The Queen belting out at Kolporter Arena arena.
Keep an eye out for Milan Skriniar, who played 35 times for Sampdoria last year in Serie A. Centre-half for Slovakia.
And there we have Slovakia's team news. 
Chovan, Ninaj, Skriniar, Valjent, Lobotka, Mihalik, Chrien, Rusnak, Mazan, Zrelak, Bero.
Pickford, Holgate, Chambers, Mawson, Chilwell, Ward-Prowse, Chalobah, Swift, Baker, Redmond, Abraham.
Aidy Boothroyd is has been clear that his side need to beat Slovakia. There are three groups of four teams, with the top team from each group progressing. The runner-up with the best record will join them to become the fourth team in the semi-final. As such, there is little margin for error in the group stage.
 That's one change for England, with Reading's John Swift replacing Norwich City's Jacob Murphy on the right flank. 
  Slovakia XI: Chovan; Valjent, Ninaj, Skriniar, Mazan; Rusnak, Bero, Lobotka, Chrien, Mihalik; Zrefak. 
England XI: Pickford; Holgate, Chambers, Mawson, Chilwell; Ward-Prowse, Chalobah; Swift, Baker, Redmond; Abraham.
TEAM NEWS!
England secured a draw in their opening match against Sweden, thanks to Jordan Pickford's penalty save from Linus Wahlqvist. It was not a disastrous result against the tournament holders, yet England's style of play was generally limited to speculative passes to Tammy Abraham, the increasingly-isolated lone striker. Aidy Boothroyd's team will need to show more ingenuity if they are to succeed in Poland. 
Before the Under-21 Euros began, our colleagues at Bleacher Report put together their list of 10 players to watch - with Slovakia and England both represented.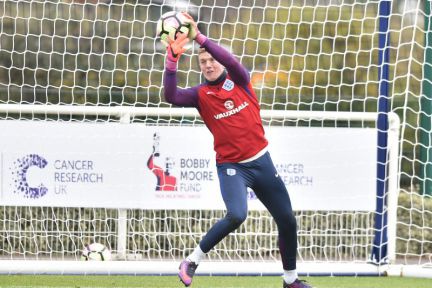 Here's how England started off their euro U-21 campaogn. Our match report from Friday's draw vs. Sweden.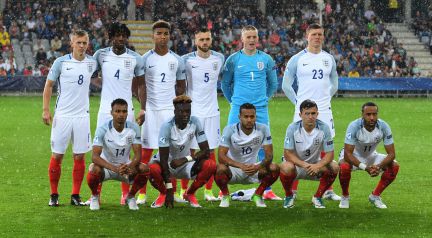 Albert Rusnak looked sharp for Slovakia but aside from that, there was a lot of wasteful passing in the final third. When they did open the scoring after 23 minutes, it was Rusnak who delivered the cross onto the head of Martin Chrien as he glanced a header beyond Jordan Pickford.
England did take over control of the ball at that point but on too many occasions was their attack broken down byt slow, stale passing and no incisiveness from their creative players. They needed a spark.
It came in the second half whe Jacob Murphy replaced Mason Holgate and he added incentive down the right hand side. His ball into the box after 50 minutes found the toe of Alfie Mawson but Slovakia's goalkeeper, Adrian Chovan, saved well only to see the Swansea defender follow up and poke home the rebound to give England hope.
The game was turned on it's head 11 minutes later just after the hour mark when Southmapton duo, captian James Ward-Prowse and Nathan Redmond linked up to put England in front. A long, raking pass across the field found Redmond in behin Slovakia's defense and Redmond took it down, cut back onto his right and fifled a shot beyond Chovan.
Slovakia took over again as England tried to protect their lead but there would be no further changes on the scoreboard. England were inspired in the second half and will draw strength from this performance but against better opposition won't be given a full 45 minutes to figure out a way into the game.
England play Poland in the same stadium on Wednesday while Slovakia play Sweden on Thursday to decide a group that is extremely tight after England's three pointer on Monday.
Slovakia U-21 v England U-21: live online build-up
Slovakia v England , U21 European Championship: match preview
England face Slovakia, in the second Group A game of the 2017 Under 21 European Championship in Poland.
Aidy Boothroyd's team got off to a solid start against reigning holders Sweden in Friday's opener and were grateful to the goalkeeping heroics of Jordan Pickford whose second half penalty stop saw England secure a creditable point against the Swedes.
Later on Friday, Slovakia saw off host nation Poland with a 1-2 win despite the Poles taking a first minute lead.
Slovakia: team news
The Slovaks come into the tournament buoyed after a positive qualifying campaign winning six of their eight qualifiers and suffering just one defeat to finish five points clear of the Netherlands at the qualifying Group 8 summit.
Striker Adam Zreak who plays his football with FK Jablonec is the man to watch bagging five goals in the campaign and forms a formidable partnership with FC Viktoria Plzeň marksman Martin Chrien.
Slovakia coach Pavel Hapal described England as the best team in Group A as he looked ahead to the encounter. "All the players are healthy and the team is in a good mood," he said. "We're going into the game with the ambition of winning it. But we're going to face a good team, perhaps the best in the group. Even if our priority is to win, we'll see during the game whether or not we'll have to settle for a point. We'll have to match them physically and that could be key [but] we have great quality in our side."
England: team news
Coach Aidy Boothroyd will select his strongest side with Friday's hero Jordan Pickford, a recent €30m signing for Everton from Sunderland, generating all the headlines following the opening game against Sweden. In fact, Pickford is the most expensive British goalkeeper in history. Ahead of him, Rob Holding and Alfie Mawson have both enjoyed a fine 2017 in defence for Arsenal and Swansea respectively.
Lewis Baker will once again man the midfield. Dangerous from set-pieces, he has spent the past two seasons on loan at Vitesse Arnhem from Chelsea. The European Championships will provide Baker with an opportunity to place himself in the shop window as he approaches a cross-road in his career.
In his pre-match press conference Boothroyd alluded to the importance of the game against the Slovaks: "We have to go full pelt for every game but at the same time because of the squad we've got I've got to think about using everyone that's in it. But we have to win so I've got to pick the best team, even if some of them might be a bit tired they might have to play a smaller part in the game and [we] think about what goes on in the last half hour of the game."
England Under 21s have failed to progress from the group stages in the last three European Championships. This year, they will hope to ride the wave of positivity surrounding youth football in England.
Slovakia U-21 v England U-21 live online: odds and betting
Slovakia marksman Adam Zrelak scoring first in tonight's tussle in Kielce with England ultimately winning 1-2 pays out at an attractive 19/1.