Tenerife 1-0 Getafe LaLiga 123 play-off final: Match report
Tenerife take a very slender lead back to Getafe thanks to a goal from the head of Jorge Saenz in a game that threatened to kick into life but failed to.World Cup 2018 draw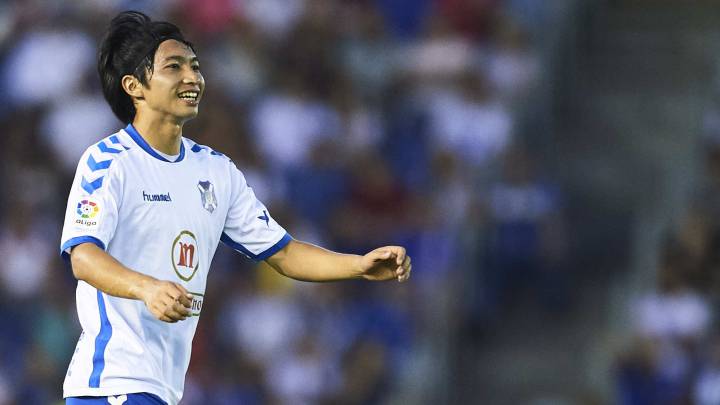 Tenerife 1-0 Getafe: match report
Tenerife might rue some of the chances they missed against Getafe on Wednesday night as the two sides travel back to Madrid to face each other in the second leg with a place in LaLiga at stake. The islanders have a goal lead but they never truly convinced in a game that failed to ever get going despite threatening to do so on a number of occasions.
Getafe were always going to be up against it with the speed and skill of Tenerife's counter-attack and they conceded possession in the opening exchanges in an effort to sit back and protect their back four from being over-exposed. Cala was lucky not to give away a penalty inside the opening five when Amath got in behind the centre-half and the defender pulled back the Atletico Madrid loanee from around the neck. The referee opted to refrain from pointing to the spot even though it looked locked on.
Once they fell behind on 22 minutes via the head Jorge Saenz when Gaku Shibasanki delivered a pin-point cross onto his head from a corner, Getafe felt they needed to come out of their shell a little bit more or face an onslaught of Tenerife attacking for the night. They did improve but Tenerife continued to dominate on the break and refused to give their opponents a look-in in front of goal.
That continued well into the second half and while Getafe had their chances, they were half-chances at the very best. At times, it was tit for tat with neither side landing any clean punches. Lozano had an effort that forced Guaita into a save but it was a mediocre effort at the very best. That's how it continued and that was how it would end. Molina was battling for something up front but he had no luck and Tenerife never showed enough ambition to double their lead.
Both managers will get their sides back to training soon to assess the damage as Getafe's Cala was carted off with a hamstring injury, as was Molinero with an ankle injury and Tenerife's man of the match, Suso, walked off with a grimace on his face that didn't necessarily look good.
With a place at stake in LaLiga, there is a huge improvement in both sides. Getafe will be happy to get out of the Canary Islands with just a one goal deficit but Tenerife might be left wondering what might have been if they could have hurt their opponents more in the opening leg.
Tenerife vs Getafe live stream online: LaLiga 123 play-off final: latest news
90'+3'  FT Tenerife 1-0 Getafe.
90'+3'  Game over! That's it for the first leg. Hoping for a masive improvement in the second leg from both sides. Plenty of nerves for either side. 
90'+2'  Nothing doing for either side.
89'  Paul Anton has a crack now! Way, way over. Fuster is on the ground after having his ankle stood on by Raul Camara. It looked like just a follow through with two players committed to winning the ball.
87'   Chuli  has a crack. It takes a defelction that leaves Hernandez scrambling but it goes out for a corner.
86'  Molina launches himself into a tackle with two Tenerife players. Free is given to the defender and Chuli is not happy. He is booked for his protestations.
82' Aaron Niguez replaces Gaku Shibasaki.
81'  into the last ten. Molina reaches for a ball as it goes out for a goal-kick. He can't make it and the Tenerife fans urge on their side for the last few minutes. "Si, se puedes" - yes, you can, they shout!
78' Suso replaced now by Perdomo. He doesn't look entirely comfortable and will be a huge loss for the second leg if he is out.
77' Gorosito replaces Cala after a long break.
73'  Cala is going to have to be replaced. He swings a kick at the ball and misses. He also appears to tear his hamstring in the process! Really sore looking injury.
72'  Molina and Saenz get into it now. Saenz catches Molina in the back and stands over him telling him to get up. Molina doesn't take kindly to it and pushes him away. Referee tells both of them to cut it out.
71'  He pulled back Aitor Sanz.
71' Lacen booked now for trying to stop Tenerife on the break again.
70'  Things getting very heated. Getafe frustrated with their inability to create anything.
70' Strange pattern of play. Fuater launches himself into a tackle and is lucky not to be booked. Then Camara breaks free and Portillo jumps up on his back and pulls him down like a rugby tackle and he is booked.
69'    Faurlin replaced by Paul Anton.
68' Amath is replaced by Alberto Jimenez.
67' Chuli replaces Alvaro. Very quiet game from the wide man.
66'  Tenerife with a penalty shout. Amath goes down under a challenge from Cala. The ref says no and then Getafe get it straight up the other end. Molina has a crack after bulldozing Camille out of the way. Free to the defender.
65'  This game remains a back-and-forth. Neither team landed a blow yet though.
63'  Molina pokes it out wide to Molinero but his cross into box has nobody to meet it! 
61'  Alvaro gives it away and Lozano breaks. He has options with Amath running across him but he goes it along. He strikes it low and hard and forces a good save from Guaita. Corner!
59'  Ball comes across the Getafe box from Suso. Guaita gets a hand to it but Shibasaki arrives late and drills it back towards goal. It's slightly off target thanks to pressure from Faurlin. Close call.
57'  Amath breaks but his touch lets him down and Getafe can breath a sigh of relief.
55'  Damian gets a cross in but Tenerife clear. Some more room in Tenerife's back line now for Getafe to try and exploit.
53' Fuster fouls Raul Camara. He went in behind him and stood on his ankle. Really sore one. No card though.
53'    Suso and Tenerife break but the captain picks the wrong pass as he tries to put Shibasaki through on goal. The Japanese midfielder had stopped his run. Waste of a very good counter.
51'  Getafe have a case for a penalty. Sanchez with a high foot on Molina. 
50'  Shibasaki catches an arm in the face from Damian as he tries to go by him. Ref has a long look at it and decides to give the free.
49'  No, that's not going to do it. Molinero launches a shot that barely even goes wide from about 60 yards out!
49'  Sloppy start to the half. Neithe team able to keep the ball for longer than a few seconds. 
47'  Ball over the top by Faurlin and Fuster reaches for it. He is a foot or so away from it as Dani hernandez, the keeper, takes it on his chest.
47'  Lozano with a foul on Faurlin. 
46'  We are back underway!
No changes for either side, it seems.
Players emerge back on the field.
45'  Half-time! Very cagey affair to begind with but the game really opened up in the last 10 minutes. Getafe not going down without a fight despite everything showing up Tenerife in the early going.
44'  Alvaro with a teasing ball into the box. Molina is lurking but can't reach it. Tenerife get it away. Getafe are definitely showing their fangs a little more here to get back into this one. 
43'  Molina with an effort that his own player seems to block. The Getafe striker has been looking more alive in recent moments. No clear chances yet but he's figuring out how to get into the game. A good sign for the visitors.
42'  Amath breaks at lightening speed and plays a lovely pass to Lozano but he drives it over. He tried to put a little swerve on it but he got all the way behind it and nearly sent it off the island with a kick!
41'  Second corner on the trot.
41'  Ball arrives in and Tenerife header it away through Sanz. Corner to Getafe.
40'  Suso fouls Alvaro. Chance for a Getafe set-piece as they push some of their bigger defenders forward.
39'  Getafe do seem to want to push forward. They're leaving themselves very exposed but for the neutral, it's making things very exciting. If they could just improve their final ball and movement up front, this could turn into a cracker of a game.
37'  Molinero has a shot but Suso gets back and blocks.
35'  suso wins another corner. That Tenerife counter.
34'  Lozano put through and looks a mile offside. He continues and chases it down but Guaita gathers. Eventually the flag goes up. Getafe fans given another fright.
33'  Shibasaki whips the free in and nearly catches Guaita off guard.
Getafe have a massive problem. Sit back and Tenerife are going to attack, attack and attack. Push forward and try to take the game to the hosts and Amath will hurt them on the counter like what we just saw! Difficult decision to have to make.
32' Cala booked eventually! He grabs Amath and the referee has no other option this time.
31'  Getafe with a decent spell. ends with an offsider Fuster. They're not creating anything and that's based on options up front and Tenerife being very well organised.
29'  Getafe very wary of Amath's speed. Ball breaks behind the defense and Cala jumps in front of Amath to slow him down and obstruct his path. No free but might have been if the referee was looking.
28'  Damian fouled not as Getafe get a brief respite and the chance to attack.
24'  Half cleared this time but Amath battles back and wins it. He has a shot with his left but not enough curl on it to trouble Guaita.
23'  Raul Camara fouled and Tenerife have another set piece. Shibasaki the taker again.
21' GOAL! 1-0. Shibasaki with the cross that lands perfectly in the penalty area and Jorge Saenz heads it home. Perfect set-piece.
20'  Beautiful from Suso. He turns three Getafe defenders and breaks down the right. His cross is headeed out for a corner by Cala. Shouts around the stadium ... SUSO SUSO SUSO!
19'  Alvaro fouls Camille. Referee reaches for his pocket but decides against it. Would have been very harsh. Tenerife back in control of this one and pushing Getafe's defense to see where the weak spots are. They've highlighted their own strngth as down the right hand side with Suso and Amath. 
18'  amath and Suso link up again. Amath the provider this time and Suso's touch is too heavy. He goes down in the penalty are but he doesn't appeal and the referee doesn't even flinch.
17'  What was that? Damian Suarez looks to shoot from inside his own half. It doesn't even go close to the goal and didn't have enough power anyway. Dreadful effort, if that was what he was intending.
15'  Suso threads a perfect pass to Amath but the Atletico Madrid loanee can't get a touch on it. He was moving too fast and it was in traffic. 
13'  Decent chance. Molina with a header at the front post but it came at him too quickly and he blazes wide. Getafe definitely showing more life now.
13'  Getafe starting to geta  foothold now. 
11'  Shibasaki breaks into space and plays it to Lozano but his touch lets him down.
9'  Alvaro on the right of Getafe's midfield hardly felt the ball at his feet. They'll need to get him involved if they have any intentions of hurting Tenerife.
8'  Jorge Milona tries to make his way towards goal. He loses out but gets it back for just a second and loses it again. Very sparse are the options up front for Getafe at the moment.
7'  amath breaks free but he's a yard offside. He made a nice movement back towards the ball to try to keep on the right side of the law there but just strayed. Tenerife on top!
6'  Shibasaki does indeed clip it in and Saez gets a head to it but it's not enough as it dribbles wide.
5'  Definitely a foul that time. Molinero pulls Suso down as he continues into the box after laying it off. Shibasaki eyeing it up.
4'  Getage throwing the ball around the middle with Lacen and Faurlin but Tenerife win it back in robust fashion. Tenerife back on the ball.
3'  Aitor Sanz to Amath. He gets it out wider again and the ball arrives in but Guaita gathers.
1'  Very early penalty shout. Cala grabs Amath's shoulder back. Surely a penalty? No, the referee doesn't give. 
1'  All set! Here we go. We are underway. 
Just minutes away now from kick-off. Huge game for both sides. Tenerife never really showed up in the semi-final but managed to squeeze past a very good Cadiz side. Will Getafe opt to sit and wait for them or do they think they can geta  couple of goals?
David Fuster replaces the suspended Dani Pacheco.
 Here is Getafe's team news in written format. Guaita, Damian, Cata Diaz, Cala, Molinero, Lacen, Faurlin, Fuster, Portillo, Molina, Alvaro.
The two games between the two sides tonight ended in two draws! 
Team news for Tenerife is in. Hernandez, G. Sanchez, Camile, Saenz, Camara, Vitolo, Lozano, Suso, Sanz, Shibasaki, Amath.
Getafe, of course, trying to join Levante as a team to bounce back up into the top flight at the first time of asking.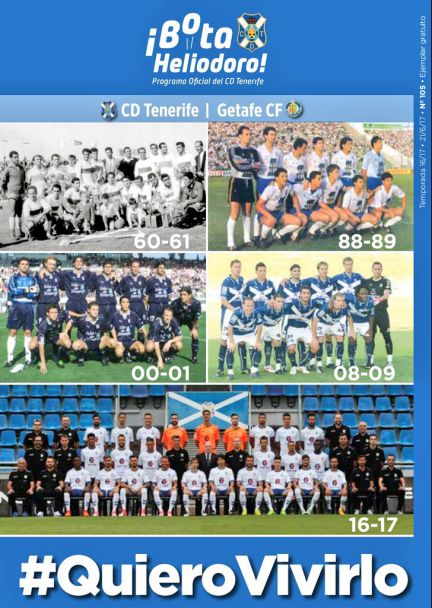 The possibility of a Canary Islands derby is very real now with Tenerife on the brink of history. That said, there could also be a few more Madrid derbies if Getafe go up.
In case you wanted to know about Shibasaki, have a read of the live feed from when Kashima Antlers played Real Madrid in the Club World Cup final. 
If the names Gaku Shibasaki and Jorge Molina mean little or nothing to you then you haven't read our delicious preview. Shame on you! Head down below and learn something you didn't know before.
 The venue for the first leg, the Estadio Heliodoro Rodríguez López, has a 23,660-seat capacity. It does not have an image of the club badge printed on the grass!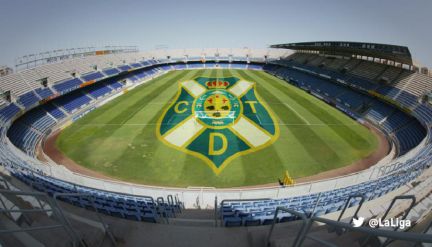 Scottish followers of Spanish football may have a soft spot for tonight's Canary Islanders seeing that they share the same patron saint. This is clear from the team's flag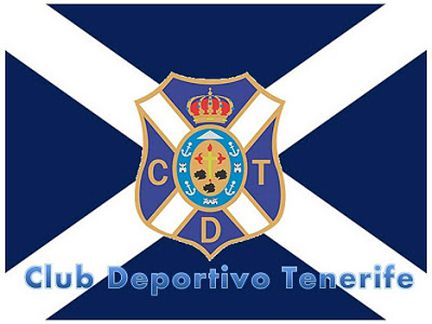 Our man from the largest of the Canary Islands has made sure that we don't forget that Tenerife have some European pedigree. In 1996/97 (that's only 20 years ago!) the Blanquiazules made it to the semi-finals of the Uefa Cup (old money name for Europa League, kids!). They missed out on the final to Schalke, 1-2 on aggregate.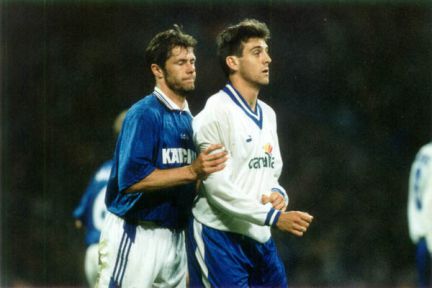 Tenerife were last playing in the top flight in season 2009/10 and prior to that in 2001/02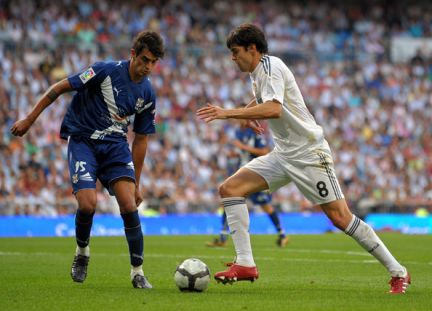 Making it into LaLiga Santander for the upcoming season will earn the club around 40 million euros from TV revenues (more than four times that they would be receiving in LaLiga 1|2|3. Not too shabby but clearly the gap between the finances of these leagues on a different planet.
Promotion from the English Championship to the Premier League makes headlines around the world often tagged 'the richest game in world football'. This year's playoff winners, Huddersfield Town are set to scoop around £170 million as they take their place at the big boys' table. Have a guess how much Getafe or Tenerife will make...
Former Getafe legend Sergio Pachon is in Tenerife to see his former side in action tonight.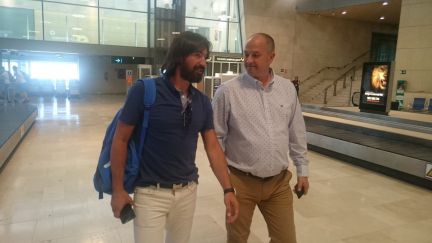 Here's the full array of 2016/17 Getafe kits this season: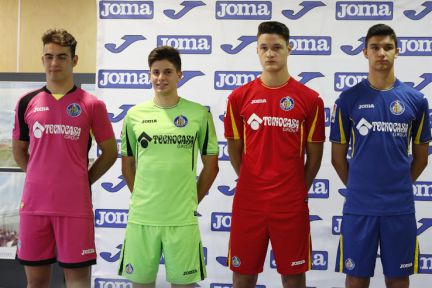 Getafe will sport their third kit this eveing, a snazzy all red number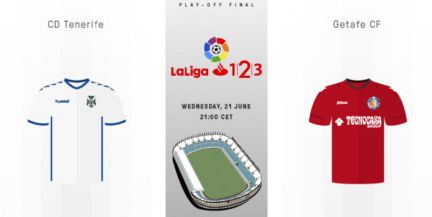 A 0-0 draw for both teams in the Canaries and a 2-2 in Getafe ...Expect a tight affair this evening.


#BordolasLlevaMeAPrimera: Campaign underway by Gefate fans hoping for a top flight return under coach Bordalas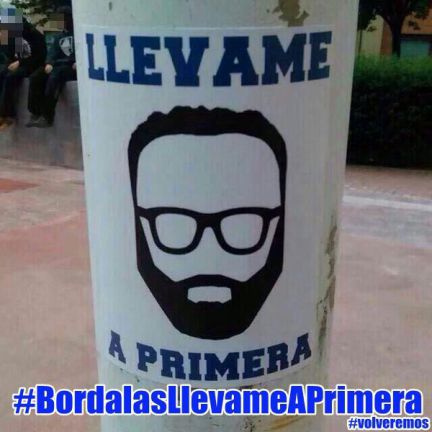 Tonight's game is sold-out !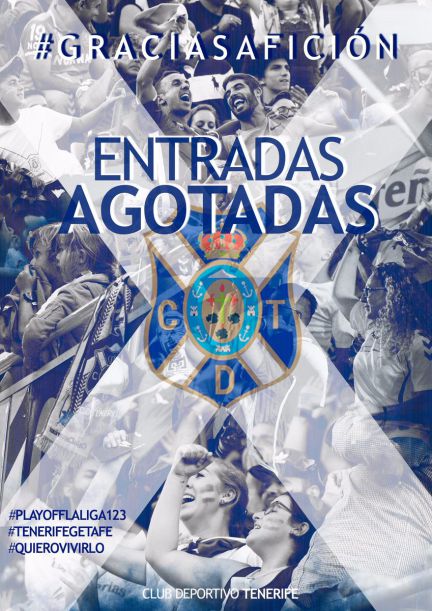 Welcome to our live, minute-by-minute coverage of the 2017 LaLiga 123 play-off final (first leg) as Tenerife welcome Getafe to the Canary Islands. The game kicks off at 21:00 CEST on Wednesday 21 June 2017 and we'll be building up to it throughout the day.
Tenerife v Getafe livestream online: match preview
And then there was two. Two teams left for one spot in the Primera, that is. Getafe took care of business against Huesca and Tenerife squeezed past Cadiz despite the second leg going to extra time. The first leg of the final of the Segunda play-offs takes us to the Estadio Heliodoro Rodríguez López, Tenerife on the Canary Islands.
Tenerife
The last time Tenerife made it into the top flight of Spanish football, they finished third behind Xerez and Zaragoza when play-offs did not exist yet. They finished the following season 19th and then 20th the year after to plummet to Segunda B in just a couple of years. They have had mixed fortunes in the Segunda in the four years since their return and they are now on the cusp of another stint at the top table of Spanish football.
One of the most frightening attacks in the Segunda last season with Ndiaye typically leading the attacking charges against opponents. The on-loan Atletico Madrid attacker scored 13 goals last season and really emerged as a tour de force in the latter stages of the competition. That said, he didn't really show up against Cadiz on either of the two legs and a lot more will be expected of him on Wednesday night in front of a home crowd baying for a return to the top flight.
Gaku Shibasaki is the man who runs Tenerife's midfield after being picked up by the islanders from Kashima Antlers when he scored two goals in the Club World Cup final against Real Madrid during Spain's winter break.
Getafe
When Getafe were relegated from the top flight last season, many thought they could disappear down the ladder with no respite. They have proven those doubters wrong and trounced Huesca in the semi-final despite giving up two late goals in the first leg that kept the game on a knife-edge heading into the second leg. They took care of business in that return leg and beat their opponents 0-3 and now look to Tenerife, who on their day are far more potent than the lively Huesca.
Things got so bad for Huesca that manager Juan Antonio Anquela head-butted David Lopez when he was taken off in the second leg and Anquela will not continue with the club next season. So, in that sense, we are not sure how good Huesca were after sneaking into the play-offs and imploding in that fashion.
Getafe will rely on Jorge Molina, who scored two in the first leg and scored a goal a game during the regular season. Another player they rely on, Dani Pacheco, will miss the game against Tenerife after being sent off against Huesca and receiving a one-match ban.
Tenerife v Getafe live stream online: betting
The visitors ahead at half time and Tenerife coming back to snatch a FT draw is an attractive proposition, paying out at 6/1.
Bet (responsibly) on Tenerife v Getafe now
Follow the live coverage match of LaLiga 123 play-off final between:Getafe-Tenerife