NFL
Oaklands Raiders make Derek Carr the highest paid player in NFL history
The Raiders QB signed a new deal woth $125 million which makes him the highest paid player in the history of the league.Floyd Mayweather vs Conor McGregor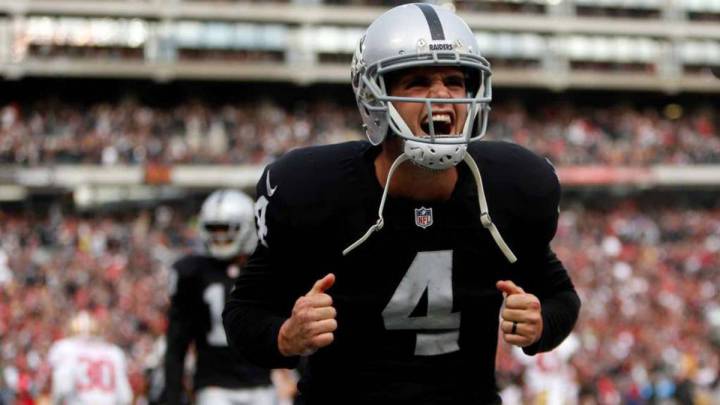 Quarterback Derek Carr took to social media on Thursday to announce that he has finalized a contract extension with the Oakland Raiders.
While Carr did not divulge the terms of the deal, multiple outlets reported that it was a five-year, $125 million contract. Should that be the case, it would make the two-time Pro Bowl selection the highest-paid player in the league in terms of new money average.
Andrew Luck of the Indianapolis Colts receives $24.6 million per year, just ahead of fellow quarterbacks Carson Palmer ($24.35 million) of the Arizona Cardinals, Drew Brees (24.25 million) of the New Orleans Saints and Kirk Cousins ($23.9 million) of the Washington Redskins.
Tried keeping up! Thank you to family, friends, teammates, opponents, and fans who sent me a text/tweet. Appreciate all of you! God is good

— Derek Carr (@derekcarrqb) 22 June 2017
Carr announces the extension on social media
"Now it's done," Carr wrote on Twitter. "From the jump I've wanted to be a Raider 4 life. One step closer to that! Blessed!!! Business done! Let's just play now!!!"
Carr had given the Raiders a training camp deadline for the deal or planned to shut down negotiations and play the final season of his existing four-year contract.
Carr enjoyed a stellar season in 2016 before sustaining a broken fibula in Week 16, which kept him sidelined for Oakland's playoff loss to the Houston Texans.
The 26-year-old passed for 3,937 yards with 28 touchdowns against just six interceptions last season.
Carr has been a full participant in the team's offseason activities this spring.