Germany 1-1 Chile 2017 Confederations Cup: match report
An Alexis Sanchez strike was written of by a Lars Stindl goal in the first half to ensure the two favourites for Group B finished with a point apiece in Kazan.Australia-Honduras live online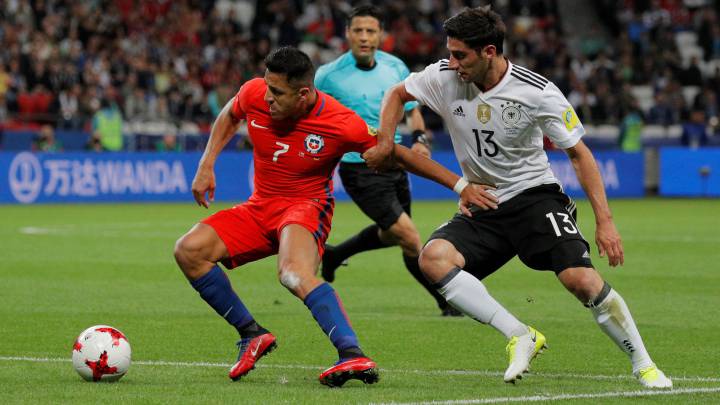 Germany 1-1 Chile: match report
Germany and Chile played out a lively draw in Kazan that gives both sides a very solid chance of progressing to the semi-final stage of the competition.
Chile started in their typical frenzied style and were causing all sorts of problems for Germany with their high press. Shokdran Mustafi was being given a particularly difficult time and the presence of Vidal and Sanchez was suffocating Germany's defenders.
That pressure turned into a goal after six minutes when Mustafi succumbed to it and passed the ball straight to a red jersey before Vidal laid it off to Sanchez and the Arsenal attacker made no mistake as he toe-poked the ball beyond Marc-Andre Ter Stegen.
The South Americans continued to counter-attack at pace and it left Germany light at the back on the occasions they managed to break through Chile's line of pressure. Sanchez was looking particularly dangerous along with Vidal. The Bayern Munich midfielder was playing a functional role as a striker and ruining German defenders' nights.
Germany look like they had no answers but that all changed when Emre Can hit a diagonal pass behing Chile's defense for Jonas Hector and he crossed to Lars Stindl and the Borussia Mönchengladbach man to slot home as he slid in to meet the ball. Chile, for all their dominance, had been pegged back.
They felt the effects of that effort in the second half too. While Germany continued to grow in stature, Chile seemed tired and made more and more mistakes in crucial areas of the game. They had chances but nothing concrete.
A draw in the last game for both side will do the job but given the talent for both sides, you would expect them to win and avoid the top team from the other group, whoever it ends up being.
Germany vs Chile live online: Confederations Cup latest news
90'+3' Game over! Draw probably a fair result but Chile might have had more in the second half. Germany didn't show as much ambition as you might have liked but got the equaliser and were better in the second half.
90'+3'  Suits both teams as they will both likely progress to the semi-final with this result.
90'+1'  This one is turning into a stalemate. 
90' Francisco Silva replaces Aranguiz.
88'  Draxler, who has had a quiet game, is through but he tries a stepover and Jara stops him. Throw to Chile.
86'  Sanchez tries a really cute through ball but it's too far for Isla who thinks he still has a chance right until it runs out over the line. he falls on the ground then in frustration.
84'  Vidal puts Martin rodriguez through but it's slightly to the left of goal and he waits to long to try and hit it. He gets pushed out over the line as he pokes a foot at it but it's tame.
82' Martin Rodriguez replaces Eduardo Vargas.
81'  Ginter heads the resulting free over the bar, and slightly wide too.
80'  Beausejour pulls down Kimmich and he looked like the last man back. Kimmich was offside anyway but free nonetheless.
78'  Chile looking good as Vidal lays it off to Sanchez, who does the same to Beausejour but his cross is poor. 
76'  Chile might have run out of steam. Germany looking increasingly on top.
74'  Stindl has a shot that forces a save out of Herrera that he needs to attempts to grab.
72' Medel is replaced by Paulo Diaz.
70'  Gary Medel down injured and he doesn't look too happy. Looks like a muscle injury as he waits for the trainers to make it onto the field.
69'  Sanchez sets Vargas off down the left. One on one with Hector but he has support defensively from Draxler and they conspire to get it back off the Chilean.
67'  Marcelo Diaz stops Goretzka on the break after some lovely play by Germany as they played out from the back. No yellow for the Celta Vigo midfielder but the next one will surely be.
66'  Kimmich reaches for a header. Can't gt to it properly and he glances it wide.
64' Sanchez is offside as Chile break! He doesn't believe he was off and gets a yellow for having a word with the ref. 
63'  Mustafi gives it away again and Chile break. It goes through a number of players and none of them shoot. Isla cross but Germany header it away. Too ponderous.
61'  Isla with a header back across goal that Vidal battle for. Germany get it away but only for a cornrer.
60' Rudy booked this time. He fouls Sanchez, who crashes to the ground as the German trips him.
59'  Aranguiz buys a yard to cross to the back post and Vidal rises highest but his header is over the bar.
58'  Germany starting to exert some control on this. Can breaks and passes off to kimmich but his ball over the top is headed back to Herrera by Diaz.
57'  No yellow as Chile restart.
55'  Rudy fouls Vargas as Chile try to counter. Will be very lucky not to receive a yellow card here.
54'  Much tamer start to this half. Chile like a spring, perhaps, recoiling before exploding back into life!
53'  Beausejour with a cross that Ter Stegen deals with.
52'  Isla goes down and grabs his ankle under a tackle from Hector. Chile free and Isla looks to have recovered.
50'  Vidal with a tempting ball in behind Germany's defense to Vargas. Ter Stegen slides out and collects. 
48'  He really likes the look of it! He curls it just over the bar. It lands delicately on the net. 
47'  Sule turns Hernandez over at the edge of the box and Chile win a free. Alexis Sanchez will fancy this one.
46'  We are back underway!
The players reemerge onto the field.
45'+1'  HT! Really good game. Lots for Loew to think about. Pizzi will be happy with that half of football from his side.
45'+1'  Everyone else is thinking about the break and Sanchez is thinking about goals! He gets it coming in off the left and drives a low shot towards goal. Ter Stegen does really well to get down and get a strong hand behind it.
45'  One minute of added time!
44'  Chile been the better team but it speaks to Germany's quality that the one chance they get and things are level!
41' Germany! Goal! hector cross to Stindl and he slides to finish it beyond Herrera. Second goal in two games for Stindl. emre Can with a lovely through ball for Hector. 
38'  Aranguiz with a chipped ball over the a raiding Sanchez. It's just out of his reach. He gets a cross in but Vidal can't get a head to it. He was arriving at some serious pace too! Everything Chila do is at full speed.
36'  Kimmich with a cross into the dangerzone. It is headed away and falls to Can. The Liveprool midfielder has a shot but Herrera waves it away. Nice strike but way off target.
34'  Sule fouled by Aranguiz. Decent opportunity for a nice delivery here for Germany.
29'  Sanchez wins it from the corner. He twists and turns and eventually backheels to Beausejour. He whips it across the box and Germany scramble to get it away. Sanchez gets it again but can't do as well this time. Cross comes in and Hernandez fouls Ginter.
28'  Isla gets a shot away that is half-blocked. Corner to Chile.
27'  Beausejour put through on the left by Sanchez and he whips in a lovely ball but ginter heads away. Sanchez and Beausejour running riot down the left hand side. Germany have an issue there.
26'  Chile are exhausting to watch let alone play against! 
24'  Alexis Sanchez fouls kimmich in the German's penalty area. The Arsenal man wants a free from an earlier foul on him and lets the referee know too!
21' Stindl fouls Beausejour and recieves the first booking of the game. Late and needless tackle on the sideline. Referee not having any more of the niggly fouling.
20'  Eduardo Vargas gets the ball outside the box. He rattles the crossbar with a shot that had Ter Stegen reaching for fresh air. 
19'  A rare intensity to this game. Great to see. Chile, as we should have expected, bringing the heat!
17'  Ball in over the top and Kimmich headers it down but Herrera saves. Little Kimmich could do with that other than get it back towards goal. Herrera thankful for the gift.
17'  Kimmich goes down under a tackle from Beausejour. Referee waves his finger and says no and the Bayern defender gets straight back up and squres up to the left-back.
16'  Kimmich with a good cross down low. Stindl with a strike but Herrera gets behind it and saves.
15'  Draxler taken down by Hernandez. No yellow but the ref's having a word. The Celta Vigo player thinks he got the ball.
14'  Mustafi with another mistake. Vidal with the ball this time and it's two-on-two but Germany recover before a shot comes in that Ter Stegen saves. Mustafi having a nightmare so far.
13'  Hector plays to Draxler and he gives it to Stindl but Draxler was offside earlier.
12'  Stindl crosses but Medel cuts it out. Germany want a penalty for a handball but it's a lukewarm call for it and the referee is nowhere close to being convinced.
11'  Tucu Hernandez with the header but Ter Stegen has no problem with it.
9'  Medel with a mistake this time. He wasses straight to Draxler, who has Goretzka in support. The PSG man goes it alone though and he drives over the bar.
6' He was looking dangerous from the start! Sanchez slots home. Mustafi with the error as he passes straight to Chile. Vidal lays it off to the Arsenal striker and he bears down on goal before toe-poking home! 
5'  Alexis Sanchez breaks free down the left. he fakes a shot, then turns and runs into traffix. His backheel to Beausejour is jumped and Germany win it back.
3'  Tucu Hernandez fouled by goretzka as Germany try to move forward. 
2'  Chile putting pressure on Germany early on. Ter Stegen forced to kick the ball over the line as he misses Hector with a pass.
1'  Very smart move by Alexis Sanchez to break free and as he passes to Vargas, he plays it to Beausejour but the linesman's flag goes up. Offside!
1'  We are underway!
The fans and all. They're giving it loads! Arutro Vidal with the eyes closed and his head back and putting everything into it.
 Chile winning in the National Anthem-winning stakes. They're blasting it out!
Chile and Cameroon shot each other in the foot earlier with their 1-1 draw.
Players emerge onto the field.
We don't like to assume too much but assuming Germany and Chile beat their opponents the next fay out, this is pretty much a final tonight!
Germany make two changes also. Can and Sule come in and Brandt and Wagner drop out. Seems Lowe will play a four-man back line.
The big news for Chile is that Alexis Sanchez starts. Juan Antonio Pizzi makes two changes in his attack for this game. Sanchez is one and Pablo Hernandez fo Celta Vigo is the other as he replaces Fuenzalida
Germany XI in written format: Ter Stegen, Mustafi, Ginter, Kimmich, Hector, Draxler, Rudy, Can, Goretzka, Stindl, Sule.
And don't forget Chile: Herrera, Isla, Jara, Medel, Beausejour, Diaz, Vidal, Aranguiz, Hernandez, Sanchez, Vargas.
In today's other Group B clash, Cameroon are currently 1-0 up on Australia at half time. You can follow the action here.
With just under four hours to go until kick-off at the Kazan Arena, here's a reminder of how and where to watch this evening's Group B clash.
Whilst head of FIFA Gianni Infantino claims that the VAR system is the "future of football"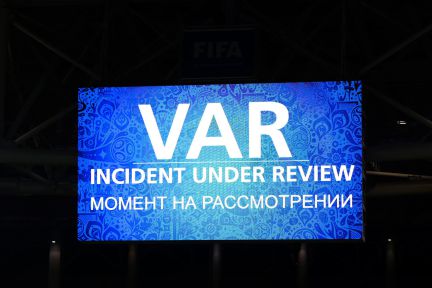 The VAR (Video Assisted Referee) system has been in the headlines during the 2017 Confederations Cup. Here's what Chilean player Arturo Vidal had to say on the system. (Video)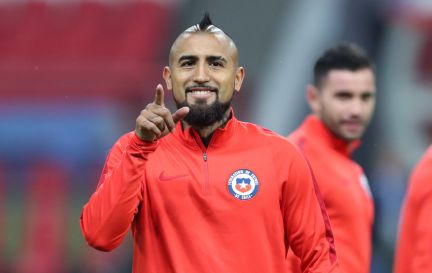 The Chilean fans were out in force in an attempt to get a pic. with their idols.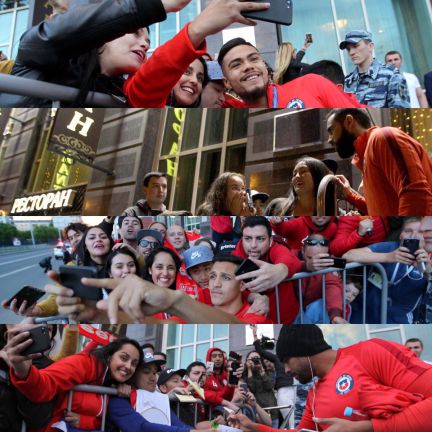 Germany vs Chile live: match preview
The bookmakers' top two tournament favourites meet in Kazan as Germany take on Chile in a clash that is likely to decide who finishes in first place in the section.
The sides, ranked third and fourth in the world respectively, both come into the second round of Group B matches on three points after winning their openers on Monday.
Germany
Joachim Löw has taken an inexperienced squad to Russia, with an average age of just over 24 in a group missing mainstays such as Mats Hummels, Jerome Boateng, Mesut Özil, Toni Kroos and Thomas Müller.
The Germans kicked off their Confed Cup campaign by beating Australia 3-2 on Monday - Lars Stindl, Julian Draxler and Leon Goretzka getting the goals - but did not convince.
Bayer Leverkusen goalkeeper Bernd Leno was particularly poor in Sochi, with the 25-year-old badly at fault for both of the Socceroos' goals.
Löw told his press conference on Wednesday that he will make the odd change to his XI against Chile, confirming that Barcelona's Marc-André ter Stegen is to come in for Leno - a decision that the Germany boss said was pre-planned.
Looking ahead to the challenge posed by Chile, Löw said: "They are flexible like maybe no other side, very unpredictable. Almost every player is capable of scoring and wants to score goals.
"They are so flexible that, from time to time, you cannot tell which player is playing which position."
Chile
Copa América holders Chile have brought a strong squad to the Confederations Cup, one featuring international old heads such as Claudio Bravo, Mauricio Isla, Gary Medel, Arturo Vidal and Alexis Sánchez.
Juan Antonio Pizzi's men began with a 2-0 victory over Cameroon, goals by Vidal and Eduardo Vargas settling a VAR controversy-affected game in Moscow.
Bayern Munich midfielder Vidal will come up against club-mate Joshua Kimmich, who Löw has said will start, and the ex-Juventus man said he was looking forward to a "beautiful game".
"It may be a little bit strange for me to play against Germany seeing as I have been playing there two years," Vidal added. "It's going to be a very special day for me."
An ankle issue restricted Alexis to a substitute appearance against the Cameroonians, but Pizzi said pre-match that the Arsenal striker is fit to return to the Chilean attack for what is a mouth-watering encounter with the world champions.
"Alexis is available," Pizzi declared. "He showed he could play without problems and he recovered after a couple of days. He trained and didn't have any pain."
Germany vs Chile live online: head-to-head
The two countries have met in three previous competitive fixtures - all at World Cups - with Germany winning each time: 2-0 in 1962, 1-0 in 1974 and 4-1 in 1982.
They last faced each other in a friendly in March 2014, with Germany also coming out on top, courtesy of a goal scored by Mario Götze.
Germany vs Chile live: possible line-ups
Germany XI: Ter Stegen, Kimmich, Rudiger, Mustafi, Hector, Can, Goretzka, Brandt, Stindl, Draxler, Werner
Coach: Joachim Löw
Chile XI: Herrera, Isla, Medel, Jara, Beausejour, Vidal, Díaz, Aranguiz, Fuenzalida, Vargas, Sánchez
Coach: Juan Antonio Pizzi
Germany vs Chile live online: betting
The match-up is an extremely close one to call in the bookies' eyes, with Chile marginally favoured to win it at 8/5, while Germany are valued at 7/4 to take the three points.