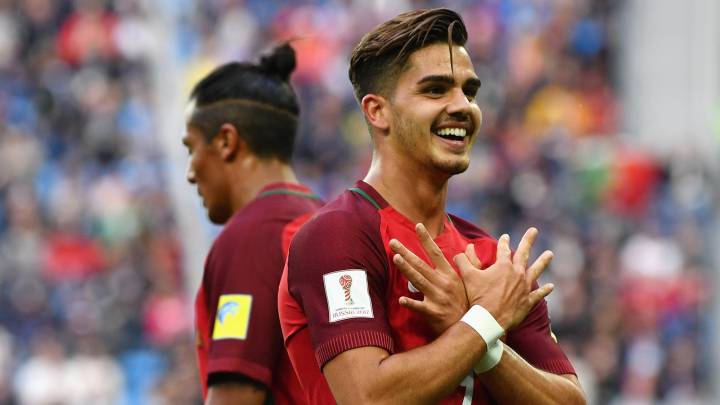 New Zealand 0-4 Portugal: match report
Portugal beat New Zealand 4-0 in Saint Petersburg and results elsewhere went their way to ensure that they finished top of their group heading into the semi-final of the Confederations Cup.
New Zealand were up against it from the start and that was evidenced in the opening exchanges, Ricardo Quaresma delivering two inch-perfect crosses for Ronaldo. Portugal's captain couldn't convert either with Marinovic denying him first and the crossbar doing the same just minutes later.
He wouldn't be kept out for long though. Danilo was tripped up as Quaresma delivered another lethal cross from a corner. Ronaldo stepped up and sent Marinovic the wrong way to give Portugal the lead after 33 minutes.
That lead was doubled when Quaresma, again, set Eliseu free down the left with a lovely scooped pass that the left-back gathers and brought into the penalty area. He squared for Bernardo Silva, who turned his ankle but not before he could poke home from close range. He continued but would be replaced at half-time after struggling through the remaining seven minutes of the half.
Portugal continued to coast through the game without ever being really tested by the All Blacks. Ronaldo was taken off for Nani midway through the half in order to rest for the next game and Andre Silva made it 3-0 when he finished a slick couneter-attack by the reigning European Champions. He took it out to the right before driving past Marinovic, who was proving a difficult man to beat in New Zealand's goal.
Nani made it 4-0 with time running out as he took the ball just inside the penalty area and drove a left-footed shot beyond Marinovic but at that stage the result was beyond doubt. Portugal will await the results from the other group as Chile and Germany battle it out for top spot but Fernando Santos will be happy with finishing top regardless of who they draw.
New Zealand vs Portugal live stream online: Confederations Cup
90'+3' Game over! Fernando Santos and Portugal finish at the top of their group. Mexico in second as they beat Russia 2-1.
90'+1' Nani finishes with style. 4-0. What a goal. 
89'  So close. Patricio collides with Bruno Alves and drops the ball. It falls to Boxall but he can't finish it. It looked easier to finish than not. Portugal survive and Patricio takes another shot to the ribs. 
87'  Rui Patricio catches a shoulder in the back as he goes for the ball. No free as it was a Portugal defender who caught him but that looked like a sore one! He's down receiving treatment now and breathing heavily.
86'  It falls to Andre Silva and he strokes it toward goal but New Zealand get it away again.
85'  Portugal with another chance but have to settle for a corner.
84' Quaresma is replaced by Gelson Martins.
83'  Rojas with an audacious shot that nearly dips under the crossbar. Rui Patricio had it covered.
82' Ingham booked for a cynical trip on Pizzi.
80'  Andre Silva breaks with Quaresma for support. He opts to go it alone and to his right. He makes an angle for himself and drives to the far top corner of the net. Marinovic had no chance. 3-0 and that should do it.
79'  Nani arrives in from the left. He stops, has a think, then continues before having a shot with his right. it doesn't have enough curl on it and it drifts wide.
77'  Eliseu hits a laser beam towards Marinovic. The keeper gets behind it and saves.
76'  Wood keeps fighting. He has a shot that forces Rui Patricio into a save. 
75'  Free going out the way. Wood pushes Pepe over with the ball in the air. 
73' New Zealand continue to try and figure out a way into this game. Durante is replaced by Smeltz.
70'  Nani absolutely fuming. Ball arrives in from the left, tommy Smith blindsides him with a shoulder and clears with his head. He wants a penalty. He might have a point.
69'  Nani with a golden chance. He strikes at the edge of the six-yard box, it takes a deflection and Marinovic saves.
 Zhirkov sent off for russia. Can Mexico push ahead and get another couple of goals?
66' Ronaldo goes off and hands the captain's armband to Nani, his replacement.
Barbarouses65'  replaces Lewis.
64'  Andre Silva with another chance. He has a shot on his right but Marinovic saves. Excellent display from the keeper so far.
63'  Nelson Semedo sets Quaresma free down the right. He crosses and it almost reaches Andre Silva but it goes just over his head.
 VAR ALRERT! Hector Moreno, AS Roma's newest signing makes it 3-1 to Mexico but we have to wait for the ruling. Decision: NO GOAL! He was offside.
60'  Nelsinho with a perfect cross as Ronaldo makes a move in the box to get free. He gets a clean header on the ball but Marinovic saves again.
59'  What a chance! Doyle crosses and it goes all the way across the goalmouth before Chris Wood gets a foot to it at the back post. Rui Patricio keeps it out but only just. 
57'  Portugal might want to get a third here to put this one out of sight. They've grown slightly lethargic in the second half. New Zealand showing little up front but there's also the possibility that Mexico score more against Russia and overtake them in the group on goals scored. 
55' Pepe very, very lucky not to get a red card. He tries to get to the ball before Doyle but the defender gets there first and Pepe cleans him out! Really bad tackle and he's very lucky. 
 Mexico go 2-1 up! PSV newest signing, Hirving Lozano finished oast Akinfeev.
52'  Quaresma causing problems again. Corner to Portugal. He whips that one in dangerously too and New Zealand manage to get it away. Danilo nearly got a head to it!
50'  Quaresma with another corner. It's half-cleared and falls to Moutinho but after he takes it down on his chest, it gets away from him. He pokes it towards Marinovic but the keeper grabs it easily.
48'  Quaresma plays it to Ronaldo. He twists and he turns and overdoes it before slipping and coughing it up.
47'  Quaresma with a cross that New Zealand cope with. Throw but they get that away too.
46'  Back underway for the second half!
 Pizzi comes on for Bernardo Silva at the break.
Still 1-1 in the Mexico - Russia game. As it stands, Portugal going through as group leaders and Mexico going through as runners-up. A Russia goal would change that though.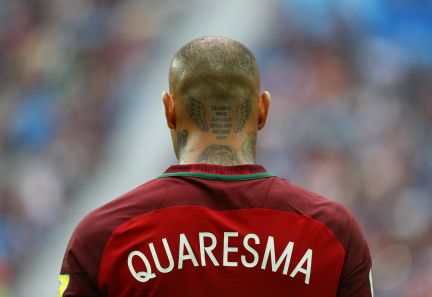 The real star in this half, however, has been Ricardo Quaresma. Put two crosses on a plate for Ronaldo. He also took the corner that created all sorts of confusion in New Zealand's penalty area and led to them giving away a penalty.
45'+2'  HT! Ronaldo and Silva give Portugal a 2-0 cushion.
45'  New Zealand try to build an attack but nothing happening. Rui Patricio takes his time over his kick-out as half-time approaches.
44'  Silva lucky the ref didn't see that. Unnecessary from Boxall but two elbows from the striker aren't allowed either.
44'  Semedo has a strike but it goes well wide.
44'  Boxall tries to help Andre Silva up of the ground  - a little heavy-handidly - and Silva hits him in the stomach. Silva's shirt ripped in the process. 
40'  Quaresma with an outside of the boot cross that's too high for Andre Silva.
38'  He injured himself in the process. Looks like he turned his ankle. 
38' Lovely move. Quaresma with a scooped ball over the defender to Eliseu. The left-back squares to Bernardo Silva and the new Man City attacker finished.
37' McGlinchey replaced by Tuiloma
36'  Andre Silva sends a cross in that has Marinovic reaching but New Zealand get it away! 
34' He sends Marinovic as he buries it in the top right corner. There's no saving that even if the keeper goes the right way!
33'  Penalty Portugal as Danilo is hauled down in the box. New Zealand protest but it looks pretty cut and dry. Ronaldo steps up.
 Mexico level. Nestor Araujo draws Mexico level at 1-1.
31'  Another Quaresma cross that nearly reaches Ronaldo but he gets turned upside down in the air. He throws a hand up looking for a penalty but the referee's whistle is not forthcoming. He might have had a point.
30'  Eliseu lucky not to give a free away as he seems to play the man, Dane Ingham, instead of the ball. Portugal throw instead.
Samedov slots home to give Russia 1-0 lead over Mexico.
26'  Quaresma's cross to Ronaldo and his header hits the crossbar. So close! He can't believe his luck, or lack of it.
25'  Tommy Smith has a shot from distance. It's always looping over with Rui Patricio's watchful eye monitoring its trajectory.
24'  Quaresma gets a lovely cross in after Bernardo Silva rejects the chance to and so does Moutinho. Ronaldo meets it with his head but Marinovic handles it well and saves.
23'  Bernardo Silva with a nice move to break free down the right. He squares to Ronaldo and the ball bounces up for the volley but New Zealand block it and try to clear. Corner for the Portuguese. 
22' Bruno Semedo booked.
20'  Quite a lot going on. VAR system in action in the Mexican game. It's over whether a penalty should be given to Russia. Decision is: NO PENALTY! Still 0-0.
20'  Andre Silva gets his head to an Eliseu cross but he can't get it on target. He was backpedalling and more concerned with reaching the ball than where he would put it!
19' Clayton Lewis for obstructing Eliseu.
18'  New Zealand survive that purple patch by Portugal and take the ball down themselves. 
16'  Bernardo Silva chases down a through ball. He is met by Ryan Thomas and thrown into the hoardings around the pitch. Kick-out for New Zealand as Silva picks himself up off the ground.
14'  Moutinho tries a cross and Doyle blocks it. Pepe with a cross now that New Zealand deal with. Quaresma with a one-two with Ronaldo but he looked to be pushed as he reveived the pass back to him. No free and he can't win it but Portugal win another throw.
12'  Chris Wood is caught offside. 
11'  New Zealand growing more desperate in defense. Danilo the latest with a cross that the All Blacks manage to get away. Straight back to Portugal and more pressure.
10'  Eliseu hits a cross in from the left but it's cleared by New Zealand. Portugal slowly but surely exerting their control on the game.
8'  In the Russia and Mexico game, the Russians are denied a penalty. Still 0-0 there. 
7'  Ball inside by Bernardo Silva but just out of Ronaldo's reach.
7'  Thomaswith a cross from the left. Rojas lurking and looking for something on the ball but it goes straight across the goal. Portugal counter.
6'  Wood takes down a cross. He gets turns and strikes at Rui Patricio but the keeper is comfortable with that one. Slightly awkward strike.
6'  Ref changes his mind. Throw to New Zealand. Thomas makes a run down the left, passes to McGlinchey and his ball forward is headed back out.
5'  McGlinchey gets in fromt on Danilo but New Zealand lose out and Moutinho battles to win a throw. 
4'  Portugal trying to build down the left but Eliseu flicks it up and launches the ball straight to Marinovic. 
3'  Ronaldo takes the ball down but loses out to McGlinchey. Quick start by both teams but little by way of rhythm. 
1'  Game on!
 Eliseu starts in place of the injured Raphael Guerreiro after the Dortmund left-back suffered an ankle injury in the last game.
National anthem time! A huge cheer in the stadium as Ronaldo is shown on the television in the stadium!
Mexico versus Russia, of course, is also on at the same time as out game so we will be updating you on the score in that one too!
And if they're even after thay?
Head-to-head points between the teams concerned
Goal difference in the group matches between the teams concerned
Goals scored in group matches between the teams concerned
Points obtained in fair play conduct (yellow cards = -1, indirect red card = -3, direct red card = -4, yellow card and direct red = -5)
Drawing of lots by the FIFA Organising Committee.
Greatest number of points
Goal difference in all group matches
Goals scored in all group matches
FIFA have been kind enough to put out an article about tiebreaks which you can find here.
Chris Wood, the New Zealand captain, is the man Portugal will have to watch out for. The towering Leeds United striker scored against Mexico in the All Whites' previous match, to top off a fine season in front of goal in Yorkshire. 
Contrary to rumours that Fernando Santos would rest his key man Cristiano Ronaldo, the Real Madrid forward starts. 
Portugal XI: Patricio, Alves, Pepe, Ronaldo, Moutinho, Andre Silva, Bernardo Silva, Semedo, Danilo, Eliseu, Quaresma.   
New Zealand XI: Marinovic, Boxall, McGlinchey, Wood, Rojas, Thomas, Lewis, Ingham, Doyle, Smith, Durante. 
TEAM NEWS! 
That man Mr Ronaldo is on 74 goals for his national team, just three behind Pelé (77 for Brazil). Ali Daei is way ahead in the standings, with a remarkable 109 goals for Iran. 
It is difficult to keep quiet about Ronaldo's future when a team from Limerick pops up with an audacious bid... Read the full story here. WARNING: Contains a 2004 Toyota Yaris. 
Portugal coach Fernando Santos asked the media to respect Cristianos's desire to keep quiet about his futire this week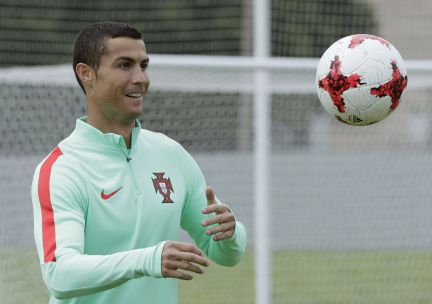 New Zealand vs Portugal live stream online: match preview
It's a clash of one of the pre tournament favourites against the rank outsiders as Portugal face New Zealand with the Oceania champions using the tournament as valuable experience with the "All Whites" hoping for a return to Russia next summer for the 2018 FIFA World Cup.
The big news pre-match is that Portugal boss Fernando Santos will rest star-striker Cristiano Ronaldo. preferring to have the Madeira born forward in prime condition ahead of a potential semi-final.
New Zealand
After a robust clash against Mexico in their second Group A game of the 2017 FIFA Confederations Cup, the Oceania champions find themselves bottom of the group and will look to salvage a dignified exit from the tournament by offering a competitive display against Fernando Santos' men in Kazan this evening.
All Whites captain Chris Wood was under no allusion the complexity of the task facing his side in his pre-match press conference: "They're European champions for a reason. They put their own stamp on the game, and they're not going to change it for us. We have to adjust and make sure we're ready for them, so that's what we're going to do. But we'll be trying to not give them any rest and take the game to them".
Portugal
The champions of Euro 2016 should have little trouble in dispatching a side currently rankled 95 in the latest FIFA global ranking list and coach Fernando Santos will have one eye on the next stage of the competition when deciding his starting XI.
Portuguese star Luis Neto spoke yesterday in the traditional pre-match press conference and spoke on the game in his home of St Petersburg: "I feel at home here. The players have been curious and asked questions about the city. We haven't had time to do an excursion but they like what they have seen and I've naturally helped where I can."
The head coach Santos also spoke to the media and when asked about his starting XI replied: "I sleep well no matter my selection, thankfully for me. I know that whichever player I choose for the eleven is 100 per cent focused... our collective effort is what defines this team."
New Zealand vs Portugal live: possible line-ups
New Zealand XI: Stefan Marinovic; Tom Doyle, Tommy Smith, Andrew Durante, Michael Boxall, Kip Colvey; Ryan Thomas, Bill Tuiloma, Clayton Lewis; Chris Wood, Marco Rojas
Portugal XI: Rui Patricio; Nelson Semedo, Luis Neto, Jose Fonte, Eliseu; Andre Gomes, Danilo, Adrien Silva, Bernardo Silva, Andre Silva; Nani
New Zealand vs Portugal live stream online: betting
The champions from Oceania ahead at the beak but a win for the Euro 2016 champions? Not an impossibility and pays out at a handsome 28/1.
Bet on New Zealand v Portugal now
Follow the live coverage match of semi-final of Confederations Cup between: Portugal-Chile
Line-ups
7

Kosta Barbarouses

23

Tamati Williams

19

Alex Rufer

10

Smeltz

6

Tuiloma

12

Moss