Hamilton takes pole in Baku, the 66th of his career
Mercedes driver Lewis Hamilton beat team-mate Valtteri Bottas to pole in Azerbaijan, the fifth time he has emerged top in qualifying this season.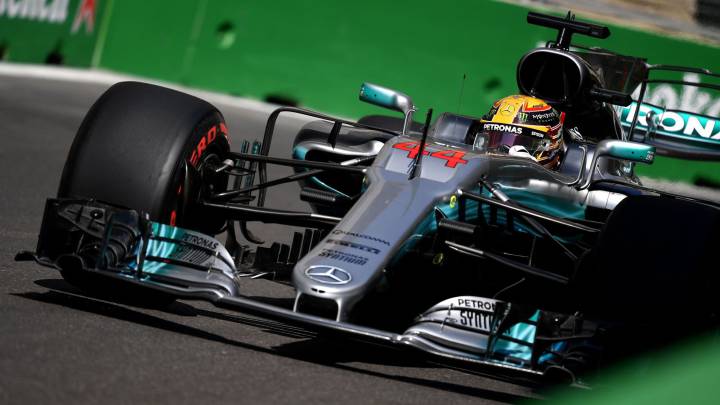 Lewis Hamilton snatched pole position for Sunday's Azerbaijan Grand Prix after eclipsing Mercedes team-mate Valtteri Bottas with a phenomenal final qualifying lap on Saturday.
Hamilton on pole in Baku
The three-time world champion starts ahead of Bottas with Ferrari duo Kimi Raikkonen and Sebastian Vettel, the championship leader, occupying the second row of the grid.
Hamilton claimed the 66th pole of his career, pulling clear of Brazilian great Ayrton Senna and leaving the Briton just two shy of Michael Schumacher's record of 68.
His quickest lap of 1min 40.593sec came in the final seconds of the session following a red-flagged stoppage which turned the finale into a 3min 30sec showdown. The 32-year-old bounced back from a frustrating practice outing on Friday to clinch his fifth pole in eight races this season as Mercedes locked out the front row.
Hamilton, who was quickest around the Baku street circuit by half a second, could match Schumacher's mark at next month's British Grand Prix if he can also take pole in Austria in a fortnight.
Lewis: "I am so pumped"
"That was one of the most exciting laps I have had all year," said an ecstatic Hamilton. "A lot of pressure as we've been struggling with getting temperature into the tyres - I was just praying it was enough.
"I am so pumped - that's how qualifying should be. It is going to be a long hard race, but it's the best place to start."
Resultados de la clasificación
1. Lewis Hamilton (GBr/Mercedes) 1:40.593 
2. Valtteri Bottas (Fin/Mercedes) 1:41.027 
3. Kimi Raikkonen (Fin/Ferrari) 1:41.693 
4. Sebastian Vettel (Ale/Ferrari) 1:41.841 
5. Max Verstappen ((Hol/Red Bull TAG Heuer) 1:41.879 
6. Sergio Pérez (Méx/Force India Mercedes) 1:42.111 
7. Esteban Ocon (Fra/Force India Mercedes) 1:42.186 
8. Lance Stroll (Can/Williams Mercedes) 1:42.753 
9. Felipe Massa (Bra/Williams Mercedes) 1:42.798 
10. Daniel Ricciardo (Aus/Red Bull TAG Heuer) 1:43.414 
11. Daniil Kvyat (Rus/Toro Rosso Renault) 1:43.186 
12. Kevin Magnussen (Din/Haas Ferrari) 1:43.796 
13. Nico Hulkenberg (Ale/Renault) 1:44.267 
14. Pascal Wehrlein (Ale/Sauber Ferrari) 1:44.603 
15. Carlos Sainz (Toro Rosso Renault)* 1:43.347
16. Romain Grosjean (Fra/Haas Ferrari) 1:44.468 
17. Marcus Ericsson (Sue/Sauber-Ferrari) 1:44.795 
18. Jolyon Palmer (GBr/Renault) Sin tiempo 
19. Stoffel Vandoorne (Bél/McLaren Honda)** 1:45.030
20. Fernando Alonso (McLaren Honda)*** 1:44.334 

* Tres puestos de sanción que arrastraba del GP de España
** Sancionado con 35 puestos por cambiar dsiversas piezas de la unidad de potencia Honda.
*** Sancionado con 40 puestos por cambiar dsiversas piezas de la unidad de potencia Honda.