Chile-Australia live online: Confederations Cup, goals, as it happened
A second half strike from Martin Rodriguez was enough to secure a second place in Group B for "La Roja" and a semi-final showdown against Portugal.India-USA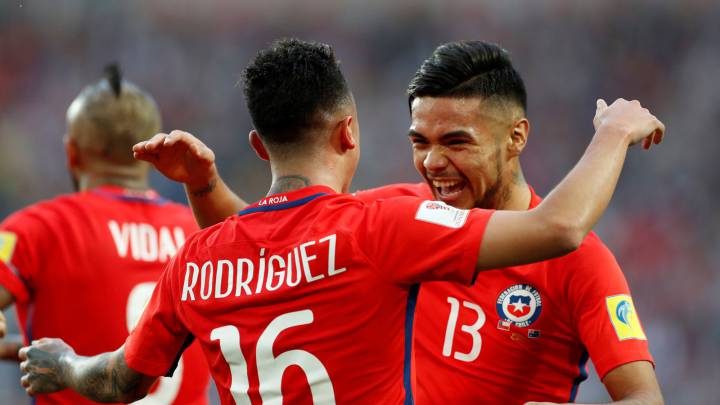 Chile 1-1 Australia: match report
Martin Rodriguez rescued a 1-1 draw for Chile against Australia on Sunday to send the South American champions through to a Confederations Cup semi-final against Portugal.
James Troisi steered Australia ahead on 42 minutes in Moscow, but Chile replied through half-time substitute Rodriguez on 67 minutes to advance as Group B runners-up behind Germany.
Germany progressed as group winners following a 3-1 victory over Cameroon in Sochi, with the world champions to face Mexico for a place in the July 2 final in Saint Petersburg.
Veteran forward Tim Cahill collected his 100th international cap at Spartak Stadium, joining long-serving former goalkeeper Mark Schwarzer (109) as the only other Australia player to reach the landmark.
Alexis Sanchez went tumbling to ground early on following a last-ditch intervention from Mark Milligan, but the video assistant referee dismissed penalty claims as replays showed a clear touch from the Australian defender.
Claudio Bravo returned for Chile following a calf injury and the Manchester City goalkeeper produced a smart block to deny a lunging Massimo Luongo, although Australia forged ahead on 42 minutes.
A risky pass from Bravo was intercepted inside the Chile half, allowing Robbie Kruse to steer the ball across the face of the box to an unmarked Troisi who clipped over the advancing keeper.
Arturo Vidal nearly replied instantly when his stooping header was blocked on the line by Milligan with the rebound eluding Jose Fuenzalida.
Australian centre-back Trent Sainsbury spoiled a glorious chance for a second goal before the break, lashing wildly over on the volley after Chile's defence momentarily switched off.
But the introduction of Rodriguez and Pablo Hernandez at half-time proved crucial as Chile levelled midway through the second half.
Eduardo Vargas beat his marker to a looping ball in the area, knocking down into the path of Rodriguez who smuggled the ball beyond Matt Ryan for his first international goal.
Vargas headed fractionally wide after Sanchez had escaped down the left and picked out his striking partner, while Jamie MacLaren miscued badly in front of Bravo after a brilliant delivery from Troisi before the contest gradually petered out.
Chile 1-1 Australia: as it happened
Follow the live coverage match of semi-final of Confederations Cup between: Portugal-Chile
 That concludes our live coverage from the Spartak Stadium. Cheers for tuning in on an afternoon when Group B favourites Chile and Germany secured their places in the 2017 Confederations Cup. We'll see you again on Wednesday for a mouthwatering first semi-final as Portugal face Chile (ko 2000 CEST).  Прощай 
FT here in Moscow: Chile 1-1 Australia 
FT in Socchi: GER 3-1 CAM. Germany top Group B
 Russia, New Zealand, Cameroon and Australia all say goodbye to Russia 2017 as Mexico, Portugal, Chile and Germany march on.    
90'  We'll have 4 minutes of added time.
 Australia coach Ange Postecoglou looks dejected as his team are set for a 2017 Confed Cup exit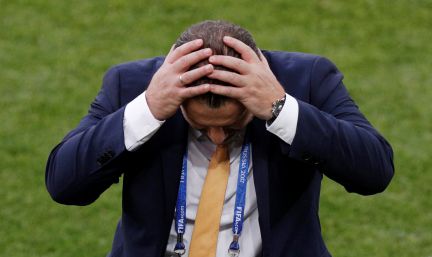 88'  Chile confidently moving the ball around. Time for the Australian team to move their focus to the forthcoming crucial WC 2018 qualifying game against Japan. 
So we're heading for a 2017 Confederations Cup semi final of: Portugal v Chile on Weds. and Mexico v Germany on Thurs.
84'  Chilean fans urging their side to look for another goal as the clock ticks down in Moscow. 
 Change for Chile: Diaz on as Vargas makes way.
News from Socchi: Germany score again. GER 3-1 CHI (Min 83) 
78'  Been impressed with QPR striker Massimo Luongo this afternoon, one of the brightest player for the Aussies. Vargas impressive for the Chileans.  
News from Socchi: 10 man Cameroon pull one back against Germany. GER 2-1 CAM (Min 78)
75'  Into the final 15' we go and all hope has vanished from the Australian side now who are showing signs of fatigue. 
Hernandez into the book for Chile
Chile's Martin Rodriguez celebrates after scoring a goal during the 2017 Confederations Cup group B football match between Chile and Australia at the Spartak Stadium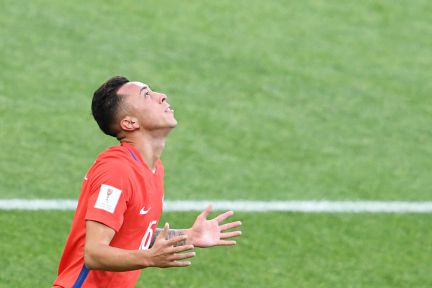 72'  McLaren goes close failing to get his lunge on target. Should have done better the Bundesliga player as time ticks down for the Aussies.  
Final change for Australia as Wright is on for the injured Sainsbury.
71'  Possession: CHI 55-45 AUS (%)
69'  A very, very big ask for the Aussues to find another two goal here in Moscow and barring any major shocks we'll have Portugal-Chile and Germany v Mexico semi finals 
68'  Chile 1-1 Australia: Blow for Australia as Rodriguez is the quickest to latch onto a Vargas header firing past Ryan from close range. 
Rodriguez fires Chile level. 1-1
News from Socchi. Germany now 2-0 up against Cameroon (who are down to 10 men)  
63'  Australia with a half chance as Kruse fails to contact on a long range delivery. Less than 30 minutes left for the Socceroos to get that vital goal that would see them take a semi final place and a possible game against Portugal.   
Change for Australia as Juric is off and McLaren from Darmstadt 98on for the Oceanic based side. 
60'  Chants of "Chi-le, Chi-le" ring out from the South American fans here in Moscow as they try and rally the men in red. Far from fluid from Pizzi's side today. 
Chile's Eduardo Vargas pose reflects Chile's afternoon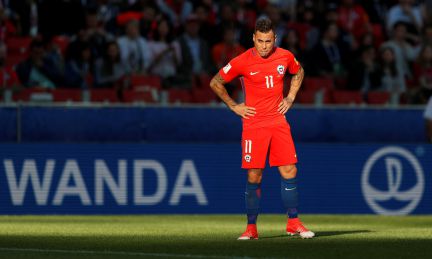 Card for Vidal for a late challenge on Luongo. First Chilean name into Rochi's book
Change for Australia. Tim Cahill off and new Hertha Berlin siging Leckie his replacement
 Australia's players celebrate the solitary goal of the game scored by James Troisi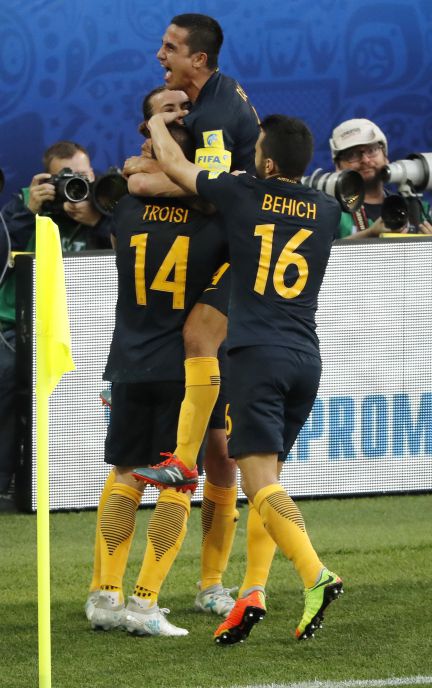 52'  Alert freekick from Australia as Juric tries to break the chilean offside trap but is flagged by the assistant referee.
50'  Audacious effort from Vargas firing on target from an acute angle but palmed away by new Brighton keeper Ryan.
49'  Subdued start to the second period. A hint more purpose coming from the Australian side. 
 News coming in from Socchi that Germany have gone ahead against Cameroon. Demirbay putting the world cup winners ahead
Second change for Chile at the break with Hernandez replacing Arangueiz
Change for Chile at HT: Fuenzalida off and Rodriguez on for La Roja 
Off we go again in Moscow. Can the Aussies get that goal ?
Chile 0-1 Australia (half time analysis): The Australia goal has been an excellent shot in the arm for neutrals as the Socceroos are just one goal away from a semi-final place and in the process creating the first major upset of the 2017 Confederations Cup. Chile started the better and despite some over robust challenges from the Ocenaic outfit they grew as the game wore on and took their chance well.  
Half time in Moscow: Chile 0-1 Australia
 Aziz Behich into the book too, fourth Asuralian player in the book today as Sainsbury blazes over from 6 yards. Great chance for the Aussies. Chile rattled a little after the goal. 
42'  Australia now level with Chile on 4 points but do need another goal as Vidal has a header cleared off the line by McGowan. The goal really sets the match up for an excellent second half.  
 Chile 0-1 Australia
41'  Ball falls to Triosi and the striker dinks the ball over Bravo with a delightful finish. Pressure on Chile? 
Gooooooooooooool. Australia go ahead !
39'  Good from Chile again as a great delivery from Fuenzalida finds Diaz and the Celta player fails to get his header on target.  
38'  Pizzi will be the happier of the coaches with little to enthuse Australia coach Ange Postecoglou in the first 38 minutes of play in Moscow.
36'  Luongo fires a shot on goal for the men in navy but parried away by Bravo. Better last few minutes from the Australian side who need to win by 2 goals to progress to the semi-final stage.
35'  A yellow it is ...once again good call from VAR. 
Cahill also into the book for the Aussies as Cahill takes a lunge at Aranguiz and yet again the VAR has been called into assess the situation. 
32'  Disappointing so far from the Australia side. Yet to muster a clear chance on goal. 
Card for the Australia no. 14 Troisi for a tug on Vidal's shirt.
30'  Possession on the half hour mark: Chile 57% - 43% Australia
26'  .....and the verdict is no spot-kick. Agree 100% with VAR on that one. 
26'  A great ball finds Alexis Sanchez through on goal and the player tumbles in the area. Was he taken down? It's VAR time .....
23'  Corner for the Socceroos ..... The "big men" come forward. But a poor corner is easily dealt with by the men in red. 
22'  Arturo Vidal's hair is pretty impressive tonight. Who said footballers have too much free time on their hands !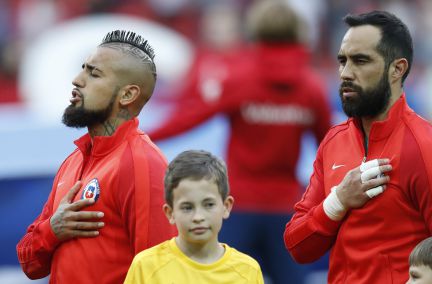 Luongo into the book for a late tackle on Vidal. 
18'  Dangerous freekick awarded for Chile as Cahill commits a foul. Vidal stand over the ball for "La Roja".  The Bayern player whacks the ball at the wall and the danger abates.   
 Alexis Sanchez of Chile is tackled by Jackson Irvine of Australia during the FIFA Confederations Cup Russia 2017 Group B match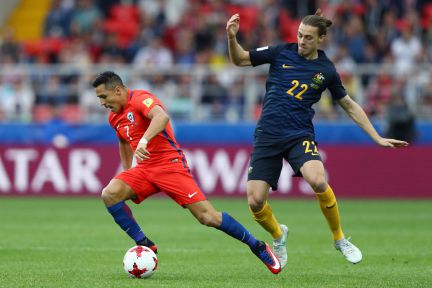 15'  15' gone and 0-0 here and alos in Socchi between Germany & Cameroon so it's the Chilean side and Germany who we'll see in the Confed. Cup semis 
The "La Roja" XI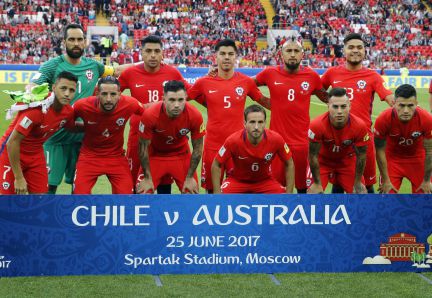 The Australia XI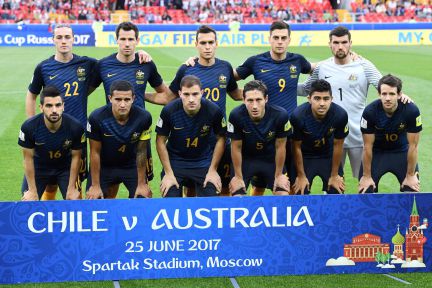 12'  Vargas goes close for Chile but the flag was up for offside. All Chile at the moment. 
10'  A muted atmosphere at a sparsely packed Spartak Stadium (capacity 45.000) with an air of a pre-season friendly about the game with the players shouts audible.   
8'  Great chance for Chile as Fuenzalida fires a shot on target which is parried out to Sanchez who is caugh wrong footed and the ball squirms out of danger. Brighter here from the South American side. 
Once again fail to understand why Australia are weraing their "away" kit of navy when their traditional gold shirt bears no resemblance to the red shirt of Chile. Pesky FIFA rules !
5'  Some very, very robust tackles flying in with both sides involved in the early stage of the game here in Moscow..
3'  First shot from the Australian side with a wayward shirt from Luongo. 
 Gianluca Rochi is our match official this afternoon.  
1'  Australia get us underway in Moscow
Rainy afternoon today in Moscow with a temperature of 17C. Chile currently top group B as Tim Cahill earns his 100th international cap.
About 1,000 Chilean fans at the Spartak Stadium this afternoon.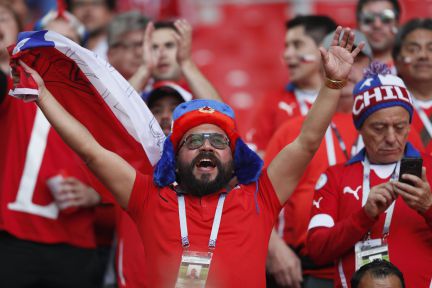 National anthem time.... cue close-up of badly out of tune football players.
 The Australia side in their navy shirts & shorts and gold socks.
The teams are in the tunnel at the Spartak stadium. Chile in their classic red shirts, red shorts and blue socks 
Claudio Bravo has also recovered from a calf injury and is set to start in his quest to protect the Chilean goal.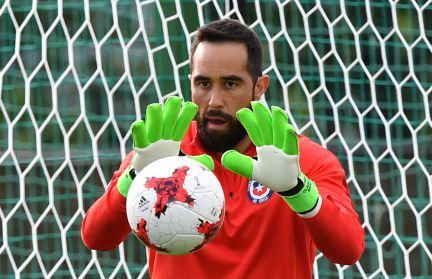 Alexis does need to be careful this evening though...  a yellow card and he'll be suspended. 
Alexis Sánchez scored Chile's goal in their entertaining 1-1 draw against Germany, and with that he became Chile's top scorer, overtaking Marcelo Salas. He'll be starting tonight as Chile look to bang in the goals to ensure they take top spot in the group and avoid Portugal in the semi-finals.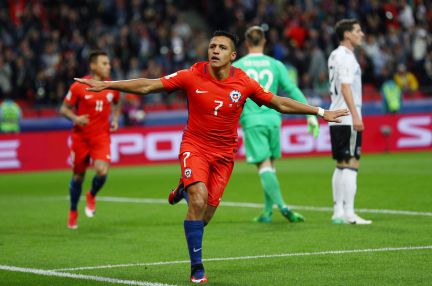 Good morning and a very warm welcome to our coverage of the decisive Chile v Australia Confederations Cup Group B match, with kick-off this evening at 17:00 CEST at the imposing Spartak Stadium. Grab yourself a coffee, settle back and have a read of Andy's preview of the match, below, and then keep an eye on this live feed section, which we'll keep ticking over during the day with info, stats and possibly even some banter. Enjoy!