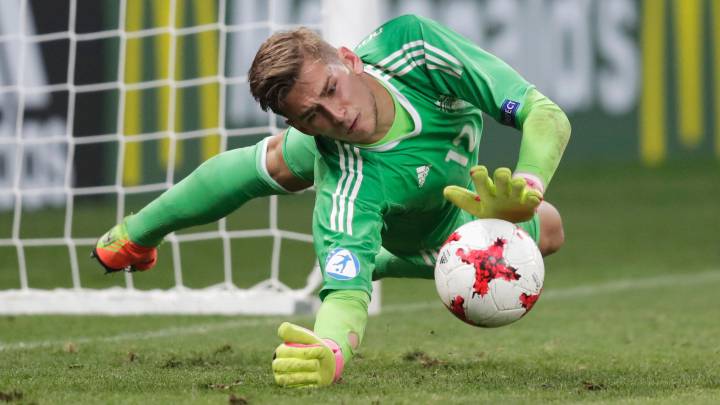 England 2-2 Germany (Germany win 4-3 on penalties)
Germany once again broke English hearts in a semi-final penalty shoot-out as Nathan Redmond's saved spot-kick saw Stefan Kuntz's side reach the final of the 2017 European Under-21 Championship.
Redmond's penalty saved as Germans win through
With penalties required to settle Tuesday evening's first last-four tie after 120 minutes of action had brought a 2-2 draw in Tychy, Julian Pollersbeck kept out Redmond to clinch a 4-3 victory from 12 yards.
The defeat sees Aidy Boothroyd's Under-21s follow in the footsteps of England's seniors, who lost on penalties to Die Mannschaft at the same stage in both the 1990 World Cup and the 1996 European Championship.
Davie Selke had given Germany a 35th-minute lead, only for Demarai Gray and Tammy Abraham goals either side of the break to put the Young Lions ahead and in sight of a first Under-21 Euros final since 2009.
However, Felix Platte headed in with 20 minutes left to force extra time.
Spain or Italy for Germany in trophy decider
Germany will face Spain in Friday's final after a Saúl Ñíguez-inspired La Rojita saw off Italy 3-1 in Krakow.
England vs Germany live stream online: 2017 U-21 Euros semi-final as it happened
Germany are the first to make it to the final. Who will they play? Spain and Italy is about to kick off.
4-3. Nathan Redmond misses. Pollersbeck saves. Heartbreaking stuff for Redmond.
4-3. 
Amiri shoots and Pickford guesses the right way, gets a hand to it but it's too strong.
3-3 as England convert.
Ward-Prowse with the pick of the litter.
3-2.
Meyer with a lovely finish after a short run up.
2-2. Chilwell.
Chlwell slots home. We ar level again.
2-1
Philipp goes high and to Pickford's left. Goal!
Still 1-1 as two missed penalties in a row.
Abraham goes the same way and so does Pollersbeck. Saves with his hand.
1-1 and Gerhardt misses.
Gerhardt goes to Pickford's right and so does Pickford. 
1-1 after a penalty each.
Pollersbeck goes the same way as Pickford, to his right, and Baker sends him the wrong way.
1-0 to Germany Arnold scores! Pickford dives to his right but Arnold drives it down the middle.
Arnold gets ready to take the first penalty. The referee speaks to the two goalkeepers. Not an expert in body language, but Pickford looks more relaxed than Pollersbeck.
Arnold and Ward-Prowse up for the toss. 
 That's a very negative way of looking at it. Someone is also going to be very happy!
120'  That's it! Penalties it is. Someone is going to be heartbroken.
120'  The referee has his whistle in his mouth. Redmond breajs and crosses. Abraham looking for it but Germany get it away. 
119'  Amiri strikes it, that is. I wasn't very clear there.
119'  Arnold lines it up, as does Amiri. He strikes it but it strikes the wall. Looks like penalties it is.
117'  Germany on the attack again. Mawson fouls Philipp. Looked like the German lost possession prior to the trip but the referee gives it. Dangerous position. 
115'  What a chance. Toljan nutmegs Chilwell and Amiri misses the cross completely. One of those cross that he could have hit with any part of his body and it was going in. That miss could haunt Germany and Amiri.
114'  Chilwell with a chipped ball over the top with the outside of his boot. Abraham reaches but can't get to it. 
113' Arnold booked.
112'  Some very tired efforts now. Although that's no excuse for Kohr, who just came on. He whips a pass over the sideline.
109'  Redmond goes through the back of Philipp and the paur engage in some after. The free was actually given to England in the end as Philipp pulled Redmond to the ground after he fell. Ward-Prowse with the free that Pollersbeck deals with far better than the first one.
108' Kempf booked.
108' Ward-Prowse sends in a cross and Chambers heads wide. Pollersbeck in no-man's land for that one.
106'  Iorfa crosses to Swift but his header is just wide. Decent chance for England.
106' Iorfa replaces Holgate before we kick-off for the second half.
105'+1'  Chance falls to Baker but he misses! Ward-Prowse headered the ball down to him and he seemed to think there was a free given or something? He didn't strike it cleanly despite having acres of space and time. He looks around and looks at the referee but that was very poor. 
105'  Another chance from a corner for Germany. It ends in an Arnold shot that goes wide. 
104'  Toljan causes problems for Chilwell. He gets the ball despite the Leicester defender's best effort. He squares to Philipp but, leaning back, the German fires over.
102' Kohr replaces Haberer.
102'  Another corner for Germany. 
99'  Amiri running down the left and really putting pressure on England's defenders. He wins another corner. he is by far the liveliest player on the field now.
96'  Haberer fouls Ward-Prose, then handles the ball. Referee blows for a free. Not sure which one but he definitely committed a foul.
95'  Pollersbeck clears with Abraham putting him under serious pressure. The keeper's defender left him short but he gets it away. 
94'  Amiri with another chance. He whips a right-footed effort at Pickford and the new Everton signing gets down well to save.
93'  Germany breaking down England far easier now. Amiri gives it to Gerhardt, who returns the favour with a backheel. The substitute, Amiri, sends a ball across the goal with nobody able to make contact. Another let-off for England.
91'  Amirir with a golden chance. A cross comes in that Pickford gets a hand to. He palms it straight to an unexpecting Amiri and he can't react quick enough to send it towards goal.
91'  The first half of extra-time is underway.
Not much time to get sorted but I hope you had time to put on the kettle! Here we go.
90'+5'  Max Arnold has a chance now. That goes wide too. There's no more time, however, as the referee blows the whistle before Pickford can take his kick-out.
90'+4'  Chambers heads clear for a throw. Last roll of the dice for Germany before extra-time. Pickford drives his clearance out over the sideline!
90'+3'  Ball falls to Platte but he can't finish. Amiri then has a shot that's blocked. 
90'+2'  Kempf gets a head to the corner but there was a foul on Chambers just before that.
90'+1'  Into the first minute of five added on. Germany start injury time with a corner. 
88' Germany make their third sub. Amiri comes on for Gnabry.
86' John Swift replaces Will Highes for England.
85'  Abraham finally takes it down for England up front and gives England's defense a breather. He plays it to Redmond and the Southampton attacker drives forward and has a shot that goes just wide.
 Jung replaced by Kehrer.
84' Holgate booked for a foul on Gerhardt as the pair collide in the air.
83'  Gnabry growing into the game. He has a crack from outside the box that goes just wide.
80' 10 minutes to go. England on the move as Gnabry is booked for pulling back Murphy.
77'  GOAL! disallowed though. Platte heads home Ball in by Meyer and the substitute heads home. Replays says it was right, maybe, but only just.
76'  Gnabry runs down the left and cross but it's too deep. Germany recover and Arnold has a shot from distance. Wide, but close.
75'  Philipp strikes from distance forcing Pickford into a save. 
74'  Another chance for Germany. Cross lands to Gnabry at the back post. He takes a touch too many and is closed down before unleashing a feeble shot.
74' Redmond replaces Gray.
73'  Dreadful marking by England. Gnabry puts Meyer through but he drags his shot wide. 
70'  Germany were knocking on the door but it looked increasingly like England had their number. That header changes it entirely.
70' Haberer with a shot that takes a slight deflection off Mawson and goes just wide of Pickford's post. Corner Germany. Platte glances the header high and beyond Pickford.
68'  Murphy with options ahead of him and beside him as he moves into the penalty area. He ends up over-running it and putting it out for a goal-kick. 
67'  Toljan gets free down the rght and Gray stays with him before winning the ball back but putting it out for a corner. The resulting corner is headed clear by Chambers.
65' Chalobah to be replaced by Murphy. The Chelsea midfielder is down with what looks like a thigh injury.
64'  Max Arnold comes crashing into Will Hughes and wins the ball back. Hughes wants a free but nothing doing. 
63' Selke is replaced Platte.
62'  Selke limps off. Not replaced yet but looks like he might be as he takes a seat for treatment.
59' Chilwell fouls Philipp. He might have been booked for his reaction to the foul rather than the foul.
58'  Cross by Arnold comes across the box and misses a number of German attackers. It makes its way to the back post where Toljan knocks it wide. 
56'  After speaking to Chalobah and Selke, the referee finally lets the corner be taken. Selke gets his head to it but England scramble it away.
55'  Corner Germany as Gerhardt continues to test England down that left hand side.
53'  Gray fouls Philipp and the referee gives the free. Gray was away down the left ih he hadnt blown for it and it looked like a soft one too.
50' Abraham makes it 2-1. Gnabry coughs up possession, Will Hughes goes by Gerhardt and he sends the ball across the goal where Abraham is waiting to poke it home. England complete the turnaround.
49'  Gray looking dangerous again. He makes a run down the left, cuts inside and has a shot. Blocked and goes high and over for a corner. 
48'  That won't cut it either. Gerhardt tries a cross that goes well wide.
47'  After a corner is failed to be cleared three or four times, Meyer gets it out wide and has a shot. Pickford saves.
46'  We are back underway for the second half.
Difficult game to gauge. England looked superior for long spells. Then Germany went on the front foot and looked like they were about to win 3-0 before England resugred and looked quite dangerous.
45'  Half-time. 1-1 after a hectic start.
44'  Abraham down injuryed. A cross came in from the left and Arbaham was fouled, it seemed, as Max Arnold runs across him and collides with the striker. Referee plays on. Should have been a penalty. 
43'  Gray again but his touch lets him down and Pollersbeck gathers.
41' And they do! Chambers gets a head to it that bounces back to him after being blocked. He shoots and it falls to Gray, who makes no such mistake! 
40'  Another corner for England. Germany's defending from set-pieces has been shocking so this is one area England can hurt their opponents.
39'  Philipp with a cross this time that Pickford saves and launches forward. England can't make it stick and Germany on the break again.
37'  Meyer with an effort now that goes just over. Gnabry's effort blocked and Meyer follows up. 
35' GOAL! Selke heads home as Toljan puts the ball onto his head from the right. Max Meyer with a lovely through ball and Toljan assists Selke, who couldn't miss.
34'  Phillip with a carbon copy of Toljan's effort as he cuts in on his left and has a shot. This one goes high and over though. Germany really forcing England backwards now.
33'  Kempf gets his head to the corner but it's not on target and England recover.
33'  Pickford saves from Toljan. The right-back cuts inside and has a shot with his left. Corner to Germany.
29'  Offside for Gray who is a little eager. Chambers finds him with a pass but it won't matter. 
28'  Germany improving. A series of passes ends with Arnold curling over from just outside the box.
27'  Ball comes fizzing across the box. Haberer reaches down to get a head on it and seems to be fouled by Hughes. No penalty. It would have been harsh but it did look like Hughes was holding him back.
26'  Philipp wins a corner for Germany.
26'  A slightly better spell now for Germany. 
24'  Haberer with a high ball to Toljan and he takes it down with pure skill and an outstretched right foot. His shot doesn't match the first touch as he fired over.
21'  Selke with a strike as it comes to him in front of goal. Pickford saves. Decent chance.
20'  Gnabry wins a free as Holgate pushes him in the back.
19' Selke booked. 
18'  Another golden chance for England. Abraham was free, literally standing on his own, and heads straight at Pollersbeck. The keeper palms it away and Germany survive. Dreadful marking.
17'  Much better from Germany. Arnold spots the run by Gnaby and he gets there before Pickford. He heads it over the keeper but wide. Good chance. Excellent vision from Germany's captain.
16'  England continue to look dangerous Germany not sure what way they're trying to attack.
15'  Ward-Prowse turns turns outside the box and has a pop with his right. Not bad but never troubling Pollersbeck.
13'  Max Arnold has a pull on Ward-Prowse's jersey, slips and then grabs his face as he falls as if he was hit by the England midfielder. Referee checks on him and he is good to continue. Just a little embarrassed maybe.
13'  Chilwell has a cross that is neither a cross or a shot. Goes wide though.
12'  Selke trying to get beyond Chambers again. He shows off his speed but Chambers gets a foot in and clears.
11' Will Hughes goes in the referee's book for a foul on Haberer. 
10'  Germany under some pressure early on. England showing themselves to be dynamic and dangerous in attack.
8'  What a start! Will Hughes with a through-ball to Gray and Pollersbeck saves. Jung with a dreadful touch and HE fouls Hughes. No penalty! Referee is not giving away any spot kicks tonight.
6'  Chalobah with a free header from the corner. He gets under it and heads over.
6'  Chilwell makes a move down the left and wins another corner.
4'  Will Hughes with some really quick feet to free himself and into the box. He cross low and it's cleared by Germany for a corner. Resulting corner is headed over by England.
3'  Selke caught by Chambers in the penalty area but the referee points for a goal-kick. Replay shows Chambers caught his leg, accidently, but he caught him nonetheless.
1'  We are underway!
We have pointed out before that God Save The Queen is the United Kingdom national anthem and not just England's. 
The United Kingdom national anthem now. 
German national anthem up first. 
 Head coach Stefan Kuntz (R) of Germany U21 embraces manager Aidy Boothroyd of England U21ahead of the 2017 UEFA European Under-21 Championship Semi Final match between England and Germany on June 27,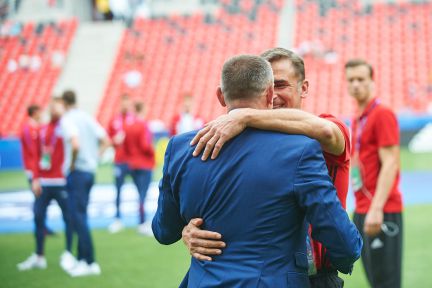 The teams are in the tunnel.
Will Hughes, Watford's newest signing, has been handed his first startin the tournament. He replaced Nathaniel Chalobah the last day during England's 3-0 victory over Poland. Redmond and Swift lose out for Hughes and Abraham. 
Weather update: A balmy evening in Tychy with a 6% chance of a shower. 27 C at kick-off.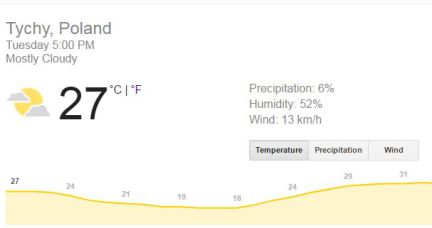 Gediminas Mažeika from Lithuania is our match official this evening. 
 Teams are in for our first semi-final: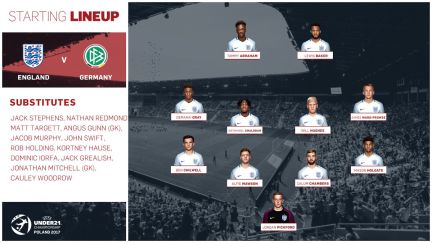 Swansea defender Alfie Mawson has excelled for England during this tournament, yet he has not had a conventional path to the Premier League. Mawson had spells in non-league football at Maidenhead United and Welling United, before impressing in League One for Barnsley, whom he captained at the age of 21. He is a vocal presence for the Young Lions, a natural leader. Perhaps his path up the football pyramid has shaped that side of his character. To learn more about Mawson, read this interview by Stuart James in The Guardian. 
England have a pair of injury concerns ahead of this evening's semi final. Nathan Redmond and Nathaniel Chalobah will face fitness tests this afternoon. If those two are deemed unfit to play, Norwich City's Jacob Murphy and new Watford signing Will Hughes are on standby to fill in. 
We will be building up the game throughout the day giving you the latest news as it breaks...
We have made it to semi-final day and the first game we will be bringing to you live is a belter: England vs Germany, a historical rivalry that captures any footballing imagination.
England vs Germany: 2017 U-21 Euros semi-final preview
The young England sides are having a good time of things recently and this under-21 version will be hoping they can emulate the success of the under-20s by winning their summer tournament of the World Cup variety. But they come up against one of the pre-tournament favourites in their old foes, Germany.
England
This match up brings back many memories and any Englishman would love to get one over on the Germans. For all the good signs shown so far by the young lions, this is clearly the toughest test so for and they are potentially going to be without Nathaniel Chalobah and Nathan Redmond who are both doubts. Aidy Boothroyd has said, though, that he is prepared for the semi-final with or without them.
An opening goalless draw with Sweden followed by improving wins over Slovakia (2-1) and Poland (3-0) bodes well for tournament football and focus is now on the semi-final.
Boothroyd: "Concentration is key because they have great players who can hurt you. Stefan will be saying the same thing."
If it does finish in a penalty shoot-out, Boothroyd has said that his side has been practicing them since May but believes it's not just practice that counts: "Pens come down to players, how calm they can be. Some can deal with it, some can't. All we can do is prep."
Germany
These two sides met in March, with Germany running out 1-0 winners, however, this semi-final poses a different challenge with oppenents England in good form. manager Stefan Kuntz has selected the same starting XI in all three group games and no changes are expected.
Ahead of the semi-final, Kuntz reiterated his faith in the side saying, "if we all perform and play at 100%, it's difficult to beat us."
Ex-Arsenal, Serge Gnabry, Bayern Munich's new boy, has 12 goals in 38 top-flight matches and will be one player, in particular, that England will have to keep an eye on.
England vs Germany: 2017 U-21 Euros semi-final: possible line-ups
England XI: Pickford; Holgate, Chambers, Mawson, Chilwell; Ward-Prowse, Chalobah/Hughes; Swift, Baker, Redmond/Gray; Abraham
Coach: Aidy Boothroyd
Germany XI: Pollersbeck, Toljan, Gerhardt, Stark, Meyer, Dahoud, Selke, Arnold, Gnabry, Kempf, Weiser
Coach: Stefan Kuntz
England vs Germany: 2017 U-21 Euros semi-final betting odds
The bookmakers have Germany slight favourites to take the game in 90 minutes with both teams either side of 2/1 at time of writing. Another market to consider is first goalscorer with Selke and Abraham joint favourites at a tempting 6/1. You'll get 15/1 on there being no goals in 90 minutes...but no one wants that!
Follow the live coverage match of the U-21 European Championships between: Germany-Spain
Line-ups

Aidy Boothroyd
4-3-1-2

Stefan Kuntz
4-2-3-1