Germany-Mexico: Confederations Cup match report
The Germans will face Chile on Sunday in St. Petersburg after beating Mexico in the semi-final thanks to some horrific early defending.Espanyol vs Barcelona live: Copa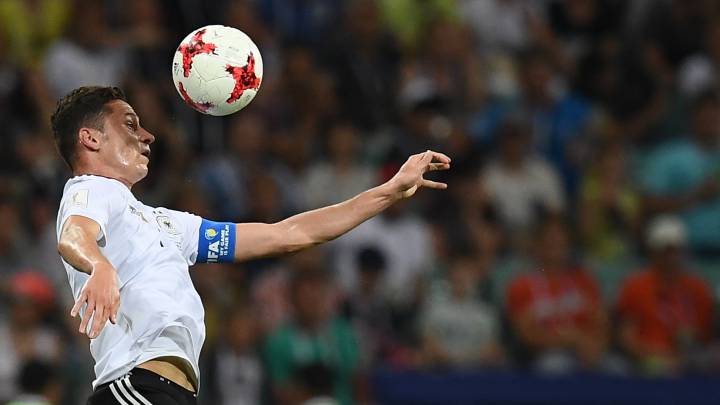 Germany 4-1 Mexico: Match report
Germany set up an exciting final of the Confederations Cup with Chile on Sunday after taking advantage of some early errors by their opponents to give themselves a two-goal cushion they would never relinquish.
Mexico got off to a horrible start as they looked shaky at the back from the get-go. They were coughing up the ball too close to their penalty area for comfort and Moreno and Araujo never looked comfortable holding a coherent defensive line, which is a disaster with the speed of Timo Werner to contend with.
They were caught out after six minutes when they gave the ball away in midfield and Germany executed a razor sharp counter-attack that saw Leon Goretzka finish a move he started when he hit a ball from the right on the run to beat Ocha.
Just two minutes later and he was in behind Mexico's back line again to finish in the same corner of Ochoa's net. Two goals in two minutes and Mexico had a monumental task to attack and score against a team who were proving adept on the counter.
Mexico were enjoying 56% possession midway through the half and were hogging the ball for long spells, but the extent of their chances were crosses from the right from Layun that were out of reach of his Mexican teammates. All the while, Germany continued to look sharp on the break.
Mexico did continue to hold the ball well and came close as the first half grew older. chicharito had the best chance of the opening half for the Mexicans as he took a pass from Gio Dos Santos and found himself one-on-one with Ter Stegen. The ball bounced awkwardly and he had to poke a shot over the oncoming keeper to try and beat him but as it flew over the German, it also flew over his crossbar.
Germany returned for the second half with far more intent to attack, not because they needed goals but because they needed to take the onus away from Mexico. They looked far more dangerous and far more in control of what was happening.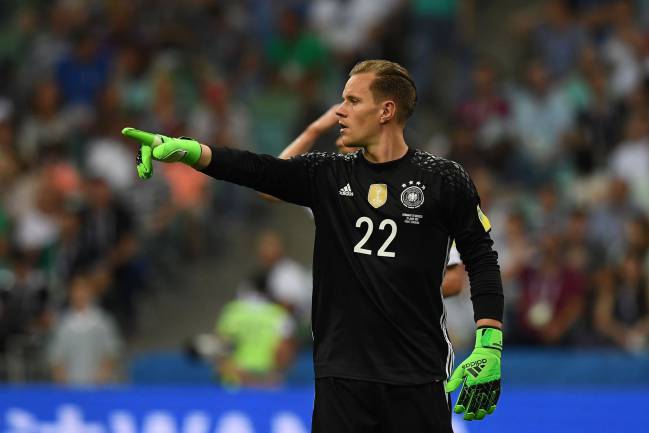 Timo Werner was threatening and might have had a penalty when he broke free and was pushed in the back only for the ref to play advantage as he shot off-balance and missed.
He had his goal before long though, when Hector put the ball on a plate to him as he eased the ball over the line. Germany were up 3-0 and there was no looking back.
Mexico scored the goal of the game when they took a quick free from miles out and Fabian struck it. Ter Stegen was left grasping at fresh air and Mexico thought they might have a chance. But there was only one minute left in normal time and Germany weren't finished yet either.
The Germans restored their three goal lead when Brandt played the ball to Can, who fed Younes and the young Ajax attacker stroked home to finish the scoring on the night.
Joachim Loew's charges will face Chile in the final in St. Petersburg on Sunday after a convincing victory over a Mexican side, who will rue their early mishaps.
Germany vs Mexico live stream online: Confederations Cup latest news
90'+4' Game over! Germany will play Chile in the final on Sunday in St. Petersburg.
90'+1' GOAL! 4-1 and Germany restore their three goal lead. Younes with the finish. Kimmich sees his shot blocked but it falls to Brandt, who plays it to Can and he puts Younes through on the left. Lovely, neat finish by the substitute.
90'+1'  three minutes of added time.
90'  Fabian is looking for more. He takes the ball down in the box and tries to go by Rudiger but the German defender remains strong. 
89' GOLAZO! Rafa Marquez pulled down by Emre Can. the free is poked to Fabian and he absolutely lets rip with a rocket of a shot that Ter Stegen can't reach. What a finish! Goal of the tournament.
85'  Marquez meets another header from a corner but this time it goes wide. 
83'  Chance. Rafa Marquez with a header that Ter Stegen palms up into the air. Germany get it away at the second time of asking. 
80'  Rudiger down now after colliding with Goretzka. 
76' Draxler is replaced by Younes.
76'  Brandt with a golden chance but his touch lets him down.
76' Brandt coming on for Lars Stindl.
75'  Long ball by Mexico that they somehow keep alive. It comes back to Jimenez and he headers towards goal. Ter Stegen is beaten but the crossbar saves Germany and their clean sheet.
75'  Draxler moves past Layun with a nice move. He cuts inside and lets fly with his right. Ochoa gets down and saves with ease.
74'  Emre Can happy with the corner as Germany break and the Liveprool midfielder has no support. 
72'  Chicharito collides with Rudiger and the defender ends up on the turf. The replays show Chicharit putting the lightest hand on his stomach to push off. Pitiful dive as the referee speaks to the two players.
71'  Lozano, the latest with an effort. They'll go down as chances but they're far from it. This one from outside the box is well wide.
70'  The corner falls to Araujo after a failed header and he hits it towards goal but Germany get a body in the way and clear.
69'  Layun, prbably Mexico's most consistent player tonight, strikes from the right and forces a good save from ter Stegen. Corner.
Rafa Marquez replaces Jonathan Dos Santos.
Goretzka has his work done for the night. Replaced by Emre Can.
Fabian replaces Dio dos Santos.
66'  Nothing doing for Mexico now. Raul Jimenez tries to take a ball down in the penalty area but loses out. Fabian with a strike that goes just wide. Ambitious.
65'  Cross arrives from the right from Layun but Germany get it away and break. Draxler wants a free as Moreno has his hands draped all ove him but referee points to the ball. Draxler furious.
64'  Nice move by Mexico as Dos Santos, Chicharito and Jimenez link up before it falls to Lozano. He strikes into the side netting from an awkward angle.
62'  Werner in again but he's offside. 
61'  Germany controlling every aspect of the game now. 
59' That goal was coming. Werner with his first and Germany's third. It was so easy for him that he had to look around to see if he was onside and the ball was still in play. Ball in behind to Hector and he squares for the striker. 3-0 and Germany out of sight?
57'  Germany obviously not happy with the first half. They have taken the sting out of Mexico's attack by pushing forward themselves. chances few and far between now for El Tri.
56'  Training ground move with a rolled pass to Draxler from the free. It ends with a strike and a save by Ochoa.
55' Yellow for Jimenez for fouling Goretzka on the break.
53'  Stindl puts Werner through. The striker races away. Moreno manages to catch up with him and pushes him in the back. Werner still gets his shot away but was clearly impeded. He misses and wants a penalty. Referee played advantage. 
51'  Raul Jimenez cuts inside from a good break by Mexico. He strikes with his left but it's a tame effort straight into Ter Stegen's chest.
50'  Raul Jimenez flicks the front-post corner on. It hits Chicharito and goes wide. 
49'  Layun tries another cross. Blocked by Draxler and put out for a corner.
47'  Werner chses down Ochoa and tries to block his clearnce. He does but it bounces kindly back to the goalkeeper.
46'  Back underway in Sochi.
 We have one change. Lozano replaces Javier Aquino at the break.
Doesn't look like there's any changes for Germany or Mexico for the second half.
45'  Germany, despite winning 2-0, will be glad of the half-time break. Mexico bossing possession and making them work. There might be a few nightmares about that poor early start.
44'  Draxler fouls Herrera in the middiel of the field. One last chance for Mexico to test Ter Stegen. 
42'  Some respite for Germany. Mexico still have the ball but not as close to goal as they have been. 
39'  Ter Stegen tips it over the bar. Maybe unneccesary as it was going over anyway but better to be safe than picking it out of the back of the net wondering how you got it wrong!
38'  Rudy pushes Gio in the back and Mexico have a free in a decent position. Ter Stegen aligning his wall. Herrera places the ball to suit.
36'  Mexico's light tapping on the door turning into more of a knock! Dos Santos puts Chicharito through and he gets the rub of the green with his first touch. He's clean through but has Ter Stegen to beat. His poked attempt lands over the bar. The Barcelona keeper did well to close him down, but you'd put the house on the little Mexican to score from there. Their best effort yet.
35'  Henrichs with an ambitious shot from out wide. It goes well wide too. 
33'  Two chances in quick succession. Chicharito plays Gio through. His shot is hald cleared and falls to Jonathan dos Santos but his header hits the ground first and Ter Stegen saves.
32'  Draxler not paying attention and has his pocket picked by Gio. His shot with the left is off target though.
31'  Another cross from Layun. Chicharito offside this time though.
30'  Germany doing a good job of frustrating Mexico. Another failed crossing attempt. Plenty of blocks by the German defenders out wide.
26'  Mexico with 56% of possession, which is great, but they're two goals down!
26'  Gio looks for Jonathan but as he slides Ter Stegen comes out to collect.
25'  Raul Jimenez to Chicharito. Another cross comes in from the right but Germany win it and break with Draxler. He coughs it up and Mexico are away on their own counter-attacking adventure. 
24'  Another dangerous ball by Layun with Alanis lurking. He was closer this time and forced Rudiger to put it out for a corner.
22'  Layun with a cross from the right. It's too far for Alanis though.
22'  Mexico have improved but they remain a mess at the back. 
21'  Chicharito and Jimenez trying to team up to cause some problems for Germany. The latter pokes one into the box and puts his arm up immeditaely as he knew he hit it to nobody.
19'  Mexico have a serious issue at the back. Werner kept onside by a mixture of Moreno and Araujo as Henrichs finds him in behind. One on one with Ochoa and the keeper comes out on top. Corner is headed over by Kimmich.
18'  Gio dos Santos with another header on as Rudiger goes through the back of him. Free to Mexico. 
17'  Germany win a corner. Aquino gets a toe to it before Stindl. 
14'  Chicharito gets a header on a ball as he tries to lead Aquino onto it. The left winger is on a different page though. 
12'  Jonathan dos Santos with a slide on Stindl that the ref deems a little overkill. Free to Germany.
11'  Mexico trying to get one back. Cross come sin that Germany scramble away. But Mexico are back with is. Alanis with a shot that's saved by Ter Stegen.
10'  Ball comes across the box by Aquino. Hector chests it out for a corner to be safe
8' Another Goal! Goretzka with two goals in as many minutes. Lovely through ball just to the right of the goal by Werner, Goretzka chases and shoots back across Ochoa and into the bottom corner. Lovely finish, dreadful defending.
6' Goretzka goal! A poor header in the middle of the field sees it land to the German midfielder, he plays it out wide to Henrichs, continues his run and strikes the cross while on the run. Ochoa beaten and Mexico 1-0 down. 
5'  Really nice move by Mexico. Gio dos Santos plays it inside to Chicharito and Jonathan dos Santos slows it down before Raul Jimenez has his shot blocked.
4'  Mexico very keen to play the ball around. Taking risks but no shots on Ochoa's goal yet.
2'  Chicharito wins a free as Goretzka has a ckip at his ankles.
2'  Short kick-out and Draxler wins it back off Araujo. That's a proper horrific start for Mexico. Giving the ball away close to their own penalty area.
1'  Alanis with a dangerous ball back to Moreno and Werner nearly sneaks in to win it back.
1' Game on as we try to figure out who will join Chile in the final.
Nice moment as both squads join in a photo saying "SAY NOT TO RACISM"
The Mexican ntional anthem plays over the stadium now over Fisht Olympic Stadium
German national anthem!
Same number of changes for Loew too. Sule, Can, Plattenhardt and Demirbay drop out and Hector, Henrichs, Goretzka and Stindl their replacements.
Osorio makes four changes to Mexico's starting XI. Reyes, Guardado, Vela and Lozano drop out from the side that started against Russia and Alanis, Aquino, Gio dos Santos and Raul Jimenez replace them.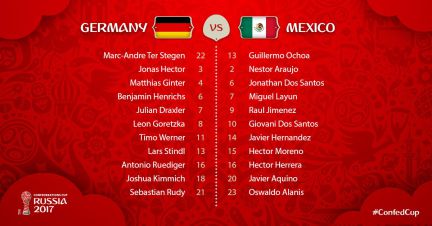 Mexico XI: Ochoa, Moreno, Araujo, Alanís, Layun, Herrera, J Dos Santos, G Dos Santos, Aquino, Hernández, Jiménez.
Germany XI: Ter Stegen - Hector, Ginter, Henrichs, Draxler, Goretzka, Werner, Stindl, Rüdiger, Kimmich, Rudy
 9pm local time in Sochi, 20:00 in Berlin, half past one in the afternoon in Mexico City. Knowing when kick-off is where you are in the world can be a challenging affair. At least there's always the AS English guide to help you out.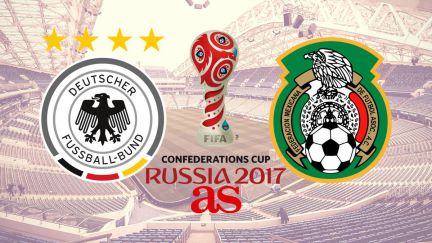 Germany of course are looking to make another final following the success of their U21 side who knocked out England on penalties earlier in the week.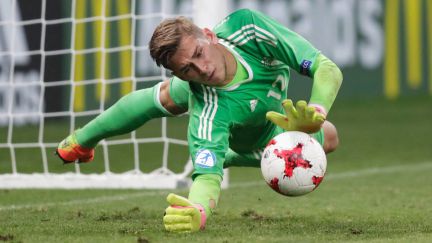 There'll be plenty players involved in Sochi who'll be checking out the Bundesliga fixtures for 2017/18 that have just been announced.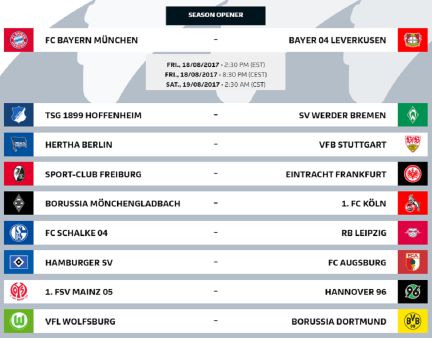 Are you itching to know who's in and out of the line-ups for tonight? Check out our preview below which was carefully put together by our man who's been all over the Confederations Cup since it started. What'll he do after Sunday's final?
Mexico also ended the three match group stage with seven points but were behind Portugal on goal-difference. As well as an opening draw with last night's losing semi-finalists they won their two other games against New Zealand and hosts Russia.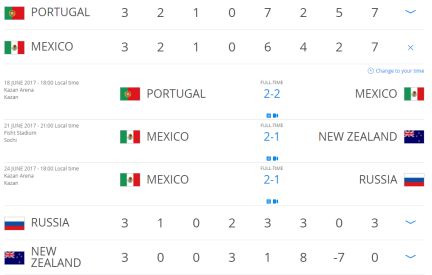 Tonight's opponents come into the semi-final after similar qualifying results in their group. Germany finished top of Group B following wins over Australia and Cameroon, and a draw with Chile in between. Obviously we may see these two sides face up against each other on Sunday.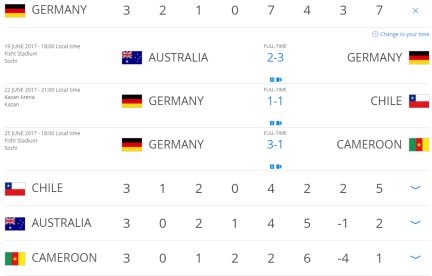 It feels like only a few hours (oh it was!) since we were concluding our coverage of the penalty shootout that saw Chile overcome Portugal to book their place in the final. Want to relive all the action? Here's our match report.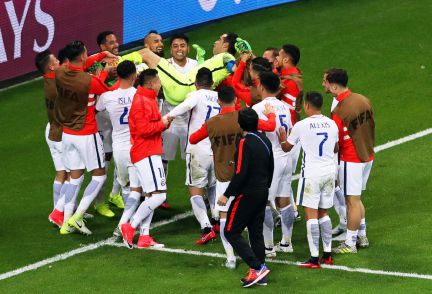 Welcome to our build up to tonight's second semi-final in the 2017 Confederations Cup as World Cup winners Germany take on CONCACAF champions Mexico. There's plenty for us to share with you throughout the day so stay with us for the latest updates or pop back in later for a chunk of news in one go...
Germany vs Mexico live stream: match preview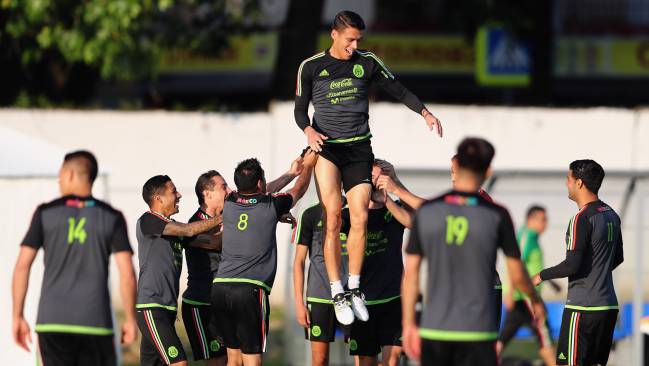 The Confederations Cup's second last-four tie sees a clash between the world champions and the CONCACAF Cup holders as Germany come up against Mexico.
A match-up with Chile in Saint Petersburg on Sunday awaits the winners after La Roja overcame Portugal on penalties in Wednesday's opening semi in Kazan.
Germany
Joachim Löw's youthful Germany topped Group B with wins over Australia and Cameroon (3-2 and 3-1) and a 1-1 draw with Chile, but haven't been wholly convincing in Russia so far.
They have looked particularly wobbly at the back, where keeper Bernd Leno had a nightmare against the Aussies, Shkodran Mustafi's shocker gifted Chile their goal and Marc-André ter Stegen - now installed between the sticks in place of Leno - won't want to watch Cameroon's consolation again in a hurry.
However, they head into their encounter with Mexico on a run of 13 games unbeaten and are the Confederations Cup's joint-top scorers alongside Portugal, while Lars Stindl and Timo Werner lead the individual goal charts with the Seleçao's Cristiano Ronaldo.
"We are happy to be in the semis and to face such a strong opponent like Mexico," Löw told his pre-match press conference on Wednesday, adding that he anticipates an "aggressive" approach from El Tri.
"It is how they have been playing for years. They hunt the ball with all their players and when they have it, they play it deep quickly."
Mexico
Mexico, the only previous tournament victors at the 2017 Confed Cup (having won it as hosts in 1999), broke Russian hearts on Saturday, coming from behind to claim a 2-1 victory and take second place in Group A ahead of the home nation.
That followed an entertaining opening-game draw with Portugal and a win over New Zealand, in both of which they likewise showcased their ability to recover from a losing position.
The Mexicans have won just one of their ten meetings with Germany - which include a 4-3 defeat in a thriller at the 2005 Confederations Cup - and a wary Juan Carlos Osorio denied on Wednesday that the youth of Löw's group - the squad's average age is just over 24 - could play into his team's hands.
"You can be young and have a lot of experience," the Mexico boss said. "A 30-year-old person that starts studying cardiology will know a lot less than a 21-year-old graduate."
Mexico are on a fine sequence of results too, having lost just one of their last 16, but will have to do without the 136 times-capped midfielder Andrés Guardado, who is suspended due to accumulated bookings.
Meanwhile, the injured Diego Reyes is also set to miss out in Sochi, with Carlos Salcedo already out of the tournament because of a shoulder injury suffered against NZ.
Germany vs Mexico live stream: possible line-ups
Germany XI: Ter Stegen, Kimmich, Ginter, Mustafi, Hector, Goretzka, Rudi, Emre Can, Süle, Draxler, Werner
Coach: Joachim Löw
Mexico XI: Ochoa, Layún, Araujo, Moreno, Alanís, Herrera, Aquino, Jonathan, Fabián, Vela, R Jiménez
Coach: Juan Carlos Osorio
Germany vs Mexico live stream online: Confederations Cup betting
Germany are the bookies' favourites to reach the final, with the World Cup holders priced at €2.05 per euro bet to set up a clash with Chile. Mexico, meanwhile, are valued at €3.80 for every euro placed.