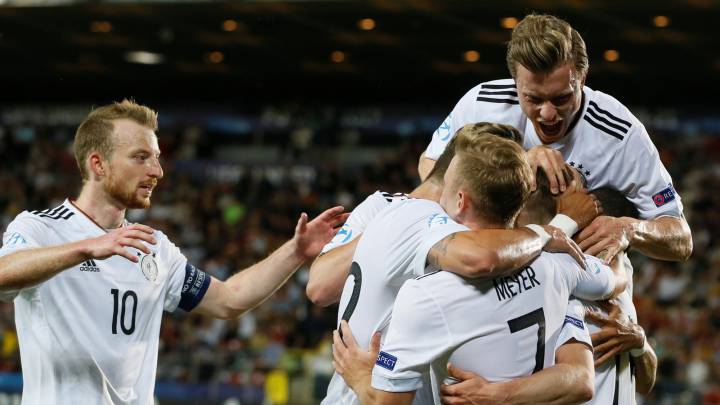 Germany 1-0 Spain: match report
Spain were stunned in Krakow on Friday night as they were beaten 1-0 by Germany thanks to a Mitchel Weiser header in the first half.
Germany started with a fire underneath them and Spain seemed to be struggling to live with their opponents in the earliest exchanges - it would be a snapshot for how the game was set to proceed. Serge Gnabry was particularly lively but it was Max Meyer who came closest in that period. He headed a cross towards goal and caught Kepa off guard as it struck the base of the post.
Gnabry came close just afterwards with a left footed volley and on another occasion from a Max Arnold cross to the back post. They failed to take full advantage of their dominance though, as Spain continued to manouvre their way into the game.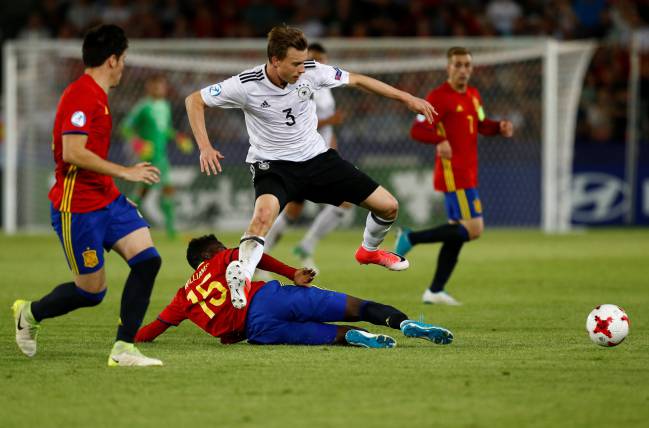 That was until the 40th minute when Germany started to build again and had a number of half chances. Mitchell Weiser headed over Kepa from a Toljan cross and put Germany ahead after a mistake from Johny gifted them the ball high up the field.
Spain were stunned and Germany took the lead at a vital time as they did not allow their opponents much time to respond before the break.
Spain were much improved in the second half but failed to figure out a way through Germany's defense. The closest they came in those opening exchanges when they were on top was a shot from outside the box by Saul that tested Julian Pollersbeck.
That was as close as they would come for the rest of the game too. After dominating for such long spells in the tournament, the one time they went behind, they showed no ability to work their way back into the game.
The game ended with Spain unable to get the ball into their opponents' penalty area let alone test the keeper. Germany were excellent throughout the game and despite giving up possession for large spells, they still held a level of control of the game that meant they were never too far away from scoring a second while keeping things in control at the back.
As Spain continued to pile on the pressure, the referee blew full-time on the Germans first Euro under-21 win since 2009. That team eight years ago make up a large bulk of Spain's national team today. You can bet your last dollar that the same will be said of this group in a decade.
Germany U21 v Spain U21 live online stream : European Championships final
90'+4' Game over and Germany are the champions for the first time since 2009.
90'+4'  Last chance possibly. Saul with a kick over his head but it goes wide. Goal-kick as Pollersbeck takes his time. 
90'+3'  Last roll of the dice for Spain.
90'+2'  Iñaki with a cross that lands in Pollersbeck's hands. He's in no hurry to kick that ball back out the field. 
90'+1'  We will have four minutes of added time.
90'+1'  Iñaki fouls Arnold.
89' Vallejo booked after Saul sees a shot blocked in the penalty area.
87' Philipp replaces by Oztunali.
86'  Corner now for Germany. Spain running out of time here. 
84'  Mayoral pulled down on the break.
83' Mayoral replaces Llorente for Spain.
83' Haberer comes off for Kohr.
81' Gnabry replaced by Amiri.
80'  Getting critical for Spain now...
78'  Or kicking the ball away. 
78' Hold up. The yellow was for Meyer for saying something to the referee.
78' Another corner. Taken quickly. Ceballos kicked and fouled by Gnabry. 
77'  Germany getting more suppressed as the game goes on.
76'  Deulofeu with a strike. Deflected out for a corner.
75'  Bellerin receives the ball from Asensio and breaks at speed. He plays it to Iñaki and the attacker tries to give it back to him but Germany get it away.
73'  Gaya with a corner headed away by Germany's Kempf. Spain building again. 
72'  So close. Dani Ceballos breaks free and strikes just inches wide of the post. Much better from Spain.
71' Iñaki Williams replaces Sandro.
66'  Spain are really struggling. Failed clearance falls to Weiser and he strikes wide inside the area. Hint of a penalty with Vellajo possibly touching the ball on the ground but ref points for a goal-kick.
65'  Gnabry puts a through ball in to Meyer but he doesn't see it until late or thought he was offside. He doesn't even challenge for it.
63'  Gnabry with another chance but delivers a nomination for worst shot of the tournament. High, very high and wide.
61'  So, so close. Kempf heads just inches wide. Arnold's delivery is excellent.
60'  Mistake by Mere sees Gnabry put through by Meyes. He pokes it to Kepa's left but the keeper gets a foot to it. Corner for Germany.
59'  Germany with a rare outing into Spain's half. Meyer shot blocked before Arnold misses the target.
58'  Complete domination by Spain now. Saul the latest with an effort. Forces a save from Pollersbeck.
58'  Philipp gets it away at the front post for another corner.
57'  Deulofeu wins another corner for Spain.
56'  Deulofeu trying to navigate through a number of German defenders. Loses out by spain continue to build and look dangerous. Asensio with a cross that Germany scramble away for a corner.
54' Ceballos fouled by Meyer. Llorente booked for protesting.
54'  Spain starting to dominate now. 
54'  Gaya's first act is a cross to the back post that goes out for a corner.
53'  Much better from Spain.
52' Another yellow. Ceballos flicks the ball past Stark and the German defender takes him down.
51' Change for Spain. Gaya replaces Johny.
50' Haberer the latest to go in the book for Germany. Foul on Llorente. 
49'  Spain have failed to ever get out of third gear. Partly because of Germany but also not helped by their own approach.
47' Max Arnold with a kick at the back of Sandro's leg and gets a yellow for himself.
46'  As you were to start the second half. No changes. We are back underway!
If Deulofeu comes off, Iñaki could really hurt Germany with his speed and strength. 
Many suggesting that Deulofeu could be the one to be changed. Strange one because he has been involved in Spain's best moved. But they also haven't scored.
45'  That's all for the first half. Plenty for psain to chew on after that first 45.
44'  What a ball by Llorente. Deulofeu lets it run and it goes out for a throw. Wasted chance!
Saul booked for the foul on Arnold.
43'  Max Arnold fouled again. 
40' GOAL! That has been coming. Toljan with a cross that Weiser meets with his head and loops it over Kepa. Weiser makes amends with a lovely header. Spain are stunned.
39'  Johny gives up possession now. Weiser messes up the chance though. Instead of shooting, he looks for a pass. 
38'  Bellerin with a mistake now. It falls to Haberer, who has nothing but shooting on his mind and he fires well over the bar. 
36'  Good battle between Arnold and Ceballos. The Spanish midfielder fouls the German captain this time, however.
36'  Cross to the back post is headed back towards the centre by Sandro and Mere heads just wide.
34'  Deulofeu takes off again. Wins another corner as his attempted cross is deflected out.
33'  Really dangerous stuff from Germany.
33'  Germany, in control of this game, continue to take massive risks at the back. This time they give it away in their left-back position. Sandro is free and gives it to Saul, who shoots and has his shot blocked. 
31'  Deulofeu with the corner that meets Saul's head but he gets under it and it goes over the bar.
30'  Ball in behind by Deulofeu towards Bellerin is put out for a corner by Weiser. 
30'  Cross field ball is picked off by Deulofeu. He breaks free but is caught and passes a tame ball backwards. 
29'  Gerhardt whips a cross in that Kepa is forced to punch away at the second attempted clearance by Spain.
27'  Ceballos fouls Kempf. 
25'  Spain looked spain struggling to string anything up front and have no consistency.
23'  Ball across the box caused confusion for Germany. Asensio delivers it but Pollersbeck hesitates. They get it away in the end.
22'  Throw for Spain but Johny seems to have an issue with his chest and can't take it. He is being looked at on the sideline. 
21'  He sends it all the way to the back post and Gnabry's first shot, a volley, is blocked but his follow-up is not and Kepa is forced into a save.
20'  Llorente gets his last warning from the referee as he fouls Gnabry. Free for Germany as captain Arnold looks to curl one into the box.
19'  Germany looking dangerous every time they go forward. Gerhardt and Meyer causing problems this time..
18'  Deulofeu, who has switched from the right to the left, takes on Toljan and gets to his outside. He sends a shot towards goal and Kempf chests it out for a corner. the resulting corner goes out for a goalkick. 
17'  Deulofeu switches play as Spain look to trouble Germany.
16'  Lethal. Gnabry takes a cross down that was not intended for him. It hits his right, pops up lovely on his left and he strikes into the side netting. 
13'  Ex-Arsenal versus current Arsenal as Gnabry tries to get a run on Bellerin down the left. The foermer Gunner wins a corner. 
12'  Corner from spain is harmless but it comes back in via the right foot of Ceballos. Bellerin heads it and it goes just wide.
11'  Kepa sells Bellerin shot and Germany win it back. spain manage to win a goal kick at the end but far too close for comfort.
10'  Sandro fouled by Arnold. 
9'  Arnold has a crack now from downtown. It's high and drifting wide but Kepa dives anyway. Another close call. All Germany now.
9'  Weiser with a ridiculous foul on Ceballos. He fouls the Real Betis man and pulls his jersey after the whistle. Lucky not to get a yellow card.
8'  Toljan with a cross but he can't keep the pressure on Spain. His effort goes over everyone and out for a restart.
7'  Wow! Close call. Max Meyer headers from distance and nearly catches out Kepa. The ball strikes the post and clear. 
7'  Corner comes in from Arnold but Saul headers it away. 
6'  Gerhardt coming in from the left has a cross with his left foot. It's slightly awkward but nearly catches Kepa out. The keeper tips it over for a corner.
5'  Deulofeu with a poor start. He almost gave it away earlier and does give it away with a failed backheel this time. Germany back in possession.
4'  Absolutely delightful take-down by Asensio. He's in the mood for it tonight. Looking to be creative whenever he gets the ball. 
3'  Ended when Jonny loses out but Llorente wins it back before Arnold and Asensio tangle and Spain end up with a corner out of it.
2'  Germany controlling the ball early. Saul wins it back for the first time for Spain. And they launch an attack. 
1'  Game is underway!
Ready for action! 
Spanish national anthem first. Germans next.
Saul has also been directly involved in five goals, which is more than any other player in the tournament (five goals and one assist).
Saul Niguez could become the first midfielder to win the Golden Boot at this tournament since Andrea Pirlo won it in 2000.
Looks like Saul Niguez will win the golden boot, unless Marco Asensio can manage to score three tonight. David Selke, Germany's top scorer, has just scored twice and doesn't play tonight.
Spain XI CONFIRMED: Kepa, Bellerin, Mere, Vallejo, Jonny, Llorente, Ceballos, Saul, Asensio, Sandro, Deulofeu.
Germany XI CONFIRMED: Pollersbeck - Toljan, Stark, Kempf, Gerhardt - Haberer - Weiser, Meyer, Arnold, Gnabry - Philipp.
The best battles tonight will be held on the wing. Toljan at right-back for Germany is dangerous and Max Arnold who plays on the left against England is one of their more creative players. Asensio and Deulofeu will have to pay attention to ensure cover for Johny and Bellerin. 
Spanish Prime Minister Mariano Rajoy will be in attendance at the final tonight. He's in Poland on state business and will pop by Krakow to cheer on La Rojita.  
There's transfer news regarding one of Spain's expected starting XI. Barcelona have this afternoon activated the buy-back clause in Gerard Deulofeu's contract with Everton. He'll head to Camp Nou this summer. Read the full story. 
 The two managers have been speaking to the press ahead of the final and are expecting it to be a close encounter. Watch and listen to them here.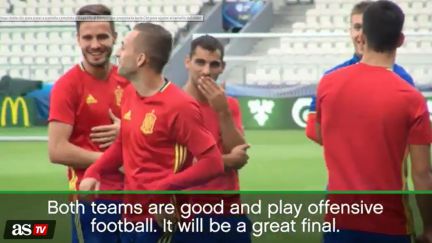 Both these sides arrive on the back of four wins out of their last five matches. Germany lost in the final group game against Italy (which resulted in Italy qualifying for the semis in second place) and Spain drew against Austria last November.
This is what they're playing for tonight. No way to fill it with any fun juice. Sensible!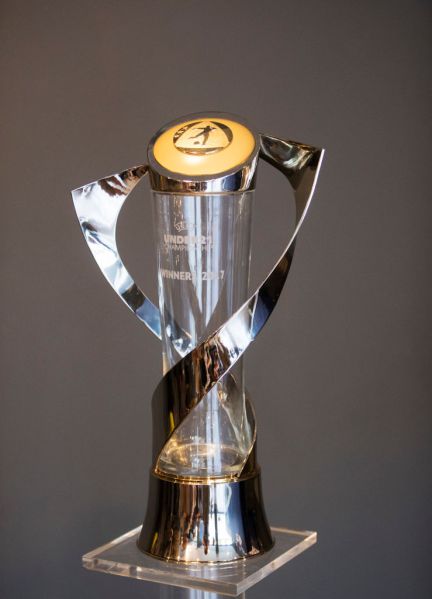 As I said earlier, the discussion over the "senior" German team and how it impacted the U21s was covered in AS director Alfredo Relaño's editorial this morning. Anothe point made is that this Spanish U21 side is more decisive when it comes to looking for goals and less about the controlled tiki-taka of the seniors. Give it a read and let us know what you think.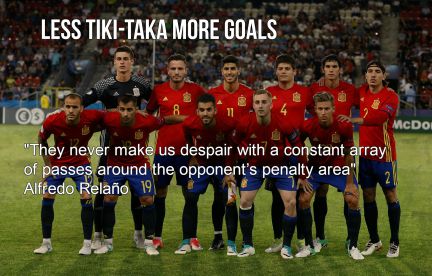 If you want a little background to what you can expect tonight, scroll down and enjoy the preview that our U21 specialist has pulled together just for you. Aren't you lucky?!
Good morning and welcome to our build up to the final of the Under-21 European Championships 2017 in Poland. The young guns of Germany and Spain have both impressed on their way to this match and we are expecting an entertaining encounter. Stay with us throughout the day for all the latest news surrounding the final and the teams.
Germany U21 - Spain U21 live online stream: European Championship final preview
Krakow will host a mouth-watering Under 21 European Championship final on Friday evening as Germany and Spain meet.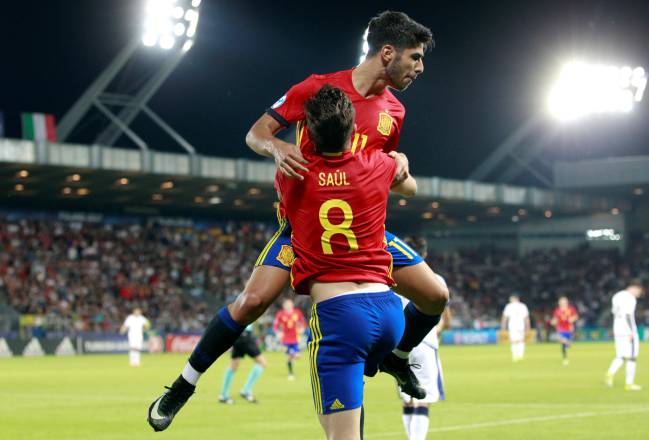 La Rojita ostentatiously sauntered past ten-man Italy in the semi-final stage, with a Saúl hat-trick enough to see off Donnarumma and co. Germany, meanwhile, upheld tradition by beating England on penalties to reach this stage.
Germany: team news
Stefan Kuntz should be able to welcome centre-half Niklas Stark back in to the starting line-up, after the Hertha Berlin man missed the semi-final through injury. Gideon Jung filled in unconvincingly in the heart of defence against England. Mahmoud Dahoud may also return in the centre of midfield, alongside Arnold.
Speaking on the eve of the final, Kuntz is looking forward to the challenge: "We said from the start we wanted to measure ourselves against the best. We've faced Italy, England and now Spain. It's a great challenge. We'll play as we did in the other games, stick to our philosophy, but also adapt to our opponents."
22-year-old Jeremy Toljan impressed for Germany in the semi-final, marauding forward from right-back at every opportunity. He will be a useful option for the Germans on the counter-attack.
Spain: team news
Albert Celades has a full squad to choose from, and is unlikely to stray far from the team that beat Italy. It is a squad sprinkled with more talent than most senior teams. After disappointing performances at the 2014 World Cup and Euro 2016, this cohort will hope to use the tournament as a spring-board to rejuvanising Julen Lopetegui's seniors.
"I think they're great opponents. We have respect for Portugal and Italy who are great teams but Germany are in the final," Celades said.
Miracles don't exist, there is a lot of talent there and we have to do something more than we did against Portugal and Italy. We are prepared to face Germany with the best mentality."
Dani Ceballos complemented Saúl superbly in the midfield. The Real Betis man has been linked to Real Madrid over the last few days, but he has his sights firmly set on the match in Krakow.
Germany U21 v Spain U21 live online: match facts
A juicy titbit courtesy of UEFA... If Spain win, Paco and Marcos Llorente will become the first father-and-son duo win the Under 21 European Championship. Paco won back in 1986, beating Italy on penalties in the final.
Spain are bidding to lift the title for the fifth time, which would draw La Rojita level with Italy in terms of most victories.
Germany U21 v Spain U21 live online: predicted line-ups
Germany XI: Pollersbeck; Toljan, Stark, Kempf, Gerhardt; Arnold, Haberer; Philipp, Meyer, Gnabry; Selke.
Spain XI: Kepa; Bellerín, Meré, Vallejo, Jonny; Saúl, Llorente, Ceballos; Asensio, Sandro, Deulofeu.
Germany U21 v Spain U21 live online: odds and betting
Could Germany remain prolific from the spot? They're available at 11/1 to win on penalties.
Bet on Germany U21 v Spain U21.
Follow the live coverage match of World Cup Qualifying between: Spain-Italy