Jardim changes his tone over keeping Mbappé at Monaco
The manager of the Ligue 1 side told BFMtv, "Every trainer in the world wants to keep their best players but sometimes it's not possible"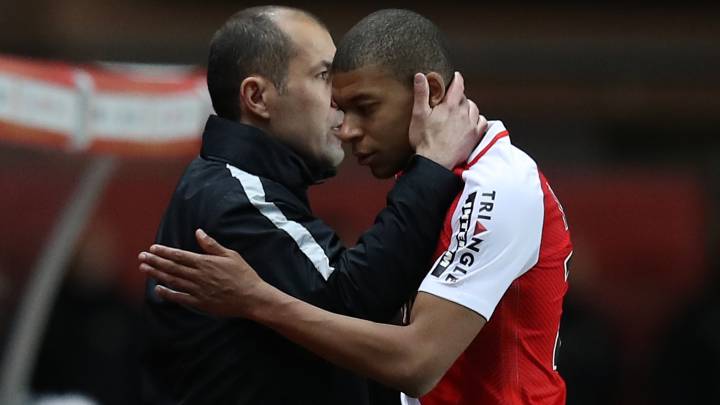 Leonardo Jardim seems to be changing his tone regarding the possibility of Monaco keeping their talisman, Kylian Mbappé, beyond this summer. Just a few days ago, the Ligue 1 manager said, "he will have plenty of time to go to a big club," as it seemed Mbappé would commit to another year in France. Just recently, however, Jardim told BFMtv he has his doubts about Monaco's ability to keep the player. "It's not always possible to keep the best players," he said.
Monaco returned to training on Friday and included Mbappé in the unveiling of their new jersey for next season, which is a modern way of assuring fans a player is in their plans. English media, however, believe that Dmitri Rybolovlev, the owner of the club, has already picked the rising star's replacement in Stoke City's Julien Ngoy.
Jardim spoke about Mbappe's future, "I have not spoken to him, but he knows our ambition is to keep him. I think that the club and him will make the best decision. Every trainer in the world wants to keep their best players, but it's not always possible. We will see what happens but the most important thing now is to focus 100% on our work, and to help develop the youngsters and later we will see who we have."
Alberto of Mónaco says keeping Mbappé is key
The prince of Monaco also spoke about Mbappé in Dusseldorf, where he went to watch the first leg of theTour de France. "We are doing everything possible to keep him. Negotiations are open and I believe that he wants to stay. I am convinced that an agreement will be reached".
Monaco are keen to keep the player for one more season but they have reportedly received substantial offers from various clubs including Real Madrid, who have had their eye on the players since he was 14.