Ceballos on the point of signing for Real Madrid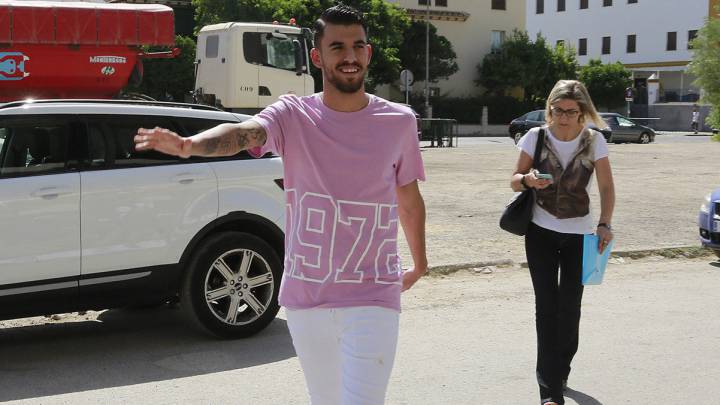 Dani Ceballos is sticking firm to his decision to play for Real Madrid next season, although the official announcement of his signing is still some way off - he's asked for two or three days to sit down with his family and analysis all the offers on the table. Barcelona are pressing ahead with their determined last-ditch attempt to convince the player to head to the Camp Nou, but they've failed so far to change Ceballos' mind, and he believes his future is at the Bernabéu.
Real Madrid raise the stakes for Ceballos
Madrid have upped their offer to Ceballos and have guaranteed him a place in the squad from day one. With James and Morata almost certainly on their way out, there will be squad numbers available for him. And that meets the player's main demand, equalling Barça's offer. Moreover, Ceballos would prefer to play for Real Madrid in any event, and with the possibility of being able to do so from the start of his contract everything points to the final decision being made sooner rather than later.
Ceballos keen to leave Betis on good terms
Tuesday was a long day for Ceballos. He met with his agents in the morning to look at the various options, before heading to the Benito Villamarín stadium to tell Betis he'd decided to leave. His current club took that opportunity to inform him in detail about other offers that have come in for him: in addition to Real Madrid and Barcelona, Juventus and Atlético have put in substantial bids. Ceballos and his agents agreed to work with the club in the negotiations in order to get the best deal for all involved.
Ceballos doesn't want to sneak out of the club by the back door, hence his decision to sit down with Betis bosses and explain his thinking. But his mind is made up. He won't be wearing green and white next season; and that means he won't accept a sale and loan-back to Betis. He wants to play for the club he signs for. Therefore his transfer fee will be north of the 15 million euro buy-out clause. Real Madrid have offered, including add-ons, around 20 million euros, and that looks like being the price the deal will be done for.
Real Madrid's Ceballos pre-season plan
Zidane and his team are so convinced that Ceballos will be joining them that they have already worked out road map for his first weeks with Real Madrid.
They expect him to join Madrid's tour of the USA on 21 July, the same date the other Real Madrid players who were involved in the Under-21 Euros are set to join the squad: Vallejo, Llorente, Mayoral and Asensio. The last of these players was a fundamental factor in Ceballos' decision. They've been friends for years, and talk most days. And Asensio highly recommended to Ceballos that he accept Real Madrid's offer.
Betis want a loan deal in return
Betis are keen to convince Real Madrid to loan one of their youngsters to them as part of the Ceballos deal. They've already asked for Marcos Llorente, though Real Madrid turned that idea down because he's in Zidane's plans for the coming season. But Betis would also be delighted to bring in Borja Mayoral, although that too is subject to Zidane's ok, and he's still considering having the player in his squad.
Ceballos announcement imminent
In any event, the Ceballos decision isn't going to be long in coming. Yesterday on leaving the Villamarín he said he'd talk again in two weeks. But his decision will almost certainly be made public in more like the next two days.