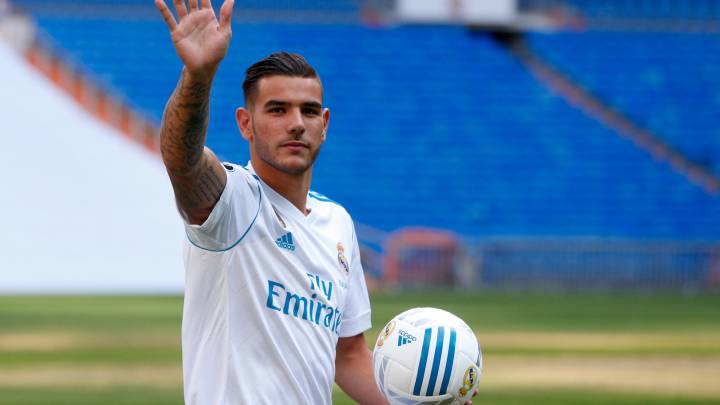 Theo Hernández has been unveiled as a new Real Madrid player after completing a move to the LaLiga and Champions League winners from city rivals Atlético Madrid.
The left-back, who was a revelation on loan at Alavés last season, has joined Real on a six-year deal, with Los Blancos paying the player's 28-million-euro buy-out fee.
Pérez to Theo: "You have become part of the greatest club in history"
Describing Theo as "one of the sensations of the best league in the world", Real president Florentino Pérez told the 19-year-old: "Today, you have become part of the greatest club in history - one with 12 European titles.
"A wonderful experience awaits you, and I'm sure that you'll help us to keep on winning trophies," Pérez added.
Theo to wear number 15 shirt at Real Madrid
"I'm very happy to be here, to play for the best club in the world and with the best players in the world," said Theo, who will wear the number 15 shirt, in a short speech.
The Frenchman then took to the Bernabéu turf to pose in the Real kit in front of the fans inside the stadium for his presentation, before giving a press conference alongside the club's director of institutional relations, Emilio Butragueño.
Theo Hernández's first press conference as a Real Madrid player:
Real coach Zinedine Zidane: "I've seen him and he wished me the best of luck."
Future reception from Atlético fans: "I'm focusing on the here and now and whatever happens, happens."
Offers: "There were several clubs who wanted me, but the best option was to come to Real Madrid and keep on growing as a player."
Choosing Real: "Coming to the best team in the world wasn't a difficult decision."
Competition with Marcelo: "He's the best left-back in the world. I'm here to try and learn from him and get some game time too. I'm out to perform well and hopefully he can help me."
Learning from Real stars: "They're all role models for me. I'm going to try and learn from everyone and improve day in, day out by their side."
Facing brother Lucas in a Madrid derby: "It'll be a normal game; it won't be a war."