REAL MADRID
Armed Spanish tax agency operatives inspect Cristiano's yacht
Spanish weekly magazine "Hola" have published pictures of three armed agents from the inland revenue on the yacht as the player holidays with his family.
Spanish tax authority agents carried out an inspection on board Cristiano Ronaldo's yacht this morning with weekly "Hola" publishing photographs from the operation.
Armed agents
In the published photographs three armed agents are seen boarding the Portuguese star's vessel, the 'aYa London' just as the player returned form lunch on the Balearic island of Formentera. Hola state that a dinghy carrying three operatives left a bigger coastal customs boat to carry out the inspection on the yacht currently being rented by the Madrid striker.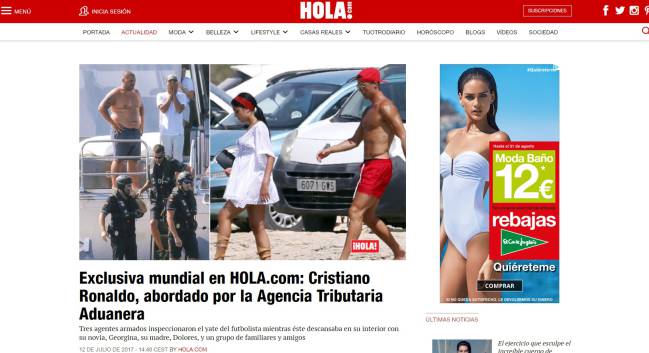 The inspection lasted just over one hour and thirty minutes and it's reported that the player remained totally calm at all times as a relation dealt with the tax inspectors and the player remained inside with his girlfriend Georgina and his mother Dolores Aveiro whilst the search ensured.