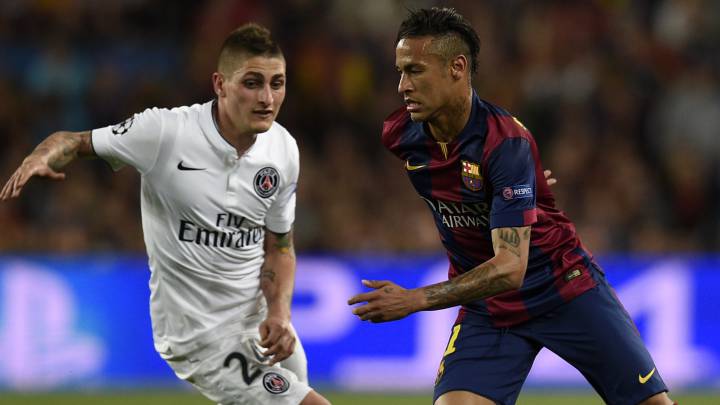 Neymar's father will travel to Paris this week to meet Nasser Al-Khelaïfi, the President of PSG, to discuss a transfer for the Brazilian winger. The French club have already attempted to sign Neymar on at least three occasions.
Verratti interest could open Neymar to PSG
Barcelona's strong interest in Marco Verratti, PSG's Italian midfielder, has facilitated the contact between Neymar's representatives and Paris Saint Germain. The Brazilian's release clause started at €200m, is currently €222m, and will rise further to €250m next season. As such, Neymar's current price is €222m, while Verratti would be available for around €100m. On an economic level, a deal involving Neymar moving to Paris and Verratti to Barcelona would be extremely beneficial for the Blaugrana.
Yet for the player, the move is not entirely motivated by money. Neymar wants to be the cornerstone of a large project, without being in the shadow of his team-mates. He believes that he has learnt as much as he can from Lionel Messi, and that now is the time to embark on a parallel bid to become the best player in the world, a difficult task with Messi in the same dressing room.
Neymar cryptic, Barcelona confident
While on holiday this summer, Neymar was cryptic when asked about his future, replying that "Who knows about the future".
From Barça, however, there remains a belief that Neymar will continue to line up alongside Lionel Messi and Luis Suárez next season. Robert Fernández, the technical secretary at Camp Nou, assured in a press conference that "I don't believe anyone will pay Neymar's release clause."
He continued: "Our intention is not to lose good players in order to sign Verratti. On the contrary, our intention is to improve the team."