Villar: Arrest of RFEF president hits international headlines
Media outlets across the world have been reacting to Tuesday's arrest of Ángel María Villar, son Gorka and three other federation officials.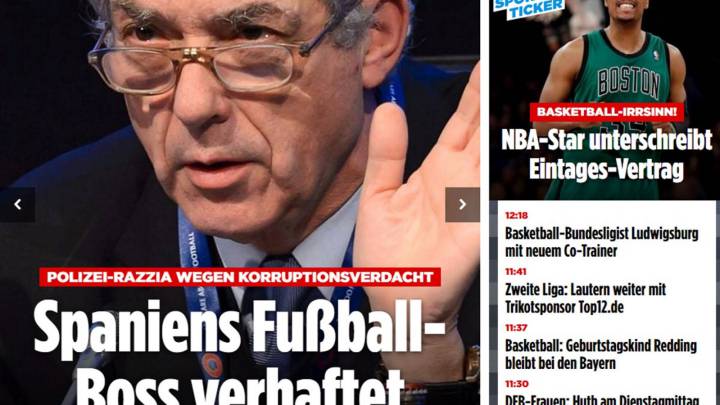 The news that Spanish Football Federation (RFEF) president Ángel María Villar has been arrested over corruption allegations has hit the headlines in the global media.
Villar, who has been the head of Spain's governing body since 1988, was detained on Tuesday along with his son, Gorka, and three other federation officials.
Here's how the world's press has reacted:
A Bola (Portugal): "Spanish FA president detained over alleged corruption: Ángel María Villar, president of the Spanish Football Federation, and his son, Gorka, were arrested on Tuesday by the Civil Guard as part of an investigation into alleged corruption in the management of the body."
Sky Sports Italia (Italy): "Corruption probe in Spain: Federation head arrested [...] The news has shaken Iberian football."
ESPN (USA, UK): "Villar's seven terms as RFEF president have brought regular allegations of a lack of transparency within the Spanish FA's finances and decision-making processes. A number of court cases have been brought over the years, but no charges ever stuck.
Gorka Villar stepped down as CONMEBOL director general in July 2016 after his time with the South American federation had also brought many allegations of wrongdoing. He has also been a member of FIFA's Reform Panel."
BBC (UK): "In Villar's time as president of the federation, Spain's men's football team has won two European Championships as well as the 2010 World Cup, becoming one of football's dominant forces.
He has also served on the council of football's world governing body FIFA for the past 29 years, but was reprimanded by FIFA for failing to comply with its internal inquiry into the 2018/22 World Cup bidding process.
Michael García, who conducted the investigation, wrote that Mr Villar told him: 'Well, you really have balls' when the American lawyer refused to reveal who had made allegations against Mr Villar. He also demanded Mr García drop the case 'for your own good'."
BILD (Germany): "Spanish footbal chief arrested: Villar has been under the surveillance of the authorities for some time."