ICC 2017
Manchester United 2-0 City: International Champions Cup 2017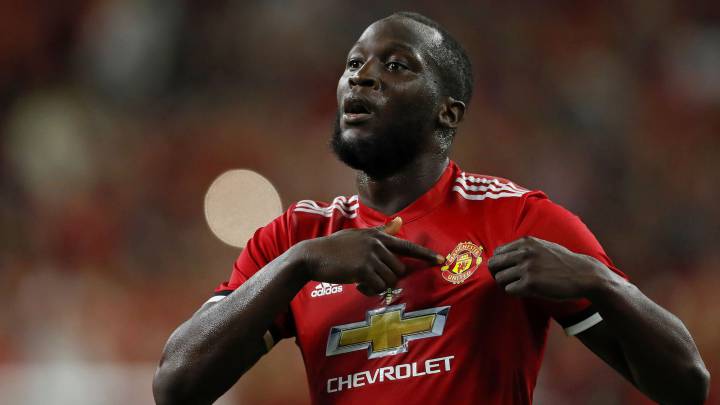 Houston, Texas was the venue as Manchester United faced local rivals City as part of the 2017 International Champions Cup. And it was Mourinho's side that ran out winners.
Manchester United vs Manchester City: match report
Romelu Lukaku and Marcus Rashford were on target as Manchester United defeated Premier League rivals Manchester City 2-0 in their International Champions Cup pre-season clash here Thursday.
Belgian international Lukaku grabbed his second goal in his second start for United as the Red Devils eased past a disjointed City at Houston's NRG Stadium. England striker Rashford meanwhile continued his impressive pre-season form with his third goal in three games of United's US tour. The game was the first ever Manchester derby played on foreign soil and both teams commemorated the May 22 attacks at a concert in the city shortly before the kick-off.
'It was a very good training session,' United manager Jose Mourinho said afterwards.
'We had to play well in the first half, is good intensity, the players are tired. I am really pleased and I'm sure Pep (Guardiola) is the same. The result is not the most important thing.'
Pep praises 'other level' Foden
City manager Pep Guardiola meanwhile shrugged off the loss, preferring to enthuse about the performance of teenager Phil Foden, a 17-year-old who has emerged from the club's youth set-up.
'I don't have words... It's a long time since I saw a performance like this - it was another level,' said Guardiola, who also confirmed that defender Aleksandar Kolarov was on his way out of the club, with Roma the likely destination. 'I don't like working with people who don't want to stay. He has a big chance to go to Roma. He has said he wants to leave,' Guardiola said of Kolarov.
Kolarov's looming exit heightens speculation that City are close to signing Monaco fullback Benjamin Mendy.
United sharper, City rusty
Earlier, United enjoyed the better of the early exchanges, with Henrikh Mkhitaryan testing new City keeper Ederson with a long-range effort just after 20 minutes. Ander Herrera also tried his luck from distance shortly afterwards but the young Brazilian gathered comfortably.
At the other end meanwhile, City, who handed a debut to new signing Kyle Walker, slowly got into their stride, with a deflected Raheem Sterling effort tipped over by David De Gea. City should have had a penalty on 31 minutes when youngster Patrick Roberts was tugged back by Chris Smalling as he burst into the area. Instead Smalling managed to get a foot in and clear with Sterling's follow-up effort blocked.
Six minutes later United took the lead with a superb goal from Lukaku. A long clearance from Paul Pogba drew Ederson off his line but Lukaku managed to nod the loose ball past the stranded City goalkeeper before finishing from a tight angle.
Two minutes afterwards, United doubled their lead with another swift counter-attack. This time it was Mkhitaryan who turned creator, releasing Rashford with a deft pass. The teenage England striker picked his spot and drilled a low finish across Ederson into the bottom corner.
United continued to enjoy the better chances early in the second half, with Lukaku almost grabbing a second when his curling strike hit the woodwork on 53 minutes. Both Mourinho and opposite number Guardiola made a flurry of changes throughout the second half as the game fizzled out.
Manchester United vs Manchester City: how the game unfolded live
90'+2' Game over! United content with their performance but plenty to work on. City, on the other hand, played their first game of the preseason so rust was an issue and was expected to be.
90'+1'  Dangerous ball into the box by Pereira. Cleared by City.
90'  Two minutes of added time. 
90'  One last chance for City. Jesus is fouled by Fellaini.
89'  United throwing it around now trying to kill time.
86'  Walker still looking to get forward. Stopped this time. City look exhausted though.
84'  Romero tips over a Fernandinho striker. Corner to City. 
82'  Jesus reaches for a Nasri pass. He gets a foot on it but it goes well over.
67,401 in attendence at NRG Stadium.
78'  United have the ball in the back of the net. But the referee gives a free out for offside. Fellaini's header falls to Jones, but Ederson saves it three times before Pogba puts it home. Won't count though.
Fosu-Mensah and Pereira replace Valencia and Lingard.
77'  Pogba wins another corner. 
75'  Nasri misjudges a pass and it rolls over the line. City understandably very rusty. 
73'  Romero comes out and cleans Diaz out before foden lobs the ball onto the top of the net. Close. A little shaky from the keeper.
71'  Corner for United as they continue to press for a third. Comes to nothing. City break but having no luck up the other end. 
66'  Kyle Walker with a fierce run down the right. He crosses but Phil Jones clears. Corner. One of City's better team moves.
63'  Madre Mia! Pogba with the ball at the edge of the penalty area. He eventually lets fly with a shot and it hits the side netting. Looked like it went in. Very close but Ederon seemed to have it covered.
Rashford, Mkhitaryan and Herrera are all off.
Changes galore! Felaini, Carrick, Martial all on for United. 
60'  City try to work their way back into the game. They have some tricky customers but Jesus strays offside. 
56'  Romero tries a pass out to the right but Gabriel Jesus blocks it and it falls kindly back to the keeper. He is very lucky there. 
56' Mangala booked after wrestling Rashford to the ground.
53'  Lukaku nearly broke the goals with a shot! It struck the very corner where the post meets the bar and absolutely rattled it. What a strike.
51'  Rashford with a shot from way out on the right. He has Ederson back-pedalling and forces him to paw the ball away for a corner. 
49'  Brahim Diaz takes a lovely pass down and makes a move inside. His run is stopped by a poor touch but looks good.
Leroy Sane, Gabriel Jesus, Samir Nasri, Brahim Diaz, Eliaquim Mangala, John Stones and Nicolas Otamendi on for City. 
 Nasri, Mangala, Gabriel Jesus on for City.
46'  Back underway!
 Darmian, Bailly, Jones, Romero all on for United in place of Blind, Linleof, Smalling and De Gea.
Changes at the break. De Gea looks to have clocked out. 
Mkhitaryan has looked sharp too. Not fully fit but his touch is still class. Much like De Bruyne, who has had a couple of nice crosses and dangerous ball into the box. I gues you never lose that! 
Very early obviously but Lukaku has settled in well at United based on his first couple of games. 
You can tell United have had two games. They look way sharper than their opponents. Roberts and Foden looking good at times though.
45'  HT! 
45' Daley Blind just got sent back to Holland by Roberts. Nutmeg and then Blind kicks at his heels as he tries to catch him and win the ball back.
44'  Approaching half-time now as City try to figure out a way into this one. Corner for the Citizens and De Bruyne swings it in only to see it headed clear by Pogba.
42' Yaya Toure cleans Mkhitaryan out from the back. Poor tackle.
41'  Foden has a crack but De Gea not getting beaten easily tonight. Excellent save.
39' Another one! Rashford with a lovely finished. Ball comes to him out on the right and he takes a touch before slotting past a helpless Ederson. Mlhitaryan with the pass. 
37' GOAL! What a finish. Ball over the top, Ederson comes out but Lukaku gets a head to it and beyond the keeper. He finished with a curling left-footed shot at a tight angle.
36'  De Bruyne skips by a challenge and crosses and Lindleof uses his hips to throw Aguero to the ground. Good defending.
35'  Chris Smalling falls over himself and gets a head on the ball on the ground. It just happens to bounce up lovely to De Gea, who kicks it away. 
32'  Slight lull in the last couple of minutes. 
30'  City with a wasted chance. Roberts blocked by Smalling and then Sterling with the follow-up suffers the same fate. Smalling was scrambling there having left Roberts get in behind.
28'  Pogba has a shot but it's tame and Ederson gets his hands on the ball.
27'  Fernandinho takes Mkhitaryan out late. Free in a dangerous position. Too central for a cross and too far out for a shot though.
26'  Walker and Rashford again in a race but the newest City signing catches him this time with ease.
24'  Sterling with a crack that takes a deflection off Smalling and forces De Gea into his acrobat routine. Tips the ball over for a corner. 
22'  Kompany slides in to cut out a dangerous ball to Lukaku courtesy of Mkhitaryan.
21'  United seem to be getting closer Mkhitaryan this time, as he is put in with a lovely through ball. Straight at Ederson who punches it away with two fists.
18'  Mkhitaryan plays it to Rashford. He tries to strike with his right but De Bruyne gets a foot in ahead of him. The United player kicks the Belgian's heel. Sore one but he jogs it off. 
17'  Walker versus Rashford in a footrace. Rashford gets the upperhand but Walker engages him and slows him down. The United striker's speed is lethal.
17'  Valencia throws his arm around Sterling and concedes a free. De Bruyne whips it in but it's put out for a corner. 
15'  Pogba looks for Lingard over the top but he's offside.
14'  Rashford exciting the Houston crows. He dashes in behind with a pass from Daley Blind. Wins a corner.
13'  Really, really slick by Man City. Foden makes his way towards United goal and passes to Roberts but the youngster's flicked pass can't make it to a teammate. 
12'  Foden's turn. He whizzes one by De Gea's upright with his left.
12'  De Bruyne sets Roberts free but his second touch lets him down. He wins a corner but felt he should have done more.
11'  A strong run by Sterling but he hesitates and runs down a cul de sac. 
10'  Lukaku and Lingard nearly link up again. this time it's the latter with the pass but it's just slightly ahead of the Belgian. 
9'  Blind sends a low ball into the box from the left. Lukaku gets a whiff of it but Ederson saves. 
9'  And just after that, Sterling sìed the chance to have a strike and he forces De Gea into a save. A comfortable one but it was on target.
8'  Sterling, still being booed, throws a cross into the mixer. Smalling seems to manhandle Aguero and the Argentine ends up on the ground. No penalty.
6'  Lovely take by Mkhitaryan as his touch takes him by a City player and into space. He drives over with his left though.
5'  Kevin de Bruyne tries a ball in behind to Aguero but he overhits it by a country mile. Goal kick to David de Gea.
4'  Lukaku with a perfect pass inside to Lingard but he can't control it. Golden chance!
3'  Good move by United. Rashford lays it off to Blind and he curls a cross in that is cleared. But it's only as far as Herrera and he tests Ederson with a shot from outside the box. 
3'  Lukaku takes the ball down on his chest and Kompany comes in from the side and throws him to the ground. 
2'  Quite a hectic start. Neither team able to keep it down just yet. Both a little rusty. Sterling being booed as he picks up the ball on the left.
1'  Houston, we have liftoff! 
Two stalwarts captain their sides tonight. Antonio Valencia for United and Vincent Kompany for City.
Paul Pogba is best friends with everyone! Hugs for most of the City players. Really likeable player.
They're giving it the NBA entrance treatment. Flashing lights, darkness and smoke machines. A bit much but we'll go with it for now.
Drake is in the house. 

And 19-year-old centre-hald Tosin Adarabioyo will be tasked with keeping an eye on Lukaku and Rashford with the help of Vincent Kompany.
17-year-old English midfielder Phil Foden will be up against Herrera and Pogba in midfield. Good test for the teenager.
 Mourinho with a much-changed team from the one that started against Real Salt Lake and he makes five changes. De Gea, Valencia, Smalling, Herrera and Rashford replace Pereira, Fosu-Mensah, Jones, McTominay and Carrick.
City team news: Ederson, Adarabioyo, Kompany, Fernandinho, Yaya Toure, Walker, Foden, De Bruyne, Sterling, Aguero, Roberts
United's team news: De Gea, Valencia, Lindelof, Smalling, Blind, Herrera, Pogba, Rashford, Mkhitaryan, Lingard, Lukaku.
Teams news in 5 minutes!
With two hours to kick-off, it is 32 degress and partially cloudy in Houston. 
And here is City's with Walker set to debut. Goalkeepers: Ederson, Grimshaw, Muric  Defenders: Walker, Adarabioyo, Stones, Otamendi, Denayer, Kolarov, Kompany, Maffeo, Mangala  Midfielders: Gundogan, De Bruyne, Sane, Fernandinho, Garcia, Nasri, Silva, Sterling, Toure, Zinchenko.  Forwards: Jesus, Aguero, Moreno, Roberts
 Just a quick look at United's squad in case you were wondering who can, will and might play. Goalkeepers: De Gea, Romero, J Pereira  Defenders: Bailly, Blind, Jones, Smalling, Shaw, Darmian, Rojo, Fosu-Mensah, Lindelof, Tuanzebe, Mitchell.  Midfielders: Pogba, Herrera, Fellaini, Carrick, Mata, Young, Valencia, Mkhitaryan, McTominay, A Pereira.  Forwards: Lukaku, Rashford, Martial, Lingard.
Juan Mata and Mateo Darmian were fored off in United's most recent win over Real Salt Lake. Mata has an ankle problem while Darmian's was just a knock and not significant. 
Rui Faria says we can expect a slightly more settled version of Man United from now, ""Our plans were to give 45 minutes to each player in the first two matches and naturally from now we will start to give more time to some players, we'll try to get 60, 65, 70 minutes, it just depends on each one of them. But objective is to start giving more minutes to more players."
Jose was glowing in his assessment of the situation in the U.S. "The conditions are phenomenal, the organization is phenomenal, so let's play the game." That's better than last summer when a game in Beijing was called off due to the state of the pitch.
"People will want to see how we play, it's a very important game for us to try new things," said Pep in the pre-match press conference. This could be very interesting.
The two clubs have played each other 174 times in the past but never on foreign turf! This will be their first meeting outside of England in their storied past.
Jose is playing down the game but we doubt he will be happy with a loss: "I don't know the way they will face the game, if they want to win the tournament, the derby, I don't know, but I know what I want – that is to give minutes to my players, to try to improve, to make mistakes, to repeat exercises from training, to stop those mistakes, to make the two new players try to understand the team-mates and for the team-mates to understand them."There is always a little bit of rivalry, a little bit of an extra ingredient, but for me it is a friendly. I am not going to jump to celebrate a goal, or cry after any goal we concede. It is preparation."
Could we see Kyle Walker tonight?

Ahead of the match, Mourinho's been getting his tuppence worth on the current state of the transfer market, and he's not entirely happy: 'The figures are really crazy for average players'

Would you believe this is the first time these two giants of the modern game have met outside the UK? Well, you can trust us, it is!
Hello and welcome to our live build-ap ahead of the Manchester derby live from Houston (Texas).
---
Manchester United vs Manchester City: preview
Houston is the home of NASA's Mission Control Centre, and Manchester United and Manchester City will both be hoping for lift off when they face each other in the Texan city as part of the International Champions Cup.
Pep Guardiola and Jose Mourinho will view the match as an opportunity to dip their toes in experimental waters; to integrate new signings and begin to polish their tactical models with the 2017/18 Premier League season starting in less than a month. Both managers are under pressure to improve on uninspiring performances in the last campaign.
With suffocating heat in Houston, expect plenty of rotation from both sides.
Manchester United: team news
Romelu Lukaku found the net for the first time in a United shirt in a narrow 1-2 victory over Real Salt Lake on Tuesday. Mkhitaryan also scored for the tourists, but the evening was soured for Mourinho as Juan Mata left the pitch due to injury, while Antonio Valencia was shown a red card.
Nevertheless, United go in to Friday morning's match with a 100% record in pre-season, having already seen off Los Angeles Galaxy 2-5 on Sunday.
United fans will have further opportunity to see new signings Lukaku and Lindelof, while youngsters Timothy Fosu-Mensah and Scott McTominay are involved with the squad.
Jose Mourinho: "I want to fight against Manchester City in the Premier League not here," said the United manager.For me it's just the same [as against LA Galaxy and Real Salt Lake], but against better players and a better team."
Manchester City: team news
City are behind their rivals in the pre-season process, having not played a match since the 0-5 drubbing of Watford on the final day of the Premier League season. As such, The Citizens are likely to be a little more sluggish than the team in red.
Kyle Walker, a surprising holder of the 'World's Most Expensive Defender' tag, could trot out in Houston for his first City appearance since moving north from Tottenham Hotspur. Bernardo Silva and Ederson may also feature.
Vincent Kompany: "My situation is simple, my wife is from Manchester, she's a blue, her family is divided between blue and red and when we go together at Christmas for dinner it's an issue sometimes. That's everything about a derby, really."
---
United vs City: odds and betting
United will be sharper than City, having already played two pre-season matches. City winning at half time, United winning at full time is available at 20/1.