Summer transfers
Transfer market live online: Friday 21 July 2017
Rumours, transfers, speculation and done deals: all the summer signings and departures in LaLiga, the Premier League, Serie A, Ligue 1 and beyond.Barcelona-Getafe live: LaLiga Santander matchweek 23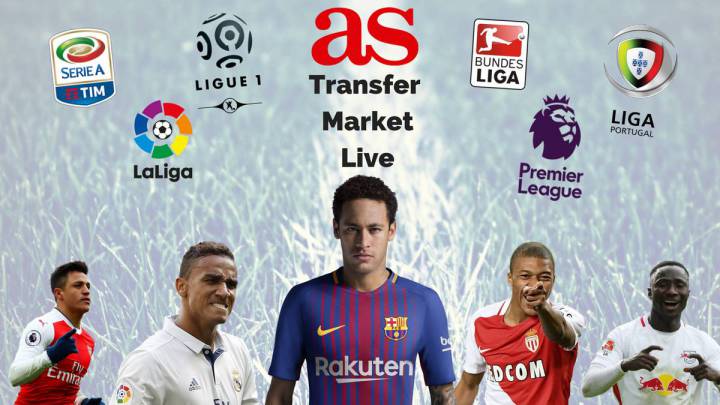 Once again in the summer transfer market, clubs around Europe are cranking up their efforts to find those perceived missing pieces of their footballing jigsaw puzzles. Join AS English for live transfer news throughout the day as we keep you up to date on all the movements happening in European leagues and beyond. Rumours, talks, expected deals, completed signings, contract extensions - it'll all be covered right here.
Transfer market live: Friday 21 July 2017
AC Milan sporting director Massimiliano Mirabelli has confirmed the Serie A club's interest in Bayern Munich midfielder Renato Sanches, telling Corriere dello Sport: "We're in a phase of evaluation, but I can't deny that we could sign him."

Antonio Conte has shut the door, firmly, on Diego Costa's future at Chelsea: 'the case is closed'. 

Following last night's Manchester derby in Texas, Pep Guardiola confirmed that defender Aleksandar Kolarov was on his way out of the club, with Roma the likely destination. 'I don't like working with people who don't want to stay. He has a big chance to go to Roma. He has said he wants to leave,' Guardiola said of Kolarov.

Good morning and welcome to a Friday full of transfer news and speculation...we just know it's going to be a good one!