Real Madrid-Man United International Champions Cup: United win on penalties match report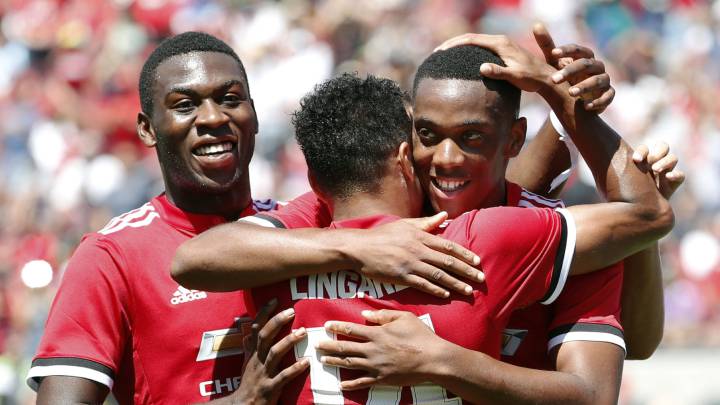 Real Madrid 1-1 Manchester United: match report
(United 2-1 win on penalties)
Zinedine Zidane made just two changes from the side that won the Champions League in June with Nacho and Lucas Vazquez replacing Ramos and Ronaldo. Jose Mourinho went down the more experimental route with less seen United faces including Andreas Pereira, who played on loan with Granada last season.
It was a chance for the likes of Pereira and Anthony Martial to prove themselves and Martial did just that when he beat three Real Madrid players to set Jesse Lingard up at the back post at the end of the first half to give United the lead.
It was the best action of a first half that had plenty of attacking intent with very little attacking execution. Bale looked good, as did Luka Modric, who was his usual self and dictating proceedings in the middle.
For United, Pereira worked hard but they looked like a team who had rarely played with each other. Nevertheless, they had the lead and the second half arrived with multiple changes for both sides.
The game was disrupted by all the changes and the game, which these friendlies tend to do, suffered from it. There was very little continuity to the game and United's lethargic display was one of the main reasons for that while Real Madrid's youngster showed off their desire to impress Zidane in what are vital minutes for their development within the first team squad.
It looked like we would not see another goal until Theo Hernandez decided to take the game on his shoulders and started to roam into enemy territory. He won a penalty after Lindleof took him out of it in the penalty area, which Casemiro buried it.
Real Madrid and their team of youngsters continued to work hard and caused problems for United but they could not take the lead. Achraf looked good on the right and he was the main threat for United while United looked stale and out of sync with their perceieved "A" team on the field.
Penalties
It ended 1-1 in a game that was hard to gauge due to the number of changes on either side. The game went to penalties as they could not be separated.
What ensued was laughable as after four penalties, nobody had scored. Martial drove over and Kovaci, McTominay and Oscar had their penalties saved.
Mkhitaryan and Quezeda scored before Lindleof and Theo Hernandez missed with pitiful efforts. Daley Blind kept it simple as he drove it down the middle to score and Casemiro rattled the crossbar to give United the win.
Real Madrid prepare now for Wednesday against Man City while Barcelona face Manchester United on the same day.
Real Madrid vs Manchester United live stream online: latest news
United win 2-1. That was pitiful.
Casemiro misses. This is a dreadul penalty shootout.
Daley Blind straight down the middle. Scores. 2-1.
Theo Hernandez misses now too. He drives the penalty wide. 
Lindleof gave away a penalty earlier. He misses this time.
Quezada scores. De Gea nearly saves it. He gets a hand to it but the power of it sent it in. Very lucky.
No mistakes by Mkhitaryan. He goes across his body with the right. Casilla goes the other way.
Oscar sees his penalty saved now. Brilliant save by De Gea. 0-0 after four penalties.
McTominay misses now. Casilla dives to the same spot as De Gea. McTominay obliges by putting it in the same place as Kovacic.
Kovacic sees his penalty saved by De Gea as he dives to his left. Perfect height for the keeper.
Martial skies his penalty over the bar!
 90'+3'  Game over! 1-1 it ends as we go to penalties, I believe! 
90'+3'  Gomez strikes but his right-footed effort is always going wide. Another decent chance for the youngsters.
90'  Achraf makes space for himself again down the right. His cross is too high and goes out wide the other end of the goal.
89'  Quezada with an effort now that he blazes over.
88'  Achraf has a crack. Drives it over the bar. He has looked good though down the right hand side. giving Blind plenty to think about. 
83'  That's one of the worst misses we will see in the preseason. McTominay puts it on a plater for Fellaini and he hits it with his shin, or somewhere and it foes a mile wide!
80'  Gomez nearly gets on the end of a cross after Achraf does well to win it back off Pogba. Close. Real Madrid's youngster really playing well.
78'  Lukaku gets it, looks to be fouled but United keep it. McTominay plays it to Pogba but he is dispossessed. 
76'  Water break!
73'  Quezada takes a shot form the tightest of angles. He gets it on target but De Gea beats it away. 
71'  Franchu takes off down the right and tries to skip inside. Smalling takes him out of it. Free to Real Madrid but no card.
69' Madre Mia! Casemiro absolutely buries it. 
68'  Lindleof takes Theo Hernandez out of it and gives away a penalty.
68'  Theo Hernandez makes a raiding run down the left. Mkhitaryan catches his foot and trips him up (he knew what he was doing) and turns the defender upside down.
68'  McTominay plays it to Fellaini. He's offside though. Looked close.
67'  Martial makes a run down the left, fed by Blind. Real Madrid get it out for another corner.
63'  Mkhitaryan fouls Kovacic now. Sloppy start to this second half.
62'  Fellaini meets the corner but it goes flying over the bar.
60'  Corner to United. Lethal cross by Blind.
58'  Casemiro wins a free after being bundled over by McTominay as he bore down on goal.
57'  Real Madrid holding the ball well now.
51'  And now herrera goes off just five minutes after coming on. Replaced by McTominay. 
Casilla; Achraf, Hernando, Tejero, Theo; Casemiro, Kovacic, Óscar; Franchu, Dani, Quezada is Real Madrid's starting eleven for the second half. 
51'  Ander Herrera has not recovered from that hit. His ribs it seems to be. 
48'  Herrera taken out of it by Oscar and is slow getting up. 
And Darmian on too for United.
Theo Hernandez makes his debut for Real Madrid.
46'  Back underway for the second half. 
Bling, Smalling, Herrera, De Gea, Lukaku, Pogba, Mkhitaryan all on for United.
Loads of changes coming up. Bear with us as we get them all right...
45'+2'  HT! Lingard's goal separates the sides.
45'+2'  GOAL! But it's ruled out. Kroos cross and Bale heads it down to Benzema. The Frenchman is offside and the whistle comes a little late but Marcelo puts it away to the delight of the crowd before they realise what's happened.
45' GOAL! United. Lingard taps it home at the back post. Martial goes around three Real Madrid playes and puts it on a plate for the number 14. 
44'  Modric goes around Fellaini like he wasn't there and centers. No Real Madrid players waiting for it though. United scramble it away. Marcelo, just after, wins a corner as Kroos prepares to swing it in!
43'  What a ball by Modric in behind Phil Jones in Vazquez' direction. The United defender gets back goalside and clears. Lovely move by Real Madrid.
41'  The closest United have come. Lingard has an effort after picking it up and running at the heart of Real Madrid. He fires wide with Navas reaching. Close!
40'  Bale crosses and has United scrambling to clear. 
39'  Oh. Vazquez breaks free but his cross is very poor and United counter. They aren't s clinical as they might like either and Real Madrid are back in control.
39'  Modric fouls Pereira. The former Granada loanee has been involved in plenty in the first half. 
37'  I wouldn't be surprised to see a brand new Real Madrid 11 in the second half. 
37'  Kroos with a free that he whips in. Unite ddon't deal with it very well and Real Madrid on the attack again. Nothing doing yet though.
35'  Marcelo with a dangerous cross. Benzema reaches for it but can't get it. He looks exhausted.
34'  Marcelo links up with Bale and the Welsh attacker plays it to Benzema. Looked like Benzema was fouled but he doesn't want one and the refere isn't giving him one. Decent attack. 
33'  Back in action. 
31'  Water break!
31'  Isco through to Marcelo, who meets a brick wall named Bailly as he tries to win possession of it. Sore one as it goes wide.
30'  Martial and Pereira team up before Fellaini gets it out wide on the left. He throws his left foot at it for a cross but it's dribbles along the ground. 
28'  Marcelo with an ambitious cross that Romero saves acrobatically! 
26'  Vazquez with another foul. Real Madrid starting to look tired. United with plenty of the ball in the last five.
25'  Vazquez barrels into Fellaini and gives away a free.
23'  After a very lively start, the game has calmed down a little bit. Partly because of the heat and partly because in preseason, no way teams could keep up that pace!
18'  Really good from Real Madrid. A couple of nice flicks by Benzema and Bale is almost clear through but Fosu-Mensah gets back and clears his lines.
16'  Real Madrid taking the patient route now. It works too as Nacho takes his time before finding Modric, who breaks and releases Carvajal. The Spanish right-back can't control the ball though. Throw to United.
15'  Bale thinks he's away but the ball was out over the line. Good start for the Welshman. 
14'  Fellaini and Marcelo going toe-to-toe now. Marcelo gets the better of him as the Belgian fouls. 
13'  Two lightening quick players up against each other. Varane and Rashford as the Real Madrid player gets their first and clears. 
12'  Modric looks for Bale with a ball behind after a good run. United get it away and Lingard breaks.
11'  It's one attack after another for each side here. Very little defending being done. 
10'  Bale shows some really neat footwork to put Carvajal free down the right but he coughs it up. Real Madrid are back on the attack though as Marcelo delivers a cross. 
8'  Ball to the back post that Fellaini takes down. He plays it to Rashford but Carvajal cuts it out. Danger not gone until Navas smothers a half-blocked shot. 
8'  Martial skips inside, plays a pass to Rashford and the striker drives a shot towards Navas. The keeper saves and puts it out for a corner. Really good chance for United. 
6'  Good passage of play by Real Madrid. Lucas Vazquez skips inside and delivers a cross that is cleared as far as Benzema. He plays a cross in and Romero, bravely, fists it away while clattering Bale in the process.
5'  And another mistake by Rashford gives it straight back to Isco, who is fouled. Sloppy start to the game.
4'  A lapse by Real Madrid at the back. Navas plays a dangerous ball to Nacho and he fails to clear. Corner. 
3'  Rashford thinks he's away as he steals the ball from Marcelo but he fouled the left-back in winning the ball.
 1'  Benzema puts Bailly under pressure and wins it back in United's penalty area. No support and Real Madrid lose out again.
1'  Vamos! We are underway in California. 
Carrick and Marcelo up for the toss. Marcelo wins and picks the side. 
Ronald sticks around and shakes all the players' hands. Weird.
The two teams come out accompanied by Ronald McDonald, which was a bit surreal.
31 degrees in Santa Clara. 
De Gea does not start tonight but Mourinho says he will definitely be a Manchester United player next season. Could have not selected him to keep him out of the way for the first half. Romero gets the nod.
Some more photos rolling in of the stadium tonight. 

Jose Mourinho sends out a very inexperiences side to take on Real Madrid. Zidane makes just two changes to the side that won the Champions League with Nacho and Vazquez replacing Ramos and Ronaldo. 
Manchester United teamnews: Romero, Fosu-Mensah, Bailly, Jones, Darmian, Carrick, Fellaini, Pereira, Martial, Lingard, Rashford.
No debuts tonight for Real Madrid to start. That will change surely but Zidane sticking with the tried and tested. good to see Gareth Bale getting a start as he tries to shake off his injury-plagued campaign last season.
Real Madrid team news: Navas, Carvajal, Varane, Nacho, Marcelo, Modric, Kroos, Isco, Bale, Lucas, Benzema  
Here are five issues to understand the strange and simmering feud between Real Madrid and Manchester United. 
Some debutants in Real Madrid's team tonight? Theo, Vallejo, Ceballos and Llorente will be keen to impress in preseason and will be cherishing the chance to play United on primetime in the States to start their Real Madrid careers.
With Antonio Pintus putting Real Madrid through their paces, Zidane is hoping none of his players pick up knocks or injuries from fatigue tonight, ""We hope for a good game, it's the first one and everyone wants to play and get minutes under their belts. It's game one, I hope nobody picks up any knocks, that we play well and I'm not bothered about the result. It's a case of giving it our best and nobody getting injured".
Real Madrid's top scorer in the International Champions Cup? Marcelo. He has scored four times with three strikes last year and one in 2013. Benzema is second with three goals.
During that press conference, Mourinho guaranteed that Spanish goalkeeper David De Gea will not leave the club this summer. 

Why not get yourself warmed up for tonight's match with a shufties at our preview below?
Good morning! Stay with us for the build-up to Real Madrid vs Manchester United!
Real Madrid vs Manchester United: live stream online match preview
Real Madrid kick off their preseason with a game against a Manchester United who have already played three times this summer and won all three. Two of the biggest teams in Europe and the world meet at Levi's Stadium, the home of the San Francisco 49ers, as California welcomes the two sides to the Bay Area.
Real Madrid: International Champions Cup 2017
Los Blancos' summer was filled with new arrivals until recently when Alvaro Morata and Danilo left the squad to join up with the Premier League's Chelsea and Manchester City respectively, although the Danilo deal is not yet confirmed, it is reportedly very close as Zidane says he has "gone" from Real Madrid's UCLA training base in the U.S. Zidane says of Real Madrid's summer activity, "We've had some very good players move on and some young guys come in. We always try to make improvements to the squad. We're happy with the boys who have just arrived. They're excited to be training with us and they know where they've come to. We'll see whether or not we've improved the squad over the course of the season".
Zinedine Zidane will use the next number of weeks to catch Dani Ceballos, Theo Hernandez, Jesus Vallejo and Marcos Llorente on how he likes to play as they try to squeeze their way into the manager's plans. There are few harder things to break into a Champions League and league winning side but there should be opportunities over the next couple of weeks.
Gareth Bale is currently enjoying his first ever full preseason with the Spanish side and will try to build up his fitness to avoid the injury-tormented season he suffered through last year.
Cristiano Ronaldo is on an extended holiday having led Portugal to a semi-final in the Confederations Cup in June before leaving early to greet his two new born children. There will be opportunities for Marco Asensio due to his absence. There will also be a chance for Zidane to try new things based on the fact that Morata is gone and Real Madrid don't have a second striker on the tour.
Manchester United: International Champions Cup 2017
Jose Mourinho has coached his side to three victories in the States so far with wins over LA Galaxy, Real Salt Lake and Manchester City most recently. Romelu Lukaku, the side's biggest summer acquisition has scored twice in his first three games with the goal against Manchester City to give his side the lead the pick of the two thus far. He seems to have adapted to life at the club quite well and will likely play a big role against on Sunday night in California as he continues to build bonds with his new teammates.
United still have questions marks in defense with Jose Mourinho whipping off Daley Blind, Chris Smalling and victor Lindleof at half-time against City despite saying most of the players would play for 60 minutes. He was clearly unhappy with their performance against a rusty and unfit City side. Eric Bailly and Phil Jones came in along with Mateo Darmian at left-back but the Portuguese manager seems unsure as to what his best back four is. Reports also surfaced during the week that he is looking for a right-back as Antonio Valencia, a stalwart at the club, comes to the end of his distinguished career despite playing and playing well against City. Mourinho, however, said this was by design: "We played with two back fours and two goalkeepers. Against Real Madrid we will do the same. I don't change my words because we win or because we lose. We are here to train and to give everybody time.
"In this game [against Manchester City] we played Eric Bailly with Phil Jones, and Chris Smalling with Victor Lindelof. The next game with Real Madrid I will change. I will play Lindelof with another one, and Bailly with another one. Everything is going okay for us."
Meanwhile, United's midfield seems to be taking shape with Paul Pogba and Ander Herrera beginning to assert themselves on operations in the middle. Alongside Henrikh Mkhitaryan in attack, who has impressed during the preseason, the consistency these players have been offered seems to be working well with their confidence and influence on the side.
Real Madrid vs Manchester United: possible line-ups
Real Madrid: Keylor; Carvajal, Nacho, Varane, Marcelo or Theo; Casemiro, Modric, Kroos; Isco, Bale, Benzema.
Manchester United: De Gea; Valencia, Baily, Lindelóf, Smalling; Herrera, Pogba, Luingard; Rashford, Lukaku, Mkhitaryan
Real Madrid vs Manchester United live stream online: betting
Real Madrid are favourites to take the spoils at Levi's Stadium, with Los Blancos priced at 5/4 to beat Manchester United, who are valued back at 21/10.
Place your bet on Real Madrid vs Manchester United now.