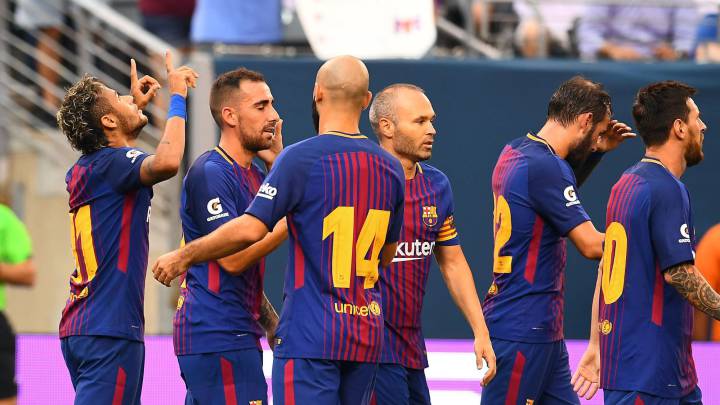 Neymar needs to come out publicly and clarify once and for all the speculation linking the Barcelona forward with a 222m-euro move to Paris Saint-Germain.
After his virtuoso display in Barça's 2-1 win against Juventus in the early hours of Sunday morning, the impression that he is hungrier than ever is unshakeable, while the chemistry that he has with his team-mates is clear to see.
Neymar Sr watches victory over Juve with Barcelona directors
The player's father was expected at the Parc des Princes, and ended up at MetLife Stadium in New Jersey. Neymar Sr watched the International Champions Cup clash with Barça directors (president Josep María Bartomeu has now returned to Catalonia, but is to fly back to the US on Thursday) and left the ground with them.
Sources at the LaLiga club were categorical on Saturday evening. Neymar's meeting with Bartomeu after training on Friday may have proved crucial, with the conversation said to have been "short, tough and intense".
"Though they didn't look very happy when they came out, the feeling is that Neymar isn't going to leave," Diario AS was told.
Barcelona team-mates optimistic Neymar will stay
Everything remains up in the air, and what the Brazil star must do is sit down in front of the press, or use social media, and clear up his future. And quickly.
Coach Ernesto Valverde has confidence in Neymar's judgement, while the 25-year-old's Barça colleagues have sought to put an arm around the shoulder of a figure they value highly both for his dressing-room presence and his footballing quality.
They're optimistic that, sooner rather than later, it will be confirmed that Neymar is staying at the Camp Nou.