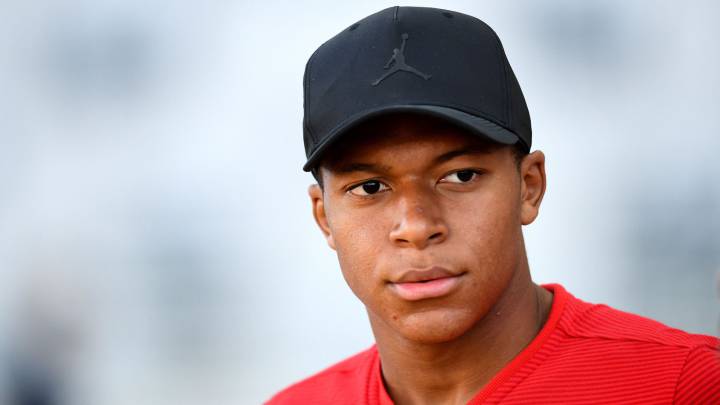 The French newspaper L'Équipe states that Kylian Mbappé has decided to leave AS Monaco.
Mbappé tired of contract wait
The youngster has grown tired of waiting for an offer of a new contract from his club, and has his mind set on moving this summer. He has told some of his team-mates at the Ligue 1 champions of his intentions.
Mbappé appeared frustrated as his side fell to defeat at the hands of PSG in the French Super Cup final, when he was substituted on after 70 minutes. Since then, he has turned his gaze to the clutch of clubs fighting for his signature.
Monaco would demand €180m (€224m gross) for their striker. Naturally, there are many interested parties. But the high price whittles the list down to an elite few that possess deep pockets.
PSG
With the imminent arrival of Neymar at PSG, Mbappé will not be able to make a domestic move north to his home city. The Parisians will have to justify the origins of their expenditure on Neymar amid strong suggestions that they are trampling all over Financial Fair Play, so another big-money transfer is out of the question.
Manchester City
Pep Guardiola's Manchester City are also tracking Mbappé. Yet after a hefty outlay on Mendy, Walker, Bernardo Silva, Ederson, Danilo, and Douglas Luiz (€240.5 in total), City would have to sell before they can buy. In addition, their need for reinforcement in defence is greater that in attack. Given that Manchester United and Chelsea have already made their striker purchases (Lukaku and Morata respectively), Spain appears the likely destination for Mbappé.
Real Madrid
Real Madrid are extremely interested, and have been pursuing Mbappé for the last three months. Florentino Pérez is a fan, and the departure of Álvaro Morata has created a space in Los Blancos' squad, albeit not necessarily as guaranteed starter. Zinedine Zidane has said publically that he does not need another striker, yet Marcelo has spoken favourably about a move for the 18-year-old: "If he comes, he would be welcome. He has a big future."
Barcelona
L'Équipe suggests that Barcelona are best placed to sign Mbappé. The Catalan club have marched in to the auction room, with Neymar's €222m move to PSG imminent. The Brazilian's departure has created a gap in the team for a top-class player, and while Barça are considering a selection of players (Dybala, Dembelé, Coutinho, Griezmann…), a move for Mbappé would deliver a simultaneous blow to Real Madrid.
There is a Little under a month remaining for these clubs to present an offer to Monaco. Les Rouges et Blancs will not let their star man leave easily, particularly given that Mendy, Bernardo Silva, Bakayoko, Diallo, Jean, and Dirar have already left the club for a toal fee of €167.5m, and clubs are circling around Fabinho, Sidibé, and Lemar. Mbappé will have the final say.