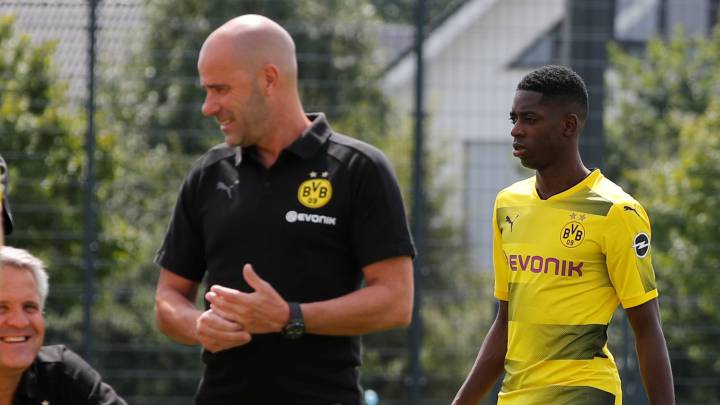 Borussia Dortmund say they have rejected a bid from Barcelona for Ousmane Dembélé, who on Thursday failed to show up for training with the Germans.
In a statement, the Bundesliga club said Barça had made an initial, undisclosed offer that "did not match the player's extraordinary footballing abilities."
Barça are keen to sign Dembélé, reportedly valued by Dortmund at 120m-150m euros, as they look to replace Neymar, who joined Paris Saint-Germain for a world-record 222m euros earlier in August.
Dembélé suspended by Dortmund after missing training
Dortmund have also revealed that they have suspended Dembélé until after Saturday's DFB Pokal clash at Rielasingen-Arlen after skipping training in an apparent attempt to force through a move.
"Dembélé didn't train today and we don't know why," head coach Peter Bosz said in a press conference. "We've tried to reach him but haven't managed to.
"I spoke to him yesterday. He was in Paris with his friends; he didn't say anything about a possible transfer to another team."
Real Madrid now tipped to sign Dembélé too
Meanwhile, reports in the Catalan media say that Real Madrid are now plotting to snap up winger Dembélé from underneath their arch rivals' noses.