Barcelona 1 - 3 Real Madrid: as it happened, goals, match report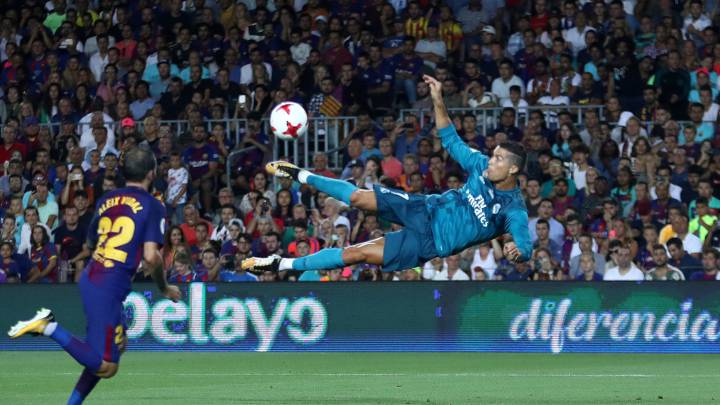 Barcelona 1 - 3 Real Madrid: match report
Real Madrid will return to the Santiago Bernabéu in the ascendancy after a Spanish Super Cup first leg that crackled in to life after half time. It was a memorable night for Cristiano Ronaldo, who came on as a second-half substitute, scored a sumptuous goal, and was promptly sent off for two bookable offences. Ronaldo's protagonism was such that a Piqué own goal, a contentious Barcelona penalty, and an arrowed screamer from Asensio all assumed supporting roles.
Before the match at Camp Nou, there was a sense that Barcelona needed to stem the flow of momentum towards the Spanish capital. The two clubs find themselves on opposite trajectories, with Barça reeling from the loss of Neymar, and Madrid a portentous force under Zidane. On the evidence of this evening, that momentum continues to edge inland.
The first half was stale; a pale, skinny version of the enthralling match between the two sides in Miami earlier in the summer. Luis Suárez had the best chance of the half, taking down a lofted pass from Iniesta like a feather, before firing a left-footed shot down the throat of Keylor Navas. As the game strolled towards the break, Ernesto Valverde would have been content with the first 45 minutes of his tenure as Barcelona manager. It was unspectacular, but it was solid. In the second half, that would change.
Real Madrid drew first blood five minutes after the restart. Marcelo, like a rampant bull on the left flank, fizzed a ball across the face of goal. Gerard Piqué stretched to make contact, and succeeded only in looping the ball oven open-mouthed Ter Stegen, and in to the bottom corner. Piqué sat on the turf, glum, disconsolate.
Just before the hour mark, Ronaldo entered the stage. He soon put himself front and centre, attempting an acrobatic effort from Gareth Bale's cross when a header would have sufficed. Bale, for his part, continued his anonymity from pre-season.
After 78 minutes, Barça were fortuitously granted a chance to level the match. Suárez skipped towards the byline and, expectant of contact from the onrushing Navas, hurled himself to the ground. Referee De Burgos, officiating his first Clásico, pointed to the spot. It was harsh, but Suárez took advantage of Navas' clumsiness. Messi exhaled, stepped up, and rolled the ball in to the corner.
The parity was short lived. Two minutes later, Isco, the lubricant to this Madrid machine, found Cristiano Ronaldo on the left. He took the ball under his control, shifted on to his right foot, and curled a wonderfully-shaped shot in to the top corner. He tore off his shirt and flexed his muscles, a serious expression on his face.
A dose of hubris soon arrived, accompanied by the challenge of Samuel Umtiti. The two tussled for the ball in the box, and Ronaldo tumbled. It was not a penalty, but nor was it a dive. The two went should to shoulder, and the Frenchman was stronger. The referee saw it as simulation, and reached to his pocket for a second yellow card. Ronaldo responded by shoving De Burgos, a reaction he will almost certainly be punished for.
It would have been fitting for that act to be the curtain closer, but Marco Asensio's goal on the counter-attack secured Madrid's advantage with blistering pace and breathtaking quality. It was a goal worthy of superlative. Asensio allowed the ball to roll across his body before unleashing a fierce shot in to Ter Stegen's near top corner. It scudded off the crossbar before settling in the net.
The Super Cup will not be decided until Wednesday evening at the Bernabéu, but Real Madrid have it by the scuff of the neck.
Barcelona 1 - 3 Real Madrid: El Clasico as it happened
90' Full time. 
90' Three minutes of added time. 
90' GOOOOOOL! Asensio finishes off a counter-attack with a scorching effort in off the bar! 
88' The match has settled down a little. Madrid, now with ten men, look content to sit back and absorb the Barcelona pressure. They look capable of absorbing the pressure, too. 
85' Valverde looks calmly on from the touchline as everything goes a little crazy in front of him. Both sets of players bundle in on each other after Busquets went in firmly on Carvajal. 
82'  Ah, of course, Ronaldo's first booking was for taking his shirt off celebrating his goal. That's rather hubristic. 
82' Ronaldo is off! The referee gives him a yellow card for diving under Umtiti's challenge, and apparently, that's his second. He's off. There was contact from Umtiti. It wasn't a penalty, but nor was it a dive. 
81'  Vazquéz replaces Bale. That's Madrid's third and final change. 
80' GOOOOL! Cristiano Ronaldo with a gorgeous curler from the left! 
78' Denis Suárez flashes a low shot just wide, but the linesman's flag is up. He was offside when Messi dinked through the pass. 
77' GOL GOL GOL! Messi sends Navas the wrong way. 
77'  Messi stands over it and inhales. 
75'  Penalty to Barcelona! Navas upended Suárez and is booked. 
74' Carnage in the Madrid box! Ramos leaps to meet a ball falling from the air, misses, and Denis Suárez controls it before cutting inside. Just as he is about to shoot, he is tripped from behind, diverting the ball in to the path of Busquets, who blasts over on the slide. Goal kick. 
72' Clever footwork from Luis Suárez allows his namesake, Dennis, the chance to shoot from the left hand side of the box. He goes for curl, but his shot is tame, and it loops in to Navas' arms. 
70' That was nearly very, very nice. Bale cuts in from the right and whips a cross to Ronaldo at the far post. Instead of heading it, the Portuguese flings his body in the air and attempts an acrobatic effort. He connects, but not cleanly. Moments later Ronaldo does have the ball in the net, but he was narrowly offside. 
69' Messi whips a ball to the near post, but Navas dives out ot smother it. Barça have put in vast quantities of low, driven crosses. Very few have worked. 
68' Asensio replaces Kovacic, and Sergi Roberto replaces Iniesta. 
67' Denis Suárez' corner is headed clear as far as Vidal. He takes it down on his chest and, under pressure, swings a wild right boot. The ball skews wide. 
64' Now Varane goes close to putting it in his own net. This is all going a bit Benny Hill. Suárez looked to have taken a heavy touch, but he made up the ground and cut the ball back from the byline. Varane, flat-footed, breathed a sigh of relief as it spun off his foot and wide. 
62' Ronaldo has the ball at his feet for the first time. He runs at Piqué and shimmies a little, but the defender reads it well to clear for a corner, which he then clears himself. 
59' Navas acrobatically tips a Suárez header over the bar. That was creeping in from Messi's inswinging corner, but the Costa Rican was equal to the Uruguayan. 
58' Here comes the main man. Ronaldo replaces Benzema. For Barcelona, Denis Suárez replaces Deulofeu. 
57' Busquets is booked, rather harshly, for grappling with Isco in the centre of the pitch. 
55' Jordi Alba with a sensational, diving block on the goal-line to deny Carvajal from close range. Benzema's cross flew through everyone and the right-back was alone at the far post. 
53' So close to an equaliser! Rakitic sets Vidal free to gallop in to the box. His low cross just evades Messi, but finds Deulofeu at the far post. The former-Everton man composes himself, and curls a cross-cum-shot towards the bottom corner. It flashes agonisingly wide. 
51' Ooooft! It's almost a second own goal in similar circumstances, as a cut-back hits Busquets on the head and flashes behind. 
50' Marcelo flashes a venomous ball across the face of goal, and Piqué, stretching to make contact, can only turn it beyond a despairing Ter Stegen. 
50'   GOOAALLLL! Piqué turns the ball in to his own net! 
48'  Messi squeezes through a couple of challenges and, poised to pull the trigger, Ramos trips his standing leg. That looked like a penalty. Meanwhile, Ronaldo emerges from the dugout and trots down the line for a limber. 
47' Deulofeu frantically chases down Varane, but nothing comes of it. The man on Barça's left wing has been blunt so far. 
46' We're up and running! Madrid kick off second half proceedings. 
The teams are strolling back out on to the pitch. No half-time substitutions, by the look of it. 
'It wasn't me guv'.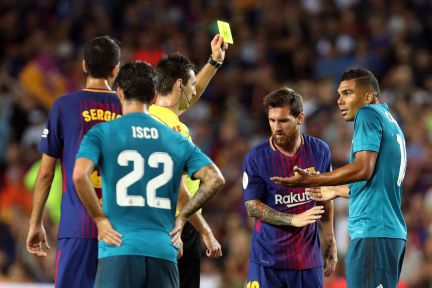 At present, the match is evenly poised. But Real Madrid have far more 'game-changers' available on the bench. Ronaldo, Asensio, Lucas, or Ceballos could all inject something extra. Valverde doesn't have that kind of depth to draw upon. 
A first half full of crunching tackles and frenetic play, but neither side really grasped hold of proceedings. 
45' Half time. 
45' Bale leaps like a salmon on a trampoline at the far post, but he still can't get his head over Carvajal's cross. It flies over. 
44' Barça are ending the hald in the ascendancy. All of the play is taking place in Madrid's third of the pitch. But they can't find the incision, the final ball. 
43' The tackle that earned Casemiro a yellow card earlier on.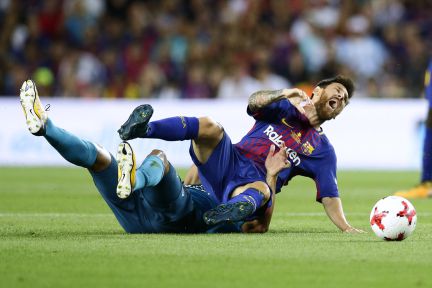 41' Carvajal booked for upending Iniesta. The barça midfielder had spread the ball wide to Deulofeu with a first-time pass, and Carvajal arrived late. 
40'  Busquets and Messi double-team Casemiro after the ball had ricocheted off the referee. The former is booked. 
37'  Bale stings Ter Stegen's palms! Isco jinked with the ball at his feet on the left, before whipping a low ball to Bale. The Welshman, arriving late on the edge of the six-yard box, rasps volley towards goal but the 'keeper tips it over. Barça clear the corner and Alba careers up the left. One-on-one with Carvajal, the Madrid man comes out on top. A frenetic minute of football. 
35' Rakitic and Suárez neatly combine on the edge of the box, and Carvajal has to be alert to cover in front of the Uruguayan as he charges towards the six-yard box. Barça take the corner short, and recycle possession. 
33' Iniesta shifts on to his left foot and threads an incisive pass through to an onrushing Alba. He cuts the ball back from the byline, but Navas arrives just before Messi. Imaginative play from Valverde's side. 
31' Marcelo is now down, holding his back. He looks a touch sore but will be fine to continue. 
29' Great defensive work from Alba to clear Marcelo's probing cross at the far post. He's under pressure from Bale, but gets a crucial interception. Marcelo absolutely flummoxed Vidal after Isco found him in hectares of meadow out on the left. 
28' Piqué is booked for attempting a flagrant 'Hand of God' from the subsequent corner. 
27' Deulofeu finds himself with space to run in to on the left, but he decides to cut inside towards a cluster of bodies. Barça win a corner, nevertheless. 
24' Gareth Bale is the next man to haul down Messi rather, erm, agriculturally. The Argentine had gained momentum on the edge of the box, and that's probably quite a good foul to give away. Messi gets up and takes the free-kick, which flies over. 
22' Cristiano Ronaldo with a rare view of a match from the perspective of the bench.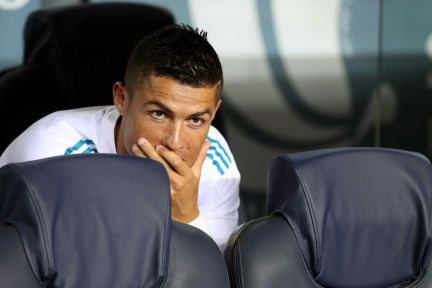 20' Handbags ahoy! Messi is down on the turf holding his face. Casemiro went through the back of him like the 07:15 to London Euston, and the Brazilian is booked for his troubles. Finger-wagging aplenty from Marcelo, who attempts to defend the indefensible. 
18'  Iscooooo... side netting. The man from Málaga throws a stepover, shifts on to his left, and then back on to his right before flashing a low shot just wide of Ter Stegen's near post. As ever from Isco, he was so well-balanced on the ball. Lovely to watch. 
15' Umtiti sets a few pulses racing. He allows a long ball to bounce, several times, with Bale bearing down. With the ball deep in the penalty area, the Frenchman slips a toe in and turns out. I'm not sure whether that was very suave, or totally unnecessary. Anyway, Umtiti plays the ball to Vidal, who charges up the right flank, right to the byline. His cut-back is agonisingly behind Suárez, and Madrid scoop it clear. 
13' Messi misplaces a pass to Rakitic, and Benzema looks to have a clear run towards the Barça defence. Referee De Burgos toots his whistle, and adjudges that Kroos was nibbling a little too enthusiastically at the Argentine's heels. The home side launch a new phase of play from the dead ball, which culminates in Sergio Ramos outstretching his right leg to block a through-ball intended for a lurking Suárez. 
10' Suárez with the first meaningful chance of the game! The Uruguayan gathers a long ball with the point of his outstretched toe on the edge of the box, shimmies on to his left foot, and shoots low. He doesn't quite get enough 'angle' on it, and Navas gathers. The diagonal pass came from Iniesta, and it was sumptuously weighted. It landed like a feather on Suárez' boot. 
8' Marcelo gets creative. He tries an elaborate drag back to set Bale free on the left wing, but the Welshman gets mixed up with Benzema and Barça regain possession. It's clear that Benzema and Bale are feeling their way in to this partnership, a little unsure of each other's movements. 
6' Barça win the first corner of the game. Alba had won it, but Ramos rises imperiously to nod clear under pressure from Umtiti.
5' Isco is floating around in the 'hole' just behind Bale and Benzema. Madrid are narrow in midfield and attack, which is giving Carvajal and Marcelo (in particular) a real chance to gallop forward. 
4' High-octane, end-to-end stuff so far. Neither side has settled in the first few minutes, with both giving the ball away cheaply on several occasions. 
2' Isco has an early pop from 40 yards after sliding in to cut out the 'keeper's pass towards Busquets. He tries to chip Ter Stegen, but the German gathers the ball in to his midriff. 
1'   Barcelona get the 2017 Spanish Super Cup underway! A slightly awkward kit clash, with Real Madrid wearing a blue away strip. 
The teams come out in to a reasonably busy Camp Nou, which sparkles with the flashes of thousands of cameras. 
I'm not sure which is worse: the concept or the execution...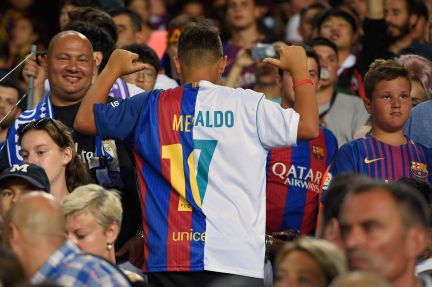 The teams are trotting down the steps of the Camp Nou tunnel. Handshakes and back-slaps all round. Cristiano pops out and takes a seat in the away team bench. 
This is the first meeting between these teams in the Super Cup since 2012, when Mourinho's Madrid emerged on top. That prevented Barcelona making it four Super Cups in a row. 
The two teams are finishing up their warm-ups after a dizziness-inducing display of rondo tip-tappery. Final words from the coaches and then we'll be underway at Camp Nou. 
There's nothing quite like a picture of pensive young'uns in opposing kits, eh?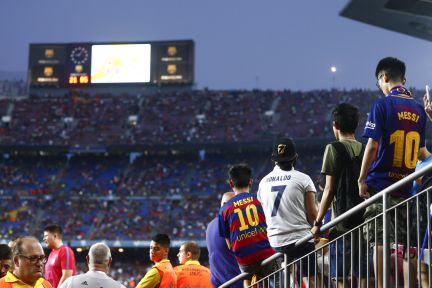 Cristiano Ronaldo has notched 16 in 27 Clásicos, which is by no means to be sniffed at either. 
He may not have scored in a Camp Nou Clásico for a while, but Messi's overall record in matches between Barcelona and Real Madrid is 23 goals in 34 games. 
It has been an important few days for Real Madrid, with Isco signing a new contract that will keep him at the Bernabéu until 2022, and Zinedine Zidane also scribbling on the dotted line to extend his stay by three years. It has all the hallmarks of, dare I say it, a period of stability at Madrid. 
It's a big night for Deulofeu. At present, he is unchallenged for a spot on the left wing. That may well change before the end of the transfer window, but nevertheless, he has a chance to show that he can contribute.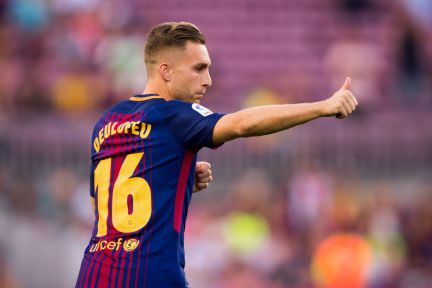 Madrid's system is less clear. A 4-3-1-2 appears the likely system, with Isco sitting just in front of Kroos, Casemiro, and Kovacic, and just behind the front two of Bale and Benzema. 
 The Barça formation is straightforward to unpick - it's the usual 4-3-3 with Deulofeu slotting in on the left wing in Neymar's absence. Ernesto Valverde's team selection does not include any surprises. Aleix Vidal plays at right back after a rotten season with injury. 
 Barça XI: Ter Stegen; Aleix Vidal, Piqué, Umtití, Alba; Busquets, Rakitic, Iniesta; Messi, Suárez, Deulofeu.
Real Madrid XI: Navas; Carvajal, Ramos, Varane, Marcelo; Casemiro, Kovacic, Kroos, Isco; Benzema, Bale.
In the midfield, Luiz Felipe Scolari has confirmed that Barcelona will sign Paulinho. 'Big Phil' is the manager of Guangzhou Evergande, Paulinho's (soon-to-be) former club.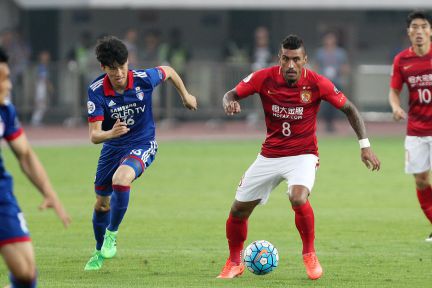 Yet Barcelona may still be able to find value in the centre of defence, where they are eyeing a move for Colombian Yerry Mina. Barça would be able to buy the highly-rated Palmeiras player for €9m, a remarkable bargain in the current market. Mina suffered a foot injury in a Copa Libertadores last week, but it is still hard to conceive that Barça will not move for such a talented player at such a low price. 
Ousmane Dembélé and Philippe Coutinho have both been earmarked as potential replacements for Neymar. But it'll cost Barça to take them to Camp Nou. Their combined price would exceed the €222m that the sale of Neymar generated. Gerard Piqué has stated that Dortmund and Liverpool are 'taking advantage of the situation', in the knowledge that Barcelona have a thick wad of cash to spend. 
Real Madrid's work in the transfer market looks to be done, with a big-money swoop for Kylian Mbappé looking increasingly unlikely as the young Frenchman nears a move to his hometown club, PSG. Barça, on the other hand, have a great deal of work to do. 
The referee this evening will be Ricardo De Burgos Bengoetxea. The whistleman from Bilbao has been a Primera División referee since 2015, but this is his first Clásico. 
The Real Madrid players are heading on to the bus. A remarkable lack of Louis Vuitton wash-bags perched under arms... are they not aware of their obligations as footballers? 
One man who will play no part at Camp Nou is Luka Modric. The Croatian will miss out through curious circumstances, as he serves a ban picked up in the 2014 Spanish Super Cup, when he received two yellow cards. His compatriot Mateo Kovavic is expected to slot in to the midfield in his place.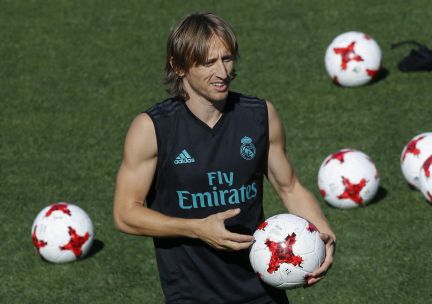 The Madrid squad are currently congregating in their hotel reception to board the team bus. There will be no time for sight-seeing after the match, Los Blancos will fly home at 02:30, and will train tomorrow at 17:00 at Valdebebas. 
For the footwear aficionados amongst you, here is an interesting break-down of tonight's teams... based on what boots they will wear. The final score is Nike 12 - 10 Adidas. 'Not a plain black leather boot in sight,' I cry, revealing my 'proper football bloke' credentials. 
Real Madrid goalkeeper Keylor Navas has spoken, along with everyone else, about Neymar's move to PSG. "Losing Neymar won't make Barça weaker," said the Costa Rican with not a hint of mind games.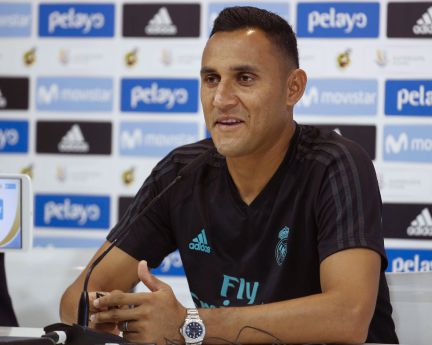 Cristiano Ronaldo has said during an interview that he doesn't see himself playing as a centre forward. So that's a relief for Liga defenders...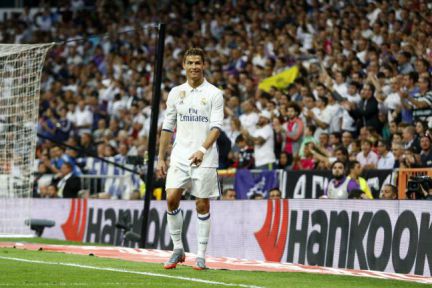 Marcos Llorente and Borja Mayoral have been left our of Real's squad by Zidane, as they were in Skopje against Manchester United, posing questions about their chances of making it into the Frenchman's plans for the 2017-18 season. Another loan spell?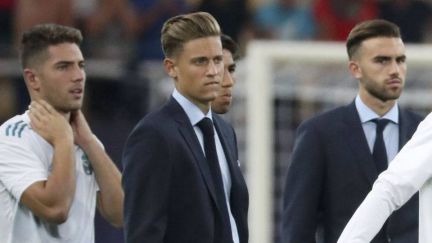 Zinedine Zidane, meanwhile, has signed a new contract at Real Madrid and was in cheerful boding ahead of the game but admitted a three-year-deal at the Bernabéu means little. "We've worked hard but the objective are the same as always - to win everything possible. Here, we live from day to day and I know that in a year's time I might not be here."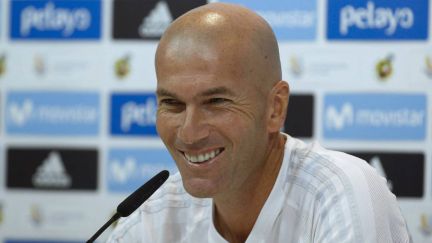 Ernesto Valverde said during his first press conference ahead of a competitve game that he feels Barcelona can cope without Neymar. Doubtless they will, but the Brazilian's departure certainly came as something of a shock and Barça have yet to find an adequate replacement, despite various bids being lodged for other players. In any case, Valverde will have to come up with something sans Neymar for tonight's game.