Transfer market live online: Monday 14 August 2017
Rumours, transfers, speculation, done deals: all the summer signings and departures in LaLiga, the Premier League, Serie A, Ligue 1 and beyond.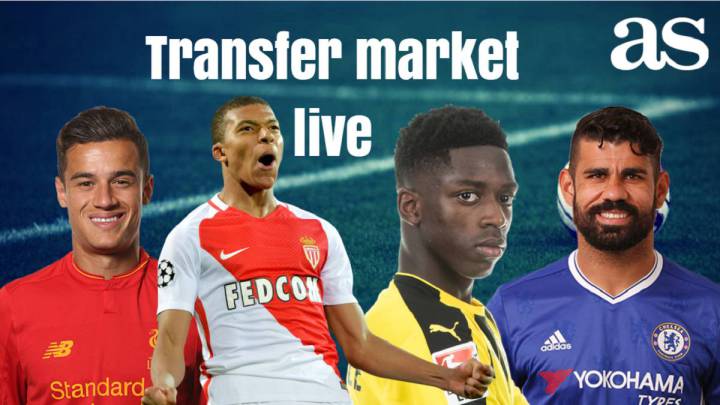 Once again in the summer transfer market, clubs around Europe are cranking up their efforts to find those perceived missing pieces of their footballing jigsaw puzzles. Join AS English for live transfer news throughout the day as we keep you up to date on all the movements happening in European leagues and beyond. Rumours, talks, expected deals, completed signings, contract extensions - it'll all be covered right here.
Transfer market live: Monday 14 August 2017
Atlético, meanwhile, are going a bit Debbie Harry and hanging on the telephone waiting for Chelsea to decide what to do with Diego Costa.

Sevilla have agreed a four-year contract extension with Spain keeper Sergio Rico.

 Real Betis confirm the signing of Javi Garcia, the Spanish born player moving back to LaLiga following three campaigns with Rusian side  Zenit St. Petersburg

Serie A side Sampdoria bid 16 million euro for Atleti's Luciano Vietto  

Breaking: Philippe Coutinho not included in the Liverpool squad for Hoffenheim adding to the ongoing speculation that a Camp Nou move looms

 Stoke City expected to confirm Jese loan deal from PSG later today