Hoffenheim 1 - 2 Liverpool: as it happened, goals, match report
Hoffenheim 1 - 2 Liverpool: match report
Liverpool will take a one goal advantage to Anfield as the hunt continues for a place in the Champions League group stages. Andrej Kramaric missed an early penalty for Hoffenheim, before 18-year-old Trent Alexander-Arnold swept Liverpool ahead with a sensational free-kick. A Nordtveit own goal double the visitors' lead, but Uth took advantage of slap-dash defending to pull a goal back.
It was a case of master versus pupil. The analytical mind of Julian Nagelsmann, the 30-year-old Hoffenheim coach, was spotted by Thomas Tuchel, Jürgen Klopp's assistant at Borussia Dortmund. So tracing the family tree of the gegenpress, the match unfolded above a sub-plot of a meeting between grandfather and grandson. It was enthralling from the off.
Hoffenheim began with frenetic energy. The team from a village of 3000 made it to the Bundesliga in 2008, and continued their upward trajectory in their Champions League bow. After ten minutes, Serge Gnabry twisted, turned, and dizzied Dejan Lovren in the box. The Croatian flailed a desperate leg, Gnabry collapsed, and the referee put his whistle to his lips to signal a penalty. Andrej Kramaric stood over the spot, exhaled, and dragged an anaemic effort to Simon Mignolet's left. It was at the perfect height for the 'keeper, who parried the ball clear.
An attritional spell ensued. The two tactical systems prodded and probed each other until Mo Salah broke the line. The Egyptian seized upon a loose pass, and with the Hoffenheim back-three pressing high in to the Liverpool half, he had a clear run at goal. Perhaps the run granted Salah a little more time than he would have liked, as when it came to the finish, he was hesitant. The ball skidded wide.
Salah and Mane, Liverpool's incisive wingers, sporadically threatened. On 35 minutes, Mane fashioned space for himself and burst inside. The Senegalese winger has a remarkable ability to accelerate away from the attention of defenders, like an enraging, unswatable fly. Bicakcic brought him to an abrupt stop 30 yards from goal, but gave away a foul and entered the book in the process.
Trent Alexander-Arnold, Liverpool's 18-year-old full back, was not an obvious candidate to take the free-kick from the crowd of players who stood around the dead ball. Yet as the others dispersed, he remained, eyeing up the goal with a furrowed brow. His swirling shot skimmed over the top of the wall, and settled in the bottom corner. Oliver Baumann didn't even bother to dive.
The home side continued to threaten. Their movement was too fluid for Liverpool to follow at times. Just before half time, Sandro Wagner grazed the outside of the post. Nagelsmann hurled a plastic bottle at the wall of his dugout. The fine margins were in Liverpool's favour.
The game opened up in the second half as lactic acid levels rose. Both sides deployed an intense, high-pressure game, and sloppiness crept in. The fresh legs of James Milner proved to be an outlet for Liverpool. A quick Wijnaldum free-kick found its way to the former-Manchester City man on the left wing. He looked up, and clipped a ball towards Salah at the back post. It did not find its target. Instead, a deflection off Havard Nordtveit spun the ball in to the top corner.
Liverpool looked well on their way to inflicting a first home defeat on Hoffenheim since May 2016. But with the Bundesliga side on the ropes, Liverpool's absent-minded defending once again reared its head. With three minutes remaining, Nordtveit launched a speculative long ball towards Mark Uth. Between them, Matip and Alexander-Arnold should have cleared with ease. Yet they were preoccupied with appealing for offside, and Uth snuck in to striker a fierce low drive in to the bottom corner.
Liverpool return to England with two ever-important away goals, but amid a cloud of persistent problems. Klopp's defence remains porous, and as such, the tie remains open.
Hoffenheim 1 - 2 Liverpool: as it happened
90'+4' FT. 
90'+4' Milner rolls the ball to Grujic on the edge of the box, and his shot nearly deceives Baumann after taking a wicked deflection. The 'keeper sticks up an arm to recover, and catches the ball as it falls from the night sky. 
90'+3' Demirbay is down in a heap, and hops off the pitch to allow his team to continue. 
90'+1' Four minutes of added time, by the way. 
90'+1' Liverpool fail to deal with the delivery, and breathe a collective sigh of relief as Huebner's free header sails over. 
90' Hoffenheim look to have pinned Liverpool back, but they escape through Salah on the left. He plays Wijnaldum, who is adjudged to have shoved Vogt in the box. A harsh call. Up at the other end, Grujic is penalised and Hoffenheim have everyone up for the set piece. 
89'  Grujic replaces Mane, with Klopp ostensibly seeking to sure up his midfield. 
87' GOOOOLLLL! Uth latches on to a long ball from Nordtveit, and with Alexander-Arnold busy appealing for offside, he thunders the ball in to the bottom corner. That was so, so easy. Liverpool fail to deal with a simple, lumped ball forward. 
86' Liverpool know that a third goal will kill this, but it's just evading them. Mane tries to bring Salah's through-ball-cum-header in to his stride, but his touch is heavy and Baumann is quick off his line to scoop the ball up. 
84' Solanke replaces Firmino. 
83' Mane finds himself bearing down on goal, the culmination of a sweeping counter attack. Tired legs get the better of him, and he hits a horrible slice wide from 18 yards out. 
82' Hoffenheim provided a reminder that they're still in this game. Kramaric nods the ball down for Uth, and his low shot on the half volley is parried by Mignolet. 
81' Firmino, shapes to shoot with his right, pirouettes past Vogt, and squares the ball with his left. Baumann dives out to claim at the feet of his defenders. 
77' Nordtveit tackles Moreno at the crucial moment as he jinked his way in to the box. The ball falls to Mane, who nips past a couple of players but is eventually crowded out. 
76' Hoffenheim are on the ropes. Huebner is booked for scything down Firmino as Liverpool swarm forward on the counter attack. It's all Liverpool now, wave after wave of attack. 
74' GOL GOL GOL! James Milner collects the ball out wide, clips a cross in, and the ball deflects in to the top corner off Nordtveit. Wijnaldum took a smart, quick free-kick to begin that move, and the ball appeared to be rolling... 
73' Nagelsmann gestures for his side to settle down. They've become skittish all of a sudden. 
71' Gnabry trots off for Hoffenheim's final change. Mark Uth, whose surname sounds a bit like the noise a crowd makes after a blood-and-guts tackle, takes his place. 
70' A loose pass from Huebner, tiredness creeping in, allows Milner to thread Salah through. He shoots low on his right foot, and Baumann parries clear. Lovren leaps well from the corner and directs a header towards goal, but it's straight at the 'keeper and a comfortable gather. 
68' Alexander-Arnold chinks inside and steams forward. He makes it to the edge of the box, where he's forced to become airborne in order to avoid Huebner's lunge. The referee waves play on. 
66' Zuber is strong and fast on the left. He makes it to the byline before cutting the ball back to Gnabry. He swings his left foot at the bouncing ball, and skews his shot well over. A tricky chance, and he leant back a little too much. 
64' Liverpool switch off as Milner enters the pitch, and Hoffenheim take a quick free-kick down the line to Amari. In acres of space, he dinks a ball to the far post, which Matip heads behind. Hoffenheim swing in a couple of threatening corners, but Liverpool clear. 
62' Klopp shuffles his pack for the first time, with James Milner taking the place of Jordan Henderson in midfield. 
60' Alexander-Arnold tries to whip a low ball across the face of goal, but he loses his balance ever so slightly, and the ball skims through in to the expectant arms of Oliver Baumann. 
59' A long spell of Hoffenheim possession comes to an overcooked conclusion as Kaderabek puts too much on a pass intended for Gnabry. 
55' Alexander-Arnold booked for being gobby towards the referee. 
54' Kramaric ghosts in to the sizeable gap between Lovren and Moreno, but he can't bring the ball down and the ball bounces out for a goal kick. You could park a cruise-liner between the Liverpool defenders; it's hard to see them seeing this out for a 0-1 away win. 
52' Hoffenheim make two changes with Bicakcic making way for Nordtveit and Amiri replacing Rupp. 
52' Emre Can enters the book for a niggly foul. 
51' Mane keeps the ball from going out for a goal kick, fronts up his marker, and skips away from him in to the box. The Senegalese man has frightening pace over five yards, but his low shot is parried bt the 'keeper. 
49' Gnabry has the ball in the net at the near post, but the flag is up. He's down now after a challenge with Wijnaldum... it looks like he took a knock to a particularly sensitive area. 
47' And then Liverpool go straight up the other end and Baumann denies Firmino, played in by Mane, from close range. A positively frenetic start to the second half. 
46' Hoffenheim threaten immediately through Zuber on the left. The ball flashes across goal, but Moreno gets ahead of the attacker and clears. Good positioning from the Spaniard, which we don't seem to say too often. 
46' They're back at now, and get the second half going. 
Liverpool are out on the pitch waiting for Hoffenheim to be so kind as to join them. 
Kevin Vogt, Hoffenheim's captain and central defender, has caught the eye. Superbly comfortable on the ball, and has somehow managed to keep up with Liverpool's attackers when they've threatened to break free. 
Liverpool, meanwhile, have lacked a creative spark for much of the match. They boast pace in abundance, yet there is nobody in the midfield threading passes through to the intrepid front three. 
Hoffenheim will trudge in to the dressing room disappointed to be behind. Aside from Kramaric missing that early penalty, the home side caused Liverpool problems with their dizzying movement and Wagner's battering-ram approach. That double chance just before half time was particularly guilt-edged. 
45' HT. The whistle blows immediately after Lovren sends a header agonisingly wide from Moreno's corner. The Croatian headed the ball back across goal, and inches beyond the post. The final action of an eye-catching first half.
44' Liverpool looked to have shrugged off their shackles and adopted a swagger after their goal. But the last five minutes have been shaky. Wagner is causing problem's with his old-fashioned, 'put yerself about' approach in attack. Kramaric is the latest to threaten, but Matip punts the ball away before he can muster a shot. 
43'  Hoffenheim graze the post! It's a double chance, with Gnabry inexplicably outmuscling Matip to get the first shot away inside the box, Mignolet blocks but it falls to Wagner, who wraps his foot around the ball a little too much, and it skids wide via a kiss with the woodwork. Nagelsmann hurls a bottle at a wall in frustration, and Klopp will be equally indignant with that defending. 
40' Firmino, ever industrious, gallops down the right flank and cuts inside. He searches for Wijnaldum on the edge of the box, but Rupp slides back to pinch the ball. 
39' Alexander-Arnold's confidence is sky high. He tries a trick to get past Huebner and loses track of where the ball is. But nevertheless, he's getting forward very well. 
37' A slack touch from Rupp gifts Wijnaldum the ball on the edge of the Hoffenheim box. The ball is bouncing, and the Dutchman can't quite bring it under control before defensive reinforcements swarm in. 
35'  GOOOOOLLL! Trent Alexander-Arnold sweeps the free-kick in to the bottom corner. Pin-point accuracy to squeeze it just inside Baumann's post. 
34' Bicakcic goes in to the book for hauling down Sadio Mane. The Liverpool man had found his stride and was bearing down on goal; a good booking to take, on balance. The visitors have a free-kick 30 yards out. 
33' Alexander-Arnold collects the ball from Salah and tries to make his way in to the box. The combination of a Hoffenheim shirt and a loose touch mean the ball squirms away.
31' Kramaric finds himself with the ball at his feet in the box, and his back to goal. The Croatian feigns to turn over his right shoulder, before swivelling to the left and firing a shot away. Lovren is following him closely, and blocks with his calf. 
30' Wagner raises his arms repeatedly, gesturing to the home fans to turn it up to eleven. He seemingly senses that Hoffenheim need to get a goal from this spell. 
27' Salah arrives late on Huebner, and the Hoffenheim defender slams the floor in annoyance. The subsequent free-kick is swung in to the box, but amounts to nothing. Nagelsmann's side are increasingly dominating possession, and their movement is superb; blue shirts are buzzing around like wasps at a picnic. 
26' Liverpool's defence looks porous as Demirbay swings in a deep cross to Kaderabek, who slides in at the far post but can't keep his shot down. 
24' Wagner collects the ball off Gnabry, spins away and shoots from 30 yards. He fails to get a sweet connection and the ball skids well wide. 
22' The majority of play in the last few minutes has taken place in the middle third of the pitch. It's become a little attritional after a gung-ho start. 
19' Liverpool are happy to allow the Hoffenheim back-three to pass amongst themselves. But as soon as the home side try and pass in through the lines, Klopp's midfield step up and pressurise. This is a really enthralling match-up of two similar systems. 
17' The Hoffenheim defence was a good five yards INSIDE the Liverpool half when Salah broke through. With the pace Liverpool have in attack, that's somewhere between careless and suicidal. 
15'  Out of nowhere, Salah is set free on the half way line, and with Hoffenheim pressing high, he has a clear run on goal. Vogt does well to scamper back and pressurise the Liverpool new-boy, and he squirms his shot just wide of the post. Perhaps he had too long to think about the finish during that long surge from half way. 
14' The Liverpool fans chant jubilantly in the corner. As for proceedings on the pitch, the game has gone a little scrappy. Both sides are prodding and probing, feeling their way back in to the match after that minute of drama, 
12'  SAVE! Kramaric hits a tame penalty just to Mignolet's left, and he saves comfortably. It was weak, and at the perfect height. 
11' Kramaric v Mignolet. 
 Penalty to Hoffenheim! Lovren is adjudged to have tripped Gnabry as he twisted and turned in the box. 
9' It's breathless stuff in the early stages as Liverpool now career forward, first through Moreno, whos cross is blocked before it can reach Salah, and then through Mane, who fires a low shot in to the legs of Baumann. 
8' Hoffenheim appeal for a penalty after the ball hit Lovren's arm. Nothing doing, as the referee swings his arms across his chest. 
5' Crucial block from Matip with an outstretched leg. Kaderabek beats Moreno with ease on the right and swings a teasing cross towards Wagner. The German striker is ready to pounce, but Matip's leg takes it out of his reach. Once again, Kaderabek beats Liverpool's Spanish left back and lifts the ball to the far post. Alexander-Arnold clears. 
4' The Hoffenheim full backs, Zuber and Kaderabek, are getting chalk on their boots out wide. Plenty for Moreno and young Alexander-Arnold, who joined Liverpool as a six-year-old, to keep an eye on. 
2' Both sides are looking for the long ball as a way to circumnavigate the opposition's high press. Liverpool get forward first, but Salah's left footed cross is limp, and Huebner clears. Moments later, Alexander-Arnold plays the Egyptian through on goal, but he timed his run a little too early and the linesman hoisted his flag. 
1' We're off an underway in Germany! Liverpool settle in to an early spell of possession. 
Hoffenheim line up with Gnabry, who didn't get a look in a West Brom, and Kramaric, who didn't catch the eye at Pearson's Leicester. 
'The Chanpioooonnsssss' has just rung out. Handshakes and pleasantries to come, then we're off. 
 The teams are gathering in the tunnel, with muffled chants of 'Liverpool, Liverpool, Liverpool' from outside. Henderson will lead The Reds out. 
Joachim Löw is watching on from the stands. He's looking very suave with a sweater around his neck. 
An ominous stat for those of a Liverpudlian persuasion... The Reds have failed to win their last five Champions League matches.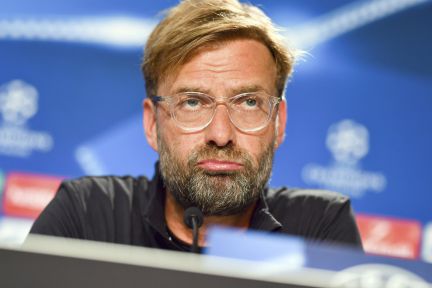 The story of Hoffenheim's rise to the Champions League is a curious one. It is a village of just over 3000 people, yet investment from software guru Dietmar Hopp financed their journey through the divisions to the Bundesliga, where they arrived with a splash in 2008. Many within German football were displeased that a club with little tradition, but deep pockets, could compete at the top level. In essence, they were the team that everyone hated, before everyone started hating RB Leipzig. 
Serge Gnabry will start on the flank for Hoffenheim. The former-Arsenal man enjoyed a blistering season at Werder Bremen in 2016/17, and that earnt him a move to Bayern Munich. He has been sent straight out on loan, however, with Hoffenheim the destination. He's a touch short on pre-season fitness, having taken part in the Under 21 European Championships earlier this summer. 
Thomas Tuchel, the Borussia Dortmund coach up until this summer, was heavily influenced by Jürgen Klopp. Julian Nagelsmann was given his break in coaching by Thomas Tuchel. So, in a sense, this is Klopp pitting his wits against his footballing grandson. Expect an adundance of gegenpressing. 
Hoffenheim's youthful coach Julian Nagelsmann has attracted intrigue and admiring glances from across Europe. The Guardian wrote an in depth piece about Nagelsmann's youth, and coaching philosophy. It's an excellent aperitif for this evening's match. 
Hoffenheim XI: Baumann; Kaderábek, Hübner, Bicakcic, Rupp; Vogt, Gnabry, Demirbay, Zuber, Kramaric; Wagner.
That means a start for Roberto Firmino against the team he spent four years with between 2011 and 2015.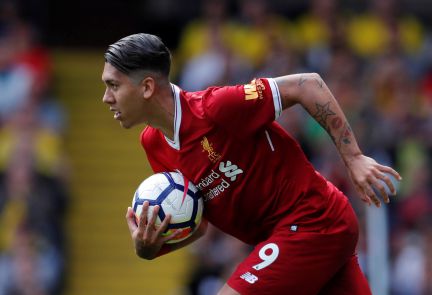 Jürgen Klopp names an unchanged side from the draw with Watford on the opening day of the season. 
Liverpool substitutes: Karius, Klavan, Gomez, Milner, Grujic, Solanke, Origi.
Liverpool XI: Mignolet, Alexander-Arnold, Lovren, Matip, Moreno, Henderson, Can, Wijnaldum, Mane, Firmino, Salah.
TEAM NEWS! 
The prize on stake is a place in the Champions League group stage, which Liverpool last graced in 2014-15. Hoffenheim, meanwhile, have never participated in continental football before and will be looking to utilise their prowess from set pieces to punish Liverpool's shaky back four.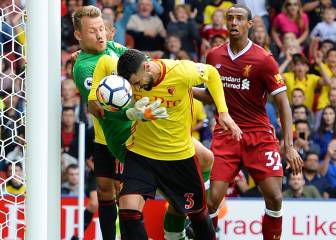 There's a natural succession on show this evening in the Wirsol Rhein-Neckar-Arena, where Hoffenheim boss Julian Nagelsmann will go head to head with Jürgen Klopp. Nagelsmann was an assistant coach at Augsburg, where he coincided with Thomas Tuchel, who of course took over at Dortmund when Klopp left in what seen as a case of like for like and a logical inheritance after Tuchel had followed in Klopp's footsteps at the helm of Mainz.