Pepe Mel: "Asensio is a spectacular player"
The Deportivo coach spoke ahead of the season opener against Los Blancos at Riazor, and expressed his view that Madrid are the best team in the world.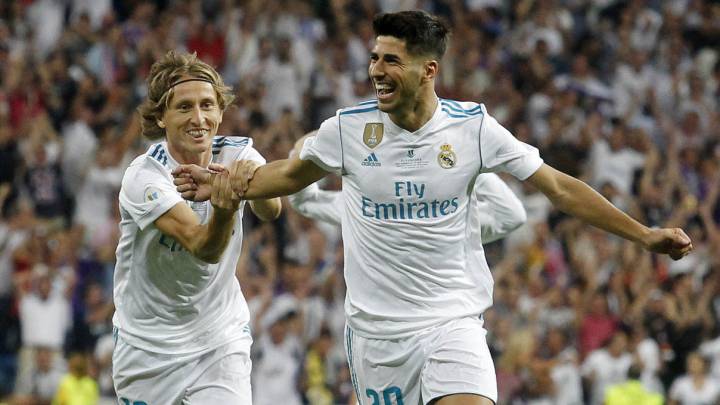 Real Madrid will begin their LaLiga title defence on Sunday evening with a trip to Galicia to face Deportivo at Riazor. Pepe Mel, the Branquiazul's manager, spoke to the press ahead of the match about what he expects from Zinedine Zidane's side, and man-of-the-moment Marco Asensio.
The former-West Brom coach began by expressing sadness and support in light of the terrorist attacks in Barcelona and Cambrils on Thursday.
Barcelona attacks: "Before anything else, on behalf of the dressing room, the staff, and the players, I want to express our pain and support towards the families of the victims, and our love to the people of Barcelona in the face of the mindless barbarity."
Real Madrid are 'the best'
Real Madrid: "I expect a very complete Madrid side, not just on the counter attack like in previous years. When given space they kill you, and now they're very good in terms of possession, ball circulation, recovery of the ball… they all slot in well, it doesn't matter who plays. We're going to compete, hopefully the game goes well for us, and if it does, we'll be in with a shout. We have to give 100% against a team that for me, is the best about."
Marco Asensio: "He's a spectacular player, he's demonstrated that. He breaks through the lines… has a good shot on him, scores, has an eye for a pass, can play in different positions. And then you add in his age… he's one for the future."
Deportivo can't afford early errors
Deportivo's approach: "We can't commit an error in the first few minutes, gift them a gift, like we did last year. They're the best team about at the moment, and if you gift them anything, they'll take it happily and take advantage. I hope the game will be very different to the last one. If we manage to make Madrid think about defending, we'll have won something. Three months ago they only thought about attacking. They have to see that we can really do them damage, that these aren't hollow words."