Girona 2-2 Atletico Madrid LaLiga Santander: Match report.. goals, goals, goals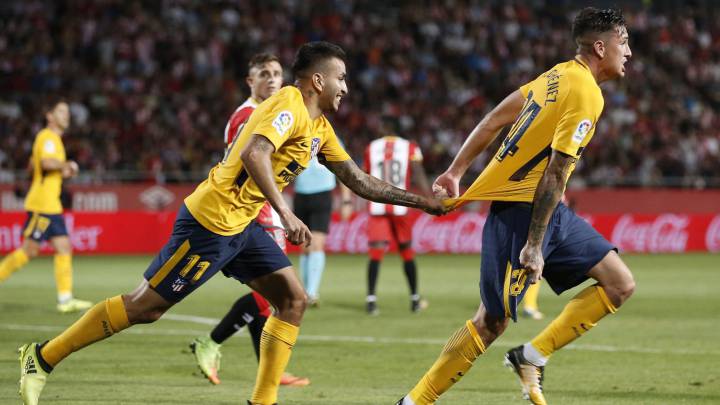 Girona 2-2 Atletico Madrid
Atletico Madrid welcomed Girona to LaLiga in a game that many billed as a formality for Diego Simeone's charges. Girona, newly promoted from the Segunda division, are expected to battle relegation in their first ever game in the top flight but showed they have plenty to offer LaLiga against a stale Atletico Madrid side.
They were on the front foot from the off and refused to allow Atletico Madrid dictate proceedings even if the visiting side weren't crying out for possession in any case.
Atletico, who were looking frustrated early on, were 1-0 down after 22 minutes when Christian Stuani headed beyond Jan Oblak to give the home side the lead.
A blip that would ignite Atletico, they said, but Christian Stuani had his and Girona's second of the night just three minutes later when Jose Gimenez headed into the number seven's path to leave LaLiga's newboys on cloud nine with a two goal lead, 25 minutes gone and dreaming of three points.
They never stopped pressing and looking to control possession to their credit and never once in the first half allowed Atletico to settle on the ball or create chances. Again, Atletico weren't doing much to help themselves in this regard.

The second half started with no changes for either side and soon enough Girona were back on top and Atletico were growing more frustrated. As they retreated, they looked more likely to score on the counter than Atletico looked like breaking them down.
The odds on Atletico mounting a comeback grew even leaner when Antoine Griezmann was booked for a dive in the penalty area when it looked like Iraizoz took him down with his legs. As referee, Juan Martinez, showed the Frenchman the yellow, Griezmann said something unsavoury and out came the red without hesitation.
Atletico were down to 10 men, down two goals and down on their luck with little chance of a resurrection.
Angel Correa made a run through the middle of a tiring Girona's defense and rifled with his right to give Atletico the faintest of hopes on 78 minutes and seven minutes later as Atletico grew more desperate, Correa won a free that Koke sent onto the head of Jose Gimenez. The Uruguyuan beat Iraizoz to it and Atletico were level with their sights on the third goal for three points.
They tried and tried for that winner, and so did Girona to their credit with Jan Oblak called on late to save off the line from Kayode.
If given a point before the game, you might think Pablo Machín would have taken it but at half-time he might have changed his mind. On the flipside, Diego Simeone might have turned his nose up to a point before kick-off but will be glad of his South American heroes in Gimenez and Correa and glad to be leaving Girona for the long trip south with a point.
Girona - Atlético Madrid live stream online: latest news
90'+4' Lucas with a poor throw in at the finish. He needed some distance on it but couldn't manage it. What a game though. Absolutely incredible stuff.
90'+4'  Kayode with the header.
90'+4'  Oblak saves off the line again. Brilliant from the Atletico keeper.
90'+2'  Can Atletico manage one last effort?
90'+2'  Borja Garcia with a shot that flies over the bar. Close call!
90'+1'  Four minutes added on.
89'  Alcala takes the free and blazes wide.
 Portu replaced by Kayode of Manchester City fame.
84' GOAL! Koke with the free and Gimenez headers home.
83'  And Vietto has a chance now. He blazes over though from close range.
82'  Portu with another dangerous pass into the box and Oblak nearly palms it onto a Girona attackers head but Atletico get it away.
80'  Atletico come close after a scramble but Girona manage to get it away.
79'  Straight back up the other end and Lucas loses out to Portu before the striker sends it across goal. Stuani gets a foot to it and misses. 
78' What a goal that is! correa runs through the middle and takes it slightly to the right of the goal before rifling to the net. WOW! 
76'  Atletico's season off to a dreadful start.
74'  Ball into the box reaches Carrasco but he mishits it. 
73' Vietto is taken off for Fernando Torres.
71'  Aday is replaced by former Celta Vigo man Carlos Planas.
69' Gabi is replaced by Nico Gaitan.
68'  Iraizoz took him down and he did make the most of it. Looked like ther was contact though.
 66'  Seems he was then given a straight red for saying something to the ref.
66' Griezmann booked for a dive. He was booked for a dive.
64'  Corner for Girona.
62'  Portu wants a free but Lucas didn't foul him according to the ref. The ref back in Lucas' good books.
60'  Yellow for Lucas as he goes in too strongly on Stuani in the air. He might have gotten then yellow for the words he had for the ref after the fact.
58'  Atletico seem to be gone three at the back.
58' Correa comes on for Juanfran.
56'  Another Girona corner and Atletico don't look like scoring.
54'  Lucas fouled by Portu as they battle in Atletico's penalty area.
54'  Oblak makes a save from Muniesa's header.
53'  Girona trying to weather the storm now. They win a corner and take some time over it.
52'  Saul backing in and Atletico look for a penalty but defender held firm. No pen and right decision.
51'  Torres heads a cross up into the air and Griezmann with perfect technique on the chilena. Misses narrowly.
 Saul booked for his indiscretion.
50'  Saul plays it to Juanfran on the overlap but it's too short. Then Saul pulls Stuani down on the break. Poor stuff from Atletico again.
Just a note that there were no changes for either side.
48'  Carrasco with a push and a foul on Pablo Maffeo. 
46'  We are back underway! Immediately Atletico put themselves under pressure. A pass back is taken down by Oblak with his knees and away from him. He then passes sideways to Savic and gives him lots of works to do with Stuani in chase.
A half-fit Sime Vrsaljko but it's unclear if Simeone is willing to risk him.
The problem is that Diego Simeone doesn't even have replacements on the bench in the areas of the field where they are in trouble.
HALF-TIME! The Girona fans are loving life at the moment.
45'+1' Stuani gets a booking for a foul on Saul. A push and a bit of a kick but nothing malicious either as paradoxical as that sounds.
45'+1'  Six shots to two in favour of Girona. 58% possession for Girona. 
45'  The only way this first half could have been worse for Atletico is if that last chance went in.
41'  Atletico Madrid at 6's and 7's here. Another close call. Cross hits Lucas and Oblak gets a hand to it before Stuani tries an acrobatic effort that falls to Portu and he pokes it toward goal. Oblak is then forced into a clearence off the line. Scrambling!
38'  Juanfran delivers a cross and Griezmann comes thundering in but Girona deal with it.
36'  Griezmann breaks free after Girona have what looks like a very real claim for a penalty. Gabi pulls down Borja Garcia but replays are inconclusive.
35'  Torres pokes one to Carrasco and he drives a shot towards Iraizoz  but he is comfortable with the save to the left.
34'  Girona come close to a third. Stuani close to it again but a free out.
33'  Griezmann concedes a corner. 
30'  Every pass being met with a cheer now from the Girona faithful. That's how bad it is for Atletico and they're really frustrated too.
Carrasco booked for a foul on Borja Garcia. He used his hand to try and keep the player at bay but it was deemed illegal.26'  
26'  Let's see what Atletico are made of now. 
25' Indeed it was a lovely place to whip the ball in. And after it is sent into the centre from the back post, Stuani again headers home.
24'  Stuani fouled by Juanfran. Free to Girona in a nice position to whip in a cross.
22'  That goal was coming! Stuani with the header and he beats Oblak. Lovely ball in by Pere Pons. 1-0.
19'  A little bit better now from Atletico as Griezmann looks for Torres and then when it's cleared, Carrasco moves down the right. They lose out against and Portu wins a free on the break.
18'  Borja Garcia makes a move down the left and plays it to Stuani but he loses out and Atletico clear.
17'  Aday down the left again but his cross is picked out by Koke.
15'  Really sloppy so far. Girona trying to play some football but Atletico not really letting them but not really playing any themselves either.
14'  The first driving run from midfield of the season for Saul but the run is not matched by the shot. He misses high and wide. 
12'  Lucas goes in hard on Maffeo and gives away a free.
10'  Atletico chasing shadows at the moment.
9'  Girona are really attacking here. Aday with a shot that goes just wide.
8'  Aday takes it down the left and after a stepover, launches a cross but it's half-blocked and Girona win a corner.
7'  Stuani picks it up way out from goal and turns, sets himself up and fires low but Oblak saves.
6'  Girona pushing high up the field and put Oblak under pressure forcing him to kick it over the sideline.
3'  Really good chance as Griezmann plays it to Koke and he finds Torres, almost, but El Niño was offside anyway.
2'  Early couple of chances for Atletico as Torres finds himself free but chased down and dispossessed. Then Koke has a crack from distance but that is blocked too.
1'  We are underway as Girona and Atletico Madrid get their LaLiga seasons underway.
The 95th stadium to host a LaLiga game.
Minute's silence respectfully observed at Estadi Municipal de Montilivi.
Griezmann didn't score in the preseason and also didn't net a goal in his last five LaLiga games either.
Koke starts his eighth season at Atletico Madrid, which is the most among players in the squad today.
Of course, Girona and Atletico Madrid players and fans will come together for a minute's silence before the game to pay tirbute to those who lost their lives in Barcelona during the week. Girona is, of course, in Catalunya and only 100 kilometres from Barcelona.
Gabi tied for seventh most appearences for Atletico with Luis on 368 with his start today. 
New boy Sergi is on Atletico's bench and so is possible departee Luciano Vietto: Moya, Vrsaljko, Sergi, Augusto, Nico Gaitán, Correa, Vietto.
His bench has five newcomers though and four Man City loanees.
Machín has selected four new players and is sticking with seven who helped him to achieve promotion last season. 
Just the one Man City loanee in Girona's side. Team news: Iraizoz, Bernardo, Alcala, Muniesa, Maffeo, Aday, Pere Pons, Granell, Borja Garcia, Portu, Stuani.
They also recently loaned winger Johan Mojica from Rayo Vallecano but that was just last night confirmed so it is unlikely he will feature.
Girona have five Man City loanees in Pablo Maffeo, Aleix Garcia, Douglas Luiz, Marlos Moreno and Olarenwaju Kayode.
Godin is out due to suspension as is Thomas Partey and Filipe Luis is out due to injury.
Atletico played six times in te preseason and were unbeaten in all of them with three wins against Naples, Brighton and Leganés and three draws against Toluca, Liverpool and Getafe
Atleti have been struggling to find the back of the net during pre-season and one answer to that, in the medium term at least, could be a return to the Spanish capital for former striker Diego Costa. However, Chelsea are not making it easy for either player or club to complete the deal, with Costa currently in Brazil and refusing to return to Stamford Bridge to train with the stiffs.

Lucas Hernández will be given a chance to make an impression today in the absence of first choice left back Filipe Luis.

Girona's business model for the season is an interesting one, stocking up their squad with Manchester City youngsters. Will it work? We'll find out...

We've had a cheeky bet on Girona to hold Diego Simeone's side in their first match in Primera.

Why not get yourself started with a perusal of our match preview?
Buenos días! Join us for all the build-up ahead of Girona's first ever game in the Primera División!
Girona vs Atlético Madrid live stream online: match preview
Girona will begin their first ever LaLiga season with a match against Atlético Madrid at the Estadio Montilivi.
The Catalan side made the leap in to the top flight last season after several years in the upper echelons of the Segunda División. Diego Simeone's team eased to third place after a strong end to the 2016/17 season.
Find out how and where to watch Girona v Atlético Madrid.
Girona
The Blanquivermell come in to the season with a distinctly Mancunian flavour. Five of Pablo Machín's squad (Douglas Luiz, Marlos Moreno, Aleix García, Pablo Maffeo, Olarenwaju Kayode) are on loan from Manchester City.
Girona have become City's unofficial feeder club, with City Football Group expected to purchase the club in the near future. There is a familial link at the heart of the arrangement; Pep Guardiola's brother, Pere, was part of a consortium that bought Girona in 2015.
The link between the two clubs led City to visit earlier this week for a friendly match, a curious fixture given that the Premier League has already started. Nevertheless, Girona ground out a 1-0 victory against a strong City side. The Spanish side deployed a three-man defence, including Stoke City loanee Marc Muniesa, and appeared well-organised at the back. Their other pre-season results also suggest that Atlético will not be allowed to create chances at will. Machín's side had goal-less draws with Brighton, Reus, and Olot.
Cristian Stuani joins from Middlesbrough to lead the attack, and while the Uruguayan is an experienced campaigner in LaLiga, El Cholo's defence should be able to cope.
Atlético
Los Colchoneros come in to to the season with key players still at the club. Given that a transfer ban prevented them from bringing in fresh blood, retaining the likes of Griezmann, Koke, and Savic represents success.
Diego Simeone's side will have to wait until January to incorporate Vitolo (and quite possibly Diego Costa) in to his squad. The players who are present and correct have a relatively clean bill of health. Kevin Gameiro is definitely out. Felipe Luis is a doubt at left back, but Lucas Hernández has proved capable back-up. Augusto Fernández returns after an injury-hit season to provide cover in midfield, and another option in defence if necessary.
Diego Godin and Thomas Partey will play no part. Both have suspensions carried over from the end of last season.
Atlético had a 'solid' pre-season. They fought off Napoli and Liverpool (on penalties) to win the Audi Cup in Munich, and beat Premier League newcomers Brighton 2-3 on the south coast of England.
---
Girona vs Atlético Madrid live stream online: probable line-ups
Expected Girona XI: Iraizoz; Alcalá, Espinosa, Muniesa; Maffeo, Riera, Luiz, Benítez; García, Portú; Stuani.
Expected Atlético XI: Oblak; Juanfran, Giménez, Savic, Lucas; Gaitán, Koke, Gabi, Carrasco; Torres, Griezmann.
---
Girona vs Atlético Madrid live stream online: odds and betting
Girona will set up stodgily, while Atleti are masters of the clean sheet... a 0-0 draw is available at 9/1.
Bet on Girona vs Atlético Madrid