Swansea City 0-4 Manchester: Premier League match report
Manchester United were holding it all back until the last ten as they swept Swansea aside with three goals in as many minutes to make it two in two for MourinhoBarcelona-Getafe live: LaLiga Santander matchweek 23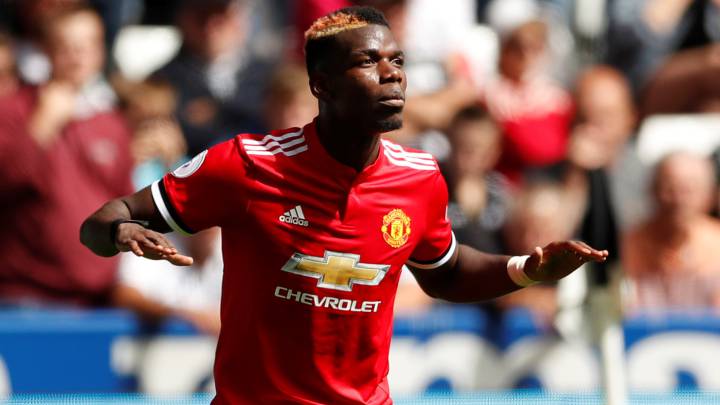 Swansea City 0-4 Manchester United: match report
Manchester United continued the winning start to the Premier League and Swansea remain winless despite going toe-to-toe with United for long spells at the Liberty Stadium on Saturday afternoon.
Jose Mourinho opted for the same team that beat West Ham on the opening weekend but Paul Clement changed things up, introducing Roque Mesa for his Premier League debut and Kyle Bartley as he opted for a 3-5-2 formation to try and live with the Premier League title contenders.
It worked to start and Swansea nearly had a lead when Jordan Ayew threw a cross into the box with the outside of his boot only to see it hit the cross bar and float to safety at the other side of the box.
It wasn't long before United had asserted their control on the game and while they were bossing the possession statistics, they weren't really creating any meaningful chances. Lukaku was the target often but he was struggling to break free of Kyle Bartley's watchful eye and the delivery to the Belgian was too often off target. Rashford, as he so often does, was causing confusion for United's opponents.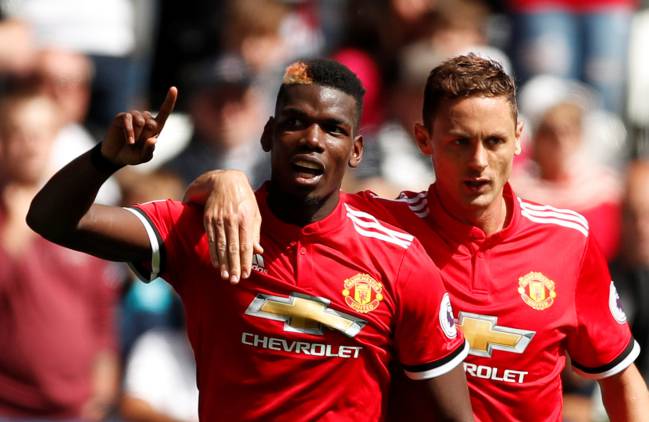 United were lucky not to lose Paul Pogba when he was booked for a foul on Tom Carroll only to foul Martin Olsson moments later. John Moss had a chat with the midfielder but no cards were shown and the game continued with Pogba on thin ice but on the field, which would be the most important thing going forward for United.
His involvement in the goal late on showed just how upsetting to United it would have been had he seen red earlier. He delivered two lethal crosses in succession and Swansea conceded a corner from the second. From that, the big Frenchman headed towards goal with a towering performance only to see Fabianski palm it onto the crossbar. United, however, were not to be denied as Eric Bailly reacted quickest and shoved the ball over the line with the sole of his boot.
The ref blew for half-time shortly after as Swansea had failed to hold on until the break, something that was crucial in keeping the Red Devils within touching distance.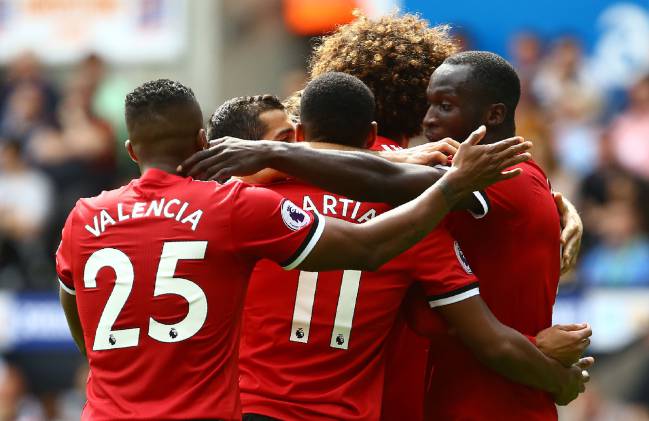 The second half started with United in control again but they were failing to create clear cut chances. Pogba was again at the centre of everything positive United did but they could not break down a stubborn but not overly defensive Swansea City side.
At 1-0, Swansea were still in with a chance and they had a number of half decent attempts when Ayew headered over from close range and another dangerous cross was just out of Abraham's scope. 1-0 it remained to the Red Devils.
As the game ticked on, it seemed increasingly less likely that Swansea would score but the same could be said for United, who had few chances to make it 2-0. Pogba went close from a free but aside from that, Mourinho's men were subdued.
That was until Henrikh Mkhitaryan found inspiration and Lukaku unmarked to drive beyond Fabianski on 81 minutes and the Armenian played Pogba through with a deft pass to make it 3-0 just a minute later. Just two minutes after that, Anthony Martial finished what was the best goal of the lot when he slid low beyond Fabianski to leave Swansea in tatters and United's away section in singing mode.
The Portuguese won't mind the relative struggles midway through the second half as he has earned six from six in two games to start the league with eight goals scored and none conceded while Swansea, who were by no means outmatched for large spells, are still searching for their first win and first goal of the new Premier League campaign.
Swansea City-Manchester United live stream online: latest news
 Game over! Very, very harsh on Paul Clement but United were saving it all until the end. Goals from Bailly, Lukaku, Bailly and Martial do the trick as the Swans sink to a 0-4 home defeat.
Eight goals scored in two games to start the league with six points from six and zero conceded. That's title contending form!
All over bar the shouthing now. What a performance late on by United.
84' WOW! Another one. This time Martial makes his way into the box before finishing beyond Fabianski low and with the perfect weight behind it. That one might be the pick of the bunch. 4-0 and Swansea are in tatters.
Mkhitaryan with a neat run and lovely little pass to Pogba as the defender came out to meet him. Deft finish from the French midfielder too.
81' 3-0! Just like that. Pogba makes it three. 
80' GOAL! Lukaku makes it 2-0 and ends this one, you would think. Mkhitaryan finds the Belgian free and he makes no mistakes as he whips it past Fabianski. 
77'  Lukaku battles for and wins the ball but his threaded pass has too much on it. 
75' Mourinho with a double swap of his own. Fellaini for Mata and Martial for Rashford. 
74'  Pogba puts the free just over. 
73' Blind gets a shot away but was fouled in the process by Fer. Dangerous tackle and merits a book, which he gets.
72'  Swansea knocking on the door. Corner goes across the mouth of the goal.
69'  Fernandez rises highest but Phil Jones makes a nuisance of himself and puts it out for another corner.
69'  Corner for Swansea as they prove they're going down swinging. They have been better as the second half has ticked on.
66'  Routledge on for Bartley and Roque Mesa is replaced by Narsingh as Paul Clement makes a double swap.
66'  Dangerous ball across the box by Ayew but Abraham doesn't put Jones under enough presure. It makes it's way across the other side of the box.
62'  Mkhitaryan gets a pass from Pogba and the Armenian strikes wide with the help of a deflection. Corner. 
60'  Tom Carroll with a cross and Ayew heads just over. Very decent chance for Swansea.
58'  A few moments of Swansea pressure.Abraham and Ayew both occupying similar spaces and they lose out but the Swans win it back and the end result is a Leroy Fer shot that ends up going into the stands.
56'  Rashford has Swansea defenders on edge as he shuffles the ball at his feet. He gets a shot away but it's tame and Fabianski has no problem with it.
54'  Matic with a good dispossession of Fer before setting Rashford free. Nothing comes of it.
52'  Swansea under pressure now. They need to do something to stem the tide or else we will be looking at another goal soon.
49'  Man United corner is cleared away but only back to a red shirt. United back in control to start the half. Mata gets a lucky break and cross but Mawson clears acrobatically. Another corner, another clearance to a red shirt.
47'  Nice move by United started by Pogba before Mata, Lukaku and Mkhitaryan all link up with a string of passes before Swansea win it back in the penalty area.
46'  The second half has started!
Teams back out and it looks lik no changes for either side.
Say what you will about Pogba but he has been the difference. Lovely header too that probably deserved the goal but he won't mind Bailly rattling it home.
45'  That's tough to take for Swansea. Just at the break and they concede a goal from a set piece. They had weathered the storm earlier and even had their own chances to maybe take a lead.
45' Was just about to say that United were knocking on the door... well Swansea have answered and invited them in. Pogba with a powerful header that was handed onto the crossbar by Fabianski but Bailly came in and pushed it over the line.
44'  Pogba with another teasing cross, this time with more pace and more whip but Swansea put it out for a corner. 
44'  Tempting cross into the box by Pogba but Mawson clears just about. 
42'  Fabianski comes out to collect a cross and makes a dog's dnner of it. Mata curls it back towards goal and it goes wide. The little Spaniard wants a penalty or a corner, it's not clear, and it doesn't really matter either because he gets neither.
41'  Abraham pokes a ball forward leaving Ayew with a lot to do but Bailly loses the ball in the Swansea sun and gives Ayew a chance. United clear.
38'  Ayew wins the ball back from Rashford and Mkhitaryan fouls. Roque Mesa with the cross and it reaches Bartley again he heads it back across goal but Bailly with a Garryowen up the field! 
37'  Rashford through on goal and he tries to chip Fabianski but he doesn't get under it enough and the keeper claims it. Dangerous ball from Blind that caused the problem for Swansea there.
36'  Ball into the box is missed completely by Lukaku's head. He was under pressure. United getting frustrated. 
35'  Really nice delivery on the cross. Bartley gets just a sliver of a touch on it and it goes wide. 
34'  Far better from Swansea. Ball up front to Abraham is hit to Ayew with a one-touch pass. He breaks and crosses to Abraham but United get it out for a corner.
30'  Pogba very lucky not to get his marching orders. The midfielder takes Martin Olsson down now. Ref has a word but doesn't produce a card.
29'  Rashford with a fairly speculative effort from distance. Fabianski gathers. 
28'  Bailly heads the ball out of play as Swansea start to come back into the game. jordan Ayew down after getting an accidental kick off Antonio Valencia.
27' Straight after Pogba swings a kick at Carroll and gets booked. Slightly silly from the French midfielder.
26'  Rashford gets a talking to after he is blocked by Kyle Bartley and wants a free. Looked like obstruction and Rashford obviously thought to but nothing.
24'  Martin Olsson tries a fanciful bicycle kick as a cross but it goes to close to David de Gea. Nice little spell for Swansea but back to defending deep again straight afterwards. 
22'  Last gasp tackled by Fer on Rashford as the speedster tries to get ahead of the defender. 
20'  Luaku takes down a pass into the box with his chest and turns and shoots. It's blocked with a wall of Swansea defenders in front of him.
20'  Leroy Fer gets a talking to by the ref as he comes in from behind and swipes Matic's legs from under him.
20'  The game does restart and a Tammy Abraham flick onto Ayew doesn't work out. United back in possession. 
18'  Ayew fouled by Matic and Swansea take a second to compose themselves before the game restarts.
17'  Roque Mesa and Ayew link up but the latter leaves his pass short and United win it back.
16'  Pogba again with a cross and Lukaku again the target but Fabianski jumps it and gathers.
14'  Mata gets a cross in and Lukaku fights to get closer to it but Fernandez heads clear. Throw for United in the end. 
11'  Swansea struggling to get the ball back now. United doing a good job of keeping it without threatening but they are in control now.
8'  Free against Mawson for a foul on Rashford. Ball comes in and Jones gets something on it but United manage to get it away. United growing in stature in this one.
7'  Mkhitaryan plays it inside to Rashford and the attacker makes space and shoots. Fabianksi dives as if trying to save a corner but it didn't hit anyone. Goal kick.
5'  Roque Mesa with a snapshot that lands safely in De Gea's arms. A present from one Spaniard to another.
4'  Man United break, or Lukaku breaks more precisely, but his pass inside is blocked and his rebounded shot goes wide. He was searching for Rashford, who arrived in support late, with the pass.
4'  Swansea off to an excellent start. Ball comes across the goal and nearly sneaks in.
We 1'  are underway at the Liberty Stadium.
Jose Mourinho, probably talking about Martial in this one: ""I trust everybody, I'm leaving great players on the bench but we played quite well and only have 1 match per week at the moment"
Tammy Abraham won't have as much help today as Kyle Bartley, a predominantly defensive player replaces Wayne Routledge in the starting line-up. It might mean Fer is a little more freed up but Swansea and Paul Clement know they have to be a little more cautious today against United.
Alfie Mawson versus Romelu Lukaku won't be for the faint-hearted. 
United's 4-0 win over West Ham last week was the biggest in the PL and sees them go top of the league. Another win or draw for them will see them stay there but a win for Swansea will see them go top for the time being.
Roque Mesa makes his premier league debut. The little Spaniard was on the bench for the Southampton draw last week. He replaces Leon Britton.
Temps for the day in Swansea will reach 17 degress. Sunny intervals too!
Manchester United team news: De Gea; Valencia, Bailly, Jones, Blind; Matic, Pogba; Mata, Mkhitaryan, Rashford; Lukaku.
Mourinho piling the pressure on Antonio Conte saying Chelsea are still the favourites for the Premier League, "For me the favourite is the champion always, because for some reason you are the champion. It doesn't mean that you're going to win it but it is the stamp that you have. The next season, you are the favourites."
Why not get yourself started with a shufties at our lovingly-crafted preview?
Good morning! Join us for all the build-up ahead of kick-off in Wales!
Swansea City vs Manchester United live stream online: match preview
Swansea welcome Jose Mourinho's Red Devils to South Wales in the second round of Premier League fixtures.
After an uninspiring 2016/17 Premier League campaign, United made a firm statement on the opening weekend with a 4-0 victory over West Ham at Old Trafford. Paul Clement steered the Swans away from relegation last season, and they held Southampton at bay on Saturday to secure a respectable opening-day draw.
Swansea City
Fernando Llorente, whose goals were so crucial to Swansea's survival in the second half of last season, is still recovering from a broken arm. As such, Chelsea loanee Tammy Abraham is expected to lead the line for a second week. Ki and Dyer are both out until next month at the earliest.
A back niggle for Leon Britton could mean a full debut for Roque Mesa. The summer arrival from Las Palmas is a classy distributor packaged in the style of a prohibition-era gangster.
Alfie Mawson, who impressed for England at the U21 European Championship, will be a key leader for Swansea, despite his tender age. He'll partner Federico Fernández in the heart of defence.
Manchester United
Premier League leaders (admittedly after just one match), Manchester United head to Swansea looking to keep hold of top spot, and in fine fettle after their handy 4-0 thumping of West Ham in their opening match of the campaign.
Mourinho's side look serene on the ball, with Nemanja Matic the oil in their passing engine, and powerful up front, with new signing Lukaku ready to bish, bash, bosh his way to goals. He nabbed two against West Ham and can't be ruled out doing some damage in Wales.
Keep an eye out for 19-year-old Marcus Rashford too, who appears to be starting the season where he left off last year. He set up Lukaku's first goal against West Ham. Someone who won't be surprised by that is Ruud Van Nistelrooy, who has admitted that he's been "amazed" by the youngsters rise from academy to first team player.
Mourinho has an almost fully fit squad. Luke Shaw and Ashley Young are continuing their recovery and will turn out for Man Utd's Under 23 side in Premier League 2 on Monday. While Marcos Rojo is the only player currently fully sidelined.
Mou's one doubt for the match against Swansea might be whether to play it a bit safer away from home and bring back Ander Herrera.
Swansea City-Manchester United live stream online: probable line ups
Probable Swansea XI: Fabianski; Naughton, Fernández, Mawson, Olsson; Carroll, Mesa, Fer; Routledge, Abraham, Ayew.
Probable Manchester Untied XI: De Gea; Valencia, Jones, Bailly, Blind; Matic, Pogba; Mata, Mhkitaryan, Rashford; Lukaku.
Swansea City vs Manchester United live stream: odds and betting
Why can't United get their second consecutive 4-0? They're 13/1 to win by that scoreline at the Liberty Stadium.
Bet on Swansea City vs Manchester United.


Premier League
*Update 19 de agosto de 2017
Premier League
*Update 19 de agosto de 2017