Tottenham 1-2 Chelsea Premier League 2017: Match report, goals, action
Tottenham Hotspur spent the majority of the game camped out in Chelsea's half after falling behind to Marcos Alonso, only to find their equaliser and see Alonso score again to end their maiden Wembley adventure with a lossRussia vs Egypt live: World Cup 2018 Group A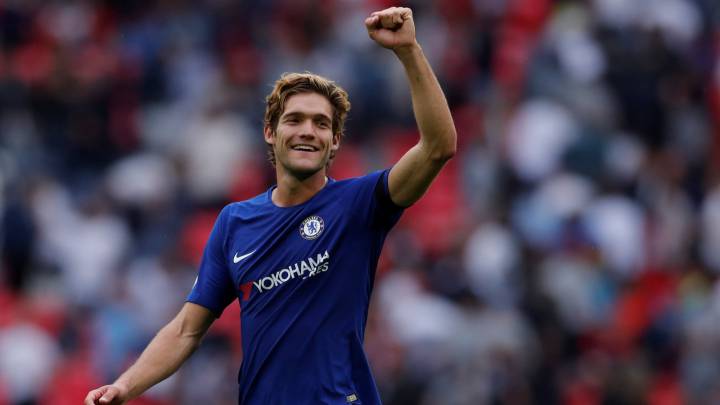 Tottenham 1-2 Chelsea: match report
For the first time in the Premier League, Spurs got to call London's iconic Wembley their home and suffered a heartbreaking loss courtesy of two Marcos Alonso strikes.
Alvaro Morata missed a sitter when Cesar Azpilicueta put the ball onto his forehead from a cross only to see his header bounce wide. At that point and for a long period after, it seemed like Spurs would be doing all the attacking with Chelsea relying on counter-attacks.
That was until Dele Alli caught David Luiz with a trailing boot and tripped the Brazilian outside the box. Marcos Alonso stepped up and sent the ball into the very corner of Hugo Lloris' net to give the away side the lead.
After that, the prophecy of Spurs attacking really did come true. Harry Kane had a number of very good chances fashioned either by himself or his supporting cast of Dele Alli and Christian Eriksen backed up by Moussa Dembele's probing runs.
By the time the half-time whistle blew, Chelsea were on the ropes and just waiting for the bell to ring to end the round or to be landed with a huge blow. It was the bell, or the whistle to be precise, that came first and they had been saved.
The second half started, to Chelsea's dismay, the way the first half ended. Spurs were looking as dangerous as ever but with the same end result.
And as they continued to fail to score, Chelsea were starting to find some chances to attack but it wasn't until the 82nd minute that Chelsea's tactic of soaking up Spurs' pressure reached breaking point as Michy Batshuayi, fresh off the bench, headed into his own net from a Cristian Eriksen free.
Spurs' fans egged their side on for the winner and Wembley was alight but it would be Alonso again on hand to but an end to their hopes.
Lloris gathered a through ball and threw it out to Moussa Sissoko, and despite how awkward the throw was, the sub took it down and managed to lose it in his own half. Just seconds later, Marcos Alonso slid past Lloris, who might have done better as the ball was fired directly at him.
This time, Spurs didn't have enough time to mount another attack and they didn't have the energy to do so even if they had.
Spurs maiden adventure in Wembley ends in tears as Chelsea and Conte can sleep easy after their opening day loss.
Tottenham vs Chelsea live stream online: Premier League latest news
90'+4' That's it. A couple of lovely goals from Marcos Alonso enough to do the trick for Chelsea. Spurs will be kicking themselves for letting Chelsea back into it. Plenty of blame to go around for the second Chelsea but all that matters is Chelsea have their first win of the season.
90'+2'  Spurs look like they don't have enough in the tank to turn this one back in their favour again.
88' GOAL! GOAL! Marcos Alonso again. Sissoko coughs up the ball and Alonso gets it on the right before driving home beyond Lloris.
88'  Bathsuayi falls under pressure from Dembele but ref says no.
87'  Alderweireld nearly gets there but Chelsea fail with the clearance and then Vertonghen swings and misses but Spurs win the corner anyway.
86'  Combination of Bakayoko and Rudiger with another foul.. on Eriksen this time. 
84'  Spurs fans egging their side on now to get the winner.
82' Eriksen sends it in short and Batshuayi heads it into his own goal! Chelsea's position was unsustainable as they were pinned back for so long.
81'  It's as you were as Spurs continue to lay siege on Chelsea's area. Nothing happening though. Free for Eriksen out on the left. 
80' Sissoko replaces Ben Davies. 
78' Double switch by Conte. Pedro and Batshuayi come on for Morata and Willian.
77'  Dembele pushing forward again but his through ball is out of Kane's reach.
76'  Eriksen put through again and is under pressure. His cross is half-blocked and put out for a corner.
74'  Nice link play between Son and Eriksen but Son's cross can't reach Kane. Then Trippier's cross lands at Courtois' feet.
73'  Willian with a stepover and drives a shot out of Lloris' reach. It evades the keeper but can't evade the post and it hits the very bottom of it and rolls clear.
73'  Morata wins a race against Alderweireld and gets a cross in. Bakayoko tries to stretch a leg out to reach it but can't. Chelsea improving now after taking everything Spurs had.
71'  Moses absolutely smashes one over the bar. Wants a corner but his wish not coming true.
70'  Morata receives it from Willian on the fastbreak and strikes after buying himself some time. Alderweireld gets the block in and Chelsea win a corner.
68' Son on for Dier. This might be the straw that broke the camel's back if he can provide energy in the final third.
67'  Chelsea with what is becoming an increasingly rare attack. Kante with the cross by 2. Neither land where they should and Spurs get it away.
65'  Spurs could do with a brainstorming session to figure out how to break down Chelsea. The Blues remain unbreached. 14 shots to three as it stands. Another 50 half chances, it seems.
64'  Another corner.
61'  Dele Alli goads Kante into a foul with some lovely footwork. Chelsea holding firm.
59'  Class from Dele Alli as he pokes the ball over Moses and then shakes the attention of another defender with a little drop of the hips. He tries to get it forward and into the box but it's blocked. Spurs going at Chelsea again.
57'  Have Spurs worn themselves out as they pass it around the back? Or are they just reloading for another attack on Chelsea's goals?
55'  Oh, just an inch or two too far away again for Kane. Ball cleared as Chelsea's backs remain pinned to the wall.
52'  Corner for Chelsea now as they try to relieve some of the pressure Spurs had been building.
51' Vertonghen gets booked for quite a rash challenge on Moses. Looked like a stamping action. 
50'  Ben Davies with a cross now. Alonso tries to clear but it hits his own player and falls safely to Courtois.
48'  Vertonghen with a cross that Courtois gathers and throws out to start a counter.
48'  Kane again sees a shot blocked. Another corner. 
47'  Corner and Kane sees his header blocked. Spurs win another corner.
46'  More pressure. Kane with a backheel to Eriksen and he sees his shot blocked. Class by Kane.
46'  We are back underway for the second half at Wembley. 
The game really picked up after the goal. Spurs had real purpose but Chelsea looked slightly dangerous but a little afraid on the break. If it stays the way it did at the end of the first half, it's only a matter of time before the home side have a goal.
45'+3'  Half-time at Wembley. Chelsea were clinging on by a thread at the end. Spurs really got to them too but they kept their sheet clean and the home side will have to go back to the drawing board for the next 45.
45'+1'  Chelsea need half-time. Spurs are all over them another cross by Vertonghen and it's met by dier at the front post but he can't bend it towards goal.
44'  Ben Davies has a shot now and forces a more acrobatic effort from Courtois. Chelsea really clinging on now. Can they make it to half-time?
42'  Harry Kane with a trademark shot. Dele Alli plays it to him out wide, he cuts in and drives a shot low and with his right. It hits the base of the post and to safety but Wanyama picks it up and forces a save out of Courtois. 
41'  Chelsea struggling a little bit now to deal with Spurs movement. Dembele makes headway and gets the ball to Wanyama, who is fouled by Willian but the ref plays advantage. Comes to nothing in the end as the home fans boo the ref.
39'  Eriksen with a lethal cross that bends and teases but nobody can get anything on it. Courtois' hands tied with the perfection of the delivery too. 
38' David Luiz booked now as he obstructs Eriksen. He has a giggle to himself but turns very serious when the card comes out.
37'  Spurs struggling to gain any momentum here as Chelsea disrupting the game. It's been quite sloppy so far.
34'  Bakayoko injured as Dier meets him in the air. He's holding his glutemus maximus. Conte looking nervous on the sideline.
If David Luiz is injured as it looks like he is, Chelsea have the options of Fikayo Tomori on the bench.
31' Dier booked now for a tackle that he got the ball with and then he takes down two Chelsea players. No studs and he got the ball? But a yellow card? Poor decision if you ask this ordinary punter.
30' Rudiger booked.
29'  Harry Kane battles his way beyond Marcos Alonso and does so well to get a shot away that Courtois seems to save with his thigh or knee. Ball comes back in again and Kane is bundled over by Alonso. Looked a penalty but ref waves his arms to make sure there is no confusion. Kane ends up getting a shot away and wants a corner as it drags wide but again he is given the same response. NO!
28'  Bakayoko catches Trippier with an elbow in an aerial battle and Spurs are awarded a free out.
27'  Alderweireld tries to get it on target with a header from the corner but he's turned the wrong way and it goes tamely wide.
26'  Eriksen with a free in a far less favourable position but he gets it into the box and Bakayoko heads it out for another corner.
24' GOAL! Alonso fancies it is right! He buries it with Lloris stretching and only graspinh thin air.
23'  And now Dele allie catches David Luiz with a flailing back foot and trips him in a nice position for a strike. Marcos Alonso fancies this as he brushes his blonde quiff away from his eyes.
21'  Moses caught with a "Wanyama special" as he puts his arm across the winger and floors him. 
18'  Courtois watches an effort by Dembele fly over his crossbar. He swats a hand at it and obviously got one, as Spurs win the corner.
17'  The sparring continues but no clean punches have landed yet. 
15'  Failed clearance attempt by Christensen lets Alli in but he blazes over.
13'  Lloris with a clearance that Morata chases down and blocks. It falls kindly back to the keeper but that could have been a disaster.
13'  Harry Kane moves down the left and has David Luiz for company. He lets fly with a cross but it goes wide on the other side of the goal.
11'  Corner Chelsea that Eriksen drives clear.
11'  Kane breaks free from the attention of Kante and directs a shot towars Courtois with some venom. The Belgian copes with it by parrying the initial effort.
10'  Dier with another cross and it nearly reaches Kane but not quite. Spurs throwing it around confidently now. 
8'  Spurs start to gain a bit of traction around the middle and enjoying a spell of possession after a shaky start.
7'  Bakayoko heads a cross back towards his own goal. He misses but it goes out for a corner.
6'  Azpilicueta with a perfect cross onto the head of Morata but he screws it wide. Poor miss and would have been a lovely Spanish connection. Sideline shows Conte headering the ball with Morata. I wonder did he miss too?
5'  Cross by Kante in on top of Morata but it hits the crown of his head and goes up into the air.
3'  Poor touch by Wanyama lets Willian away with it but Dembele wins it back for Spurs and Trippier receives it off Lloris. A little bit of gentle sparring early on to feel each other out - nothing wrong with that either. Chelsea the more aggressive but only just.
2'  Morata with an early touch and it's not bad as he keeps an attack alive with a pass to Willian. Moses then crosses but Lloris eventually gathers and clears. 
1'  We are underway at Wembley! 
Spurs have won their last 14 home matches in the Premier League! 
And there has not been a sending off in the last five meetings between these two sides but there was nine yellows for Spurs alone (12 in total) in their game in May 2016 when the 2-2 draw handed Leicester the title.
There have been over 2.5 goals scored in 6 of Tottenham's last 7 home games in the Premier League.
 Chelsea have won five of their last six away matches in the Premier League. 
 Tripper is fit for Tottenham, meaning Kyle Walker-Peters drops back to the bench. 
Álvaro Morata makes his full Premier League debut in attack. 
For Chelsea, that looks like a back three made up of Christensen, Azpilicueta, and Rudiger. In the midfield, David Luiz will play alongside Kante and Bakayoko. The centre of the park has quite a defensive look about it for the visitors. 
Spurs XI: Lloris, Trippier, Alderweireld, Vertonghen, Davies, Dier, Wanyama, Dembele, Eriksen, Dele, Kane.
Chelsea XI: Courtois, Christensen, Rudiger, Luiz, Azpilicueta, Alonso, Moses, Kante, Bakayoko, Willian, Morata.
TEAM NEWS! 
The Diego Costa saga continues to develop at an agonisingly slow rate. The striker is currently in his home town of Lagarto, Brazil, awaiting his move from Chelsea to Atlético to be finalised. There could finally be some movement, as Spanish radio network Onda Cero is reporting that the two clubs have agreed a fee. 
Over in the Premier League's other match this afternoon, Huddersfield are leading Newcastle 1-0, thanks to a gorgeous goal from Aaron Mooy.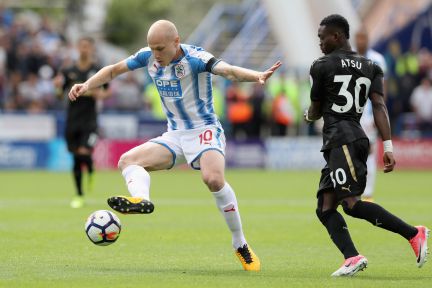 Tottenham are formidable at 'home'. They won their last 14 matches at White Hart Lane. Their ability to replicate that form at Wembley will be key to whether The Lillywhites can mount a meaningful title bid. 
Mauricio Pochettino has stated that only the Premier League trophy will be good enough for Spurs this season. Chelsea may have won the league last season, but it's hard to argue that Spurs weren't the best side in 2017. As such, the Premier League has to be the next aim.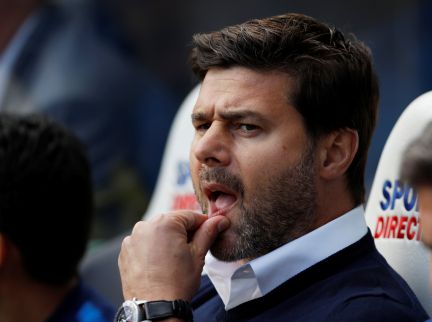 Chelsea are short on midfield options following Cesc Fábregas' red card against Burnley on the opening day. With Matic in Manchester, David Luiz may step up to play alongside N'Golo Kante. 
Why not get yourself started with a read of our match preview below?
Tottenham Hotspur vs Chelsea: live stream match preview
What a game to look forward to as last year's Premier League champions travel to the side that pushed them all the way to the title. The corresponding fixture last season saw Dele Alli score two goals in early January to give Spurs all three points. One significant difference to this year's fixture is that it is being played at the English national stadium of Wembley while White Hart Lane is developed.
Tottenham Hotspur team news
Mauricio Pochettino will hope that this turns out to be a lucky time to be playing last year's dominant side. At this tender stage of the season the Blues look a little out of sorts both on and off the pitch. The Spurs coach has a few injuries concerns himself with Erik Lamela missing from the midfield as well as defenders Danny Rose and Kieran Trippier out, but following a very convincing performance against Newcastle on the opening day should have no fears for Chelsea's visit.
Key players Alli, Dier, Eriksen and last season's Premier League golden boot winner Harry Kane have all hit the ground running and will relish the opportunity to leave their London rivals pointless after two games.
Chelsea team news
Two sending offs in the shock home defeat to Burnley last week mean that Cesc Fabregas and Gary Cahill are suspended for this game. Add to this the continued absenses of Eden Hazard and Tiemoue Bakayoko - both close but not ready yet - as well as the AWOL Diego Costa and it is clear that Antonio Conte has some serious thinking to do if he is to come away from Wembley with something to show for it.
Victor Moses was suspended for the Burnley game and returns, with much expectation likely to be on him and Marcos Alonso pushing forward from deep when not on defensive duty to provide good delivery for new striker, Álvaro Morata. The former Real Madrid man will know that there is a lot on his shoulders with others out but has shown in Spain that he can deliver when called upon to do so.
---
Tottenham Hotspur vs Chelsea live stream online: potential starting line-ups
Tottenham Hotspur XI: Lloris, Walker-Peters, Vertonghen, Alderweireld, Davies, Dier, Dembele, Alli, Eriksen, Son, Kane.
Head coach: Mauricio Pochettino
Chelsea XI: Courtois, Rudiger, Luiz, Azpilicueta, Moses, Alonso, Christensen, Kante, Willian, Pedro, Morata.
Head coach: Antonio Conte
---
Tottenham Hotspur vs Chelsea: live betting odds
The home side are favourites to win and a little more value can be squeezed out of this by predicting a 2-0 win with 10 euros magically turning into 100 (if it happens of course!).
Bet on Tottenham Hotspur vs Chelsea here