Sevilla 2-2 Istanbul Basaksehir Champions League qualifier: match report
Sevilla 2-2 Istanbul Basaksehir: match report
Sevilla booked their place in Thursday's Champions League draw at the expense of Istanbul Basaksehir in Tuesday night at the Ramon Sanchez Pizjuan despite some very nervy moments in the first and second halves. In what was an intense display by both teams and at times erratic, Sevilla never truly lost control though and Eduardo Berizzo can look towards his first Champions League group stages as a manager in his first year at the club
With temperatures reaching close to 40 degrees, it was always going to be a heated affair but when Eljero Elia poked home a low Junior Caicara cross after 17 minutes, Sevilla might not have been expecting to get as hot under the collar that early.
The game ebbed and flowed for the remainder of the half with Joaquin Correa in particular impressing and Istanbul Basaksehir giving as good as they got but Sevilla could not pull away and Istanbul Basaksehir could not pull level as the half-time whistle blew.
Sevilla started the second half and seemed to have figured out their opponents, or at least figured out how they wanted to approach the game.
That became even more apparent after 52 minutes when the impressive Jesus Navas lifted a cross to the back post where an incoming Sergio Escudero sent it to the net with his head.
Sevilla could rest slightly easier at that stage and when on 75 minutes, substitute Nolito broke free and so desperately wanted to shoot himself but opted to play it out wide, Wissam Ben Yedder doubled the Andalucian's lead to 2-0 on the night and 4-2 on aggregate. If the atmosphere in the Sanchez Pizjuan was not one of an official party, it was getting close to it.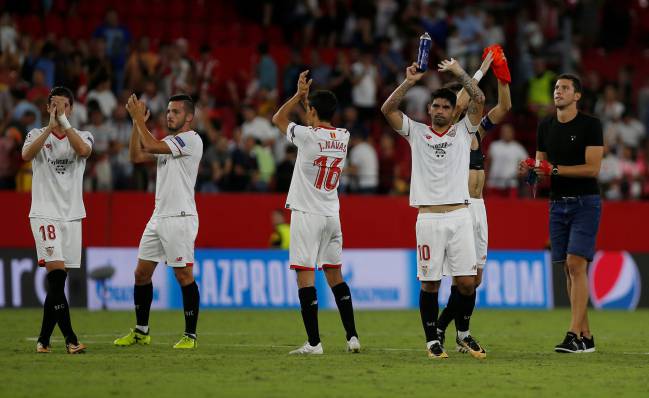 It was game over, or so they, and we, thought.
Substitute Stefano Napoleoni laid a pass off to Edin Visca after 83 minutes, who found himself unmarked as he drove a shot past Sergio Rico to give Sevilla something to worry about for the last ten minutes.
When Clement Lenglet pulled down Emre Belozoglu just outside the box as regular time expired, it was the kind of stuff nightmares are made of for Eduardo Berizzo and Sevilla fans - their mood shifting immediately. What followed was almost worse as Belozoglu struck with his left and the ball struck the post only to bounce awy to safety.
The calls from the fans was to blow it up but the Turks kept pushing while the clock kept rolling. They wouldn't have another chance as good as the free though and when Willie Collum blew his final whistle, there was a sigh of relief from the stands and the sidelines.
In his first year as their manager, Eduardo Berizzo has directed the club to the Champions League via the qualifiers and whatever comes after that nervy night in the Ramon Sanchez Pizjuan surely won't be half as anxiety-inducing as as the last few minutes against Istanbul Basaksehir.
Sevilla vs Istanbul Basaksehir live stream online: latest news
90'+4' GAME OVER! Sevilla through to the Champions League. Close call but they do just enough for the draw and the win over two legs.
90'+4'  Throw for Sevilla.
90'+4'  Last minute. Can Istanbul Basaksehir get a winner. Whistles for the Sanchez-Pizjuan suggest they want the ref to blow it up.
90'+3'  Sarabia taking an age for this one. 
90'+3'  Montoya with just what Sevilla needed. gets the ball out wide, sends in a cross and wins a corner.
90'+1' Sarabia on for Banega. 
90'+1'  Four minutes of added time. Sevilla clear but it's out for a throw. 
90'  IT HITS THE POST! So, so close. The Turks are knocking on the door. 
89'  Lenglet booked for a foul outside the box on Belozoglu.
88'  Madre de mi vida, the commentator says! Ball comes in around and Visca sniffing around again. Sergio Rico gathers but only just before the Istanbul Basaksehir's midfielder could reach it. Sevilla under the cosh now.
86' Jesus Navas going off to a rousing round of applause. Walter Montoya on for the late five.
85'  Caicara with a cross that takes a nick off a defender. Sergio Rico with a catch. 
83' Visca. with the goal! Nervous last 10 for Sevilla. Elia with the cross that Napoleoni lays off to the midfielder and he drives a shot past Visca.
82'  Banega again with the corner and Sevilla pick it up out on the left. 
81'  Banega delivers and with Sevilla bodies flying towards it, it falls to Nolito. He strikes and another deflection sends it out for a corner. 
79'  Corner Sevilla. Mercado battling at the back post but he can't reach it and they win another corner. 
75' GOAL! And that should be the end of that. Nolito waits, waits, waits and then plays it to Ben Yedder, who does the same before driving low and beyond Babacan. 
72'  A couple of half chances for Sevilla. N'zonzi headers a ball up into the air that Babacan collects in the end.
70'  Corresa gets a standing ovation as he leaves the field for Nolito.
70' Nolito enterying the fray. He will replace Correa.
69' Correa booked now for standing on Tekdemir. Proclaims his innocence but obvious that he was late.
67'  N'Zonzi with a golden chance. Ben Yedder plays him through with a lovely poked foot pass and he slices wide.
67' Pareja booked for a nasty enough looking foul on Elia.
65'  Correa with another cross. Doesn't reach the target again though.
64'  Mercado has a chance to pull it back now. He reaches Correa but the Argentine drives over. Sevilla getting closer to possible killing this game off.
63'  Correa makes his way inwards after breaking free down the endline. He pulls it back to Ben Yedder but it's short.
59'  Sergio Rico under some very slight pressure and he tries an ambitious kick-out. Throw-in to Basaksehir
58'  N'Zonzi with another foul. Testing Willie Collum's patience. Next one and the book will be coming out.
57'  Worth noting that nothing changes for Basaksehir. They still need a goal.
56'  Navas gets on the end of a another ball down the right. He tries another cross but this one is blocked for another corner.
55'  Another Jesus Navas cross arrives in but Babacan gathers.
52' GOAL! GOAL! GOAL! Jesus Navas puts a cross onto Sergio Escudero's head and the left-back makes absolutely no mistake. Excellent stuff.
51'  Sevilla in control but not really. They do seem to have started better.
51'  No make or shape to this second half to report just yet. 
49' Pizarro gets to the ball first and Mossoro was flying in trying to make it himself. He kicks the midfielder and gets a booking for himself.
47'  Lenglet arrives late looking to smash home a header but he misses the ball narrowly. Throw to Sevilla in the end as Jesus Navas' sees his cross blocked.
46'  Game on!
Ready to go for the second half. Doesn't seem to be any changes for either side.
45'+2'  Half-time. What a half of football. Not too many chances but the sheer intensity from both sides has to be applauded.
45'+1'  First of two minutes added on. Adebayor catches Mercado as he swings for the ball. Free to the defender. Adebayor protests but Sevilla launch a ball up the field. It lands at Correa's feet and he has a chance to strike on his left but decides against it. He ends up hitting a wayward one with his right. Wrong option.
45'  Loads and loads of pressure from Sevilla. They manage to give away a throw and push all the way up the field. Some serious work being put in by both sides. Basaksehir have backed off slightly but not by design. Sevilla are forcing them to retreat.
44'  Navas assesses his options and plays it back to Mercado. He sends a teasing ball into the box but Babacan grabs it from the sky.
42'  Dangerous ball in behind the back. Basaksehir get it away but only for a corner. A goal now for Sevilla would seriously hurt their opponents' dreams of a comeback.
41'  N'zonzi with a high foot on Elia. He doesn't make contact but it's a free and just as well he didn't make contact. Game has failed to gather any momentum since the water break.
38'  Banega with a dainty run up to it but he hits it well over. Needs to be doing better than that.
37'  Handball by Elia in front of his own goal just outside the box. Excellent chance now for Sevilla. Willie Collum plays advantage but when it's clear there is none, he returns to the area of the crime. 
36'  Sevilla building up a head of steam but a foul by Escudero on Visca will help to relieve that.
34'  After a cooling break, we are back in action! 
29'  Banega fouled a couple of times but keeps possession. He eventually loses it and wins a free.
27'  Mercado crosses with N'Zonzi storming into the box but it's over the tall midfielder, meaning it was at least nine foot off the ground! Basaksehir win a kick-out in the end.
25'  Adebayor still moving very well. He chases down a loose ball and gets to it before Pizarro before colliding with Pareja in the air for the header. Sevilla back on the ball.
24'  Correa with stepover that totally bamboozles his opponent and buys him three yards in the penalty are but it leaves him on his left foot and the cross is brutal. High and overhit. Lovely stepover though, it must be said.
23'  Banega with a kick on Tekdemir. He can make the case he was going for the ball but it was well gone. No card at all. He's lucky it wasn't at least a yellow.
22'  Sevilla steady themselves with the tonic that is possession. But Basaksehir  win it back. Neither team can keep this up for the full 90.
20'  Escudero having a busy night with Caicara down the right for Basaksehir .
20'  Basaksehir throwing the ball around now. Sevilla looking slightly rocked.
17' Istanbul score! Adebayor plays it to Caicara and he crosses onto the foot of Elia, who can't miss! Nice move. Basaksehir going toe-to-toe with Sevilla here.
15'  Cross to Adebayor nearly reaches him but Escudero gets a head to it and clear.
14'  WOW! Mercado wins the ball back for Sevilla and he absolutely lets fly from outside the box. One of those wild ones from a defender that looks like it's going out of the stadium but it nearly breaks the post in half! What a strike.
12'  Escudero goes down after a slight kick from Adebayor. More late than malicious.
10'  Sevilla winning the ball and pressing it high up the field. Their opponents don't have a minute to relax.
9'  Lenglet, fairly this time, wins it back of Adebayor and Sevilla are back in control of the ball after a hectic few minutes.
8'  Straight up the other end and Sevilla win a corner but Basaksehir get it out for a throw. 
7'  Adebayor goes by Lenglet but the French defender puts his arms across the striker and he falls. Sure free but the referee waves play on. Look a certain foul.
6'  Mercado takes Elia down and pleads for forgiveness from the ref. Accident, he says. Free, says the ref! Looked like he did stand on his ankle.
6'  Visca with an effort for Basaksehir that hits the side netting.
5'  Epunaru with the header from the corner but it goes just over. He could never get over the ball. Lively start. 
5'  Junior Caicara down the right but his cross is blocked. Corner for Basaksehir.
3'  And again. Ben Yedder. Same foot but this time it goes just wide. Two excellent chances.
2'  N'Zonzi dispossesses Mossoro and Sevilla get Correa away. He's one-on-one but his right-footed shot is saved by Babacan. Great chance to really put the pressure on Basaksehir.
1'  We are under way in Sevilla!
After the Champions League theme song, we are ready for action! 
Excellent atmosphere at the Ramon Sanchez Pizjuan as the two teams emerge from the tunnel! These fans really want Champions League football this season.
Berrizo not entirely happy with transfer business at the club just yet: "We have the desire to add someone else. There is the need for a left-back. And a striker would work well with qualities we have… We have two strikers who play with the ball at their feet; maybe a powerful striker, who can break past markers … Opportunities always rear their head at the end of the market and why not take advantage of them". Another chance for him to have a look at what he has tonight but no Jesus Navas or Nolito in the team.
Two losses on the trot now for Basaksehir after losing 3-1 to Karabükspor at the weekend.
Scotsman William Collum will be the man in the middle, and the whistle, tonight.
Emmanuel Adebayor and Gaël Clichy featured in a 3-0 success for Arsenal FC against Sevilla in the 2007/08 UEFA Champions League group stage.
Here is all you need to know about the Champions League draw on Thursday!
Basaksehir team news: Babacan, Caicara, Attamah, Epureanu, Clichy, Visca, Tekdemir, Belozoglu, Elia, Mossoro, Adebayor.
Berizzo says, "Looking ahead, towards what we can achieve going forward, the accumulation of games is going to mean everyone will have to be ready. My idea is that everybody feels like a first-team player, then we will fit each one of their performances into the team… I need, and very much believe in a squad of 25 players where every player feels important and needed. Of course, there will be players who play often, but it would be best if everyone achieved that mentality."
Emmanuel Adebayor scored in the 2-0 semifinal of Copa del Rey in 2011 against Sevilla. He has played against Sevilla four times and lost once, which was last week's 2-1 defeat.
Sevilla played three times at home in Europe last season and won all three. Can Eduardo Berizzo keep Jprge Sampaoli's streak going tonight? 
Sevilla come into this game following the opening fixture in LaLiga where they drew 1-1 at home to Espanyol. Başakşehir are further into their season but lost 3-1 away to Karabükspor at the weekend, possibly with one eye on tonight's massive game.
Avci will be looking for the experience of players like Emmanuel Adebayor, Emre Belözoğlu and Gaël Clichy to help them find a way past a talented and hard working Sevilla side.
Istanbul manager Abdullah Avci has said that his team is still very much in this game and that they want to leave the field of play "with their heads held high". 
The man in the middle for tonight's game will be Scotland's very own William Collum, ably assisted by his team from north of Hadrian's Wall. Hopefully someone's reminded them that it's almost 40 degrees in the shade in Seville! #suncream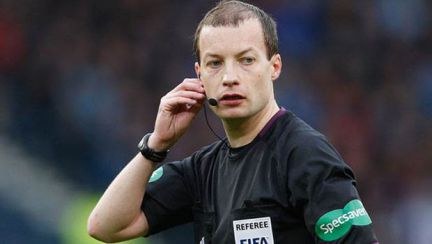 Hello and welcome to our live coverage throughout the day as we build up to the Champions League playoff second leg. What a massive prize awaits the winner...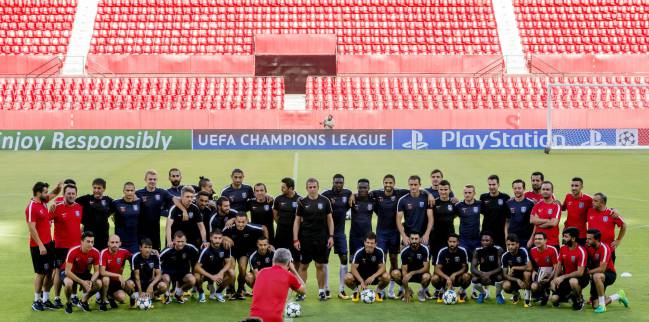 Sevilla vs Istanbul Basaksehir live stream online: preview
Sevilla welcome Basaksehir to the Estadio Rámon Sánchez Pizjuán on Tuesday evening with a 2-1 advantage from the first leg of their Champions League play-off.
Well-taken goals by Sergio Escudero and Wissam Ben Yedder, either side of an Eljero Elia equaliser, secured a positive result for Los Nervionenses as the rain poured down in Istanbul. A place in the Champions League group stages awaits if Eduardo Berizzo's team can see out the tie on home turf.
Sevilla
Berizzo rotated his team for the LaLiga opener against Espanyol, which ended in a 1-1 draw. The Argentina coach, who replaced his compatriot Jorge Sampaoli at the Andalusian club this summer, clearly had one eye on qualifying for the Champions League for the third consecutive season.
Sevilla will be without Daniel Carriço, who is suffering from a hamstring complaint. Franco Vázquez is on the road to recovery, but this match may come too soon. Midfielder Ever Banega received a red card in the draw against Espanyol, but the ban will only apply to domestic competitions.
Istanbul Basaksehir
The Turkish Süper Lig club arrived at this stage of the competition following a 5-3 aggregate victory over Club Brugge in the previous round, and a mixed start to the domestic season. Abdullah Avci's team began the season with a 1-0 victory over Bursaspor, before falling to a 3-1 defeat to Karabukspor in the second match of the campaign.
Basaksehir have never won an away match in European competition, having drawn two and lost two of their games away from Istanbul. The Rámon Sánchez Pizjuán will not be an easy hunting ground for that elusive victory.
Defenders Aurelien Chedjou and Egemen Korkmaz are both injured, while striker Megmet Batdal is also out of action.
Sevilla vs Istanbul Basaksehir live stream online: probable line-ups
Probable Sevilla XI: Rico; Lenglet, Mercado, Pareja, Escudero; Banega, Pizarro, N'Zonzi; Navas, Ben Yedder, Correa.
Probable Basaksehir XI: Babacan; Epureanu, Attamah, Caiçara, Clichy; Elia, Inler, Emre, Visca; Mossoró, Adebayor.
---
Sevilla vs Istanbul Basaksehir live stream online: odds and betting
Sevilla are formidable at home in Europe, and a 2-0 victory appears decent value at 7/1.