Bournemouth 1-2 Manchester City: Premier League result, goals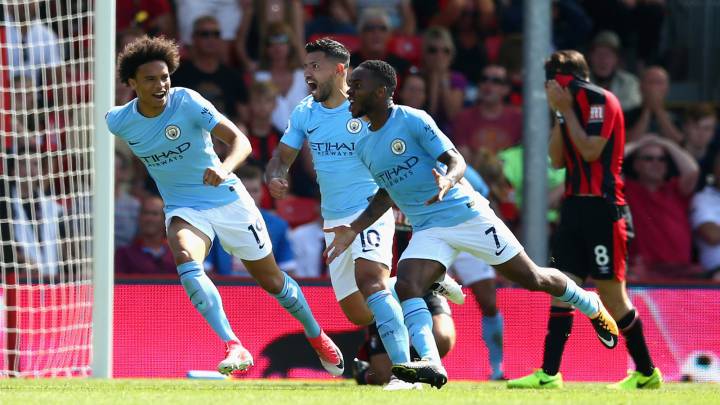 Bournemouth 1-2 Manchester City: Match report
Pep Guardiola and Manchester City came dangerously close to dropping points for a second consecutive game but were saved by a late, late Raheem Sterling goal at the Vitality Stadium on Saturday afternoon.
Charlie Daniels opened the scoring with a left-footed half-volley from the left-hand side that will be hard beaten when the Goal Of The Season award is handed out at the end of the year.
Bournemouth had started better and deserved the lead but it wasn't long before Man City came to life and completely dominated for the remainder of the half.
With David Silva, Bernardo Silva and Kevin de Bruyne poking and prodding Bournemouth's defense for weaknesses, they had the leveller eight minutes after Daniels' goal when, on 21 minutes, Gabriel Jesus made a smart run inside Nathan Ake and slid past Asmir Begovic.
The Citezens came close time and time again in that first half with Bournemouth seemingly relying on luck rather than any coherent plan to repel their opponents. Danilo had an effort that Begovic saves, as did Fernandinho but by the time Mike Dean blew the whistle at the end of the half, the scoreline remained the same.
All square at half-time
Man City started the second half as the first half ended and how they meant to go on with a number of chances that were either saved by Begovic or weren't proper chances at all.
The more the game progressed, however, the more Bournemouth started to eye a counter-attack and even an unlikely lead. With Joshua King charging forward at every opportunity and forcing fouls from Kompany and Mendy, who were booked for the fouls, City could never throw the entire kitchen sink at them.
It looked like Howe's side had held firm but in the seventh minute of injury time, with just five supposed to be played, Joshua King had a chance that Ederson saved and from which City broke. The ball ended up bouncing over the line from a Raheem Sterling strike as the travelling City support exploded into life along with Guardiola and the City bench.
The English winger was then sent off amidst the celebrations for a second yellow as he was engulfed by the crowd. Guardiola and Sterling were as confused as everyone watching but Mike Dean seemed sure. city will surely ask questions of the sending off after the weekend but for now they have their three points in the bag and that's all that matters.
It was a strange end to a game that Bournemouth will feel hard done by in losing and one that City needed plenty of luck to win.
Bournemouth vs Manchester City live stream online: latest news
90'+9'  GAME OVER! Mike Dean blows full time. What was Mike Dean doing? 
90'+7' And now Sterling has been sent off. He runs into the crowd, or more like the crowd ran to him! He got a second yellow, it looks like. Pep is perplexed. So is Sterling. 
90'+7'  Sterling's shot deflects up off a Bournemouth defender and goes into the net. 
90'+5'  STERLING SCORES! 
90'+5'  Begovic boxes the cross clear. 
90'+5'  Charlie Daniels heads out for a corner at the back post. One last attempt.
90'+5'  15 seconds! 
90'+5' Yellow for Adam Smith for a lunge on Sane. He gets up and proclaims his innocence but he knew what he was doing. 
90'+4'  One minute left of the five that are to be added on.
90'+4'  Benik Afoba on the ground after colliding with Vincent Kompany in the air. The Belgian's knee caught the sub's ribs, it looks like. No matter because it's more time off the clock for Bournemouth.
90'+3'  Sterling booked for a foul that stops Bournemouth from breaking. 
90'+1'  Some words being exchanged on the sideline. Howe and Pep exchanging ideas.
90'  Mendy wins a corner for City. Sane lines up to take it.
89'  Eddie Howe looking really nervous on the sideline but egging his side on. Gosling getting seen to on the field. 
88'  Leroy Sane has a shot but Dan Gosling half-blocked the ball and Sane's foot as he pulled his leg back. He got the brunt of Sane's kick. Ball rolls easily into Begovic's arms. 
88'  Bournemouth readying themselves for one last assault.
87'  Sane and De Bruyne link up but Steve Cook puts an end to the move as he slides in and puts it out for a throw. 
86'  Aguero takes it and it goes tamely wide. 
86' Harry Arter booked. Free for City outside the penalty area.
84'  Five minutes to play.
82'  Mings puts it out for a throw under pressure from Danilo.
81'  Gabriel Jesus is limping? He fouls Steve Cook in the air. Another chance for Bournemouth to slow things down.
80'  Really good defending. Gabriel Jesus with a run in behind at an angle and Ake gets a foot to it. 
Kompany and Mendy now the victims of Joshua King's dangerous runs.
79' Joshua King again. Mendy fouls him and gets booked. 
78'  Cross arrives in and Begovic gets a hand to it. 
77'  Ball in around the back by De Bruyne and Aguero battling for it but Bournemouth clear.
76'  City on the march again. Can they get that elusive goal?
74'  Corner arrives in from David Silva. Otamendi with the free header. The whole stadium stands still as it hits the post and pops back up into Begovic's gloves. So close!
73' Jermaine Defoe comes off for Benik Afobe. He's receiving instructions from one of the coaches and runs onto the field mid-sentence. Raring to go!
72'  Sterling clean through. He has it nicked off his toe and it lands at Aguero's foot. He shots but Begovic saves at the first time of asking this time.
72'  Ball falls to David Silva, who backheels into the path of Fernandinho. Begovic saves, spills and then collects again.
71'  Mendy with a cross that he puts everything behind. Too far. 
71'  City still looking dangerous but their attack has gone a little flat. Bournemouth seeing chances to attack now. 
69'  Aguero obstructed off the ball and flails to the ground. Surely a penalty? NO! Mike Dean says no.
68'  Harry Arter recovers from his earlier knock and strikes towards goal. Takes a deflection and goes over for a corner. 
68'  Otamendi booked. Mike Dean gives him three fingers to show it's for persistent fouling.
65' Sergio Aguero enters the fray in place of Bernardo Silva.
64'  Harry Arter down and looks in pain. 
63'  Charlie Daniels with a cross. City clear. Bournemouth pressing higher up the field and the Vitality Stadium is coming to life. The home side reaping rewards from their aggression too but City looking dangerous on the break too.
63'  Bournemouth with a chance to pin City back now. For the first time in a long time.
61'  So, so, so close! Joshua King hits the post. 
60'  The ball stays up in City's half for more than a few econd. Nice chance for Bournemouth's defenders to catch their breath.
57'  A wasted chance. Bournemouth with a free off the training ground. They should have left it there because they don't even get a shot away. What's worse is that City break and nrearly score. Too far behind Bernardo Silva. 
56'  Joshua King breaks free with just Defore ahead of him. He goes by Kompany but is caught on the way past. Booking for the Belgian.
55'  Fabian Delph and Leroy Sane warming up. Pep hoping a change will help. 
55'  Mendy to Sterling and the winger strikes. But it's blocked and Bournemouth still in it. They can't keep hold of the ball though. 
55'  Sterling coughs up possession again. He ran out of ideas that time. Bournemouth clogging up the passing lanes and for any movement ahead of him. 
53'  Free comes in from Silva but it ghosts past everyone and wide. 
52'  Heating up now. Bournemouth not content with being played around for the afternoon. Could work but will most likely see someone sent off! Let's see.
51'  Steve Cook arrives and throws a fairly meaty challenge Gabriel Jesus' way. No free but a throw.
50'  Mendy getting more involved in the second half. He really looks like a complete full-back. 
49'  Sterling clean through. A dreadful touch and he runs it out over the line. So many options. Pep not happy either.
48'  Joshue King with a nice run and cross. City recover and clear but it very, very nearly lands to Defoe on the volley. He throws his hands over his head as he knows how close that was. 
47'  Second half starting the way the first half ended. City in control. This will be a long half if that continues. Otamendi looks for Mendy with an ambitious pass but too much on it.
No changes for either side at the break.
46'  We are back underway at the Vitality Stadium. Nathan Ake returns for Bournemouth.
Quite the bench. 

Bournemouth played the last few minutes of the half with no Nathan Ake. He is finished for the day but how will Eddie Howe replace him? He has to change his tactics in the second half because it's only a matter of time before City get another the way it was going.
45'+2'  One last chance as Sterling is put through. It looks to go our for a goal-kick but he makes it just about and Bournemouth clear. And with that Mike Dean blows for half-time.
45'+2'  Danilo tries a cross and it's blocked by Charlie Daniels. Bournemouth begging for the half-time whistle.
45'+1'  Bournemouth with a late push. Ball into the box but Gosling is a half a yard late reacting. 
45'  Some lovely movement by Bernardo Silva to break free and find Jesus. He lays it off to Silva and his ball it too far out of Jesus' reach for a chance at goal.
44'  Begovic called into action. He saves a shot and bats it away again. 
43'  Don't mean to jinx Bournemouth but if they can hold City to a draw at half-time it will be a major accomplishment.
42'  Nathan Ake can not continue, it looks like. He's limping off and giving the substitution gesture to the bench.
40'  Nthan Ake on the ground after reaching to clear a Benjamin Mendy cross. Looks to be in some discomfort.
38'  Eddie Howe scribbling furiously on a notepad. Unless it's to tell his players to "WAKE UP!", I don't think it's going to have any effect.
Correction: Danilo was not booked ealrlier. Mike Dean had a long hard think about it though.
37'  Mendy with a cross to Gabriel Jesus but Bournemouth bat it away again. Like a game of tennis though, it keeps coming back.
36'  Bernardo Silva to Danilo and the former Real Madrid defender drives one across goal. A mircale it doesn't hit anyone and Bournemouth survive. for how long though? City back in possession and threatening again.
35' Danilo fouls Charlies Daniels with a high foot and he gets booked for his effort. A quick shake of the hand and we are off again. 
32'  Defoe back defending for his life. He fouls David Silva in his own half. city setting up for the free.
31'  Mings back to Begovic and back to the keeper again before he goes long. Ake with a dreadful pass that gifts it to Bernardo Silva. He has a look around and opts to shoot himself. His bended left-footed effort isn't far enough away from Begovic and it lands straight in his breadbasket.
30'  Okay, that might help Bournemouth out as Defoe win a free and they have the chance to slow things down for a second. But from the free, City win it back. 
29'  Mendy powering forward. He wins his side a corner. The former Monaco man is looking very useful so far in his debut.
28'  Then Bernardo Silva goes down under a challenge but no penalty. All City now. Bournemouth need to relieve some of this pressure.
28'  Danilo in around the back and strikes at Begovic but the keeper stops it with his legs. 
Pep speaking to the fourth official and looking for an answer as to why Ake wasn't sent off. He's fired up.
27'  City have awoken from their slumber. 
25'  De Bruyne to Danilo and he has a shot that's blocked before it falls to the newly-bald David Silva. It pops up lovely for him but he drives it over the bar. 
24'  Mendy with the run down the left and he is picked out before crossing first time. It rolls to Jesus but he misses the target. Almost had his second. He is causing Bournemouth all sorts of probems.
23' Ake not being caught out this time but Jesus had a run on him. He gets booked. The central defender tried to play it back to Begovic and Jesus jumps it before he pulls the goalscorer down. 
22' That didn't last very long. Silva plays Gabriel Jesus through on goal and he manages to get in front of Ake and finish beyond Begovic low and just inside the post. 
19'  Bournemouth again. Ball in from Surman is a bending, teasing one and Defoe hits it on the volley. Ederson equal to it but very close to being 2-0. Excellent stuff from Bournemouth.
18'  City are growing into this one. Still chasing Bournemouth though.
16'  De Bruyne with a corner and Otamendi misses the target.
15'  Might have been too early to say but that goal looked likely. Bournemouth started far better and it just seemed as though City were half asleep.
13' AN ABSOLUTE CRACKER! Charlie Daniels with the strike that bends upwards and goes in off the crossbar. 
12'  Cook melts Jesus with a shoulder in the back. Free City but Bournemouth win it back. Joshua King really looking lively moving forward. 
11'  Ball into the danger area by De Bruyne and it's flicked up in Begovic's hands. 
9'  Mendy with his first chance to get forward. Watched every step of the way by Smith. Throw to City is the end result.
7'  Otamendi fouls King again. He has a kick at the ball but gets King's shin first. Free to Bournemouth and now Mike Dean is giving Kompany instructions as to what to tell his teammates about their conduct.
6'  De Bruyne with a cross-field ball to Danilo. He heads it down to Silva and the Spaniard tries an incisive pass to Jesus but he was on the wrong page and going in a different direction.
5'  Really good attack by Bournemouth. They break at speed and Arter pulls it back to King. He strikes but it's blocked and Defoe tries a backheel but City scramble it away.
4'  Surman with the corner but it doesn't make it beyond the first defender, who happens to be Fernadinho. He heads clear but Bournemouth back in possession before a long ball makes it's way to Ederson. City now trying to get a foothold in this one.
3'  Otamendi with a foul on King. Smith swings it in but Otamendi in the thick of it again and puts it out for a corner. 
2'  King tries to drive through the City defense but he kicks it too far ahead of him and Ederson collects.
We are underway at the Vitality Stadium. 1'  
Camera focusing on Aguero, who doesn't look happy.
After losing their first two games, might be best to keep the chatting to a minimum. 
Vincent Kompany trying to make small talk with Begovic and a few more in the tunnel. The Bournemouth lads having none of it.
The players are in the tunnel ready for action.
The games on later today: 
Crystal Palace vs. Swansea Huddersfield vs. southampton Newcastle vs. West Ham Watford vs. Brighton Man Utd vs. Leicester 18:30 CEST
Pep peppering a little praise on Eddie Howe during his press conference yesterday. "The Premier League is so complicated, so special," Guardiola said. "Sometimes in Champions League the teams they play and they let you play. Bournemouth are a team who want to play. The manager is so good in those terms."
Pep looking not entirely confident ahead of the game.

Manchester United starting a trend as sleeves become a prime place for sponsoring teams. Bournemouth will have Mansion on their sleeves as their firts official sleeve partner.

Eddie Howe has made three changes to the side that lose to Watford. In come Defoe, Mings and Gosling and out go Afobe, Ibe and Fraser in that order, we believe, too.
Typically a team who score and concede a lot, there have been under 2.5 goals scored in Bournemouth's last 3 games (Premier League).
Bournemouth have conceded three and not scored on their way to two losses to start the league campaign. They lost the opening day fixture to West Brom and lost 0-2 to Watford last weekend. Howe really needs something from this one even though nobody is giving them a hope.
Man City have kept a clean sheet in their last 3matches against Bournemouth in all competitions. Can defoe change that today? 
We also have a full debut for Bernardo Silva, who came on against Everton and really lit the place up on Monday. And Benjamin Mendy is handed his debut too. Danilo replaces Kyle Walker at right-back after the for Spurs player picked up a suspension with his sending off against the Toffees. Sterling also did well when he came on against Ronald Koeman's side on Monday night and he starts ahead of Aguero. 
They haven't invented a graphic design system complex enough to draw a graphic for Pep's formation! 
Manchester City teams news: Ederson, Danilo, Kompany, Otamendi, Mendy, Fernandinho, Bernardo Silva. David Silva, De Bruyne, Sterling, G. Jesus
Bournemouth team news is in: Begovic, Cook, Ake, Mings, Smith, Daniels, Gosling, Surman, Arter, Defoe, King.
 What's going to happen with this game and the rest of the weekend's Premier League action? Our resident EPL expert casts a glance over the fixtures with his predictions. 

Hello and welcome to our live, minute-by-minute coverage of the 2017/18 Premier League match between AFC Bournemouth and Manchester City at Vitality Stadium, Bournemouth. The week 3 fixture kicks off at 13:30 CEST on Saturday 26 August 2017.
Bournemouth vs Manchester City live stream online: match preview
Eddie Howe's Bournemouth host Pep Guardiola's Manchester City in a clash between two sides out to get back to winning ways in the Premier League.
Bournemouth
Now in their third season in the top flight, Bournemouth have suffered a poor start to the league campaign, losing their first two games and failing to score a goal so far.
And after disappointing displays in defeat to West Bromwich Albion and Watford, the Cherries now host a side they have never beaten in a competitive meeting.
"The results at the start of the season are one thing but the performances have been more concerning," said Howe in his pre-match press conference. "With the quality of the opposition on Saturday we're going to need to raise that level to compete."
However, they did pick up their first victory of 2017/18 by beating Birmingham City 2-1 in the Carabao Cup in midweek with goals from Ryan Fraser and Marc Pugh.
Striker Jermain Defoe started that win and, as he looks to remedy his side's lack of goals, Howe could include him in a league XI for the first time since his summer move from Sunderland.
Captain Simon Francis remains out with a hamstring injury picked up at West Brom, having joined casualties Callum Wilson and Junior Stanislas in the sickbay.
Manchester City
After winning at Brighton on the Premier League's opening weekend, City needed a late Raheem Sterling equaliser to salvage a point at home to Everton on Monday.
That stalemate saw Guardiola's men lose ground on the early pace-setters - led by neighbours Manchester United, who have come flying out of the blocks with successive 4-0 wins.
Kyle Walker is suspended after being sent off on his home debut against the Toffees, while it is unclear whether new signing Benjamin Mendy, who has been out with a thigh muscle strain, will be fit to play. City say the left-back is "nearing a return", as are longer-term absentees Fabian Delph and Ilkay Gündogan.
Brazilian striker Gabriel Jesús, who is expected to start up front alongside Sergio Agüero once more, has unhappy memories of Vitality Stadium.
Having arrived in last term's January window, his impressive start to life in England was curtailed by a broken metatarsal in a 2-0 win for City in February.
---
Bournemouth vs Manchester City live stream: potential line-ups
Bournemouth XI: Begovic, Smith, Cook, Ake, Daniels, Fraser, Surman, Arter, Ibe, King, Defoe
Head coach: Eddie Howe
Manchester City XI: Ederson, Danilo, Kompany, Stones, Otamendi, Fernandinho, Sterling, De Bruyne, Silva, Agüero, Jesús
Head coach: Pep Guardiola
---
Bournemouth vs Manchester City live stream online: betting
Manchester City are the overwhelming favourites to take all three points at Vitality Stadium, with a victory for Guardiola's side valued at €1.30 per euro bet. A Bournemouth win, meanwhile, is priced back at €11 for every euro placed.
Place your bet on Bournemouth vs Manchester City now