Liverpool - Arsenal live stream online: Premier League 2017
Liverpool were excellent as they beat a tepid Arsenal side 4-0 at Anfield on Sunday afternoon with plenty of questions being asked of Arsene Wenger's tactics and team selectionBarcelona-Getafe live: LaLiga Santander matchweek 23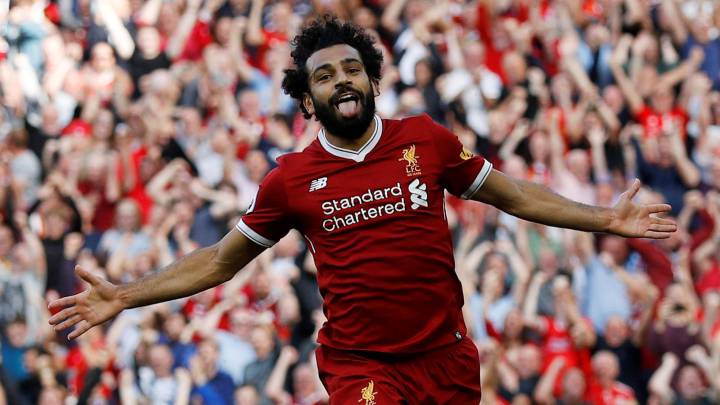 Liverpool 4-0 Arsenal: Match report
Liveprool handed Arsene Wenger's Arsenal a painful and humiliating defeat at Anfield on Sunday as the Gunners' manager is sure to have his team selection, tactics and everything else about his running of the team questioned in the days that follow.
Following a loss to Stoke City, Wenger decided it best to drop Alexandre Lacazette, Sead Kolasinac and Shokdran Mustafi as Danny Welbeck led the line and Nacho Monreal, Laurent Koscielny and Rob Holding looked to snuff out Liverpool's lightening fast, and clinical, attack as the back three.
That decision seemed ill-fated form the start as Liverpool tested Arsenal's brittle backline early and often. They opened the scoring after 17 minutes when Roberto Firmino turned home a Joe Gomez header with his head and from that point it was plain sailing for Liverpool.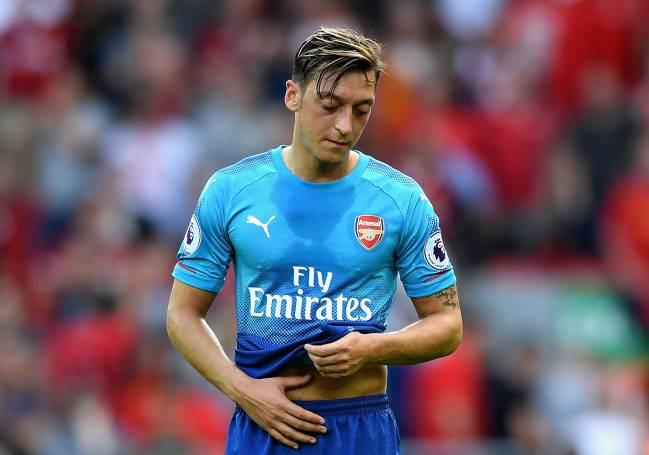 As Arsenal looked to assert themselves on the game, they were picked off with a lightening fast counter-attack that fell at the feet of Sadio Mane and by the time the ball had curled expertly past Petr Cech, Anfield was abuzz and Mane was wheeling away to celebrate.
It did seem, however, that is was too easy at times for the home side and as delighted as Liverpool fans will be, they surely also understand that this is an Arsenal team with serious issues and one that could well be at a crossroads. The next week will be a massive tell as to who does and does not want to play for Arsenal anymore.
It was much of the same in the second half and Hector Bellerin, the last man back from an Arsenal corner gifted the ball to Mohamed Salah when he mishit a ball forward. With 40 yards to run into, Arsenal players in chase might as well have been running in the opposite direction because the summer arrival was never going to be caught. He finished beyond a helpless Cech and Liverpool were most definitely home and hosed.
Daniel Sturridge added a little more lacquer to the scoreline when he headed home at the back post from a Salah cross having been on the field for just two minutes. His tame celebration said everything that needed to be said about the opposition.
The sweet release of the full-time whistle blew with Arsene Wenger rocking back and forth in his seat at Anfield just counting down the seconds. Alexis Sanchez disappeared down the tunnel and Arsenal fans were left with so many questions. The problem for the Frenchman on the bench is that the answer to a lot of those questions leads to the unthinkable for the veteran manager of the London side.
Liverpool 4-0 Arsenal: Premier League live stream online
Game, set and match Liverpool. 4-0 it ends. That was really poor from Arsenal and the fallout from that result should be interesting.
90'+1'  Salah has a shot and Cech palms it over for a corner.
88'  One last hurrah. Giroud with a header that goes well over from a free.
85'  Monreal pushing Matip in the back trying to get the ball back but Matip stands tall. Men against boys today.
84' Grujic replaces Emre Can.
83'  Wijnaldum running rings around a number of Arsenal players. Toying with them.
81'  Wenger looks like he is about to faint on the sideline. 
77' Sturridge finishes at the back post with his head. Salah gets the ball from Can and he sends it into the box for Studge.
74' Sadio Mane has done enough. He is replaced by Sturridge and gets a big hug off Klopp.
72' Holding booked for that effort.
72'  Holding with a dreadful touch and then body checks Jordan Henderson. 
72'  Moreno picks himself up after an ankle knock and tries to run it off. Free to the home side.
70'  Cech saves from Mane and Belerin arrives to clear it off the line as it tolls dangerously close. 
70'  Very nearly four. 
68'  Ball falls to Lacazette and he lines one up. But it goes wide and he half-heartedly looks for a corner. 
65'  No massive change from the subs yet. 
62' Lacazette and Giroud on for Chamberlain and Sanchez.
60'  Liverpool looking for more. Can has a shot that's blocked. Salah then tries to find Mane but Arsenal intervene and win it back.
57'  An absolute howler from Bellerin who gifted the ball to Salah. No chance of catching him once he broke free.
57' This is a hiding. Salah breaks clean through and finishes beyond Cech.. 
56'  Arsenal might have gotten away with one there. Holding jumps in front of the ball as Mane tries to break free. Arsenal in attack after he wins it back.
55'  Salah through one on one and he misses again. What was Koscielny doing? He kept back-tracking an didn't step in front of Salah.
54'  Arsenal break but Oxlade-Chamberlain is stopped by Moreno on the counter.
54'  Henderson ready to take a corner. 
52'  Ball in around the back from Salah and it is just out of reach of a couple of Liverpool players. 
49' Alexis with a shot that's blocked. Arsenal keep possession. But Ozil fouls henderson and gets himself booked.
47'  Arsenal with a little spell of pressure. Ends with Ozil taking a shot from outside the box that he drags wide.
46'  And we are off for the second half. 
Coquelin replaces Ramsey. 
45'  Half-time. Let me tell you something! That was a pitiful half of football from Arsenal and Twitter is a very sad place to be. Pure resignation from not only Arsenal fans but everyone about the manager. Team selection, tactics, the whole thing is just wrong.
43'  And Xhaka with another foul on Can. Thin ice now for the midfielder.
43'  Xhaka booked.
43'  Arsenal have been deplorable. There is no worse team in the Premier League to go 2-0 down to at home. The speed of Liverpool's counters could see this one end five or six nil.
40' Sadio Mane with the finish! Razor sharp counter attack and Mane curls past Cech.
38'  Welbeck bulldozes Masip out of the way as Arsenal look to create a shot. Foul. 
36'  Salah offside again. He needs to control his runs a little more.
33'  Xhaka concededs a corner with a poorly executed back-heel. 
32'  Mane the latest with an effort. Drags it wide.
29'  Mane looking for Moreno but his pass has too much on it now. Wenger looked nervous on the sideline.
28'  Joe Gomez with another teasing cross into the box.
27'  Salah looking to gain a yard again but he's offside this time.
25'  Another chance and Cech turns it away. Salah rejected again. Arsenal are wide open time and time again.
23' Joe Gomez booked now. In a game that has been far from dirty, we have three yellows midway through the first half.
Dejan Lovren booked just before that.
21' Welbeck booked for a foul on Alberto Moreno as he cleared.
19'  Henderson picks the pocket of Ramsey. He ends up clipping one over Cech and just to the right of the goal after Firmino puts him through.
17' That was coming. Arsenal all over the place. Firmino. Heads home a cross from Joe Gomez.
17'  Plenty of pressure now for Arsenal. Lovren offside from a clipped ball inside from Henderson.
16'  Mane and Wijnaldum link up expertly. Mane free down the left but his cross is blocked.
13'  Long ball to Mane. He does really well to almost take it down but Holding does well to put him off. The attacker then goes down and has a look around for any chance of a penalty? No sign of one either.
10'  Emre Can with an absolutely perfect pass to the back post. Salah there and all he has to do is tap it in but he hits it straight at Cech. What a miss that was! Worrying how easily Arsenal being breached though.
9'  Emre Can with an outside-of-the-boot effort. Too much for even Salah.
9'  A very glum looking Mustafi on the bench along with Kolasinac.
7'  Welbeck looked to be slightly pulled back. Sanchez finds him and his first touch sets him up lovely but he hits it on the bounce and gets right underneath it. Over the bar! 
7'  He's fast but not Salah fast!
7'  Ball from Alexis Sanchez into Bellerin and it's too long. 
6'  Emre Can ends up getting a chance away but it's wide.
6'  Salah is fast! Makes it to a lost cause and crosses to Mane but too far behind him. 
5'  Ball in around the back for Salah and he beats Monreal to the punch but the cross is cleared by Arsenal. 
3'  Liverpool with all the possession early on! 
Game on at Anfield.
A rousing rendition of You'll Never Walk Alone!
The two teams emerge onto the field. Massive game for both sides this early in the season. Liverpool with a win and a draw while Arsenal won their first and lost to Stoke. Another loss could be disasterous given the quality at the very top of the table.
Also, Klopp says he is resting Simon Mignolet and that they haven't had an argument.
Kolasinac dropped and so is Lacazette from the team that played against Stoke. As is Mustafi, who has been linked with a move away from the club. This is very Wenger-esque. If it works, he will be vindicated but if not, he is in for some serious abuse.
What's the latest on Coutinho we hear you ask....Guillem Balague offers the latest....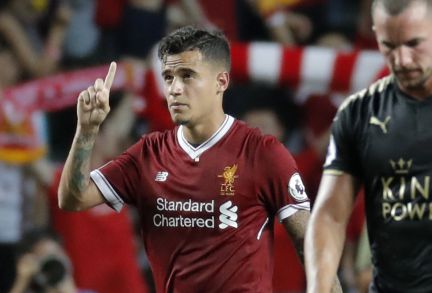 Hello and welcome to our minute-by-minute coverage of the 2017/18 Premier League clash between Liverpool and Arsenal.. The game kicks off at 17.00 CEST and we'll be building up to it throughout the day.
Liverpool vs Arsenal live stream online: Premier League preview
Liverpool host Arsenal in the pick of the weekend's fixtures in the Premier League - and it's a clash that in recent times has brought goals galore.
Indeed, the sides' last three top-flight meetings have seen the net bulge on a whopping 17 occasions.
Liverpool
Liverpool have a win and a draw to their name so far this term, having followed up a 3-3 opening-day stalemate at Watford with a narrow, 1-0 victory over Crystal Palace.
Jürgen Klopp's men come into the visit of Arsenal buoyed by their qualification for the Champions League group stage on Wednesday, courtesy of a 6-3 aggregate win over Hoffenheim.
Trent Alexander-Arnold picked up a dead leg in midweek but is expected to be fit, as is Emre Can, who Klopp has said "should be OK" despite suffering a twisted knee.
Barcelona target Philippe Coutinho remains on the sidelines with a back injury, with Adam Lallana (thigh) and Nathaniel Clyne (hamstring) also still out.
After doing a Premier League double over Arsenal last season, Liverpool now have the opportunity to make it three league wins on the trot against the North Londoners for the first time since back in 1998.
Arsenal
Arsenal go to Anfield out to bounce back from the disappointment of a 1-0 defeat to Stoke City last time out, having edged Leicester City 4-3 in a week 1 thriller.
It's been just under five years since Arsene Wenger's men came away from Liverpool's home ground with all three points: a 2-0 triumph in September 2012.
And with four in the 'against' column already, the visitors' backline could really do without an on-the-road examination by the attacking trio of Sadio Mané, Roberto Firmino and Mohamed Salah.
However, the Gunners are able to slot Laurent Koscielny back into their defence following the completion of the Frenchman's three-match ban.
And Arsenal are also set to be boosted by the return of some major forward firepower in Alexis Sánchez, who has recovered from an abdominal strain and is in line to make his first appearance of the season.
With Shkodran Mustafi seemingly nearing a move to Inter Milan, the Germany international defender looks unlikely to feature on Merseyside.
---
Liverpool vs Arsenal live stream: possible line-ups
Liverpool XI: Mignolet; Alexander-Arnold, Moreno, Matip, Lovren; Wijnaldum, Henderson, Can; Mane, Salah, Firmino.
Arsenal XI: Cech; Holding, Koscielny Kolasinac; Bellerín, Xhaka, Ramsey, Oxlade-Chamberlain; Sánchez, Özil, Lacazette.
---
Liverpool vs Arsenal live online: Premier League betting
Liverpool are favourites for the win, with a home victory priced at 23/20 and an Arsenal triumph valued back at 12/5.
Place your bet on Liverpool vs Arsenal here