Czech Republic 1-2 Germany: World Cup qualifier match report, as it happened, goals
A late Mats Hummels goal left Czech Republic's slender hopes of making it to the World Cup in tatters despite pulling themselves back into the game through a wondergful Darida striker. Russia vs Egypt live: World Cup 2018 Group A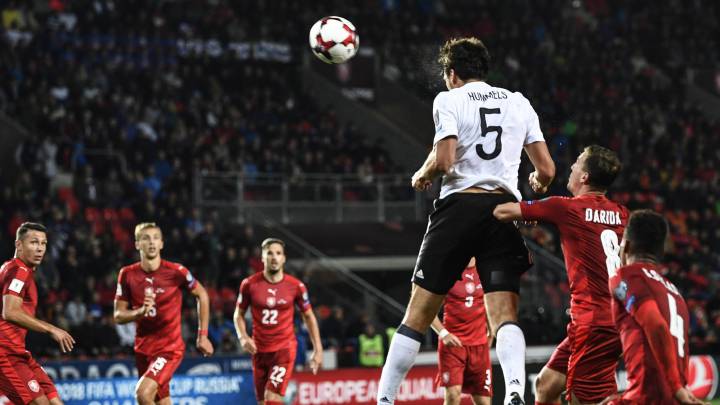 Czech Republic 1-2 Germany: match report
Germany made it seven from seven in World Cup qualifying despite a second half scare thanks to a Mats Hummels header late on at the Eden Arena in Prague on Friday night.
From the early going, Germany were in control when man of the moment in Germany, Timo Werner poked home from a splendid through ball by Mesut Ozil after four minutes.
Germany were intent on putting their stamp on the game but the home side needed to respond and that finish gave them a jolt early on. They had chances are were breaking with purpose but their final effort let them down time and time again.
Their best chance fell to them at the end of the half when a counter led to captain Gebre Selassie bearing down on goal from the right. He went for the unselfish option and drove a cross well over the goals as the players awaiting the delivery inside were livid.
The second half was a far more dour affair as Germany seemed to revert to a more defensive shape, happy with their goal lead and wary of a Czech Republic side growing in confidence.
Surprisingly, however, the home side were unwilling or uncapable of building on their own growing momentum. It seemed as though their chance was gone until Vladimir Darida sent a shot from 30 yards out flying in off the crossbar with Marc Andre Ter Stegen grasping at fresh air.
It seemed, however faint, that Czech Republic's World Cup dreams were still alive.
That was until Toni Kroos sent a free-kick onto the head of Mats Hummels with two minutes to play and the Bayern Munich defender looped it past Tomas Vaclik and the Czech's bubble was most certainly burst.
They now sit seven points behind Northern Ireland in second place as Germany stamp their authority further on the top spot and leave their opponents in Prague on the mat with little hope of a World Cup berth.
Czech Republic 0-1 Germany live stream online: live
90' Game over! That game had a strange 'it doesn't matter' feeling to it.
90'  We have a late free in an identical place that Germany had theirs. Rudiger booked for an earlier tackle. Hummels with the indiscretion that gave away the free.
86' GOAL! Hummels with a lovely, looping header past Vaclik from the free. Great news for Northern Ireland but almost certainly destroys Czech Republic's World Cup aspirations.
84'  Muller fouled now in a decent pisition. Can Germany be the ones to grab a winner?
80'  Czech Republic moving into another gear now as they try to sneak a winner? 
76' Kliment replaces Krmencik
76'  Czech Republic with the goal! Darida with an absolute thumper from outside the box. Ter Stegen had absolutely no chance as it thundered in off th crossbar.
Josh Magennis adds another for Northern Ireland.
Josh Magennis gives Northern Ireland the lead against San Marino. Seven points between them and Czech Republic as it stands.
74'  Ozil does find him this time but his touch takes the ball away from him and into Vaclik's hands.
72'  Ball over the top to Werner catches him offside again.
70'  All the possession now but absolutely nothing happening. Very poor performance. Where is the fight gone from Czech Republic? Germany themselves have gone very negative and defensive.
68'  Ozil wins a corner for Germany. 
67' Stindl replaced by Draxler. 
66'  Novak fouls Muller. Germany with all the ball now but still nothing happening. 
64'  Gebre Selassie arrives late at the back post and jumps into Hector's back. Free to Germany. 
62'  Krejci with a shot that almost loops over Ter Stegen but he's comfortable.
60' Brandt comes off for Rudiger. Obviously not a direct swap. Loew trying to shut up shop a little bit.
60'  Gebre Selassie wins the corner. 
57'  Far from convincing from Germany so far. Anthony Rudiger is warming up. 
55'  Soucek with another shot. This one comes off Hummels head and I'm not entirely sure how much the defender knew about it.
53'  Kopic replaced by Krejci as Jarolim decides it's time to take action.
51'  Bonil at the back post. He tried to curl a volley over and past Ter Stegen. An ambitious plan as it goes wide. Even if it was on target, Ter Stegen was well positioned.
50'  And now it's Ter Stegens0 turn to save. Soucek with the right-footed effort, that's low, and takes a deflection. the Barcelona keeper gathers!
50'  Stindl stings the hands of Vaclik but once he parries it, he gathers at the second time of asking. 
48'  Werner called up for offside. Keen to get his second but too keen that time.
47'  Suchy launches himself into a tackle, illegally, and Hector wins the free for Germany.
46'  We are underway for the second half. No changes for either side. Czech Republic obviously happy with how they responded to the opening goal.
And Scotland lead Lithuania 2-0. 
In other results in Group C, Norway lead Azerbaijan by a goal to nil. And Northern Ireland and San Marino are scoreless.
45'  Chance of the game for Czech Republic. Darida plays it out to Gebre Selsassie and he looks to be unselfish by crossing. Hits it ten yards over the bar. What a waste! The players in the box are livid and the captain of the side isn't happy with himself either.
45'  Ginter fouls Kopic now. 
45'  Muller with another really dangerous ball into the box. Cleared as Stindl arrives. 
43' Muller booked now for pulling back Boril as he tries to break into space. 
42'  No. Jankto with a cross that goes wide. He had players waiting in the box who aren't happy. Poor delivery. That final ball hurting the Czechs but they have had chances to break. Rush of blood to their heads when they do get into a decent position.
40'  Jankto a little over zealous in his pursuit of the ball. He barges into the back of Kimmich and the Germans win a free. Kimmich isn't happy. To be fair, he has a point. Unneccesarily rough from the attacker.
38'  That left-hand side causing problems for Germany. Krmencik makes a move out that direction and wins a throw. Still no breakthrough for the home side though.
36'  Jankto caught offside. He was away there and he signals to the linesman that it was maybe, just maybe, an inch offside. It looked very close. Hard to tell from the angle shown. 
35'  He does, sort of, but Czech Republic head it away and then break. 
35'  Kalas booked. Free to Germany now as Ozil looks to send in a dangerous cross. 
33'  Czechs foiled again. Krmencik with a cross that deflects back safely to Ter Stegen.
32'  Kroos tries a quick one for Muller but it was even too quick for his teammate. Goes over his head and Czech Republic clear.
31'  Corner for Germany. 
29'  Timo Werner chases down a long ball. He tries a cross but it's blocked and cleared for a throw. He had options there inside but little else he could have done.
28'  Czech Republic really unlucky not to be back in this game. 
27'  Corner for Czech Republic. gebre Selassie so close to getting something on it. Then a number of close calls before Muller slides it out for a throw. 
26'  Ter Stegen takes a real chance. He comes off his line but retreats almost immediately. Kankto tries to lob him but sends it just over the bar. Lucky.
24'  Kroos whips in a free and Hummels meets it with his head but he can only get under it and he sends it over.
22'  Kroos, to Ozil, to Hector and back to Kroos. He strikes and Vaclik gets down to save. Speculative effort.
20'  Muller pulls it back for Lars Stindl and he strikes low but Czech Republic clear it off the line. 
19'  Germany trying to assert some control back on this game. Czech Republic buoyed by that very decent spell.
16'  That goal might not have been good for the home side but it's been great for the game.
16'  Excellent again from Czech Republic. They break with a lovely move and Boril tests Ter Stegen. From the corner, they manage a header and it's deflected over the bar that Ter Stegen keeps a very close eye on.
15'  Czech Republic with a bried glimpse of hope. They still haven't tested Ter Stegen just yet though.
13'  Darida drives it ten yards over the penalty area and out for a goal-kick. Really poor execution. 
13'  Now Suchy is turned upside down as Werner ducks when the defender jumps for the ball. Free to Czech Republic in a promising position.
12'  Gebre Selassie nearly gets a head to the corner as it lands at the back post.  
12'  Really promising break by the home side. Jankto plays it to Kopic and he cuts inside, shots and sees his shot blocked for a corner. 
11'  Hector heads a long ball back into the centre and Czech Republic win it back but just for about five seconds. 
9'  Muller with a hand ball under pressure from captain Suchy. 
8'  Germany in control. Czech Republic's worst nightmare, that early goal, as now they have to attack the Germans. Struggling to string a couple of passes together.
6'  Kimmich with a direct ball to Werner. But he loses it and Czech Republic break. 
4' That didn't take long. Timo Werner pokes home as Ozil puts him through. That was easy. 
3'  Scratch that. The further Germany went backwards, the more the Czechs pushed up on them. Kopic wins it back high up the field but then loses out again. Very organised from the home side early doors.
2'  The only one leaving his position is Jankto, as he presses occassionally. 
1'  Czech Republic sitting deep now letting Germany playing it around the back to start.
1'  1'  We are underway in Prague.
 The German national anthem being played now.
Germany are on 18 points, Northern Ireland on 13 and Czech Republic on 9. 
Germany are six for six so far in Group C. Northern Ireland are playing San Marino at the same time (we will have updates for you) and a slip by the Germans tonight could result in some nervous moments in the next couple of games.
Just 15 minute's out from Kickoff.
Germany were saying how they know some of the Czech Republic players from the Bundeliga. Werder Bremen's defender Theodor Gebre Selassie and Hertha's Vladimir Darida start tonight against a Bundesliga-heavy German XI. 
Marek Suchy to captain the Czechs in Prague tonight. 
Czech Republic XI: Vaclik - Kalas, Suchy, Novak - Selassie, Soucek, Darida, Boril - Kopic, Krmencik - Jankto
Bayern Munich's Thomas Muller will captain the side and Arsenal's Mesut Ozil also starts.
Germany's startin XI is in: Ter Stegen; Hector, Ginter, Hummels, Kroos, Stindl, Özil, Werner, Müller (C), Kimmich, Brandt.
 Here's how they stand in Group C, with Germany sitting pretty at the top on six wins from six - and just the one goal conceded. The Czechs, meanwhile, are playing catch-up on second-placed Nothern Ireland.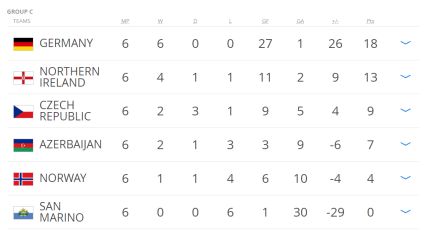 Good afternoon! Join us for the build-up ahead of tonight's qualifier in Prague!
Czech Republic vs Germany live stream online: World Cup qualifying match preview
Prague is the venue as the Group C leaders, Germany, take on Czech Republic, who currently sit in third looking up at their Friday night opponents and Northern Ireland in second. The game kicks off at Eden Arena at 20:45 CEST as Czech Republic try to chip away at Northern Ireland's four point lead on them while Germany have the chance to both keep up with Germany and seperate themselves from the Czechs as they play the group's bottom side, San Marino, at the same time.
Czech Republic
Karel Jarolim's side have won just two of their six qualifiers but lost just one. They have drawn three though and find themselves playing catch-up in a group they might have hoped to finished second in.
Patrik Schick, AS Roma's newest signing, didn't make the cut but Joralim has selected an especially youthful side to take on an energetic and attacking Germany. Only Gebre Selassie is over 30.
Jarolim's opposite number, Joachim Loew says, "The Czechs are with their backs to the wall and against us they have to get points, and win against Northern Ireland. Otherwise their World Cup dream is over," he said. Whether he is using that as a tool to motivate his own players or pour further pressure on his opponents, you can expect a response from the Czech Republic provided they can keep pace with Germany early on.
Czech Republic squad
Vaclik, Koubek, Pavlenka; Gebre Selassie, Suchy, Kaderabek, Novak, Kalas, Boril, Hovorka, Luftner; Darida, Krejci, Dockal, Horava, Husbauer, Zmrhal, Kopic, Jankto, Barak, Soucek; Kliment, Krmencik.
Germany
Fresh off a Confederations Cup victory during the summer, Germany will look to put further daylight between themselves and the chasing pack at Eden Arena.
Joachim Lowe's side have six wins in six during the qualifiers and Lowe will need to make sure that he gives the game the importance it requires but also make sure his side are ready for Norway on September 4th as they look to win their seventh and eighth consecutive games during qualifying.
Lowe confirmed that "Kroos, Müller, Hummels, Kimmich, Hector and Özil will all start," and Ter Stegen will be the goalkeeper for the Czech Republic game but Sami Khedira has been ruled out due to injury. Meanwhile, the manager said he didn't want to "create a hierarchy" with the strikers by ranking and rating them as they are all different. Serge Gnabry also withdrew due to an ankle problem.
Mats Hummels says Germany won't be thinking of this game as a gimme by any stretch despite the result when the teams last met, "Despite losing 3-0, the Czechs played very well the first time we met them. We often had to find our way out of tricky situations and so I'm not expecting an easy game this time around. We know a few of their players from the Bundesliga. I did lose to the Czechs with the U-21s, so I won't be taking this one lightly."
Germany squad
Trapp, Leno, Ter-Stegen; Hector, Ginter, Henrichs, Rudiger, Sule, Kimmich, Hummels; Draxler, Goretzka, Can, Younes, Brandt, Rudy, Ozil, Kroos, Khedira; Werner, Stindl, Gomez, Muller.
---
Czech Republic vs Germany live stream: potential line-ups
Czech Republic XI: Vaclik; Gebre Selassie, Novak, Kaderabek, Kalas; Dockal, Krejci, Darida, Zmrhal, Soucek; Krmencik
Head coach: Karel Jarolim
Germany XI: Ter Stegen; Hector, Hummels, Rudiger, Kimmich; Can, Rudy, Draxler, Kroos, Ozil; Muller
Head coach: Joachim Löw
---
Czech Republic vs Germany live stream online: betting
Germany are the clear bookies' favourites this evening, with Joachim Löw's charges valued at €1.40 per euro bet to claim all three points. The hosts, meanwhile, are priced back at €9.
Place your bet on Czech Republic vs Germany here.