Barcelona with one last roll of the dice to land Coutinho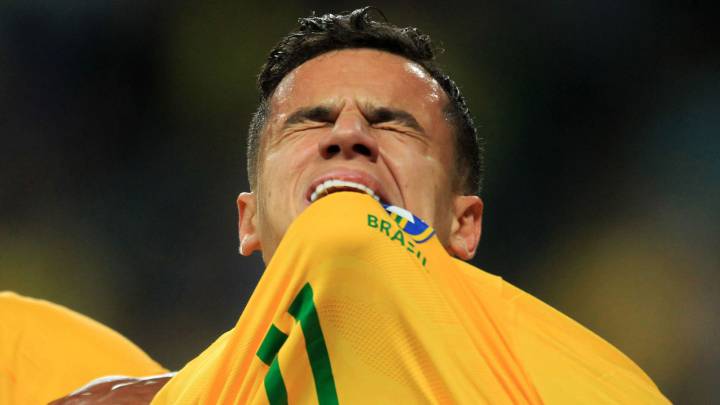 Liverpool are not budging an inch from the stance they took on 11 August, Coutinho is waiting for news in Brazil and Barcelona still have not totally given up all hope of signing the player before the clock strikes 12 tonight. The transfer market in Britain closed for business last night without any favourable news on Barcelona's bid for Coutinho; the feeling optimism touted by the Catalan press concerning the negotiations has evaporated but even so, the club have not given Coutinho up for lost. Today Barça will give it one final push. It's going to be a very long day at the Camp Nou offices.
At least longer than yesterday. The lights went out just before 11pm at the club offices where Josep Maria Bartomeu, Sports Manager Pep Segura, Director of the Football Section Raül Sanllehí and Director of Professional Sports Albert Soler had spent most of the evening chewing over the options still open to them on the final day of trading in Spain.
Barcelona have a Plan B should Liverpool stand their ground
Today is going to be very different. Barça will be working on two separate fronts - one team will be trying to persuade Liverpool to sell Coutinho, another will be handling a contingency plan in case the Merseysiders continue to fob off every Barça offer - as they have done up until now.
The Catalans will put their Plan B into action as soon as they receive confirmation from Liverpool that there will be no negotiating for Coutinho - even for the supposed 160 million euros the club is prepared to outlay for the player. It's a huge gamble for Barça - should they insist right up until the final moments of the window? If they are unsuccessful, they will be left with no time to bring in an alternative.
Barcelona have alternatives in mind to reinforce the team but none of them generate the same level of expectation as Coutinho. Leicester's Riyad Mahrez is one of their options and Barça could seal deadline day deals for Ángel Di María or Dani Parejo. It's also going to be a tense day in San Sebastián where Real Sociedad are praying that Barcelona don't stump up Iñigo Martínez's 30 million euro buy-out and leave them short staffed in defence with the market closed for business.
Prices rocketing in an inflated market
Until now, Fenway Sports Group have been refusing to cash in on one of the team's star players and further inflate a market which has spiralled out of control. Even if they do cave in and release Coutinho, they will find themselves in the same boat as Barça, having to pay over the odds for a replacement. It promises to be a very long day and Barcelona will either come up trumps, or watch their dreams go up in smoke...