Four years with Gareth Bale at Real Madrid
The most expensive signing in the history of the Spanish club hasn't turned out quite as expected, with 17 injuries meaning each goal has cost the club two million euros.Champions League Final: Real Madrid - Liverpool
Real Madrid managed to close Gareth Bale's signing right at the end of the 2013 transfer window, on September 1, exactly four years ago. It made him the most expensive player in the history of the club, and at that time, the most expensive transfer ever. The excitement over the Welshman's arrival was palpable in the Spanish capital, but the player's 17 injuries over the course of his time at the Bernabéu have meant that expectation has never truly been fulfilled, and the player has only been available for 53% of the possible minutes.
Bale: trophies galore
In his 1,461 days as a Real Madrid player, Bale has won three Champions Leagues, one Liga, one Copa del Rey, two Club World Cups, two European Super Cups and one Spanish Super Cup, but he's never been truly indispensable and Asensio is currently putting his claim to be a guaranteed starter under intense scrutiny.
Bale: memorable moments
His Madrid career though has left iconic images, such as his header in the Décimo to mae it 2-1, or his Usain Bolt moment, when he destroyed Bartra in a sprint down the line at the Mestalla to give Real Madrid the Copa del Rey 2013-14. But he's also tried the patience of the Real Madrid fans to the limit.
Such as the goal he 'gifted' Sevilla at the Pizjuán in 2014, when with the scoreline at 1-1 he decided to trundle over to the touchline to change his boots... and Sevilla took full advantage to make it 2-1 and damage Madrid's league chances. Bale's also been whistled on a number of occasions at the Bernabéu. First, in 2015, when he ruined a number of decent chances by refusing to pass to Cristiano, James or Benzema. Meanwhile he was recently whistled for a perceived lack of effort last Sunday against Valencia...
How much did Bale cost?
His signing itself was shrouded in some controversy, with Real Madrid insisting to all and sundry that he'd only cost 91.5 million euros, in order to maintain the illusion that Cristiano Ronaldo was still the most expensive player ever in the history of the club. Football Leaks however would reveal that, as suspected, the real figure was higher: some 101 million euros.
One of Bale's missions, to be an alternative to Ronaldo, failed, and his return on such a huge investment has been constantly questioned. Bale has scored 68 goals, with each one costing Real Madrid two million euros, taking into account his transfer fee and his annual 18 million euro gross salary.
Bale: protected at the Bernabéu
However none of that has affected his status at the club. He's been protected from on high (Ancelotti confessed in his autobiography that not wanting to play the Welshman cost him his job) and on the bench (he was the first player Benítez went to see) as part of an untouchable bbC.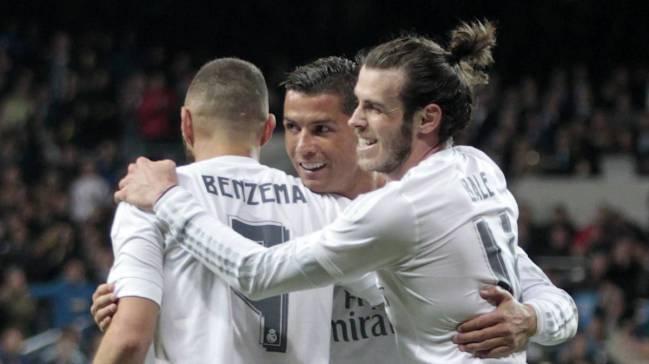 But Bale is now at a crossroads. After a first, potent, season (22 goals and 19 assists), his output has fallen and 2016-17 was his worst yet (nine goals and five assists). 2017-18 hasn't started well: one goal in four competitive games and one other in four friendlies, plus the Bernabéu on his back. Premier League clubs called again this summer, interested in taking him, and Real Madrid are beginning to wonder whether it wouldn't be better just to sell him. Bale's fifth season at the Bernabéu may be his final exam...



LaLiga Santander
*Update 1 de septiembre de 2017