Georgia 1-1 Ireland: 2018 World Cup qualifier match report, goals, as it happened
Ireland got off to a dream start against Georgia with a goal in the opening five minutes but the ceded control and gave up an equaliser as their grip on autmoatic qualification loosens.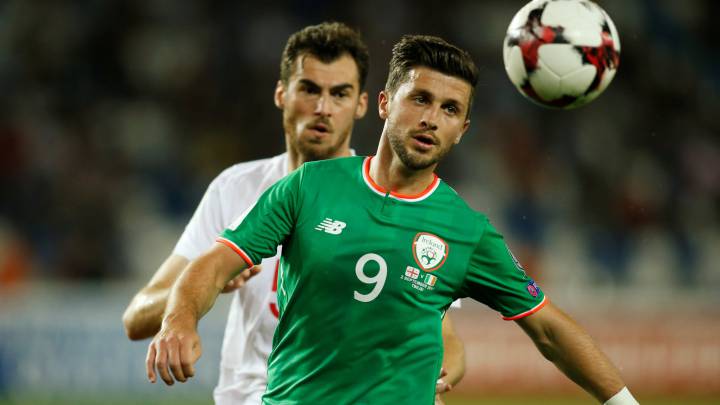 Georgia vs Republic of Ireland live stream online: latest news
Game over!
90'+4'  Christie runs the ball out over the sideline. Poor. 
90'+4'  McGeady with a chance and he skies it over the bar. Ball came to him fast and he had very little time to control it but he probably should have at least got it on target.
90'+3' Late change for Georgia as Khocholava replaces Kazaishvili
90'  Four minutes of time added on for Ireland to find a winner and join Servia at the top of Group D. 
89'  Substitute, Merebashvili, strikes and it goes just wide. Close call there for Ireland. 
89'  Georgia looking for something late. Cross into the box is cleared by Ireland. It wouldn't sit up for a couple of Georgia players who were waiting.
86'  McClean breaks free and gets a touch to the ball first after a heavy touch. Makaridze saves and then is fouled as the ball bounces up to him and he tries a very awkward punch at the ball.
85' Kvilitaia replaced now by Merebashvili. 
84'  McClean with a fairly rough challenge. No second yellow.
83'  No, nothing doing for Ireland at the moment. They've run out of ideas too.
Serbia go 3-0 up and in control of Group D now. A trip to Dublin beckons during the week.
80'  Ireland corner. Walters heads it but the referee's whistle blows. He fouled a defender before the ball arrived.
79'  Daryl Murphy on now for Ireland as they push for a goal.
78'  McClean with a shot from a really tight angle. He tests Makaridze though. 
76' McClean picks up a booking. Looks like for kicking the ball away. He's not happy in any case.
76'  Georgia make a change. Jiguari is replaced by Chanturia.
75'  Kvilitaia with a header that goes just over. Georgia's first chance in a while. Kakabadze with the delivery. The right-baclk has been very impressive today.
73'  Brady strikes now. Makaridze parries it into the air and then saves it from going out for a corner. 
73'  McGeady drives forward now. He shoots from outside the box but his shot is blocked.
70'  Twenty minutes left. Georgia ruled out for offside. They've been quieter in this half. Ireland getting a little bit more urgency in this half.
69'  Excellent break from Ireland and a really good chance. Christie breaks and plays it to McClean before McClean finds Christie again. The latter delivers a perfect cross to Long but his header is just over the bar as it nestles on the roof of the net. What a chance. 
67'  Short break after an injury. Ball back in play. 
66'  Cyrus Christie with the cross after winning the ball back. His cross is utter dross though. 
64'  Jigauri wins it on the right and he shoots but it's blocked. Georgia on the attack again.
63' Yellow for Jigauri as he pulls down James McClean.
62' Arter replaced by McGeady. 
61'  Harry Arter has a crack. Makaridze moves to his side and gathers it. Nice effort and a decent spell for Ireland but that go-ahead goal still eludes them.
59'  Duffy arrives like a train and nearly gets a head to the corner. Georgia defender gets in his way. Duffy lucky not to give away a free.
59'  Shane Long on the end of a long ball again and he plays it out to McClean. He wins a corner.
58'  Roy Keane, Steve Walford and Martin O'Neill ready to make a change after a long discussion. 
56'  Cross bobles around for a minute before making it's way out to Ananidze but his cross is way to high this time. Throw for Ireland.
55'  Kakabadze trying to cross. Stephen Ward blocks it out for a corner.
54'  As soon as Ireland win it back, they give it away again. McClean the culprit this time.
52'  Ireland forcing Georgia a little further bac but chasing shadows. Shane Long's arms up in the air. They can't get near them. But Georgia failing to penetrate either. 
49'  Navalovski cuts inside and Ananidze gets a shot away. His right-footed, low, curler is just wide of Randolph's post. Keeper had it covered anyway, it looked like. Then Ireland break and Long chases down a loose ball but Makaridze out to claim it.
48'  Ireland seem a little bit more keen to hold the ball in this half and force the issue but not really. Gerogia still quite comfortable.
46'  Shane Duffy with an early foul on Kvilitaia. He's really not happy with that one. Seemed to be just going for the ball. 
46'  Back underway in Tbilisi. 
No changes for Ireland, it seems. 
Georgia have just three points in the group and have 72% possession. Ireland, it is safe to say, are hanging in there. Just about. They need a change at the break. 
45'+1'  That's it for the first half. Georgia unlucky not the be leading. Ireland have been really poor.
45'  A number of hald decent chances for Georgia. Ireland scramble them all away. They need half-time here.
45'  Duffy at the back post again and gets a solid head on the ball. Makaridze with a stronger fist and beats it away. 
44'  Robbie BRady fouled by Kvilitaia late and Ireland have a free. Moreso a chance to slow things down a little bit. They manage to win a corner from the long ball. 
41'  Kvekveskiri drives a shot towards goal. Kvilitaia gets a flick on it and helps it on it's way. Randolph saves. Georgia all over IReland now. They win a corner.
40'  Georgia looking for more. Ball out to the left and Navalovski sends it back towards the middle. Ireland clear. 
39'  Shane Long with a penalty claim. Looks like he has a case too. Chasing down a long ball and is tripped from behind. Referee barely even looks twice at it. Play continues and Georgia back on the ball.
38'  Randolph dives out to his left to save the corner. Really poor from Ireland so far.
36' Kvekveskiri with a really dangerous tackle on McClean and he gets booked. 
34' Kazaishvili slides it under Randolph for the equaliser. Gvilia plays it to Ananidze and he draws a couple of defenders before playing it perfectly into Kazaishvili's path. He makes no mistake.
34'  Another cross arrives from the left. Randolph punches it away.
32'  McClean really savvy there to win a free. He gets a touch to the ball ahead of Kverkveliya and waits for the contact. Free on the left-hand side. Chance now for Brady to send one in. 
30'  That's the one thing Ireland can rely on. They're giving up all of the possession but one or two chances and they have the quality to score here. 
30'  Shane Long has a pot shot. McClean did well to chase down a lost cause and Long drives it over. 
Serbia now 2-0 up on Moldova. Kolarov the scorer.
27'  Navalovski with another cross that Ireland cope with. They break now. Long lays it off to McClean but his delivery is remarkably poor. Not even sure you could call that a delivery. He sends it out over the goals with nobody anywhere near that area of the field. Strange one. 
25'  Navalovski with a lethal cross into the box. Randolph can't go because it's just too far away from him. It makes it's way to the back post and Ireland manage to scramble it clear.
24'  Really tidy stepover by Kakabadze and cross. Randolph bats it away his his hand acrobatically. 
22'  Brady with a free. Shane Duffy has the smell of goals in his nostrils but he's too keen and foulsthe defender. Free to Georgia. 
Serbia take the lead through Gacinovic. Back level on points with Ireland atop Group D. 
20'  Walters with a cross now. McClean meets it with his head but it't off target. Good chance, nice header but needed to be more precise. Poor defending by Georgia to let the West Brom man so much space in the penalty area.
20'  Ball comes whizzing into the box and it headed by Jiguari and almost onto Kvilitaia. He can't reach it though, and it looked to have caught him off guard anyway.
19'  Throw arrives into the box and bounces up to Makaridze and he claims it. 
17'  Shane Long tries to lay a pass off to McClean, who is streaking down the left, but his pass is poor. Georgia back in possession.
16'  Ireland are comfortable but they might not want to assume Georgia will remain so blunt all night. They've started to express themselves further as the game has gone on. 
16'  Kvilitaia meets it with his head and glances it well wide. 
15'  Duffy called into action. Kvekveskiri drives a shot that seems to be dragging out wide but Duffy slides in and clears. Corner for the home side.
13'  Georgia enjoying 69% of possession so far. Very little done with it though. 
11'  Shane Long pushed in the back and Ireland have another free. This time out on the right. Another delivery coming up. Brady whips it in with his left and it floats over everyone and out for a goal-kick.
8'  Cross arrives and Duffy chests it back to Randolph.
6'  Georgia try to settle down again. That goal has hurt them massively though. Ireland comfortable to play like this all day. 
Newcastle's Ciaran Clark with the assist for the goal. 
4' GOAL! Shane Duffy with the header from the free from miles out. He heads it as Makaridze, the keeper, arrives to gather but he flaps at it, and the ball goes over the line. Kvekveskiri tries to stop it but his attempted clearance is ill-fated. 
3'  Ireland with a spell now on the ball. Christie back to Randolph and he launches one towards Walters. The Burnley man is hit in the back as he jumps for the ball and wins a free.
2'  Dangerous cross arrives in from Ananidze on the left and Jiguari nearly gets a head to it. Promising start by Georgia.
1'  We are underway in Tbilisi. 
And now Georgia's anthem, Tavisupleba, bellowing from the ground. 
Ireland's national anthem, Amhrán na bhFiann, being played in Tbilsi now and it seems the Irish fans have traveled well. 
Just €2 tickets for the Georgia vs. Ireland game. Not even nearly full there but not a bad price.
Ireland are unbeaten in their last seven games and Georgia haven't won in 13. 
Serbia        12
Ireland       12
Wales         8
Austria       8
Sure to be some tense moments tonight as Serbia and Ireland, locked on the same number of points, play at the same time. Serbia are at home against Moldova (before they travel to Ireland for a midweek game against their Group D adversary. Wales, on the other hand, play Austria with both sides underperforming to date in the qualifiers.
Georgia XI: Makaridze, Kakabadze, Kverkveliya, Kashia, Navalovski, Kvekveskiri, Gvilia, Jiguari, Ananidze, Kazaishvili, Kvilitaia
Conor Hourihane of Aston Villa left out of the team, as somewhat expected. He has scored four in four in the Championship this season and could be a solid option off the bench if necessary. 
Big Jon Walters is fit and starts. 
The Republic of Ireland have a perfect record against Georgia: eight wins out of eight. Their most recent clash - the sides' opening meeting in this group - saw Ireland emerge with a 1-0 victory in October courtesy of a Seamus Coleman goal.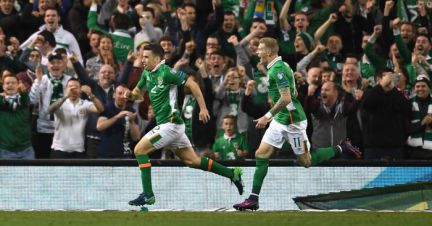 Here's how they stand ahead of this evening's action, which also sees leaders Serbia host Moldova, and chasing-pack leaders Wales and Austria face off in Cardiff: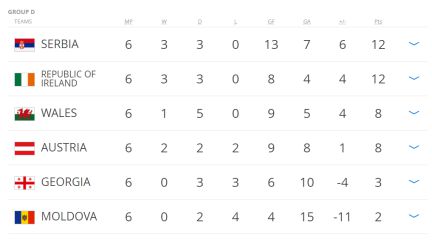 Good morning! Join us for the build-up to today's clash in the Georgian capital!
Georgia vs Republic of Ireland: World Cup qualifying preview
The Republic of Ireland and Serbia sit atop Group D in World Cup qualifying on the same number of points (12) and the former will be looking to take advantage of the two teams below them playing each other when Wales take on Austria.
A draw in that game will seriously hurt both of their chances to qualify while a win for Ireland against second from bottom side Georgia in Boris Paichadze Dinamo Arena on Saturday night will put them in excellent shape with a game against Serbia in Ireland to come.
Georgia
The only time Vladimir Weiss' side have failed to score in just one of their six games in Group D's qualifying to date. That was against Ireland in the Aviva and while they have failed to win in those six games, they have managed three draws.
Georgia are all but ruled out of qualifying for next summer's World Cup but will provide a handful against Ireland. Their last game in qualifying came in June when they drew 2-2 with Moldova as Valeri Qazaishvili and Giorgi Merebashvili score with Georgia 2-0 down to bring them back level. They might not have the chance to have their own party in Russia next year but they could very well ruin someone else's plans and Ireland need to be wary of not taking their eye off the ball.
Republic of Ireland
Martin O'Neil declared that Jon Walters is fit to play on Saturday night and said he is "delighted" with the news that his talisman is back as both his main striker and John O'Shea trained fully ahead of the clash on Saturday night. David McGoldrick has withdrawn from the squad but the addition of Walters, Ireland's top goalscorer in qualifying along with James McClean with four goals, is a massive boost heading into a crucial week during O'Neill's tenure.
"We're in a very good position. It's still in our hands, which is nice. We'll concentrate on Saturday and move on from there," said Darren Randolph as he looks set to start in goals in Tbilsi.
"Georgia seems a tough place to go. For me personally, I'm not bothered about the performance as long as we get the win and get points on the board, especially at this stage of the group," he continued, which is surely a point being echoed by many in Ireland as they continue to look to rack up point in pursuit of, at least, a runner-up spot in their group.
---
Georgia vs Republic of Ireland: potential starting line-ups
Georgia XI: Makaridze; Navalovski, Kasia, Lobjanidze, Kvirkvelia, Tabidze; Kankava, Daushvili, Ananidze, Qazaishvili; Dvalishvili.
Head coach: Vladimir Weiss
Republic of Ireland XI: Randolph; Christie, Duffy, Clark, Ward; McClean, Whelan, Arter, Brady; Walters, Long.
Head coach: Martin O'Neill
---
Georgia vs Republic of Ireland live stream online: betting
The Reublic of Ireland are the bookies' favourites to claim the three points in Tbilisi, with the visitors priced at €1.85 per euro bet to win. Georgia, meanwhile, are valued back at €5.00.