Liechtenstein 0 - 8 Spain: as it happened, goals, match report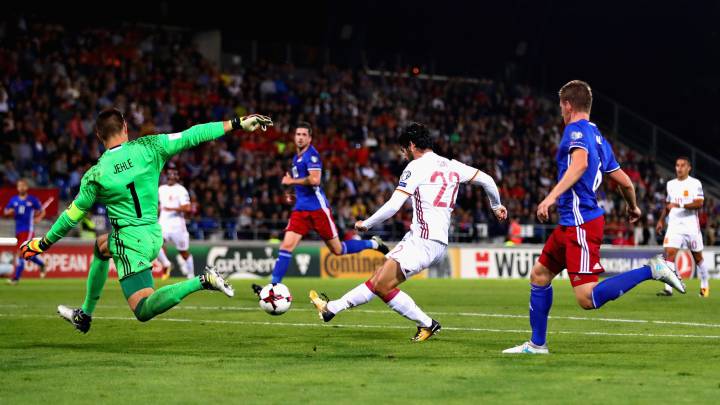 Liechtenstein 0 - 8 Spain: match report
Liechtenstein had not registered a pass when Sergio Ramos met David Silva's devilish free-kick to head the ball across Peter Jehle's goal and in to the corner. The clock had barely ticked past the three-minute mark when Spain got off the mark.
Ahead of the match in at the Rheinpark Stadion, overlooked by the stunning Vaduz Castle, Spain had beaten Liechtenstein seven times in their seven meetings, with 31 goals scored and 0 conceded. France's 0-0 draw with Luxembourg on Monday evening served as a reminded that matches against the European minnows can occasionally punish complacency. Ramos' early header eased any nerves.
The second goal came after 15 minutes. David Silva, often given space to display his mesmerising manipulation of the ball, played a neat one-two with Isco and whipped a cross on to the head of Álvaro Morata. The Chelsea striker planted it firmly in to the net. Morata looked to have strayed offside, but the linesman's flag stayed down.
Play restarted for a brief moment before the third goal arrived. Peter Jehle, Liechtenstein's captain and well-worked 'keeper committed a miskick that ranks somewhere between disastrous and hilarious, depending on your penchant for masochism. Jehle caught the ball with his standing foot as he sought to clear long. Morata could not believe his luck, laid the ball off to Isco, and allowed him to finish in to an empty net.
The match resembled an attack vs defence training exercise, when the attacking team constantly has a three-man numerical advantage.
It was four goals, five minutes before half-time. David Silva curled a free-kick in to the postage stamp of the near top corner. The finish from the Manchester City creator would have graced any match, and it was his ninth goal under Jolen Lopetegui.
Spain were relentless after the break, eager to establish an unassailable goal-difference advantage over Italy. That gives La Roja an added cushion; even if Italy claw back three points, Spain will avoid the play-offs courtesy of their two 8-0 wins ove Liechtenstein.
Iago Aspas, a half-time replacement for the excellent Silva, scored the first goal of the second period on 51 minutes. The Celta Vigo striker seized upon a loose ball after Morata's header crashed against the bar.
Morata had another goal for himself three minutes later, with Aspas turned provider. Morata received the Galician's pass deep inside the box on the half-turn, waited for the 'keeper to dive, and tickled the ball in to the opposite corner.
Thiago missed from close range just before the hour mark, but Aspas made no mistake shortly after when Jehle parried Thiago's shot to his deet. He shimmied inside to escape the attention of his marker, and picked his spot at the near post.
The match ambled towards the full-time whistle, a long-foregone conclusion. Yet there was still time to score an eighth, and equal the result in the reverse fixture in León in September 2016. Deulofeu, a lively presence on the right flank, flashed a low shot across the six-yard box that a weary-legged Göppel deflected in to his own net.
With Spain's goal difference nicely inflated, one win in either of their last two matches against Albania or Israel will be enough to secure a passage east to Russia. Yet Julen Lopetegui will demand that his side retain intensity; the focus now switches to securing as high a FIFA ranking as possible, in order to ensure a top seeding at the World Cup.
Liechtenstein 0 - 8 Spain: as it happened
90'+2'   Full time. 
90'+2'  One last corner for Spain. 
90'  Two minutes of utterly futile added time. 
89' GOL! Göppel deflects Deulofeu's cross past his own 'keeper and in to the bottom corner. 
88'  Spain haven't scored for over 20 minutes. Sort it out, Lopetegui. 
86'  Iniesta tries to get in on the action. The diminutive No. 6 lets fly from 30 yards, but he's leaning back and it flies over the bar. 
83'  Thiago threads a perfectly-weighted ball through to Morata, who shoots with his right foot straight in to Jehle's midriff. 
82' Liechtenstein sub: Burgmeier drags himself off, and Wolfinger dashess on. 
81' Busquets is given an extremely soft booking for waving his arm in the vague direction of Dennis Salanovic. He'll miss Spain's next game, against Albania in Alicante in October. 
80'  Good sliding tackle from Yildiz to prevent Deulofeu charging in on goal. 
78' Liechtenstein sub: Sele replaces Polverino. 
75'  This is like watching an attack vs defence training exercise. Spain have spent large swathes of the match inside Liechtenstein's third of the pitch. 
72'  Monreal should have made it eight. He escapes Hasler and nods Iniesta's free-kick over the bar from deep inside the box. The Arsenal left-back holds his head in his hands. 
71'  Morata searches for space to get a shot away after Polverino unsuccesfully tries to shield the ball in the box. He flings a right foot at the ball, but his effort is blocked. 
70'  This is shaping up to be Spain's record win on the road. They've won 0-6 on their travels, against San Marino and Azerbaijan, but 7 is a new high. 
69'  Liechtenstein have a corner. Piqué, with a knowing waggle of his finger, disagrees that he dribbled the ball out of play. The Barça defender rises inside the six-yard box to head Burgmeier's corner clear. 
68'  Nacho, creeping in at the far post after a marauding run forward, heads Iniesta's cross just wide. 
65'  Spain's most well-known fan, Manolo 'El del bombo' is in the crowd beating away at his drum. He follows La Roja far and wide. 
63' GOOOL! Aspas has his second! Jehle parries Thiago's shot in to the former-Liverpool forward's path. He feigns a shot to escape the attention of his marker, and takes his time before picking his spot at the near post. 
61'  Another admirable save from Jehle, this time to deny Deulofeu. The Barça winger collects a one-two from Aspas deep inside the box, cuts back on to his left foot, and forces the 'keeper in to a smart save with his leg. 
60' Liechtenstein substitution: Quintans goes off, Yildiz comes on. 
59'  Deulofeu fizzes a low cross along the goal-line, it bounces off Thiago and goes behind. Spain's No. 10 didn't adjust his body in time to guide the ball beyond the 'keeper. 
57'  A fine reflex save from Peter Jehle to deny Morata his hat-trick. The striker meets Monreal's inviting cross and directs it towards the top corner. Jehle sticks up a strong forearm to keep the scoreline down to half a dozen. 
56' Spain substitution: Isco trots off, he is replaced by Deulofeu. 
55' Wieser is booked for an ugly challenge on Pedro. The Reading player is the first to lose his cool. 
54' GOL GOL GOL MORATAAA! It's six for Spain! Morata finds a pocket of space between the two centre-halves to receive Aspas' pass on the half-turn. He waits for the 'keeper to commit, and rolls it in to the other corner. 
51' GOOOOOL! Iago Aspas tucks it in from a yard out after Morata's header richochets off the bar, off Jehle's calf, and straight in to the path of the Celta Vigo poacher. 
48'  Isco delivers from the left, and does a rather poor job of it. He free-kick doesn't beat the first man. A Liechtenstein head gets the ball clear, but with ten men behind the ball already, Rene Pauritsch's team gift the ball straight back to their opposition. 
47'  Monreal flashes a low ball across the box, but Andreas Malin does well to cut it out for a corner at the near post. The corner is floated towards Thiago on the edge of the box, inviting a volley. The Bayern man scuffs his shot in to the ground and the home side clear, for now. 
46' The second half is underway and Julen Lopetegui has made a double substitution. Aspas and Nacho for Silva and Ramos. 
 Eight shots on target for Spain, just the one for the home side. 
45'+1' Half time. 
45'+1'  Salanovic threads a ball down the line for Hasler to chase. He gather the ball, and spins past Monreal. Piqué is a tougher customer to navigate, however, and he is stopped in his tracks. 
45'  Ramos floats a cross towards Morata. It's inches too high, but dangerous nonetheless, and Quintans heads behind for a corner. Liechtenstein scramble the set-piece clear, but the ball goes back to Spain like metal to a magnet. 
43'  Sergio Ramos is having great fun this evening. He's like a dog let off the leash. The Spain captain sprints to the byline in an attempt to meet Thiago's chipped through ball and attempts an audacious backheel to keep it in play. It doesn't quite come off this time. 
40'  De Gea slips over as he tries to play a ball to Monreal, and the ball lands right at the feet of Salanovic. He plays it to Hasler, who lays it off for Polverino to shoot. The No. 23 tries to pick his spot from the edge of the box, doesn't pick it well, and De Gea recovers from his original slip to save with ease. 
39' GOOOOL! Silva bends a lovely free-kick in to the near-top corner. A stunning strike, and that's his fifth in eight matches. 
38'  Piqué and Ramos are deep inside the Liechtenstein half, dictating the play alongside Busquets. Thiago turns away from Wieser with a glitzy spin, and is hauled down in the process. Isco and Silva stand, hands on hips, over the free-kick.
36'  Franz Burgmeier is down holding his elbow after a coming together with Isco. He looks sore, but should be able to continue on the left flank. 
35'  Isco whips a low, deep cross towards Morata. He stretches for it like a lethargic cat, but it's a tad beyond his toe. 
33'  Liechtenstein have a free-kick after Thiago challenges Martin Buechel for an aerial ball with a little too much exuberence. Sandro Wieser bends it in to the box, but it's too close to De Gea and he claims at his near post. 
31'  Nicolas Hasler has a rare chance to scamper after the ball in Spain's half. The Toronto FC man takes a heavy touch, and under pressure from a back-tracking Pedro, runs the ball out of play. 
30'  Morata goes close to his second, trapping the ball with the outside of his right boot, scooping it across his body, and shooting towards the far corner. Jehle makes a flying stop to his left. 
29'  David Silva shapes another lovely cross across the six-yard box. He's being given plenty of time to pick his passes by the half-Spanish right-back, Ivan Quintains. But Isco can't get his head to this one. 
26'  GOOOO.... No! Morata is incorrectly adjudged to be offside. Thiago plays a sumptuous, outside-of-the-boot pass to Silva, who kills the ball with his first touch and whips it on to Morata's forehead. The same linesman who called Carvajal offside is at it again. 
24'  Busquets spreads the ball wide to Carvajal, overlapping on the flank. The linesman hoists his flag despite the Real Madrid right-back being about five yards onside. The Bulgarian officials ostensibly taking pity on the home side. 
22'  Isco is crowded out by three players on the edge of the Liechtenstein box, and Pedro fouls Kaufmann with a shove in the back as he tries to regain the ball. 
20'  Possession is hovering around the 80% mark for Spain. 
Sergio Ramos scores the opener with his head. 

16'  GOOOL! It's another one... Isco this time, capitalising on a defensive omnishambles from goalkeeper Peter Jehle. The 'keeper tries to clear, but kicks the ball with his standing foot straight to Silva. He passes to Isco to finish in to a gaping goal. That'll be on 'Own goals and gaffes' reels for years to come. 
15' GOL GOL GOL! Morata makes no mistake with his head this time. A intricate one-two between Silva and Isco allows the former to swing the ball in. Morata makes no mistake from six yards. 
14'  Pedro, looking like Zorro in his protective facial wear, flicks a step-over to escape the attention of Burgmeier, and delivers to Morata. The Chelsea striker's header goes wide. 
13'  Morata rises like a salmon on a trampoline to meet Silva's outswinging delivery, but he nods over. The first Mexican Wave of the evening rolls apologetically around the stands. 
12' Nacho Monreal draws a foul from Hasler just inside the opposition half, and neat play from Iniesta and Silva results in a Spain corner. 
Spain recorded their record victory against Liechtenstein in the return fixture in León in September 2016. It was 8-0 that day (Costa 2, Morata 2, Silva 2, Vitolo, Sergi Roberto). 
8'  Liechtenstein make a foray in to the Spanish penalty area. Hasler is nibbling at Piqué's heels in an attempt to chase down a long ball, but the Barça man turns away crisply and set Spain on the front foot again. 
6' David Silva with a rare sloppy touch on the left, but the Manchester City man recovers, plays a one-two with Isco, and heads in to the box. Morata takes over and plays it back out wide to Isco, who forces Jehle in to a flying save. Spain take the corner short and retain posession. 
5'  83% possession for Spain so far. It's not immediately clear where Liechtenstein's 17% has come from. 
3' GOL GOL GOL! Ramos nods David Silva's header in to the net from deep inside the six-yard box. Spain before Liechtenstein have made a pass.
2' Spain, as expected, dominate possession and a masked Pedro wins a free-kick just outside the corner of the box. The home side's only touch so far has been a sliced clearance that served to place them in further danger. 
1' Off we go beneath the shadow of Vaduz Castle! Álvaro Morata gets proceedings underway. 
 Ivaylo Stoyanov (Bulgaria) is the referee. 
The anthems are underway... Liechtenstein appear to have "God Save The Queen", curiously.
Liechtenstein XI: Jehle; Quintans, Malin, Kaufmann, Goppel; Buchel; Salanovic, Hasler, Wieser, Burgmeier; Polverino.
Spain XI: De Gea; Ramos, Piqué, Monreal; Thiago, Busquets, Iniesta, Isco; Silva, Morata, Pedro.
A reminder of how both countries line up...
The teams are gathering in the tunnel in Vaduz. A smattering of Spanish supporters in the crowd.
David Silva is the Spain played with the most goals (8) since Lopetegui took charge.

True to form, Liechtenstein sit bottom of the group with 7 defeats in 7 matches (1 goal for, 26 against).
Liechtenstein have finished last in all but two qualifying campaigns they have taken part in. The exceptions arrived in qualifying for the 2006 World Cup (6th out of 7), and the 2016 Euros (5th out of 6).
There is a Spanish influence on the Liechtenstein team... right-back Ivan Quintans' father is from near La Coruña. The 27-year-old's mother hails from Croatia. 
Vaduz Castle overlooking the Rheinpark Stadion. A truly stunning setting. 

   "We'll take the match absolutely seriously… France drew against Luxembourg against all expectations. We have to concentrate and go out there strongly," said Julen Lopetegui in his press conference. There doesn't appear to be much banana skin potential, but you can never be too careful...
Liechtenstein XI: Jehle; Quintans, Malin, Kaufmann, Goppel; Buchel; Salanovic, Hasler, Wieser, Burgmeier; Polverino.
Julen Lopetegui opts for a three-man defence, and makes four changes: Monreal, Thiago, Morata, and Pedro come in to the team, 
Spain XI: De Gea; Ramos, Piqué, Monreal; Thiago, Busquets, Iniesta, Isco; Silva, Morata, Pedro.
TEAM NEWS! 
Spain have a fine record against Liechstenstein goalkeeper and captain Peter Jehle. Spain have put 31 goals past the FC Vaduz stopper throughout the years, more than against any other goalkeeper. 
Julen Lopetegui can't be accused of favouring either Real Madrid or Barcelona players. They're pretty much neck and neck in terms of minutes played. Barcelona players have registered 2792 minutes across the campaign, with Real Madrid slightly behind on 2520.
Spain have registered 14 consecutive victories in competetive fixtures played in the month of September, scoring 47 goals in the process and conceding just one (against Macedonia in 2014). The run began after a 1-1 away draw against Iceland on September 8 2007.
Time for some juicy statistics courtesy of the indomitable Mister Chip... 
The Liechstenstein team is made up of the predictable hotch-potch of professions... Phillipe Erne is a car mechanic, while Michele Polverino and Franz Bergmeier make ends meet as sales managers. There are professional players too, most notably Sandro Wieser of Reading, and Marcelo Büchel of Hellas Verona. 
With just three games remaining in Group G, here's how the table looks: 

 120 caps for La Roja and currently out of contract with Barça come June 30, 2018. Juve lie in wait for Iniesta claim Tuttosport. 

 Lopetegui still shows support for Villar. Poor timing for the coach to support the currently on corruption charges Villar claims AS Director A. Relaño.

They don't hit the target often, but when they do Liechtenstein do it in style 
Hello and a warm welcome to our build-up ahead of live minute-by-minute coverage of the World Cup qualifying game from Vaduz as Spain visit the minnows from Liechtenstein. The action gets underway at 20:45 but we'll keep you abreast of the news pre-kick off throughout the day.