Bartomeu: "It was a mistake to trust Neymar's father"
The Barcelona president gave an interview with Spanish daily Sport and also said that Leo Messi's new contract has been signed by his father.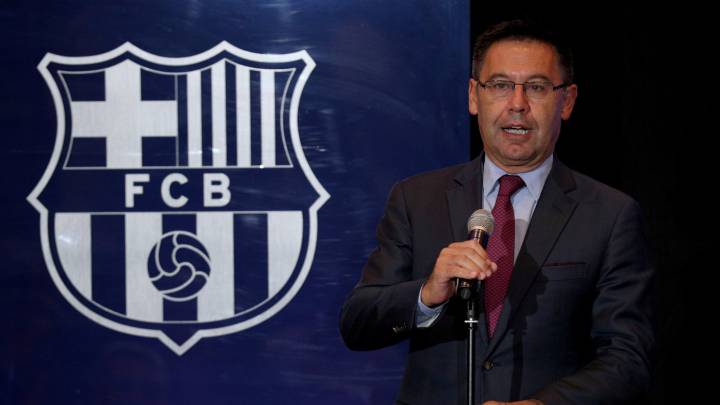 Josep María Bartomeu gave an interview with Spanish daily Sport, published on Tuesday, in which he discussed Neymar's move to PSG and the situation surrounding Leo Messi's contract renewal and also Andrés Iniesta's pending new deal.
The Catalan side announced an agreement with Messi, their all-time leading goalscorer, in July to extend his stay to 2021 but the Argentine has not yet put pen to paper, prompting fears he might leave at the end of the season when his previous contract expires.
Bartomeu said Messi's father Jorge had signed the contract and the only outstanding matter was to take a photo of Messi doing it himself.
Bartomeu: "Messi's contract is signed and valid from June 30"
"It's all agreed and signed. There are three contracts," said Bartomeu.
"One with the Messi Foundation, which is signed by its president and the player's brother, an image rights contract with Messi signed by his father, who is the administrator of his company, and his employment contract, which his father signed -- he has the power to do so.
"[What remains is] that Leo arrives and we have the official photograph and the protocol of the signature. The contract is signed and it's valid from the month of June, June 30, the same day he got married."
Bartomeu also spoke about Andres Iniesta's new contract, with Barcelona's veteran playmaker on a deal which expires at the end of the season.
"We have the basis of a deal to renew and we hope to seal it in the coming weeks," Bartomeu told Mundo Deportivo.
"The idea is that he has an indefinite contract which renews automatically year on year until he thinks he wants to retire or change."
"Neymar's departure is an opportunity"
Speaking about Neymar, the Barcelona president admitted that the club had erred in placing too much control in the hands of the Brazil forward and his father.
"We made a mistake in trusting too much in Neymar and his father," Bartomeu said. "Neymar's departure is an opportunity to return to a collective style of play and to invest in the cantera."
Bartomeu also claimed that the current squad at Ernesto Valverde's disposal is an improvement on last season. "We have a better team than last year. We have put together a team to win everything and it is a better one that we had last season."