WORLD CUP 2018
Russia World Cup 2018: who has qualified so far?
There are 31 places up for grabs with Russia qualifying as host nation. Who will join them next Summer at the World Cup?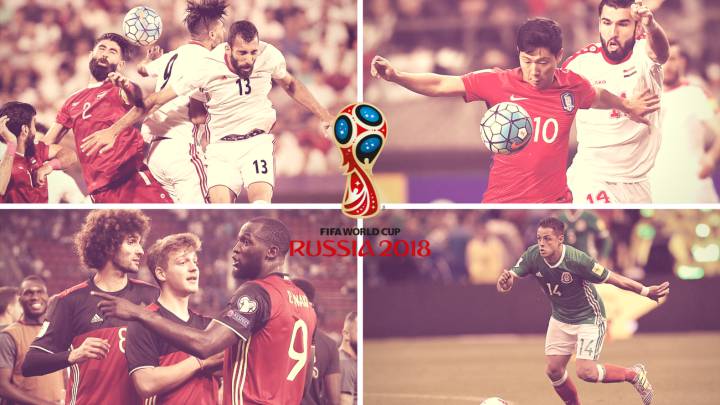 The race to World Cup Russia 2018 is heating up and, slowly but surely, we have been adding names to the list of teams who have already qualified for the finals next June. The hosts, Russia, were always assured of a spot at the tournament, but there are 31 other teams to join them.
September #WCQ: done ✅#WorldCup line-up, so far:

🇷🇺Russia
🇧🇷Brazil
🇮🇷Iran
🇯🇵Japan
🇲🇽Mexico
🇧🇪Belgium
🇰🇷Korea Republic
🇸🇦Saudi Arabia

👌🏻🏆

— #WCQ (@FIFAWorldCup) September 6, 2017
Teams who have already qualified for the World Cup
A 1-0 win over Panama on Friday the 2nd of September was enough to ensure that Juan Carlos Osorio's Mexico side will be at the World Cup next summer while Iran are comfortably clear ahead of the chasing pack in and secured their placed back in June.
A winner by Romelu Lukaku over Greece was enough to ensure Belgium's participation in the event next June and they became the first European side to qualify with the bulk of the UEFA nations to be resolved with October's games.
Meanwhile, on Tuesday, Korea Republic (South Korea) drew 0-0 with Uzbekistan to qualify to justify their appointment of Shin Tae-Yong in July while Iran's 2-2 draw with Syria means they are also through to the tournaments final stage. Syria, however, will go into a playoff against Australia.
Japan are also through having topped their group despite a loss to Saudi Arabia earlier on Tuesday. Saudi Arabia, by virtue of that victory, are also through to the finals next June.
Brazil top their group and have been assured of a place in the World Cup since March. They have been the best and most consistent team in qualifying in South America by a long shot and have their reward as they replaced Rio for Russia next June.
And the rest?
There are still 26 places at the World Cup up for grabs but we will have to wait for the International break that takes place during the second week of October to see if our teams are headed, or not headed for that matter, to Russia next summer.
Teams who have qualified: Russia, Brazil, Japan, South Korea, Iran, Belgium, Mexico and Saudi Arabia.