Zidane: "I don't want Barcelona to leave LaLiga"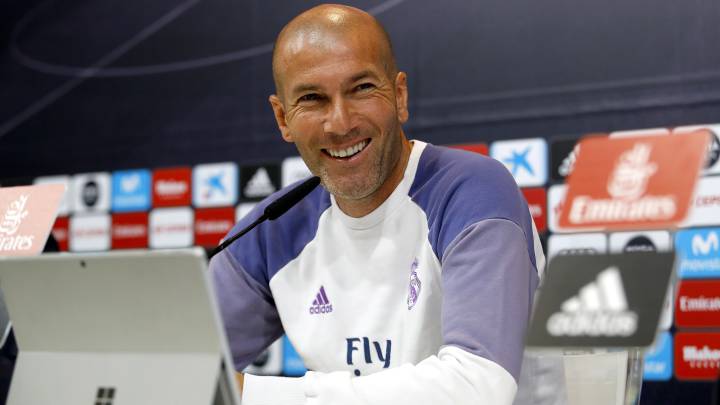 Zinedine Zidane faced the media ahead of Real Madrid's clash with newly-promoted Levante at the Santiago Bernabéu on Saturday afternoon.
On the international break: "I would like to have the players for more time but this is football and they are Real Madrid players that represent their countries. We aren't going to change it. The good news is that we don't have many injuries. Ceballos has a small one but the rest are good. That is the best news for a manager and that they have returned to train in good shape."
On Florentino Perez saying this season's squad is better than last year: "Always, the new squad that we have can improve and that's the good thing about Real Madrid. I believe that, yes, it is always good to improve. We have a team that is much younger and have a bright future. The president said that because he thinks it, and that's it.On the president's comments about referees improving and whether players feel the same: "I don't know. I don't want to get involved in this because the president said it because he believes it and everyone can improve, including the referees. As a manager, I can improve and that's it. I'm not going to speak more about these things. The president has a right to say that if he thinks it. On whether things can improve, I am in agreement with him on that."
In what way can the referees improve? "Everyone can improve in their work. You, as a player, train everyday to improve the feeling to win again. The difficult thing is to win. Everyone in their role. And the referees are the same. You can ref well but you will make mistakes. I don't like to talk about referees because it is a difficult job but like everything in life they can improve."
The explosion of Isco and Asensio: "for me, they were always important. The two of them and everyone. That is not going to change. You had your opinion but for me there is not A and B team and all of the squad is important if we want to continue doing well like the way we started the season with two trophies. The view of the players is always going to change but the important thing is that they all feel important. My role is to show the squad that they are all important for different things."

Were you surprised about Asensio's emergence? "I am not surprised. His contribution to the team is phenomenal, but at the same time I want to say to leave him alone a little bit with some peave and quiet because he can still improve a lot. He has to be relaxed and he takes it as it comes. You can talk him up but it is important that he has a cool head to continue his growth. His growth hasn't reached it's ceiling yet and he can still improve with peace and calmness and patience. Everything outside is noise and that he is calm is what matters and that's it."
On the whistles from the fans: "The public pay, come to the game and when they are not happy, they can express their opinion and say what they think. And what do I think about the times they do whistle? I don't like it, for sure, because we always try to give everything. And the people know that but at the time but there are games that things don't go right. This is football and it's always going to happen."
On THeo Hernandez: "We are happy with him. This week, he has been here two months working and is ready to play. I don't know if it will be tomorrow or when. But the player is training very well and is ready. We have 23 players and we will have to pick who plays. In 20 days, we will have seven games and we will have to pick them carefully."
The possibility of losing Barcelona from LaLiga: "I don't see a Spanish league without Barcelona. For me, I don't see it. As a fan of football and of and of sport, I always see Barcelona in the league."
Are you hopeful of Ronaldo returning to form after his suspension: "Very excited for this Wednesday. He is tired of not being able to play with us. With Portugal he did very well and on Wednesday, he is able to play. He is very happy and so are we that he can return."
On Barcelona independence and them leaving LaLiga: "I don't want to get involved in this. There are people that want it and people who don't. But I do know that I don't want a league without Barcelona."
On Bale being whistled: "Nobody likes being whistled, but I don't see him as bad as people say. He is a very important player in the squad and he will do will this year. There will always be whistles and more at Real Madrid. It's inevitable when we don't win the three points.
On closing the window before the season starts: "The majority of people believe that the league should be closed before the league starts. I don't like to change the teams during the season."
Making the other teams worse: "We have a good team with a goos squad and I am very happy with them. We know that for our enemies it is very complicated but everyone wants to win and I am happy with my team."