Manchester City 5-0 Liverpool match report, goals, result
Manchester City routed 10-man Liverpool with goals from Agüero, Gabriel Jesus (2) and Sané (2). Mané was sent off for dangerous play, which resulted in Ederson being stretchered off. Barcelona-Getafe live: LaLiga Santander matchweek 23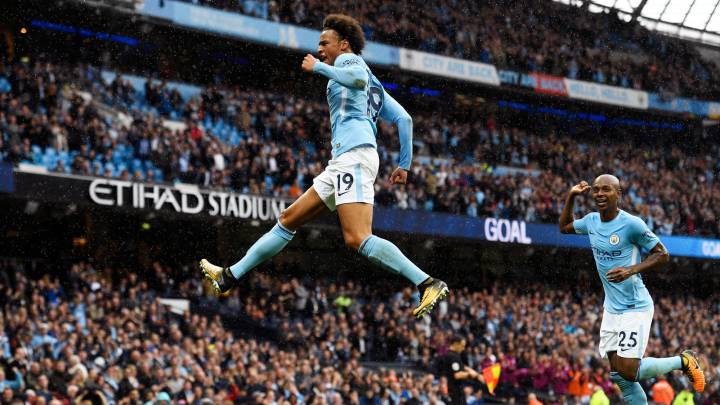 Manchester City 5-0 Liverpool: match report
Brazilian striker Gabriel Jesus scored twice as Manchester City hammered Liverpool 5-0 in the Premier League at the Etihad Stadium on Saturday with the visitors forced to play the second half down to 10 men.
Liverpool's Senegalese striker Sadio Mane was shown a straight red card in the 37th minute for a high challenge on City's keeper Ederson, who had raced out of the penalty area and had to be carried off on a stretcher following the clash.
City turn the screw after Mané sent off
City were 1-0 up at that stage thanks to a Sergio Aguero goal and they soon made their numerical advantage count when Jesus headed in a De Bruyne cross.
The Brazilian tapped in his second in the 53rd minute after Aguero unselfishly played him in and Leroy Sane made it 4-0 in the 77th after combining well with Benjamin Mendy.
Sane completed the rout in injury time with a brilliant, curling left-foot shot from 25 metres into the far corner.
Manchester City vs Liverpool: How it happened
90'+1' Game over! Guardiola and Klopp with some hugs. That was an annihilation.
90'+1'  Leroy Sane with a curler into the top corner. No chance for Mignolet. An absolute peach.
89'  Oxlade-Chamberlain links up with Henderson and his return pass is brutal. City recover and take over possession again.
88'  Only a matter of time now.
87'  Leroy Sane with a great cross to the back post and Aguero nearly turns it home but Mignolet to the rescue.
85'  Sane goes right through the back of Alberto Moreno and gets a talking to by the ref.
84'  A disasterous debut for Oxlade-Chamberlain. He gets the ball on the left and takes off but loses out and wins a throw. 
82'  Man City throwing the ball around now. All too easy. 
80'  Can takes Aguero down and gets a booking for himself.
79'  Mendy and De Bruyne have been sensational today.
77' Leroy Sane makes it four. One of the same crosses that had been turned away by Liverpool. This time Sane slots home at the near post. 
75'  De Bruyne tries a cross now but it's repelled too.
74'  Mendy with another cross. The exact same. The exact same result. He needs to change up his style.
71'  Mendy drives a cross into the box. It clips Matip and forces a good save form Mignolet. Liverpool escape an embarrassing fourth.
70'  Nope. Liverpool have no ideas.
70'  James Milner down injured now and Trent swings in the free. 
66' Firmino off for Solanke.
65'  Leroy Sane with a lovely cutback to de Bruyne but it bounces up to him and he strikes over.
62'  De Bruyne pops one towards Silva. Too much for him as Can intercepts. 
60'  Liverpool with few options now looking forward. They can hold the ball but when it comes time to attack, they're lost. 
58' James Milner replaced Wijnaldum.
57' Sane replaces Gabriel Jesus. He's on a hat-trick but Pep decides to take him off for rest.
56'  Mendy with a dangerous ball across the box. Mignolet gathers.
55'  City win a corner. 
55'  City looking like they're good value for three or four here! Nearly break again but cut out.
54' They break in an almost identical fashion and this time Aguero plays it to Gabriel Jesus to is left. Goal!
53'  Aguero scored but it's ruled offside. 
51'  Firmino tries to break free. Has to settle for the corner, which comes to nothing. Liverpool still on the ball.
49'  The sting gone out of this one.
48'  Firmino loses out but chases Aguero back and wins it back. Liverpool back in possession.
46'  Mendy down the left and gets a cross in but it's tame and Mignolet rushed out to claim it.
45' Chamberlain on for Salah. So, Liverpool lose their two best players.
Looks like Oxlade-Chamberlain is getting ready to come on.
45'+9'  Seems an age ago that the game started. But be have half-time. Wonder what the debate will be about at half-time.
45'+7'  Salah through again on th right and he loses out again. Really nothing going right for Liveprool now.
45'+7'  Into the seventh minute of extra-time. you get the sense thta both sides seeing it out until half-time. Been a long half.
45'+5' Gabriel Jesus just headed gome from a De Bruyne cross. A perfect cross too. Mignolet poor too as it seems to go right through him.
45'+2'  After a really long stoppage, we have action and a goal! No, it's ruled out. Jesus heads home but he's offside. 
43'  All the best to Ederson, who does look to be in trouble as he is stretchered off. 
43' Claudio Bravo replaces Ederson.
40'  Mane had really started to influence the game. 
40'  Ederson being taken off injured on a stretcher.
37'  That one is sure to merit plenty of debate. It didn't look too bad but Ederson was headering the ball so it might have been worse than it initially looked.
37' Mane straight red. Ball comes down and both him and Ederson and they collide. Hmmmmm, a really difficult one but slightly harsh, maybe. 
36'  Matip with a long, low pass though City's midfield but it's picked off easily. Poor from Liveprool's defense in the last few minutes.
34'  Klavan makes a dog's dinner of a simple clearance and Jesus robs him of the ball. Corner lands to Stones and Mignolet saves.
33'  Henderson with a cross that finds nobody. 
31'  Mane puts Salah through on goal and he simple has to score. But Ederson saves. 
29'  Emre Can from the free. Drives wide. Poor free really. He beat the wall but that's just because they had no interest in where he was hitting it.
28' Fernandinho takes Mane down at the edge of the box. A dangerous run by Mane and Fernandinho sacrifices himself.
27'  Salah nearly finds a way to respond. He cross but Ederson grabs it.
25'  Wijnaldum thrown off the ball by Fernandinho. He needs to be stronger there.
25' Simple as that!Aguero rounds Mignolet and slots home. De Bruyne with the through ball. 
23'  Seems City have highlighted the threat on the wing and almost conceded that they can't stop it. What they're doing well is filling the middle to prevent those runs coming to anything. Mane the latest to be rejected cutting in.
22'  Salah breaks free. Has his options cut out with good defending from Stones to close him down and the winger hits it into Ederson's hands.
21'  Good break by Liverpool comes to nothing. Mane to Can and the German tries a scooped pass over the top. He puts too much on the scoop and overhits it.
20'  Trent fouls De Bruyne and gets a yellow. Just outside the box. Moss had set a precedent with the yellow on Otamendi but that one for Trent was harsh.
19'  Firmino fouls De Bruyne. Chance for a deep cross. 
18'  Emre Can with a strike that Ederson gets his body behind and saves.
17'  Stones tries a ball across the field. Another throw and he throws his hand up to say 'my bad'.. and it was!
16'  Walker with a cross from way out on the right that goes out for a throw on the left. Very poor.
15'  Salah, again, chases down a lost cause. Helays it back to Trent, who does the same to Henderson. Cross that reaches Firmino but he can't do anything other than help it towards Ederson.
14'  Salah races clear, leaving Otamendi in his wake. His crossed effort is half-blocked. Liverpool, as expected, looking lethal on the break.
13'  Fernandinho strikes a speculative effort. He foes force mignolet into a save as he wasn't sure if it might sneak into the bottom corner.
12'  Trent with a backpass but leaves Mignolet with far too much to do. 
11'  City starting to grow into this one. No massive chances for either side. 
10'  Silva makes it to the ball before it goes over the line. They concede the throw though when Jesus loses out with the cutback. 
8'  Matip hoofs it out for a corner. No messing around. 
7'  De Bruyne has a strike but Mignolet drops fast to his left and makes little of it.
6' Otamendi takes Salah out of it just outside the box. Gets booked for the clumsy tackle too.
5'  Liverpool with most of the ball to start this one. They're building again.
3'  Mane wins the ball against Walker and gives away a free. Looked soft but on second viewing, he might have clippd Walker's ankle before he got the ball.
3'  Corner lands straight in Ederson's hands. 
2'  Ball down to Firmino, who heads it backwards. Stones makes a stones of the clearance. Liverpool looking dangerous now outside the box. A shot by Alex Moreno ends up going out for a corner. 
1'  Game on at the Etihad.
We are ready for action.
Klopp has played Pep 10 times with five wins and four losses with one draw. For all of the talk of goals, by myself included, there were only three in two games last year. And last year also saw the first draw between the managers.
Klopp was waxing lyrical about the midfielder yesterday during the press conference. Sees him as a player who can contirbute in many situations. 
Just in case we forget, here are Liverpool's subs. Oxlade-Chamberlain makes it and could play a part today. Karius, Lovren, Gomez, Milner, Oxlade-Chamberlain, Solanke, Sturridge
Mendy, the newest joker in the Premier League, almost had his career ended by his tricks. Not that insightful but he does play with that youthful exuberance, and it's nice to see.
The wisdom of crowds suggest it might be a 3-5-2, which on further inspection is probably more likely. Danilo, Stones and Otamendi with Walker and Mendy and then Fernandinho, De Bruyne and Silva with the other two lads up front. 
Klopp sticking with his usual 4-3-3. The speed of his front three the main talking point and the gamechanger for the Reds. 
Although you can never really tell with Pep, it seems he is using a 4-4-2 today. That will obviously change throughout the game but Danilo on the right with Walker and Mendy as full-backs and Silvao, De Bruyne and Fernandinho making up the other three midfielder with Danilo. Aguero and Gabriel Jesus up top.
Man City team news: Ederson, Walker, Stones, Otamendi, Mendy, Danilo, Fernandinho, De Bruyne, Silva (c), Aguero, Jesus
Liverpool team news: Mignolet, Alexander-Arnold, Matip, Klavan, Moreno, Henderson, Can, Wijnaldum, Salah, Mane, Firmino.
Guardiola before the game, "Jurgen's Liverpool side are a top team and have started well, comfortably coping with their Champions League qualifier and defeating Arsenal in comprehensive fashion. We must be ready for their attacking football, while imposing our own quality on the game. We have created a good amount of chances so far this season, and if we take the opportunities that come along I am confident that results will follow."
Manchester City vs Liverpool: match preview
Pep Guardiola's side squeezed past Bournemouth before the international break while Liveprool were the cause of yet another existential crisis at Arsenal, thumping them 4-0 with minimal fuss. Both Klopp and Guardiola regroup after successes and failures in the transfer market to reignite their quest for the Premier League title at the Etihad at 13:30 CEST on Saturday.
While fans, players and managers alike will wait for another week or two to try and glean anything from the league table, everyone knows who the favourites are and will be when the league table is all that matters later in the season. Losing ground now can be detrimental to standings but it can also be anathema to a team's momentum.
Manchester City
A run at Alexis Sanchez as the summer transfer spending drew to a close ended in tears for Man City and while Pep Guardiola says he can't rule a move for the Chilean out "next time around", he will have to make do with the attacking options he has at his disposal until at least January.
Not necessarily a bad thing but there is bad news for Guardiola, who says that Vincent Kompany will probably not make it back in time for Liverpool's visit north with a calf injury. The central defender has been hampered before with calf issues and they appear to have resurfaced. He missed over 20 games for the citezens last season with muscular injuries and Guardiola will be hoping it's just a minor setback for his captain. If you were to read into the manager's comments, however, it might read slightly worse than that. "I am sad," he said.
"The last seven eight, nine games last season he played no problem. Pre-season, we took care of him and he played all three games. Now, unfortunately, we've lost him, but we will try and get him fit as soon as possible."
On the good news front, Ilkay Gundogan is back training and available for selection.
New signing, Benjamin Mendy, made his debut against Bournemouth but is excited to be making his home debut at the weekend, "Liverpool at home… it's a huge game," said Mendy. "I'm excited and really looking forward to play my first home match. Whether it is Liverpool or whoever, I will prepare myself for the game in the same way.
Liverpool
Phillippe Coutinho stays. That was the message Liverpool sent out long before the window shut but some mud-slinging from Barcelona and repeated bids meant there was some ambiguity lingering in the Merseyside air as deadline day approached.
The Brazilian appeared for his national side during international break but Tite correctly asserted that he is fit but has not played very much football. That was the case when they traveled to Colombia and Coutinho made a brief appearence at the end of the game. Jurgen Klopp obiously feels the same, as he explains, "I decided to leave him out of the squad for City so we can use these four or five days for real and proper training. We got all the numbers from the Brazilian FA around the training and the intensity of training, it was all OK, but he played twice around about 15 or 20 minutes. He could have played 15 or 20 minutes again in the City game, maybe longer, but I think it makes sense [for him to train]. And by the way, he agreed completely; it was not that he said 'No, I don't need training, I want to play' or whatever. It was a good conversation."
Ben Woodburn exploded onto the international scene and could be ready to do the same for Liverpool should Klopp call on him. He scored a goal, the winner against Austria, and assisted another in 50 minutes of action during wins against Austria and Moldova.
The addition of Alex Oxlade-Chamberlain excited Klopp, who also said at his press conference on Friday that "he is good in tight spaces, really good in big spaces...is a good dribbler" and so the former Arsenal player could feature heavily in a variety of roles for the German. He is in the squad and ready for action in the biggest game to date in the 2017/18 Premier League.
Manchester City vs Liverpool live online: potential line-ups
Manchester City XI: Ederson, Walker, Otamendi, Stones, Mendy, D. Silva, Fernandinho, De Bruyne, B. Silva, Jesus, Sané
Head coach: Pep Guardiola
Liverpool XI: Mignolet, Alexander-Arnold, Matip, Lovren, Robertson, Can, Henderson, Wijnaldum, Salah, Firmino, Mané
Head coach: Jürgen Klopp
Manchester City vs Liverpool live stream online: betting odds
Manchester City are the bookies' favourites to come out on top at the Etihad Stadium, with a win for the hosts priced at €1.85 per euro bet and Liverpool valued back at €4.20.
Place your bet on Manchester City vs Liverpool here.
Follow the live coverage match of Premier League between: Chelsea-Manchester City