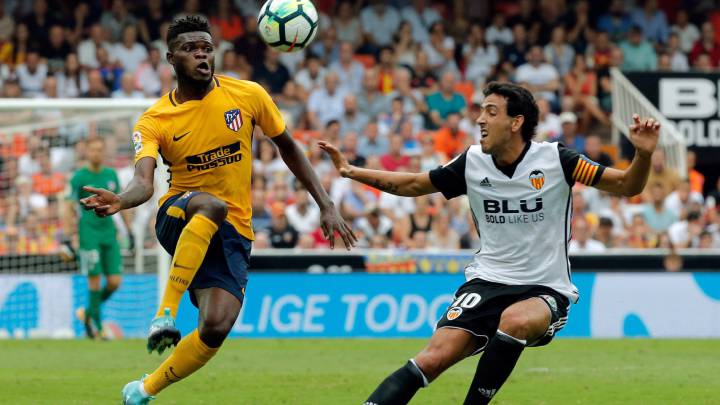 Valencia 0-0 Atletico Madrid: match report
Atletico Madrid will feel like they dropped two points opposed to earning one having dominated the second half of the game at Mestalla on Saturday afternoon.
Following a good stary, they were pushed back into their own half by a well-organised Valencia side but the chances were few and far between.
Valencia, coming off an important draw with Real Madrid before he international break, earned another point for themselves as Marcelino's culture-changing moves continue to prove fruitful on the field.
Diego Simeone didn't miss Antoine Griezmann against Las Palmas but will be glad of his return in the next game as Atletico were toothless up front when they managed to get anything going at all despite the fact that Valencia gave them opportunities. After three games, Atletico have five points, the exact same number as Valencia as they sit fourth and seventh respectively in LaLiga due to goal difference.
Valencia vs Atlético Madrid live stream online: as it happened
90'+3' Game over. A forgettable day for Atletico. Valencia will be happy as they build towards something.
90'+2'  Torres fouled by Paulista. Free comes to nothing. 
90'  This one has 0-0 written all over it.
90'  Cross from Torres after receiving it from Koke, and it lands in Neto's hands.
87'  Another Atletico counter comes to nothing before Valencia launch their own. Headed clear by Atletico and Partey starts a counter.
87'  Zaza takes it down but his first touch is poor. Lucas recovers and he conceded the throw.
85'  Gaitan with a shot. Miles over the bar after Partey's initial effort is blocked and falls to him. Poor.
84'  Lucas with a cross field long pass....to nobody! Two teams cancelling each other out.
83'  Koke with a lovely pass out to Gameiro. His touch is dreadful though.
Gameiro on for Correa.
81'  This game has lost any real form. Just a lot of counter-attacks, and bad ones at that. Zaza takes a shot that's blocked out for a corner.
79'  Gaitan hits the ground as he makes his way through the box. No penalty.
77'  Torres breaks free but loses out. That's very poor from Torres. He needed to strike or turn around but instead he kept going and got turned over.
75'  Valencia win a corner. Gaya breaks down the left and plays it to Guedes. His cross put out over the endline.
74'  Murillo replaces Garay, who was struggling earlier with an injury.
72'  72' Quite a bad tackle from Parejo on Koke there. He catches him on the ankle after playing the ball. 72'  
70' Rodrigo replaced by Santi Mina.
69'  Juanfran wins a corner. Guedes does well defensively.
68'  Parejo whips a free in but it flies over the heads of everyone. No chance.
66'  Torres strikes after a break. Blocked. then Gaitan shoots and that's blocked. Atletico running out of ideas but they have taken control of this one.
66'  Still no breakthrough here. Looking less likely like we will have one either.
64' Torres replaces Vietto. Another upsettingly quiet performance from him.
63'  Gaitan with a good cross to Vietto. He gets a touch on it and directs it towards goal but with no pace whatsoever.
62'  Gaitan helps it on to Filipe Luis before the Brazilian cuts it back to Gaitan. He strikes and forces a save from Neto. Corner Atletico.
62' Andreas Pereira replaced by Goncalo Guedes.
60' Gaitan replaces Carrasco.
60'  Ball falls to vietto and he can't turn it around his foot. Valencia get the free away. Filipe Luis fouled by Zaza as Valencia break.
59'  Rodrigo fouls Partey.
58'  Valencia free. Parejo with the delivery and Rodrigo heads over.
57'  Correa strikes but very little on it. Neto comfortable with the effort.
56'  We have action on Atletico's bench. Gaitan and Gabi warming up amongst others.
56'  Atletico counter but can't get it going. Carrasco loses out to Gaya.
55'  Valencia not happy with referee. They want a card as Zaza is fouled. Not coming though. Parejo nearly gets himself booked for his protests.
53'  Kondogbia strikes. Dreadful effort, in fairness.
52'  Kondogbia hauled down by Filipe Luis. He's down hurt after taking a few kickings today. He gets back to his feet in the end and soldiers on.
50'  Correa breaks. He almost has the chance to strike but opts to pass, slightly behind, Koke. Play breaks down and Valencia take off up the other end. Savic wins it back off Rodrigo before Atletico lose it again. Lively game this against two very even sides.
49'  Carrasco with a nice cross and it's headed away. Another couple of inches and that might have been onto the head of a waiting Vietto.
47'  It was actually Parejo who blocked it so unclear as to what happened to Garay but he continues anyway.
47'  In the process of blocking that, Garay looks to have injured his ankle. 
47'  Carrasco swings one towards Neto but it's half-blocked and Neto has no trouble with it.
46'  Back underway at Mestalla. No changes for either side.
45'  Half-time at Mestalla! Good half. Both sides will be happy enough with that. 
45'  Carrasco and Gaya going to one-on-one in a race. gaya gets his body across and wins the goal-kick for Valencia.
44'  Atletico weathering the storm. Back in possession now.
43'  They win it back. Ball arrives in from Filipe Luis and Vietto headers just wide.
43'  Carrasco looking to break free but feels he was pulled back. No free. Atletico were countering at break-neck speed.
40'  Rodrigo gets a head on a cross. Just slightly over. Probably didn't have enough pace on it to beat Oblak but Valencia threatening.
39'  Long, searching ball to Pereira on the right and he gets a foot to it. Headed clear by Filipe Luis for a corner.
37'  Gaya with a really ambitious through ball. No chance of that finding its target. Goal-kick.
36'  Carrasco with a lofted free. Neto grabs that with ease. 
35' Montoya chops Vietto down and gets booked. He's not happy but it was a yellow. Mestalla not happy either.
32'  What a miss! Vietto with a chance from a ball from Partey. He swivels and drives over. Golden opportunity that he needs to be taking.
32'  Koke whips in the free-kick and it falls to Partey but his volley is a mile off.
31'  Kondogbia fouls Correa now and Mestalla getting on the ref's case. Kondogbia not happy either.
30'  He wants a free or a penalty, or maybe even both. He might even want both, it's unclear.
29'  Zaza is the new Diego Costa. He's rolling around and giving out and shouting and complaining. 
26'  Partey fouled by Parejo. Some decent possession and pressure from Valencia after good start from Atletico.
23'  Valencia's control actual suits Atletico. They have the chance to break now and that works for them. 
22'  Carrasco on his own in the box and he tries to go through five or six defenders. No chance! He fouls then when he loses the ball.
20'  Atletico manage to put together an attack. Valencia win it back and break and Juanfran fouls Andreas Pereira.
19'  Andreas Pereira with a nice move and strikes with his left but it goes well over the bar.
18'  Gaya with a cross and Rodrigo tries to turn it towards goal. Ball flies up into the air and Zaza pushes Saul in the back. He's not happy and the ref tells him to calm down.
18'  Soler with a lethal cross. Atletico manage to head it way. Could have spelled danger.
17'  Valencia taking over this one. 
15'  Really neat move by Valencia. Hard to see who it was as there were so many passes. Parejo straight through the middle to Zaza, he lays it off and the same again three times before Atletico win a free. They ran themselves into some trouble there.
13'  Andreas Pereira out on the left, whips a cross in but that's way off target.
12'  Koke dispossesses Gaya with ease. Nice tackle. 
11'  Thomas fouls Parejo after coughing up the ball. Ref has a word with him but no card. He's lucky too.
11'  This is all Atletico. 
10'  Partey involved again. Spreads it out to Juanfran and he delivers a cross that can't find an Atletico jersey. Carrasco chases it down and he wins a throw.
9'  Cross from Vietto as a result is gathered by Neto.
8'  Partey fouled by Andreas Pereira as he tries to break. The Ghanaian got in front of him well and managed to win the free.
7'  Partey intercepts, calms things down and passes to lessen pressure from Valencia.
5'  Correa breaks free and strikes at goal. Takes a deflection and nearly catches Neto off guard but he recovers and saves.
5'  Hauled down by Partey now. 
4'  Kondogibia fouled by Koke. 
4'  Ball comes in from Juanfran and Valencia clear. Garay with the clearance.
2'  Filipe Luis does well to get himself out of trouble, feeds Partey and he spreads it out right. 
1'  Early touches for correa and Juanfran. The latter wins a corner for Atletico.
1'  We are underway in Valencia! Let's see what this one has in store for us.
Just the one new signing debut for Marcelino. Andreas Pereira straight into the starting line-up.
The two teams take to the field. Atletico in their yellow strip, which they drew with Girona in. Valencia in their classic white jersey with black sleeves.
Angel Correa has scored two shots from two goals this season. #efficiency
And Alessio Cerci.
Last time Valencia beat Atletico, Miranda scored an own-goal, Andre Gomes scored and so did Nicolas Otamendi.
Atletico Madrid are undefeated in their last 6 matches.
Want some efficiency. Atletico have scored 7 times with their last nine shots on goal!
Mestalla has been a strange place for Valencia with fans turning on their players and the ownership in recent years. Marcelino, however, who is currently changing the culture at the club says, "We want to play at a full stadium with the fans united behind the team, and get the win for them". It should be rocking today.
Diego Simeone has changed his tact in recent weeks. The draw with Girona to open the league campaign seemed to hurt them. Thomas Partey starts again at the expense of Gabi while Godin still doesn't come back into the team despite being cleared to play. 
Valencia vs Atlético Madrid: LaLiga match preview
With the international break over, two sides who have both registered a win and a draw so far in LaLiga return to top-flight duties with an enticing matinée clash.
Valencia
After two seasons of turmoil - a period in which five different coaches have occupied the Valencia dugout - Los Che have made an encouraging start to life under new boss Marcelino García Toral.
Having begun their LaLiga campaign with a 1-0 home victory over Las Palmas, they then impressed in an entertaining 2-2 draw at champions Real Madrid in week 2.
However, the hosts face a team who they have struggled against of late, winning only once (just under three years ago, in October 2014) in their last 11 meetings with Atlético.
Atlético Madrid
Atlético showed real grit on the opening weekend to overcome Antoine Griezmann's red card and fight back for a 2-2 draw away to LaLiga new boys Girona, before a thumping 5-1 triumph at Las Palmas last time out.
In what is the last of three straight league games on the road before beginning life at their new stadium in week 4, Atleti head to Valencia boosted by the midweek news that coach Diego Simeone, the architect of their recent success, has signed a new, three-year contract.
Following his sending-off in Catalonia, Griezmann remains suspended for the visitors, who are currently on a club-record run of 13 LaLiga away games without defeat.
Valencia vs Atlético Madrid: potential line-ups
Valencia XI: Neto; Montoya, Murillo, Garay, Gayà; Parejo, Kondogbia, Carlos Soler, Pereira; Rodrigo, Zaza.
Head coach: Marcelino García Toral
Atlético Madrid XI: Oblak; Juanfran, Giménez, Godín, Filipe Luis; Gabi, Saúl; Koke, Carrasco; Correa, Vietto.
Head coach: Diego Simeone
Valencia vs Atlético Madrid live stream online: betting odds
Atlético are the bookies' favourites to claim all three points, with Simeone's men priced at €2.20 to beat Valencia. A victory for Los Che is valued back at €3.60.
Place your bet on Valencia vs Atlético Madrid here.