Filipe Luis questions the merits of Cristiano's last Ballon d'Or
The Atlético full-back told 'Panenka' magazine that Cristiano didn't deserve to win the award in 2016: "He didn't do anything until the last two months".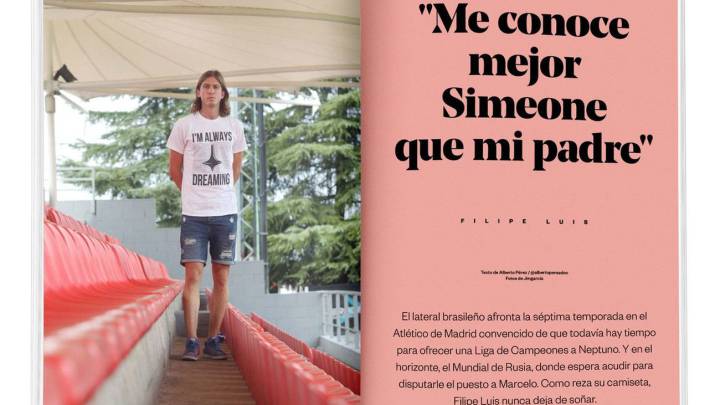 Filipe Luis gave an interview with Spanish football magazine Panenka in which he talked about the current state of play at Atlético de Madrid as well as some of his fellow players - Neymar, Theo, Messi and the start of the Champions League. The Brazilian defender also revealed how close he is to Atleti coach Diego Simeone: "He knows me better than my own Dad".
Champions League: "While the sun shines there's hope, We are going are going to try and win it. Nothing can be worse than the pain we felt after Lisbon, we had a few weeks withiout being able to sleep".
Filipe hopes to stay at Atleti when his playing days are over
The future: "I'd love to retire at Atleti and maybe stay on at the club if they can find me a role I am good at. You only have to look at what Costa is doing to see that he is an Atleti lad".
Neymar: "He did the right thimg signing for PSG. He's a different player there. He's happy and his playing is loose".
Theo: "We grew up together. But now I'm no longer able to play as long as I used to".
Messi is just another opponent to me, says Filipe
Messi: "I admire him. He's never had a go at me in any of the games I've played against him. I've never asked to swap shirts with him. I go out there to win, not to be able to say I played against so and so".
Paulinho: "Paulinho's going to suprise a lot of people. If he doesn't fit in at Barça, he would at Atlético".
The Ballon d'Or is subjective. "Cristiano didn't do anything until the last two months of the season".