Barcelona-Juventus: as it happened, goals, match report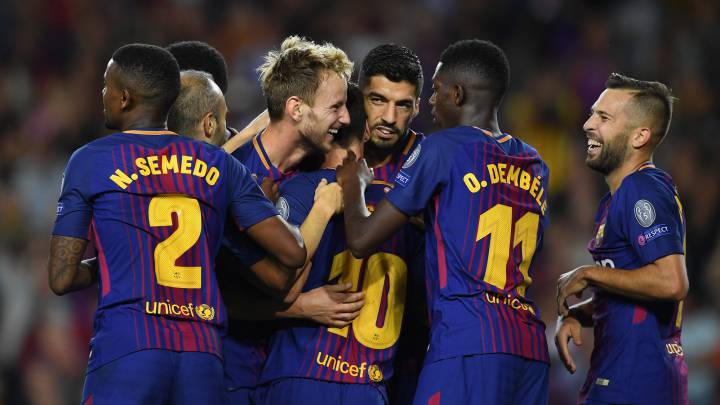 Barcelona vs Juventus: match report
No debate about tonight's contest at Camp Nou. Barcelona dominated last season's beaten Uefa Champions League finalists convincingly after a clinical performance that will make many of the pre-season doubters re-evaluate their position on Ernesto Valverde's men.
Maximum points in LaLiga and a resounding 3-0 win over the giants of Serie A points to a team who are dealing more than admirably to the departure of Neymar Jr. One player a team does not make and tonight was proof that this side are candidates to trouble any team in both domestic and European competition.
The match was evenly poised with Juve having more chances in the first period albeit tame strikes at Ter Stegen whilst Barça dominated possession with the dynamic of the contest changing as Lionel Messi played an intricate one-two with Luis Suarez to rifle home the opening goal of the game in the 45th minute.
Possession and poise
The old "good time to score before the break" cliche was apparent as Juve toiled against a disciplined Barcelona midfield and rear-guard as the Catalan side regained possession and poise. Rakitic ended the contest just before the hour mark, firing home a loose ball after great build-up play from Messi.
Messi bagged his brace with a fine individual effort and the rest of the match petered out with Juventus gallantly looking for a consolation.
Next stop for Barça is a short trip to Lisbon to face Sporting (who beat Olympiakos 2-3) but it would be difficult to foresee that any sides barring the current Serie A and LaLiga leaders progressing to the next stage from Group D.
Barcelona vs Juventus live stream online updates: Champions League
Very clinical, polished and professional performace from Barcelona who have still yet to coincede a goal in LaLiga or Champions League.   
90'+2' That's it.... Mr. Skominia calls time with a convincing 3-0 win for Barcelona.
90'+2' The AS English man of the match tonight goes to.... Busquets 
90'+2' Messi still full of running, flagged for offside.
90' We'll have 2 minutes of added time.....
90' Last minute of regular time and a clinical professional performance from Valverde's men with Juve lacking sufficient bite in attack.  
87' Caligara booked for a late lunge on Busquets. His first action of the evening....
87' Mild whistle aimed at Higuain from the Camp Nou crowd (former Real Madrid player). 
86' Change for Juve. Higuain off and Caligara takes his place.
86' Messi celebrates his second of the night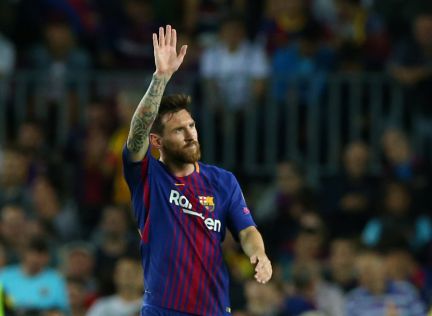 84' Sporting still 0-3 ahead in Pireaus against Olympiakos. The Lisbon outfit share the Group D lead with Barcelona. 
82' Final change for Barça. Ovation for Iniesta as Gomes takes his place.
82' Andre Gomes poised to come on as Ole's ring out from the Camp Nou crowd.
81' Dybala fires a fine left foot drive and forces Ter Stegen to dive well to force a corner for Juve. Pique forced into clearing the ball from under the bar as the men from Turin crank up the pressure. 
79' Dybala in full flight at Camp Nou tonight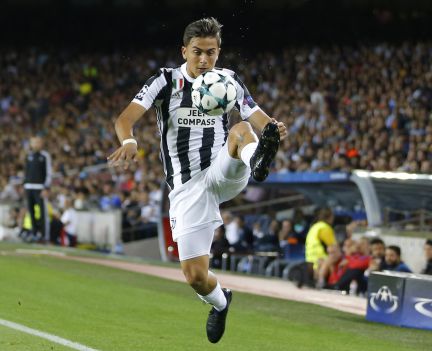 79' The ball is in the Juve net as Suarez thumps it home but the goal is ruled out due to a Jordi Alba offside in the build-up to the final move.
78' Both Barça and Juve are still favourites to prgress from Group D
75' Rakitic makes way for the Brazilian. Paulinho has 14' to impress.
75' Barça look to make another change with Paulinho poised to enter the fray. Another weak shot from Juve, meat and drink for Ter Stegen. 
75' Messi disputes his yellow card.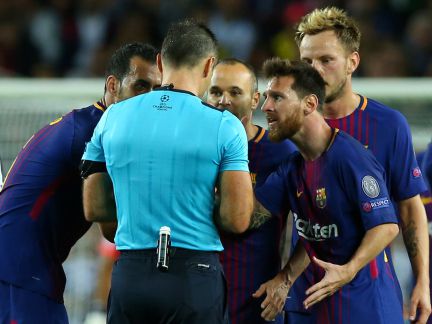 71' Pjanic carded for a trip on Sergi Roberto
71' Possession: 66/34% (Barça-Juve) 
71' Barça celebrate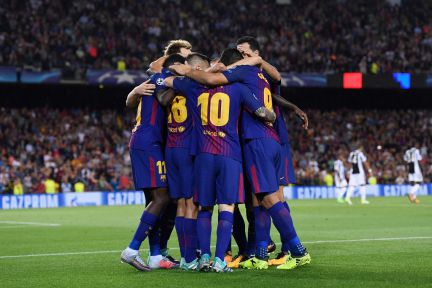 71' Barça growing as the night progresses with nothing of danger from Juve to report in this second half.
69' Sergi Roberto on - Dembel off for Barça
69' Pure genius from the Barça No. 10 as the Catalan side break clear and Messi does the rest, outpacing the Juve rear-guard and tees the ball up on that left foot.... Bottom corner and it's curtains for Juve 
69' Messi makes it 3 Goooooooooooooooool
65' Barça travel away to Lisbon to face Sporting in the next Group D match
63' The other Group D result tonight sees Sporting CP 0-3 up away at Olympiakos.... Just as Suarez goes close for Barça. The 3-0 feels closer than the 2-1.
63' Dybala has been quiet after a bright first 15'. The Messi goal just before the break has taken a touch of the impetus from the Serie A men. 
61' Change for Juve: Betancur off for Bernandeschi.  
61' Danger for Juve as Messi lines up the free-kick. Messi forces a decent save from Buffon. No great pace on the strike despite the fine precision of the hit.
60' Barzagli carded for a foul on Dembele
59'   Once again Dybala allowed to break through but with no support elects to shoot and his shot is deflected away by the Barça rear-guard. 
56' Great work from Messi firing on target, Sturaro clears the ball but straight to the feet of Rakitic who fires home with the goal at his mercy and Buffon on the ground. 
56'  53'   Gooooooooooooooooooooooooool. Barça 2 !!! Rakitic fires home
53' Messi carded for pleading for a yellow card after a Pjanic foul so the Slovenian official books the Barça No. 10... Whistles from the Camp Nou after the decision. 
53' Messi finding more of the ball now in his favoured space, just outside the area. 
51' A left foot Leo Messi thunderbolt rockets Buffon's goal and clips the veteran keeper berfore eeking out for a corner. 
48' Fans celebrate Leo Messi's goal at Camp Nou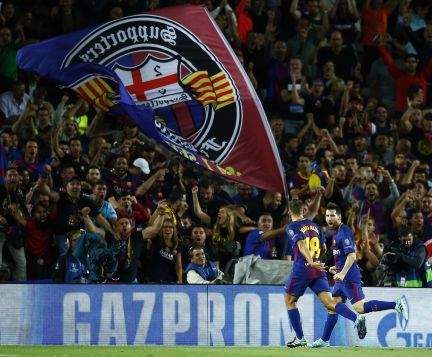 48' Ball falls to Dybala who fails to observe the golden rule of striking a ball... keep the head over the ball !
45' No. 10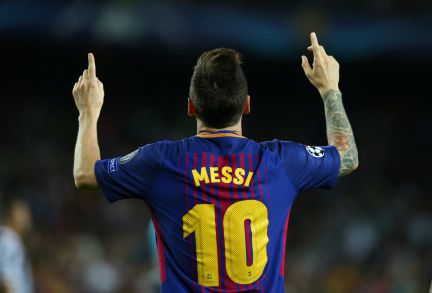 45'   Most of the Juve bench warming up as the visitors dominate early possession in the second period.
45'   Teams are back on the Camp Nou turf and it's Juve who get us underway.
  A tad harsh possibly the late Barça goal? Will it force Allegri to tweak his formation in search of an equaliser? The goal if nothing else should open-up the game. 
45' Half Time: 1-0 Barcelona lead with a Messi strike on the stroke of half-time. 
45' Who else ..... Messi after a sweet one-two with Suarez. 
44' Gooooooooooooool. Barça go ahead.
44'   It's been bright without being scintillating so far at Camp Nou. Two excellent sides cancelling each other out but the draw will suit the Serie A outfit.
42' Fine play from Higuain sending Matudi through on goal. The ball failed to sit up as Semedo intervenes and clears the danger. 
40' Sturano on for the injured De Sciglio. First change of the evening.  
40' De Sciglio points to the bench as he falls to the ground unable to carry on. Change about to be made....
38' Dembele through on goal and drives wide but then complains he was upended by a Juve defender. Ref waves his appeal away and it's a corner. Juve happy to hit Barça on the break and Allegri will be the happier of the managers as we head towards the break.  
36' Messi about to pull the trigger....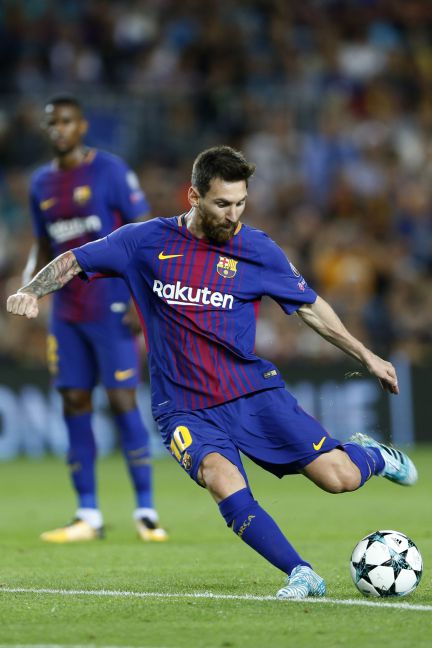 36' 277/134 (FCB/JUV) passes played so far at Camp Nou  tonight
35' Semedo grabs Costa and is booked for his trouble
35' "Have a pop son" ...words I'd like to hear Valverde say to his forwards at the break as there are times the men in "azul-grana" tend to over complicate.  
31' De Sciglio in trouble with a knock as the Juve send players to warm up .... false alarm ...the defender looks fine to carry on....
31' Barça fans at Camp Nou this evening...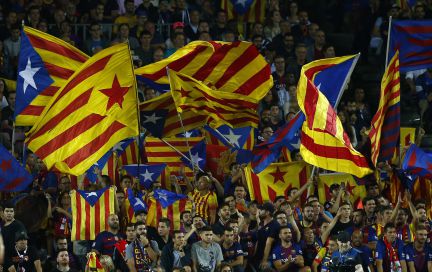 31' Apart from the Suarez effort it's been a quiet evening so far for Gigi Buffon.  
30' Barcelona looking good with the ball but need to get Dembele into action more as he looks like the likeliest outlet to cause danger for the well drilled Juve defence. 
28' Douglas Costa into the notebook too after a late challenge.
28' Higuain strikes but once again a tame drive and easy for Ter Stegen. Just the one shot on target for Barça as we head towrads the 30' mark. Very finely balanced here at Camp Nou. 
26' Barça fans get behind their team ... "Ser del Barça es lo mejor" ...... 
25' Card for Betancur after a "studs-up" challenge on Rakitic. 
25' Instrumental in everything Juve do going forward !!!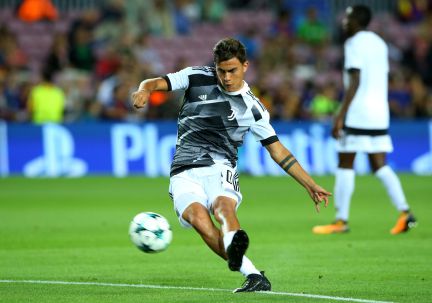 24' Dybala fires at goal after a delightful lobbed assist from Costa. Alba does well to intercept.  
19' Fans clap as Messi shapes to strike....Suarez over the ball too....Messi into the wall, Suarez with the rebound and expertly tipped over from Buffon....
18' Messi territory !
18' Dangerous free-kick for Barça on the edge of the Juve area as Iniesta is upended after a mazy slalom run.
17' Buffon called into action and forced to clear from well outside his area. Dembele still causing problems for the men in black & white. 
15' Barcelona's Ousmane Dembele, right, and Juventus' Douglas Costa vie for the ball at Camp Nou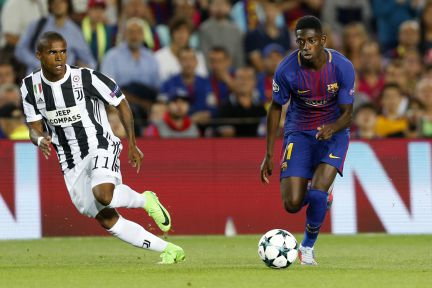 11' Tonight's Juve starting XI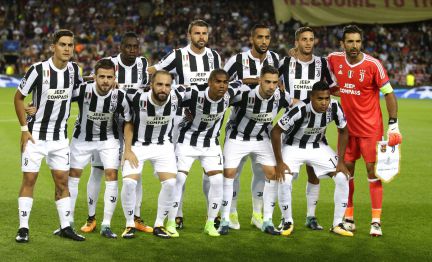 11' Is it just me or does Higuain look a tad bulky this evening? Fine shot on target from Pjanic but once again nothing to trouble Ter Stegen. 2 shots on target for Juve but Barça bossing it possession-wise 70/30%.    
8' Break for Juve as Dybala sprints clear but fires his shot straight into Ter Stegen's arms. Possible Barça call for a penalty on the other area after Busquets was upended but the match official was having nothing of it. 
8' Dembele and Semedo looking very, very dangerous on the right hand side.
3' Barça XI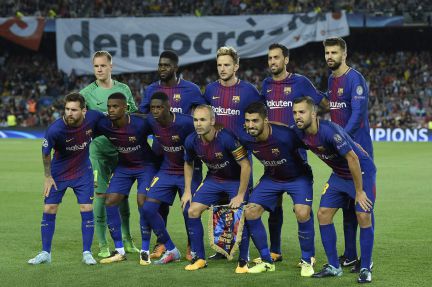 3' Messi, Iniesta, Buffon plus new talents...Dybala, Dembele and Rodrigo Bentancur... established global talent and the emerging players of tomorrow...  De Sciglio fires a piledriver that sneaks just wide of Ter Stegen's post. Bright start to the match ....
3' Both sides swapping brief spells of possession as the home fans find their voice. Both teams respective leaders of Serie A and LaLiga currently as Dembele wins the first corner of the night for the Catalan side. 
1' 22C in the Catalan capital tonight, ideal conditions for players and spectators alike  
1' Off we go at Camp Nou,  Barça get us underway....
So once again, it begins... the Group stage of the 2017/18 Champions League .... The Road to Kiev starts in earnest!
The teams take to the field, not quite a full house but already the Camp Nou hosting a SOS democracia banner as the Champions League anthem gets it's traditional booing 
Barça in their classic "azul-grana" shirts, blue shorts and Juve in their iconic black and white stripes (inspired by English side Notts County)
Ten minutes before ko to go at Camp Nou with the fans taking the habitual Camp Nou pre-game selfies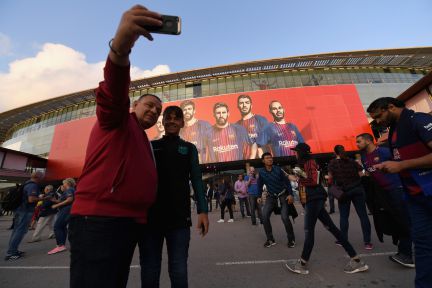 Lionel Messi has failed to score against three keeper in the Champions League. And you guessed it, Gigi Buffon is one of them. 
Atmospheric...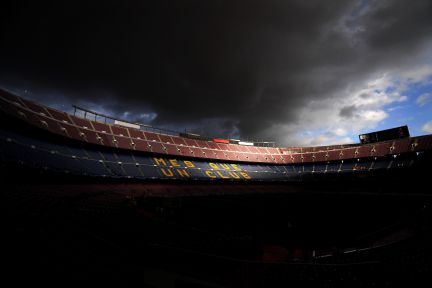 We have Barcelona team news: Ter Stegen, Semedo, Piqué, Umtiti, Alba, Rakitic, Busquets, Iniesta, Messi, Suárez, Dembélé.
Barca draw first blood against Juventus in the under-19 competition.
Barcelona lacking a few options tonight. Arda Turan, Alcácer and Rafinha out with injuries along with Vermaelen, Digne and Aleix Vidal, who were left out by Valverde.
Ernesto Valverde is not expecting an easy time against Juve. "Juventus are a very strong team. Their elimination of Barcelona last season is still very recent. They press high and we'll need to overcome everything they throw at us. We need to stop them connecting their lines. It'll be an intense match", said the Barça boss.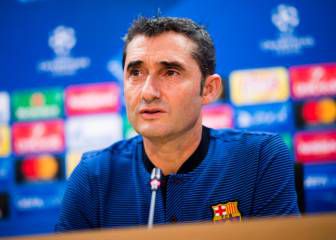 Barça unveil new "dark maroon" third kit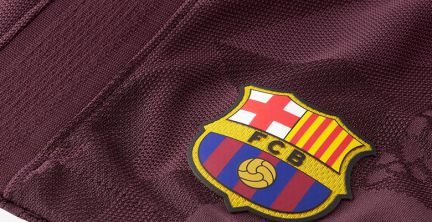 Hello and welcome to our build-up and coverage from Camp Nou as the Champions League group stage returns. Kick-off in the Catalan capital is at 20.45 CEST and we'll be keeping you a breast of all the news pre kick-off. 
Barcelona vs Juventus live stream online: UCL match preview
It's back.... The Champions League group stage for the 2017/18 season kicks off again tonight and what a clash to start off proceedings as current table toppers from LaLiga and Serie A come head to head in the Catalan capital. Tonight's game is also a repeat of last' year's quarter final stage tie where the Italian side progressed with a 3-0 overall aggregate scoreline.
Barcelona
Despite being written off by many observers ahead of the 17/18 campaign after failure to secure last minutes reinforcements, a pre-season overshadowed by Neymary's departure and a social fissure between the Camp Nou faithful and club president Bartomeu, Barça sit aloft of LaLiga with a perfect start: maximum points and yet to concede a goal.
New signing Ousmane Dembele made his debut last weekend in the Catalan derby and impressed in the 5-0 win over Espanyol with the French international expected to start this season in his first appearance in the Champions League for Barça.
Rafinha is set to miss out as he continues to recover from injury as will Arda Turan. The Camp Nou fans will be boosted with the return of Rakitic who played a full 90 minutes against Espanyol and is expected to line up with Iniesta in the midfield area.
Speaking to the media in Monday's pre-match press conference, Barça manager Ernesto Valverde spoke about the Italian rival with the coach insisting that "Juventus are a powerful team that distribute the ball well from the back and who try to press high. They have a great coach and great players, all of whom must be taken into account, not just Dybala," he said.
Juventus
Massimiliano Allegri showed his tactical nous last year in the corresponding fixture as he guided his team through an exemplary defensive display that afforded the Serie A side a semi final place in the 2016/17 Champions League after a 3-0 win in Turin. Will this be the same Juventus tactics that we see tonight? I'd suggest that we'll a more offensive approach given the difference in circumstances,
The Serie A do make the trip to the Catalan with a series of key absentees with the likes of Claudio Marchisio, Giorgio Chiellini, Sami Khedira, Mario Mandzukic, Benedikt Howedes and the suspended Juan Cuadrado all staying behind in Italy.
All eyes will be on Paulo Dybala who has started the Serie A season in fine form and was the man of the match last weekend as Juve secured top spot in the Italian league with a 3-0 win over Chevio Verona, a stunning performance form the Argentine capped off with a late goal at the Allianz Stadium.
The 23 year old was also on media duty yesterday when he and head coach Allegri faced the media at Camp Nou. The Argentine was in confident mood despite the opening game beong against Barça claiming:
"It is certainly not easy to face a team like Barcelona who are always a difficult opponent, in a stadium like this where they attack you so much. We are aware that we will have our chances, because even Barcelona give away opportunities to the opponent and we will have to take advantage of these.
"It's true that Barça have lost an important player like Neymar, but they are replacing him with other great players. At the end of the day, this is Barcelona we are talking about and they must be respected for their history, name and fame.
Barcelona vs Juventus live stream online: potential line-ups
FCB XI: Ter Stegen, Alba, Umitti, Pique, Semedo, Busquets, Iniesta, Rakitic, Dembele, Suarez, Messi.
Head coach: Valverde
Juve XI: Buffon, Barzagli, Benatia, Rugani, Alex sandro, Matudi, Pjanic, Douglas Costa, Dybala, Sturano, Higuain.
Head coach: Allegri
Barcelona vs Juventus live stream online: betting odds
Betfair are offering a spectacular price of 25/1 for a win for the Catalan side at Camp Nou tonight:
Place your bet on Barça v Juve here.