Quique Setién asks Betis fans to bear with work in progress
The Betis coach remains adamant about his mission: "I'm not going to change if we win or we lose, I have my convictions. We need a little time."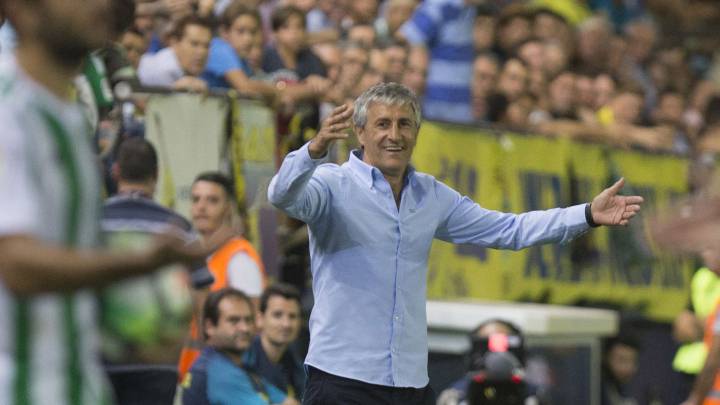 "We'll live or die on our way of doing things," said Betis central defender Jordi Amat after the 3-1 defeat at Villarreal last weekend and on Tuesday Quique Setién echoed that sentiment despite the reverse in the Estadio de la Cerámica.
"When I was hired I laid out what I wanted from this side, which was to bring in a clear idea of playing style that in the future people can enjoy. Everything in this life requires a bit of time," said the former Las Palmas coach, who drew widespread praise for his work at the Canary Islands club before moving to the south coast.
Setién: "We have the opportunity to develop an idea"
"Here if you win everybody is happy and if you lose next week there is a depression. I'm not going to change on the basis of whether we win or lose; I will always keep my convictions. The important thing is to maintain tranquillity and stability. We have the opportunity to develop an idea and all we need is a little bit of time," Setién added.
Setién's call for patience will resonate with the Betis support, who have watched in exasperation over the past few seasons as coaches have come and gone, playing styles have chopped and changed and all without any tangible improvement on the pitch, as Setién pointed out.
"There have been lots of different models here in recent years and few people were happy with them. I don't know what I'll be capable of doing but I'm going to put all of my energy and enthusiasm into doing the best I can and to convince the players that they can play well and score 17-touch goals [the first of the game against Villarreal]. I'd love every Sunday to be like that but it's not that simple," the Betis coach concluded.
LaLiga Santander
*Update 13 de septiembre de 2017