Real Madrid to sign Brazilian striker Rodrigo for six seasons
The move was confirmed by the president of Novorizontino, the club where the player came through the ranks before moving on loan to Palmeiras. He'll join Real Madrid in 2018.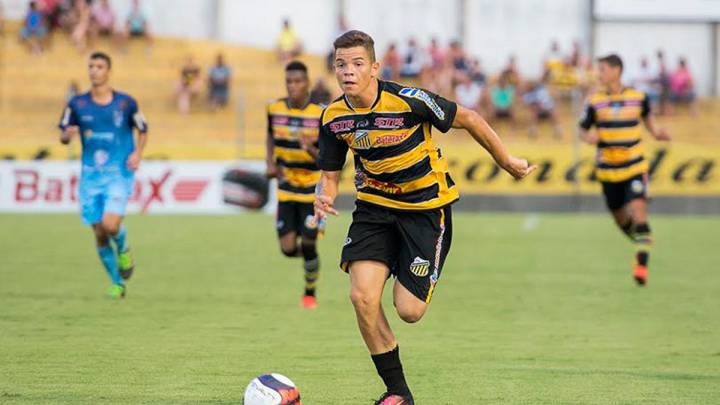 Real Madrid are about to sign striker Rodrigo Rodrigues, 17, one of the stars of the Under-17 Club World Cup last August with Palmeiras.
Rodrigo in Madrid for his medical
"Rodrigo is in Madrid, having a medical examination, and if there is no unforeseen event, he will sign for six seasons with Real Madrid," said Genilson da Rocha Santos, president of Novorizontino, the club that discovered the player and owns his rights.
Rodrigo began to make a name for himself earlier this year, when he made his debut at just 16 years old for Novorizontino, playing against Santos in the Paulista Championship.
In the Junior Football Belo Horizonte Cup, one of the main Under-17 tournaments in Brazil, he shone once more and it was at that point that Palmeiras took interest in him, reaching an agreement with Novorizontino so that the striker could play on loan in the Under-17 Club World Cup.
Rodrigo scored four in five games
Rodrigo scored four goals in five games, with fine performances against Rayo, Inter Milan, Atlético Nacional and Benfica, which drew the attention of Real Madrid.
The Brazilian will continue in Brazil until April 2018, when he turns 18 and can join Real Madrid, where he'll most likely be part of the Real Madrid B team, Real Madrid Castilla.
"Rodrigo is a complete attacker, who can play out wide or in the middle. He's quick out of the blocks, explosive, and has evolved a lot since he started here at Novorizontino when he was 14 years old. It's a source of pride to see him shine in a tournament in Europe and for a club such as Real Madrid to be interested in him", said the president of Novorizontino to this newspaper.